CHICAGO BEARS (Consensus division finish: 3rd)
Jerry Lai/US Presswire
EXPERTS' PICKS
The Bears finished second in the NFC North last season with a 9-7 record. For more Bears coverage, visit: Kevin Seifert's NFC North blog | Bears clubhouse
ANALYST
PREDICTION
Jeffri
Chadiha
ESPN.com

DIVISION FINISH: 2 Yes, Jay Cutler is a great addition at quarterback. Too bad his wide receivers don't inspire nearly as much optimism.
John
Clayton
ESPN.com

DIVISION FINISH: 3 The combination of Jay Cutler and the league's easiest schedule should translate into a playoff appearance. The biggest worry to me is defense. Tommie Harris looks tentative on his injured knee. Injuries and uncertainty have clouded the cornerback position. It will be the defense that will determine if the Bears are a division winner or a wild-card team.

Tim
Graham
ESPN.com

DIVISION FINISH: 3 Finally, the Bears have a star quarterback running the show. But Jay Cutler is about to discover his job won't nearly be as easy without Brandon Marshall pulling down jump balls.
Jeremy
Green
Scouts Inc.

DIVISION FINISH: 3 Jay Cutler should be good for a few more wins, which would make the Bears a playoff team. However, the division is better and the Bears don't have enough to win the title.
Paul
Kuharsky
ESPN.com

DIVISION FINISH: 2 Jay Cutler won't cure everything for the Bears, who still need better weapons for him. But Greg Olsen and Matt Forte will be solid and the defense will do its part.
Matt
Mosley
ESPN.com

DIVISION FINISH: 3 I think Jay Cutler will put up solid numbers, but I'm not sure who he'll throw to on a consistent basis other than Greg Olsen. I think the Bears have an overrated defense.
Len
Pasquarelli
ESPN.com

DIVISION FINISH: 2 The Bears weren't nearly as bad as they played last season, yet they might not be good enough to qualify for playoffs in '09. In Jay Cutler, they brought some stability to a quarterback position that was more like musical chairs.
Mike
Sando
ESPN.com

DIVISION FINISH: 2 The division is suddenly tougher to predict now that the Bears have a big-play quarterback. I'm not sure Jay Cutler will match Kyle Orton's win-loss record of 21-12, though.
Kevin
Seifert
ESPN.com

DIVISION FINISH: 3 The offense should be better with new quarterback Jay Cutler, but the Bears' injury-riddled defense did little during the preseason to indicate it will be better this year. Not sure who will stop Bernard Berrian, Visanthe Shiancoe, Greg Jennings and Jermichael Finley.
James
Walker
ESPN.com

DIVISION FINISH: 2 The Bears could be a dark horse contender if any receivers can catch QB Jay Cutler's passes.
Seth
Wickersham
ESPN The Magazine

DIVISION FINISH: 3 There's a reason the Broncos brass was worried about Jay Cutler. What makes anyone think he's mature enough to turn a loser into a winner? He's better at turning a loser into a .500 team.
Bill
Williamson
ESPN.com

DIVISION FINISH: 2 Jay Cutler will make his first playoff appearance in the NFL. Cutler will be the missing ingredient for the Bears. He will benefit from excellent defensive play. Finally.
Matt
Williamson
Scouts Inc.

DIVISION FINISH: 1 Jay Cutler obviously could pay big dividends, but the addition of Rod Marinelli as the defensive line coach might end up being an addition nearly on par with the acquisition of Chicago's new franchise quarterback. This prediction is based more on a defensive turnaround than the Bears' offense's making great strides.
Pat
Yasinskas
ESPN.com

DIVISION FINISH: 2 Is Jay Cutler really going to make that much of a difference? Yes, he is. He's a real quarterback. That's something the Bears haven't had since Jim McMahon, and Cutler is way better than that.


CONSENSUS DIVISION FINISH: 3rd | NFL standings
BEST OF THE BEARS
Best quarterback: Jay Cutler. For the first time in at least a generation, the Bears enter a season knowing they have a top-flight quarterback rather than hoping their starter can just do his part. Cutler demonstrated all facets of his reputation this summer: an accurate arm, quick feet and a moody personality.
Best assistant coach:
Defensive line/assistant head coach Rod Marinelli. The Bears are banking on Marinelli's expertise as much as any other individual skill this year. Marinelli's job is to rejuvenate a line that includes defensive end Adewale Ogunleye and defensive tackle Tommie Harris -- whose primes might have passed.
Best consistency:
Place-kicker Robbie Gould. Too much is made of Gould's range beyond 50 yards. From 49 yards and closer, Gould is one of the NFL's most reliable kickers. His 85.9 career conversion rate is the third-best in league history. Long-distance field goals are exciting but statistically rare.
Best returner:
When he's healthy, Danieal Manning has surpassed Devin Hester as the Bears' most dangerous returner. Manning never hesitates and hits the kickoff wedge at top speed. Hester will return punts this season, but his job as a receiver seems to take top priority.
Best tight end:
Greg Olsen. After two years of playing behind veteran Desmond Clark, Olsen has finally been promoted to No. 1 status. The 2006 first-round pick has established strong chemistry with Cutler and should emerge as one of the NFC's most dangerous pass-catching tight ends.
-- Kevin Seifert, ESPN.com
SCOUTS INC.'S FABULOUS FIVE
Scouts Inc. has evaluated and graded more than 2,500 NFL players heading into the 2009 season, giving Insiders a leg up on the competition with exclusive grades, alerts and scouting reports.
Top five players

ANALYSIS
1. Lance Briggs
Linebacker
6-1 | 242
(Grade: 85) He is a fluid athlete who is a natural knee-bender and one of the better playmakers at the linebacker position. Briggs is a solid wrap tackler in the open field.
2. Tommie Harris
Defensive tackle
6-3 | 295
(85) He leverages well with strong hands, pad level, technique and athleticism. Harris uses his great quickness and lateral agility to separate from or elude blockers at the point of attack.
3. Brian Urlacher
Linebacker
6-4 | 258
(82) Urlacher can slip blockers with quickness and agility or power through larger players with explosive snap and punch.
4. Charles Tillman
Cornerback
6-1 | 198
(81) He is solid in zone coverage, but is best in press-man coverage in which he can use his length and strength to reroute receivers off the line of scrimmage.
5. Matt Forte
Running back
6-2 | 218
(79) He has good burst through the line of scrimmage and enough strength to push the pile as an inside runner.
Player grading scale: Elite (90-100), outstanding (80-89), solid starter (75-79), good starter (70-74)
SCOUTS INC.'S ANALYSIS
Strengths

QB Jay Cutler: The Bears finally have a superstar at quarterback. This team is a little deficient at the skill positions, but Cutler is a big-time playmaker who makes the players around him better.
RB Matt Forte:
Although the addition of Cutler means the Bears will throw more, Forte will remain highly productive. Forte should get better touches on early downs versus fewer eight-man fronts because the addition of Cutler will give him more running room.
Defensive front seven:
This unit got better this offseason with the addition of LB Pisa Tinoisamoa to go along with Brian Urlacher and Lance Briggs. The biggest difference, however, should be a healthy DT Tommie Harris, who will look to get back to a dominant level.
Weaknesses

Lack of a No. 1 WR: Although the addition of Cutler looks great on paper, there are still major concerns about who will emerge as a No. 1 target. Tight ends Desmond Clark and Greg Olsen are solid, but the Bears need a consistent wide receiver to emerge on the outside.
Inconsistent secondary:
As good as the Bears are in the front seven, they have some issues in the back end as CBs Charles Tillman and Nathan Vasher are consistently nicked up. They have also never replaced the leadership at safety since the retirement of Mike Brown.
Pass rush:
The Bears have big-name defenders on the edges with Adewale Ogunleye, Alex Brown and Mark Anderson, but the pass rush has been inconsistent. More consistent play on the edges will free up Harris from the weekly double-teams he faces.
Scouts Inc. watches games, breaks down film and studies football from all angles.
JEREMY GREEN'S BURNING QUESTIONS
FOOTBALL TODAY PODCAST: DIVISION PREVIEW
DRAFT CLASS WATCH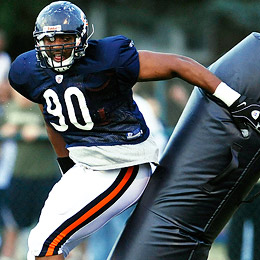 Jarron Gilbert: More help for a stout D.
Summary:
In many ways, the Bears' draft class is quarterback Jay Cutler. To acquire him from Denver, Chicago general manager Jerry Angelo gave up first- and third-round picks. Then, on draft day, Angelo traded his second-round pick for additional picks in the third and fifth rounds. Combined, those moves limited the potential for immediate impact from this draft.
What to expect:
Top pick Jarron Gilbert (No. 3a) will be an understudy to defensive tackle Tommie Harris. Receiver Juaquin Iglesias (No. 3b) is buried deep on the depth chart. The same goes for cornerback/nickelback D.J. Moore (No. 4), who in training camp didn't appear ready to challenge for significant playing time. He's behind several players at the nickel spot, including Corey Graham and Trumaine McBride.
Wild card:
The best immediate hope for this draft class is safety Al Afalava (No. 6), who made some noise during camp after injuries sidelined free safety Danieal Manning. Afalava runs well and is a strong hitter, so the Bears used him as their strong safety while Manning was hurt this summer. (Veteran Kevin Payne moved to free safety in that arrangement.) Chicago coaches still want Manning to be their starter, but Afalava proved to be an intriguing candidate to step into the lineup if necessary. Otherwise, he figures as a strong special-teams contributor.
-- Kevin Seifert, ESPN.com
FANTASY STARS
Matt Forte, RB

Strategy met opportunity, and the result was a shockingly good rookie year for Forte. The archconservative Bears loved what they saw out of him right away, so much so that they dumped Cedric Benson before the season began, realizing that Forte's plugging capabilities as a runner, his soft hands as a receiver and his fine blocking skills made him a prototypical every-down NFL back. Unlike other guys high in our rankings, Forte isn't a game-breaker. But he tied LaDainian Tomlinson for the league lead in receiving targets by a running back, plus he was fourth in carries and seventh in yards. The Bears also brought in Jay Cutler, so Forte should see fewer eight-man fronts, which probably counterbalances concerns that Chicago will become a bit less of a running team. There might not be a surer bet for 300 carries and 50 catches in all of football.
2009 Projection: 1,210 rush yds, 11 TD
---
Jay Cutler, QB

Cutler broke out spectacularly in 2008, tossing for 4,526 yards, third-most in the league. He's got one of the NFL's premier cannons and enough cockiness to believe he can make any throw at any time. Alas, his shot at true fantasy glory vaporized when he forced his way out of Denver and into Chicago. He could've had Josh McDaniels, late of the record-setting Patriots offense, but instead he's got conservative Lovie Smith. He could've had Brandon Marshall; instead, he's got Devin Hester. The kid is talented, and he'll have his moments; plus, offensive coordinator Ron Turner does like the occasional deep pass. But it's impossible to argue that Cutler is worth more in fantasy leagues as a Bear. His elite receiving weaponry is gone, and he won't fling it 40-plus times every game.
2009 Projection: 3,795 pass yds, 24 TD, 16 INT
ESPN THE MAGAZINE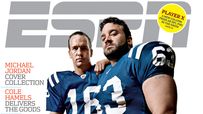 The Chargers win the Super Bowl? What in the name of Norv Turner is going on here?