CINCINNATI BENGALS (Consensus division finish: 3rd)
Nelson Chenault/US Presswire
EXPERTS' PICKS
The Bengals finished third in the AFC North last season with a 4-11-1 record. For more Bengals coverage, visit: James Walker's AFC North blog | Bengals clubhouse
ANALYST
PREDICTION
Jeffri
Chadiha
ESPN.com

DIVISION FINISH: 3 Their success depends greatly on Carson Palmer's ability to stay healthy and Chad Ochocinco's desire to make up for a horrendous 2008 season. Without that, this team is heading for another disastrous year.
John
Clayton
ESPN.com

DIVISION FINISH: 3 As long as Carson Palmer is healthy -- which could be a big "if" -- the Bengals should win seven or eight games. The defense is better under coordinator Mike Zimmer. Chad Ochocinco is not only tweeting by phone; he's catching the ball and running routes as he did earlier in his career.

Tim
Graham
ESPN.com

DIVISION FINISH: 3 If you were to tell me Bruce Coslet was the coach and Darnay Scott was catching passes, I'd believe you, because this team never seems to change. The most monotonous team in sports must be thankful it's in Cleveland's division.
Jeremy
Green
Scouts Inc.

DIVISION FINISH: 3 The key here is a healthy Carson Palmer. Defensively the Bengals are much improved with the addition of Rey Maualuga and return of Keith Rivers.
Paul
Kuharsky
ESPN.com

DIVISION FINISH: 3 A healthy Carson Palmer re-emerges in a big way. I want to like them, but can't bump them up based on the offensive line question marks.
Matt
Mosley
ESPN.com

DIVISION FINISH: 3 This is the year the Bengals leapfrog the Browns. Chad Ochocinco's poised to have a big season, and I think Carson Palmer will do the same. This team could surprise some folks.
Len
Pasquarelli
ESPN.com

DIVISION FINISH: 3 The chic pick of a lot of media folks, and getting Carson Palmer back at quarterback will help, even if the receivers aren't as good as a year ago. Problem is, the Bengals have been unable to stop people with their defense.
Mike
Sando
ESPN.com

DIVISION FINISH: 3 Carson Palmer has the arm, but does he have the legs? Injuries are threatening to derail a quarterback with Hall of Fame abilities.
Kevin
Seifert
ESPN.com

DIVISION FINISH: 3 Assuming quarterback Carson Palmer remains healthy, the Bengals will be better this season. But they're miles away from the class of this division.
James
Walker
ESPN.com

DIVISION FINISH: 3 The Bengals will surprise as long as Carson Palmer stays healthy and upright. But until they prove they're tougher and more physical than Baltimore and Pittsburgh, they'll have a hard time in the AFC North.
Seth
Wickersham
ESPN The Magazine

DIVISION FINISH: 2 With Chad Ochocinco and Carson Palmer healthy, the Bengals can move the ball again. Mike Zimmer's improved defense will save Marvin Lewis' job.
Bill
Williamson
ESPN.com

DIVISION FINISH: 3 The "Hard Knocks" of the summer may continue into the regular season. I think we're finally seeing the end of the lackluster Marvin Lewis era in the Queen City.
Matt
Williamson
Scouts Inc.

DIVISION FINISH: 3 Many are picking the Bengals as a surprise pick to make a lot of noise in 2009. They might have the talent to do so, but their running game and offensive line play could hold them back. Keep an eye on this defense, though, as it could be ready to take a major step forward.
Pat
Yasinskas
ESPN.com

DIVISION FINISH: 3 With Carson Palmer back healthy, the Bengals are going to be better. That's going to help tremendously, but the rest of this team just isn't that good.


CONSENSUS DIVISION FINISH: 3rd | NFL standings
BEST OF THE BENGALS
Best offensive player: QB Carson Palmer. The Bengals have a luxury with their best player on offense -- and the team as a whole -- manning the NFL's most important position. Palmer is one of the league's top five or six quarterbacks when on the field. But injuries and poor play around him have derailed his career to the point that he is 29 and has only one winning season in Cincinnati. This might be the best team Palmer has had his career, so there are no more excuses for the Bengals this season.
Best defensive player:
CB Johnathan Joseph. It's a very close race in Cincinnati, because the Bengals have a lot of good players on defense but no perennial Pro Bowlers. It's hard to separate consistently good players such as Joseph, Domata Peko, Dhani Jones, Keith Rivers and Leon Hall. But Joseph gets the nod as the team's top cover cornerback. He was hurt for half of last season, but has looked really good in minicamps and training camps in the offseason. Expect a bounce-back year.
Best playmaker:
WR Chad Ochocinco. Whether you like his antics or you don't, he's still one of the top 10 receivers when he's healthy and focused. That wasn't the case last season when unhappiness and a poor work ethic caused Ochocinco to put up some of the worst numbers of his career. That has fueled him in the offseason to train hard, and this summer it looks as if he's back to being among the best wideouts in the game.
Team leader:
LB Dhani Jones. Cincinnati's defense didn't take off until Jones was fully established as the leader of the unit. He led the team in tackles in 2008 with 116. Surrounded by a lot of good young players, a major part of Jones' responsibility is to keep everyone in line and playing productive football.
Best unheralded player:
S Chinedum Ndukwe. The former seventh-round pick has made himself into a solid NFL player. He consistently makes big plays, but has been unable to crack the starting lineup full-time in Cincinnati. Ndukwe might not start again this season because he's competing with veteran safety Roy Williams, who has a much better pedigree. But if Ndukwe continues to be a playmaker, the coaching staff will have to find ways to get him on the field.
-- James Walker, ESPN.com
SCOUTS INC.'S FABULOUS FIVE
Scouts Inc. has evaluated and graded more than 2,500 NFL players heading into the 2009 season, giving Insiders a leg up on the competition with exclusive grades, alerts and scouting reports.
Top five players

ANALYSIS
1. Carson Palmer
Quarterback
6-5 | 235
(Grade: 86) He is a very good anticipatory thrower and can manipulate the coverage. But Palmer's development has taken a big step backward lately.
2. Chad Ochocinco
Wide receiver
6-1 | 192
(85) Ochocinco can make the acrobatic catch and is sure-handed overall. He offers little as a blocker and isn't great after the catch
3. Robert Geathers
Defensive end
6-3 | 280
(76) Geathers is a prominent outside edge pass-rusher, but he is better off with a superior player on the opposite side to take some of the pressure away.
4. Domata Peko
Defensive tackle
6-3 | 318
(76) Although Peko is a limited pass-rusher and isn't particularly nimble in the open field, he is a force in the middle of Cincinnati's defense.
5. Johnathan Joseph
Cornerback
5-11 | 193
(75) A former first-round selection, the Bengals' starting cornerback has obvious tools. He is explosive, quick and sharp out of his breaks.
Player grading scale: Elite (90-100), outstanding (80-89), solid starter (75-79), good starter (70-74)
SCOUTS INC.'S ANALYSIS
Strengths

Run defense: Somewhat amazingly and extremely under the radar, this very well could be the strongest aspect of the entire Bengals team, and it should only be better from a year ago.
Weapons:
There are a few really talented receivers in Cincinnati. Of course, there are questions surrounding each player, but the upside here is tremendous. If Chad Ochocinco can be the player he was before last season, everyone will benefit.
Carson Palmer:
This offense was crippled last season, and a huge reason for that was the lack of an upper-echelon quarterback. With Palmer back in the fold, the Bengals will not have to hide the most important position on the field. Instead, it should be a great strength, if health is not a problem.
Weaknesses

Center: The Bengals face AFC North nose tackles Haloti Ngata, Casey Hampton and Shaun Rogers each twice a year. Being weak at center is a major problem. That is especially true when RB Cedric Benson -- an interior runner -- is the primary ball carrier.
Pass rush:
The Bengals could be improved in this department, but they were flat-out terrible in their ability to get to quarterbacks (17 sacks, tied with Cleveland for 30th overall) a year ago.
Running back:
Benson played well at the end of '08, but trusting him as the primary ball carrier is worrisome. The other options on the roster are either unproven or less than dynamic. Few teams are in such bad shape at running back.
Scouts Inc. watches games, breaks down film and studies football from all angles.
JEREMY GREEN'S BURNING QUESTIONS
FOOTBALL TODAY PODCAST: DIVISION PREVIEW
DRAFT CLASS WATCH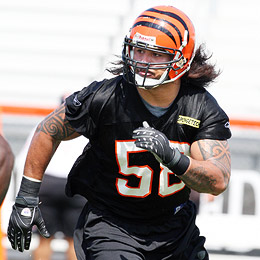 Rey Maualuga: Physical play stands out.
Summary:
The Bengals took a lot of chances but added a lot of talent in what is a pivotal year in the careers of quarterback Carson Palmer and coach Marvin Lewis.
What to expect:
The biggest risk was in the first round with No. 6 overall pick Andre Smith. The right tackle has done few things right since turning pro. He left the NFL combine early, had a less-than-stellar pro day and hired and fired agents. But Cincinnati was enamored with Smith's talents and ignored the warning signs. It all led to a lengthy contract stalemate and Smith missed all of training camp. He then broke a bone in his foot shortly after signing. Other rookies have looked productive. Second-round linebacker Rey Maualuga from USC could be the team's hardest hitter. Expect him to be a starter at some point this season.
Wild card:
Third-rounder Michael Johnson, a defensive end, and fifth-rounder Kevin Huber, a punter, could be good. Johnson will back up starting defensive ends Robert Geathers and Antwan Odom. He has shown a quick burst to get to the quarterback. Huber has a strong leg and specializes in directional punting.
-- James Walker, ESPN.com
FANTASY STARS
Chad Ochocinco, WR

OK, he's mercurial. But Ochocinco isn't that bad. He's not 53 catches for 540 yards and four touchdowns bad. Certainly the primary culprit in Cincinnati's unbearably odious 2008 season was Ryan Fitzpatrick, who was overmatched while starting in place of the injured Carson Palmer. Ochocinco had never amassed fewer than 87 catches, 1,274 yards or seven scores in a full season, which makes it mighty hard to believe he suddenly became a terrible receiver at age 30. Fitzpatrick simply couldn't get "7-11" the ball deep, where he needs it, and instead focused on T.J. Houshmandzadeh. In 2009, Housh is gone and Palmer returns, plus Ochocinco has Laveranues Coles as his new running mate. Listen, we're not trying to sell you on the notion that the Bengals are suddenly Super Bowl material, but this offense is going to be better. For all his ridiculous behavior, we say Ochocinco represents a nice buy-low opportunity.
2009 Projection: 76 rec, 1,141 rec yds, 6 TD
---
Cedric Benson, RB

Benson is a former No. 4 draft pick who has spent most of his four seasons murdering fantasy owners, but for a couple of sweet weeks in December 2008, he delivered championships to a bunch of lucky souls. After managing 465 yards on 151 carries for the Bengals between Week 5 and Week 15, he exploded in those final two games for a combined 282 yards and a score on 63 carries. That outburst alone might have caused Cincinnati to re-sign him to a two-year deal this winter. But he's still not very good. He's slow, he shows poor instincts and he can't catch. He might get the ball a lot for the Bengals this year, but he doesn't deserve your fantasy trust just yet.
2009 Projection: 846 rush yds, 3 TD
ESPN THE MAGAZINE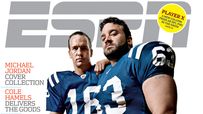 The Chargers win the Super Bowl? What in the name of Norv Turner is going on here?