CLEVELAND BROWNS (Consensus division finish: 4th)
Jerome Davis/Icon SMI
EXPERTS' PICKS
The Browns finished fourth in the AFC North last season with a 4-12 record. For more Browns coverage, visit: James Walker's AFC North blog | Browns clubhouse
ANALYST
PREDICTION
Jeffri
Chadiha
ESPN.com

DIVISION FINISH: 4 Too many questions with this bunch. The biggest is whether new coach Eric Mangini was just a one-hit wonder during three years with the Jets or a man who is ready to make the most of his second chance running a team.
John
Clayton
ESPN.com

DIVISION FINISH: 4 Eric Mangini is running a more sound defense, which should improve the team's ability to stop the run. Offensively, though, this team is challenged. The Browns might not put up good numbers with their running offense, which will make it tougher for them to be a successful passing team.

Tim
Graham
ESPN.com

DIVISION FINISH: 4 They very well could end the season as the NFL's worst team. Head coach Eric Mangini is an acquired taste who often causes indigestion. How he manages the quarterback debate will determine whether the Browns are pedestrian or roadkill.
Jeremy
Green
Scouts Inc.

DIVISION FINISH: 4 Too many questions surrounding the QB spot, where coach Eric Mangini made the mistake of waiting too long to name a starter. The Browns lack weapons in the passing game and have holes at every level on defense.
Paul
Kuharsky
ESPN.com

DIVISION FINISH: 4 New staff but same old, same old. Hard to find reasons to bump up the Browns in this division. Maybe if they were in the AFC West.
Matt
Mosley
ESPN.com

DIVISION FINISH: 4 It's sad when a fan base pretty much knows it's not in contention. And that's the case with the Browns this season. Doesn't matter which quarterback they choose, although I think Brady Quinn's the better choice.
Len
Pasquarelli
ESPN.com

DIVISION FINISH: 4 The overhaul at coach and general manager will take awhile to turn this into a good franchise. It won't matter a lot whether Brady Quinn or Derek Anderson wins the starting quarterback job.
Mike
Sando
ESPN.com

DIVISION FINISH: 4 Three winning records since 1990 and no momentum remaining from 2007. Browns fans deserve better.
Kevin
Seifert
ESPN.com

DIVISION FINISH: 4 Eric Mangini's first summer in Cleveland, rife with mistrust and inexplicable decisions, portends a 3-13 season. The Browns have some offensive weapons but we'll see if they want to play for Mangini, or if they can.
James
Walker
ESPN.com

DIVISION FINISH: 4 With talent lacking in Cleveland, don't expect new coach Eric Mangini to pull the same first-year magic that he did in New York.
Seth
Wickersham
ESPN The Magazine

DIVISION FINISH: 4 Trading Kellen Winslow might have cured the Browns of a locker-room headache but also took away their best playmaker. Who on this offense scares a defense?
Bill
Williamson
ESPN.com

DIVISION FINISH: 4 The first year of the Eric Mangini era in Cleveland will more closely resemble Mangini's final season in New York than his first year there. The Browns may take their lumps again in 2009.
Matt
Williamson
Scouts Inc.

DIVISION FINISH: 4 Eric Mangini has put his stamp on this franchise and looks to have created better competition and depth across the board. But still, playmakers here are too few and far between. Yet another rebuilding year in Cleveland.
Pat
Yasinskas
ESPN.com

DIVISION FINISH: 4 I was surprised when the Browns pounced so quickly on Eric Mangini. It's not as if he's had great success as a head coach. In fact, I think he's got the potential to make a bad team worse.


CONSENSUS DIVISION FINISH: 4th | NFL standings
BEST OF THE BROWNS
Best offensive player: LT Joe Thomas. It has been two years and two Pro Bowls for Thomas. He had a relatively down year in 2008, but still was invited to Hawaii based on his play. Thomas is a technician and is probably a better pass protector than road-grader at this stage of his career. The Browns are expected to run the football a lot this year, which will push Thomas' skills as a run-blocker to the limit.
Best defensive player:
DT Shaun Rogers. Here's a scary thought: Not only is Rogers the best defensive player on the Browns; he might also be the best pure athlete. Few could block him one-on-one last season. "Big Baby" made the Pro Bowl and was the lone bright spot in Cleveland's 4-12 season.
Best playmaker:
WR Braylon Edwards. Although you don't know which player will show up week to week or season to season, Edwards still has the most game-breaking ability on the team. He is capable of taking over games and making spectacular plays in spurts. But concentration lapses and attention to detail also have plagued Edwards during his career. Playing in a contract year should help with the latter and get Edwards closer to his 2007 form.
Best unheralded player:
Josh Cribbs. A former undrafted free agent, Cribbs has made himself into one of the top kick returners in football. He's healthy this year and already reached the end zone in the preseason; he's also pushing for playing time at receiver. The irony is Cribbs also is the most unheralded player in his organization. He's unhappy with his contract and is seeking a new deal. But the Browns have yet to come to an agreement.
-- James Walker, ESPN.com
SCOUTS INC.'S FABULOUS FIVE
Scouts Inc. has evaluated and graded more than 2,500 NFL players heading into the 2009 season, giving Insiders a leg up on the competition with exclusive grades, alerts and scouting reports.
Top five players

ANALYSIS
1. Shaun Rogers
Nose tackle
6-4 | 350
(Grade: 91) Rogers is a rare specimen in that few players in recent memory have such an outstanding overall combination of sheer power, size, quickness and athletic ability.
2. Joe Thomas
Tackle
6-6 | 312
(90) He is tall with an overall long athletic build, and has excellent feet and quickness for the position.
3. Eric Steinbach
Guard
6-6 | 295
(83) Although not the strongest, he consistently wins the leverage battle and excels in space as a pulling option.
4. Braylon Edwards
Wide receiver
6-3 | 215
(80) Despite his immense talents, Edwards cost his team far too often with untimely drops on passes that were not difficult to reel in.
5. Corey Williams
Defensive tackle
6-4 | 320
(78) Williams had a bad shoulder for much of the 2008 season, but also struggled with the adjustment to Cleveland's 3-4 scheme.
Player grading scale: Elite (90-100), outstanding (80-89), solid starter (75-79), good starter (70-74)
SCOUTS INC.'S ANALYSIS
Strengths

Left side of the offensive line: After just two seasons, Joe Thomas is among the elite left tackles in the game. LG Eric Steinbach is an exceptional athlete and a dependable performer. Helping matters, Cleveland should be improved at center with the addition of first-round pick Alex Mack.
Shaun Rogers:
When right, NT Rogers is just about unblockable, and he consistently occupies several blockers at once. Not only is Rogers capable of being a force; this defensive line overall could really step up its collective output in 2009.
Josh Cribbs:
This is the kind of guy every coach wants on his team. But the reason we list him here is because of his ability to change a game on special teams. He is a playmaker in every sense.
Weaknesses

Pass rush: Rogers can really push the pocket, but the edge pass rush just isn't up to snuff. When running a 3-4 defense, pressure must come from the outside linebackers. Kamerion Wimbley is capable, but really has failed to take the next step after a promising rookie campaign. Maybe a new coaching staff will help his progress.
Offensive game-changers:
Winning in the NFL is often about creating mismatches in your favor. With TE Kellen Winslow now in Tampa Bay, the Browns only have one player, WR Braylon Edwards, who is capable of creating mismatches. One wild card here is RB Jerome Harrison, who might not be an every-down back, but he has big-play potential.
Defensive consistency:
This was a problem in Cleveland last year, as well as in New York under then-Jets coach Eric Mangini. It was hard to predict which Jets defense would appear on a week-to-week basis. With a lot of new bodies -- namely several ex-Jets -- sure to see plenty of playing time, continuity and consistency could once again be an issue.
Scouts Inc. watches games, breaks down film and studies football from all angles.
JEREMY GREEN'S BURNING QUESTIONS
FOOTBALL TODAY PODCAST: DIVISION PREVIEW
DRAFT CLASS WATCH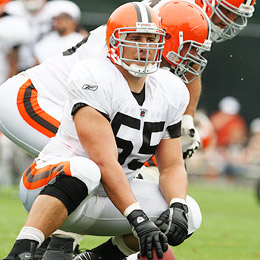 Alex Mack: Enduring early growing pains.
Summary:
The first draft class for new Browns coach Eric Mangini was about what you expected: It was filled with safe, smart players. None of Cleveland's rookies is due to make a huge impact, but the goal is to have solid contributors while the team goes through its rebuilding phase.
What to expect:
Mack is neck-and-neck with veteran Hank Fraley for the starting center job and appears to be taking the lead. He was expected to beat out Fraley much earlier. The Browns have three second-round picks who have looked good: linebacker David Veikune and receivers Brian Robiskie and Mohamed Massaquoi. Of the trio, Massaquoi has made the most plays, and has a good shot to be the team's No. 2 receiver opposite Braylon Edwards. Robiskie should also receive early playing time.
Wild card:
Perhaps the most surprising rookie is former Clemson tailback James Davis, a sixth-rounder who has shown good moves, vision and a nice burst. Expect Davis to get opportunities spelling starting running back Jamal Lewis.
-- James Walker, ESPN.com
FANTASY STARS
Braylon Edwards, WR

The fantasy world swung and missed on Edwards in 2008. A year after catching 16 touchdowns, he managed only three in 2008, and led the league in drops, with 16. You can't blame all of the Browns' offensive struggles on Edwards, but his lack of concentration and tendency toward "blabbermouthery" played a role. Rumors swirled this spring that the new Cleveland coaching staff wanted to clean house, and that they were considering shipping Edwards out the same door they shipped the equally mouthy Kellen Winslow. But it appears Edwards will stay in Cleveland, and we think he'll bounce back, if not to 16 scores then at least half that total. He's just too talented. Plus he's a smart guy, and he can learn from his mistakes.
2009 Projection: 67 rec, 1,010 rec yds, 8 TD
---
Jamal Lewis, RB

Lewis hits that magic age of 30 this August, but considering the monumental drop-off he suffered in 2008, one imagines he might've had his dates confused. A season after coming out of nowhere to rush for 1,304 yards and 4.6 yards per carry, Lewis plummeted to just 1,002 and 3.6 in '08 with almost an identical offense around him. Suddenly the promising Browns O-line wasn't creating massive holes, and Lewis was back to his tippy-toe dancing days. New coach Eric Mangini likes the run, and Lewis should be his Week 1 starter, but we wonder if Lewis has anything left after eight years of smashmouth running.
2009 Projection: 975 rush yds, 4 TD
ESPN THE MAGAZINE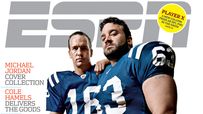 The Chargers win the Super Bowl? What in the name of Norv Turner is going on here?