DALLAS COWBOYS (Consensus division finish: 3rd)
George Gojkovich/Getty Images
EXPERTS' PICKS
The Cowboys finished third in the NFC East last season with a 9-7 record. For more Cowboys coverage, visit: Matt Mosley's NFC East blog | Cowboys clubhouse
ANALYST
PREDICTION
Jeffri
Chadiha
ESPN.com

DIVISION FINISH: 3 They'd be a favorite in any other division in the NFC. Too bad they play in this one.
John
Clayton
ESPN.com

DIVISION FINISH: 4 I think Tony Romo will be a better quarterback without the distractions of Terrell Owens. My concern is the offensive line, which is the oldest in football and could break down by midseason. Thirty-something lines do that.

Tim
Graham
ESPN.com

DIVISION FINISH: 3 The biggest star heading into this year could be the glitzy new stadium. Maybe the absence of expectations will help Tony Romo and the Boys slip into the playoffs and make a run from there.
Jeremy
Green
Scouts Inc.

DIVISION FINISH: 4 I was extremely confused by the Dallas offseason. Say what you want about Terrell Owens, but the Cowboys are not a better team without him. Roy Williams is not ready to fill the void, which means a lot of double coverage for TE Jason Witten. It is going to be a long year in Dallas.
Paul
Kuharsky
ESPN.com

DIVISION FINISH: 3 Even without T.O., it'll be a circus, and the Cowboys have some major depth concerns that will hurt them over the course of 17 weeks.
Matt
Mosley
ESPN.com

DIVISION FINISH: 3 Quarterback Tony Romo looks so much more comfortable without T.O. around. And second-year running back Felix Jones could be one of the most explosive backs in the league.
Len
Pasquarelli
ESPN.com

DIVISION FINISH: 2 Some solid players up front on defense, yet the secondary remains questionable. A quieter, less controversial, businesslike team that will benefit from the growth, both physically and emotionally, of QB Tony Romo.
Mike
Sando
ESPN.com

DIVISION FINISH: 3 It's only a matter of time before Tony Romo breaks through in the playoffs, right? This team has the talent, including at quarterback.
Kevin
Seifert
ESPN.com

DIVISION FINISH: 3 Coaches can't get tougher over time. They can only let the string out after starting off tough. So I don't see Cowboys coach Wade Phillips having the capacity to make a difference this season.
James
Walker
ESPN.com

DIVISION FINISH: 3 Who will they point fingers to now when Dallas misses the playoffs for the second straight season?
Seth
Wickersham
ESPN The Magazine

DIVISION FINISH: 1 Dallas has the perfect mix: lots of talent, a coach and QB with chips on their shoulders, and low expectations. Can you say Super Bowl?
Bill
Williamson
ESPN.com

DIVISION FINISH: 2 The Cowboys won't have the T.O. distraction. They should benefit from a somewhat calm environment. This team isn't perfect but it should make a playoff push.
Matt
Williamson
Scouts Inc.

DIVISION FINISH: 3 Depth on this defense is questionable at all levels, but the offense should remain quite potent, led by Tony Romo. Dallas should feature the running game more than in previous years, but that also could be a winning formula considering its present personnel.
Pat
Yasinskas
ESPN.com

DIVISION FINISH: 1 With a new stadium, maybe it's time for the Cowboys to overachieve, instead of underachieving like they did last year. The roster still has plenty of talent, although Terrell Owens is gone, but I view that as a positive.


CONSENSUS DIVISION FINISH: 3rd | NFL standings
BEST OF THE COWBOYS
Best threat to go all the way: Second-year running back Felix Jones could become one of the most elusive runners in the league. He can turn a middle screen into a 40-yard touchdown in a hurry. His ability to change directions at full speed is pretty rare.
Best backup tight end in the league:
Martellus Bennett is on the verge of becoming a dangerous player. He's got a ton of athleticism and he should become a good target for Tony Romo in the red zone. Put him down for seven touchdowns this season.
Best pass-rusher in the league:
DeMarcus Ware is the most dynamic defensive player in the game. No one can block him -- and he's relentless. He may not get 20 sacks again this season, but he'll be knocking on the door.
Best assistant coach:
Even though the Cowboys have struggled in special teams work this preseason, I think coach Joe DeCamillis will prove to be an excellent addition. Wade Phillips has given him some quality practice minutes and I think he'll have an excellent unit.
Best wide receiver on the roster:
I'll give it to Roy Williams, but it wasn't as easy as one might think. Sam Hurd had a superb camp and he could challenge for that No. 2 receiver role at some point this season.
Best unheralded player:
He's starting to get a little recognition, but nose tackle Jay Ratliff has emerged as one of the quickest nose tackles in the league. And he's got a high motor that really inspires his teammates. He'll miss his pal, Chris Canty, but he should have another strong season.
-- Matt Mosley, ESPN.com
SCOUTS INC.'S FABULOUS FIVE
Scouts Inc. has evaluated and graded more than 2,500 NFL players heading into the 2009 season, giving Insiders a leg up on the competition with exclusive grades, alerts and scouting reports.
Top five players

ANALYSIS
1. DeMarcus Ware
Linebacker
6-4 | 262
(Grade: 94) Ware has deceptive strength to hold the point of attack, using proper hand use and pad level to leverage his opponent. He has developed his pass-rush package with excellent counter moves.
2. Leonard Davis
Guard
6-6 | 353
(85) He has powerful hands to jolt defenders and get movement off the line of scrimmage. He does a great job to lock on and smother defenders as both a run- and pass-blocker.
3. Jason Witten
Tight end
6-5 | 262
(85) Witten is an excellent technician as a run-blocker with good pad level, foot quickness and hand use. He isn't powerful at the point of attack, but shows good functional strength to set the edge.
4. Marion Barber
Running back
6-0 | 225
(82) Barber is an instinctive in-line runner with vision and foot agility to find creases between the tackles. He has good speed but is not a great perimeter threat to stretch the defense.
5. Terence Newman
Cornerback
5-11 | 190
(82) He reads route progressions well and is an excellent reactor to both run and pass. He has great range in pursuit and is a solid open-field tackler.
Player grading scale: Elite (90-100), outstanding (80-89), solid starter (75-79), good starter (70-74)
SCOUTS INC.'S ANALYSIS
Strengths

Two-headed monster at RB: When Marion Barber and Felix Jones were both healthy at the same time last season, we saw flashes of how explosive this duo can be. Dallas will not be as explosive on offense this season without Terrell Owens, which means the Cowboys will look to get their running back duo on the field together more this season.
TE Jason Witten:
He is one of the most versatile tight ends in the NFL, and Dallas will need to rely on him even more this season. Without T.O., teams will now be able to focus more of their attention on Witten, which puts the onus on offensive coordinator Jason Garrett to come up with even more creative ways to get Witten open.
OLB DeMarcus Ware:
He is one of the most versatile front-seven players in the NFL. Ware is a dominant force in every phase of this defense, especially as a pass-rusher.
Weaknesses

Lack of a true No. 1 WR: Roy Williams may or may not be that guy, but right now this is a true question mark. After coming over from Detroit in a trade last season, Williams was disappointing. It's critical Williams steps up because not only must he fill the shoes of Owens, he must be able to make enough big plays to keep the field open for Witten.
Inconsistent secondary:
After beginning the 2008 season with one of the deeper cornerback corps in the NFL, Dallas has little depth there this season.
Tony Romo, sort of:
He's not really a weakness because he is a solid starter, but Romo needs to mature. He needs to start making plays in December … in big games. Until he does that, he will not be an elite starter.
Scouts Inc. watches games, breaks down film and studies football from all angles.
JEREMY GREEN'S BURNING QUESTIONS
FOOTBALL TODAY PODCAST: DIVISION PREVIEW
DRAFT CLASS WATCH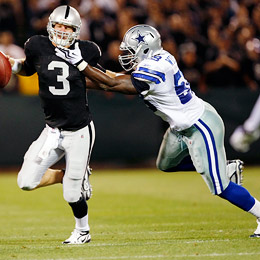 Jason Williams: Depth for a strong LB corps.
Summary: The Cowboys gave up their first-round pick to land Roy Williams last season. And then they traded out of their second-round pick and had the Nos. 69 and 74 picks. Linebacker Jason Williams (69) is pretty raw at this point and offensive tackle Robert Brewster (74) is out for the season with a back problem caused by weightlifting. This may be one of the most brittle draft classes the Cowboys have ever had.
What to expect:
The kickoff specialist, David Buehler, may be the best in show at this point. He's a remarkable athlete and could be a weapon if he racks up the touchbacks. Other than Buehler, I wouldn't expect a whole lot from this class early on.
Wild card:
Outside linebacker Victor Butler made a lot of plays in training camp. He's also raw, but I think he'll develop as the season goes on. Former Clemson safety Michael Hamlin is out six weeks with a broken wrist, but he's a player who could win a starting job in the next year or two. He does a nice job of learning concepts and has excellent hands. I could see him being a seven-interception guy at some point in his career.
-- Matt Mosley, ESPN.com
FANTASY STARS
Marion Barber, RB

We were bashed early in 2008 for our supposed lack of adequate Barber love (we rated him ninth among rushers), as Barber scored five times in Dallas' first three games. But thereafter, the cows came home to roost, or whatever it is cows of ill omen do. Injuries caused Barber to post just 885 rushing yards and 3.7 yards per carry. Our concerns were justified: Barber's vicious rushing style isn't suited for full-time use. Now that the Cowboys have Felix Jones and Tashard Choice available as options, it's possible the team will view Barber as their primary fourth-quarter and goal-line guy, as they did when Julius Jones was around. That's still a valuable role (Barber scored 16 and 12 all-purpose touchdowns, respectively, in '06 and '07), so we still view Barber as a No. 1 fantasy back. He might even be undervalued this year. But you can forget that talk of him being elite.
2009 Projection: 989 rush yds, 13 TD
---
Tony Romo, QB

Romo's overall 2008 numbers don't look great, but remember, he missed three games with a broken pinkie. He still made the NFL's top 10 in touchdown passes, yards per game, yards per attempt, attempts per game and passer rating, which made him a fantasy starter in all leagues. His real-life albatross -- that he's played puny in big games -- doesn't factor much into your fantasy league, except to the extent that when Romo is off, he's really off. The biggest strike against him for '09, though, is that the Cowboys released Terrell Owens this March. Romo still has Jason Witten and Roy Williams, and he'll still go vertical regularly. But for all his madness, T.O. was an incredible fantasy producer. Romo is still a fantasy asset, and although he's 29, he's only just finished his third season as a starter, so he may get better. But any way you slice it, his weapons are worse.
2009 Projection: 4,001 pass yds, 28 TD, 19 INT
ESPN THE MAGAZINE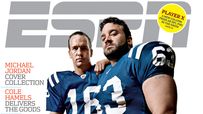 The Chargers win the Super Bowl? What in the name of Norv Turner is going on here?