DETROIT LIONS (Consensus division finish: 4th)
Leon Halip/US Presswire
EXPERTS' PICKS
The Lions finished fourth in the NFC North last season with a 0-16 record. For more Lions coverage, visit: Kevin Seifert's NFC North blog | Lions clubhouse
ANALYST
PREDICTION
Jeffri
Chadiha
ESPN.com

DIVISION FINISH: 4 New head coach Jim Schwartz will point this team back in the right direction. Unfortunately for Lions fans, that turnaround won't happen this season.
John
Clayton
ESPN.com

DIVISION FINISH: 4 The Lions might go winless in NFC North games, but they won't go 0-16. Jim Schwartz was a great hire at head coach, and Matthew Stafford will be a star quarterback once he gets more weapons around him. The trouble is there aren't enough young playmakers on defense to make it easier for the Lions to do better than four to six wins.

Tim
Graham
ESPN.com

DIVISION FINISH: 4 Don't expect the Lions to re-enact the Dolphins' spectacular single-season turnaround -- or anything close. And don't expect Matthew Stafford to re-enact Matt Ryan's splashy rookie season -- or anything close.
Jeremy
Green
Scouts Inc.

DIVISION FINISH: 4 They are not a contender, but they will be a better team and have a storyline worth watching (QB Matthew Stafford). Jim Schwartz is moving the Lions in the right direction, but they are a few years away from contending for division titles.
Paul
Kuharsky
ESPN.com

DIVISION FINISH: 4 A five-game jump isn't out of the question, and Jim Schwartz might be a hero if that's the rebound from the franchise's historic winless season.
Matt
Mosley
ESPN.com

DIVISION FINISH: 4 It doesn't matter who starts at quarterback. This team will once again be awful. But the Lions at least will be entertaining if Matt Stafford starts. This could easily be a 13-loss team -- and that would be a big improvement.
Len
Pasquarelli
ESPN.com

DIVISION FINISH: 4 Another coach-general manager makeover, with Jim Schwartz on the sideline and Martin Mayhew in the front office. Both men might need a psychiatrist on-call by the time their maiden season is completed.
Mike
Sando
ESPN.com

DIVISION FINISH: 4 The Lions are rebuilding with aging players. It doesn't make much sense.
Kevin
Seifert
ESPN.com

DIVISION FINISH: 4 A bevy of new veterans could give the Lions some short-term credibility. But ultimately this team knows it is at the start of a long rebuilding process.
James
Walker
ESPN.com

DIVISION FINISH: 4 The Lions are playing with house money. They need only one victory for a 100 percent improvement over last season.
Seth
Wickersham
ESPN The Magazine

DIVISION FINISH: 4 Put it in ink: The Schwartz-led Lions, aided by Kevin Smith, Calvin Johnson, Matthew Stafford and an improved pass rush, knock the Bears out of the playoffs on Jan. 3, setting the stage for a 2010 with -- gasp! -- expectations.
Bill
Williamson
ESPN.com

DIVISION FINISH: 4 The Lions should be improved some. Yes, that means they will win three or four games. The healing process has begun, but the Lions aren't ready to compete with the three other teams in the division.
Matt
Williamson
Scouts Inc.

DIVISION FINISH: 4 Line play (on both sides of the ball) will hold Detroit back, and after another season with just a few wins, the Lions will be able to attack this problem over the next offseason. The rest of the team has pieces in place. There is reason for optimism in Detroit, but the Lions still lack a foundation of big people.
Pat
Yasinskas
ESPN.com

DIVISION FINISH: 4 The Lions will be better, but that's only because they can't be any worse. Not much more you can say about this team.


CONSENSUS DIVISION FINISH: 4th | NFL standings
BEST OF THE LIONS
Best rookie: Safety Louis Delmas. The Lions had three picks among the top 33 of the draft, and the third might make the biggest impact in the short term. Delmas, nicknamed "The Missile," hits hard and can cover a lot of ground against the pass. He'll help establish a mean streak for the Lions' defense.
Best position group:
Linebacker. The Lions had plenty of personnel holes to fill after a 0-16 season, but they've given themselves a chance to be decent at linebacker after trading for Julian Peterson and signing free agent Larry Foote. Peterson and Foote will combine with holdover Ernie Sims to give Detroit some credibility and experience at the position.
Best pass-rusher:
Defensive end Cliff Avril. With five sacks in part-time duty last season, Avril by default is the Lions' biggest threat on the defensive line. Whether he can absorb play-by-play pounding from offensive tackles has yet to be determined, but opponents at least will have to account for him early in game-planning meetings.
Best approach:
Coach Jim Schwartz. The Lions' head man went out of his way to avoid referring to players as "starters" during most of training camp. His theory was that no one on a team that went 0-16 should be given a job. Hear, hear.
Best new veteran:
Grady Jackson. The Lions acquired nearly 30 veteran players from other organizations this offseason. But if he stays healthy, Jackson will have the biggest impact. Opponents pushed around the Lions' defensive line last year, but Jackson knows how to stand his ground.
-- Kevin Seifert, ESPN.com
SCOUTS INC.'S FABULOUS FIVE
Scouts Inc. has evaluated and graded more than 2,500 NFL players heading into the 2009 season, giving Insiders a leg up on the competition with exclusive grades, alerts and scouting reports.
Top five players

ANALYSIS
1. Calvin Johnson
Wide receiver
6-5 | 236
(Grade: 83) Johnson has an outstanding combination of size, strength and athleticism. He has developed his overall route running and understands how to use his length and strength to get separation as well as outmuscle defenders for the ball.
2. Ernie Sims
Linebacker
6-0 | 230
(75) Sims is a good football player who continues to improve, and though he lacks great size, he has been durable early in his career.
3. Jeff Backus
Tackle
6-5 | 305
(74) Backus is a smart, instinctive player who wins with toughness, technique, strength and initial quickness. He understands angles and how to gain leverage early in the play.
4. Jason Hanson
Kicker
6-0 | 190
(74) He continues to have a live leg that shows excellent range and accuracy. He has great poise under pressure.
5. Dominic Raiola
Center
6-1 | 295
(70) Raiola is a good player with some limitations, but his experience and leadership bring a lot to the table.
Player grading scale: Elite (90-100), outstanding (80-89), solid starter (75-79), good starter (70-74)
SCOUTS INC.'S ANALYSIS
Strengths

WR Calvin Johnson: Johnson is a top-five wide receiver on a bottom-five team, but that did not stop him from putting up big-time numbers last season. Johnson will see a lot of rolled coverage with the safety over the top, but he has the size and speed to consistently beat double-teams.
Improved linebacking unit:
One of the few strengths of the Lions' defense has been WLB Ernie Sims. This could be an even better year from Sims because Detroit has added Julian Peterson on the strong side and Larry Foote in the middle. Barring injury, this unit will be one of the more underrated groups in the NFL.
Weaknesses

Lack of a No. 1 QB: Though the future is going to be extremely bright with Matthew Stafford, he is going to take some time to develop. Daunte Culpepper's best days are behind him, so this position is going to be inconsistent all season.
Defensive line:
New coach Jim Schwartz was blessed with a lot of talent along the defensive line in Tennessee, but that will not be the case in Detroit. The Lions lack a bona fide pass-rusher off the edge or a dominant run-stuffer inside.
Leadership in the middle:
The Lions don't have a safety in the middle of the field to coordinate the defense. Marquand Manuel has bounced all over the NFL, and Kalvin Pearson is a No. 3 safety at best. The Lions need rookie Louis Delmas to step in and make an immediate impact.
Scouts Inc. watches games, breaks down film and studies football from all angles.
JEREMY GREEN'S BURNING QUESTIONS
FOOTBALL TODAY PODCAST: DIVISION PREVIEW
DRAFT CLASS WATCH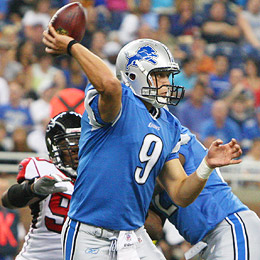 Matthew Stafford: Detroit's future.
Summary:
With three picks in the top 33 overall selections, the Lions grabbed what they believe will be three long-term, if not immediate, starters. If all goes well, quarterback Matthew Stafford (No. 1a), tight end Brandon Pettigrew (No. 1b) and safety Louis Delmas (No. 2) will be cornerstones of the Lions' rebuilding project.
What to expect:
Stafford's competition with veteran Daunte Culpepper went down to the wire this summer. But one thing is clear: It's always been a matter of when, not if, Stafford would win the job. Pettigrew was sidelined early in training camp by a quadriceps injury, but he should be a full-time starter this season, using his NFL-caliber blocking skills to give the Lions' offensive line some help. Delmas also was limited by a knee injury but proved to be an active player and hard hitter during the preseason.
Wild card:
The Lions have a number of intriguing prospects who could help this season. Defensive tackle Sammie Lee Hill (No. 4) is an athletic 325-pounder. He is raw but should find himself in the defensive tackle rotation. Tailback Aaron Brown (No. 6) is shifty and fast and made some big plays during the preseason. Lions coaches should find some room for him this season.
-- Kevin Seifert, ESPN.com
FANTASY STARS
Calvin Johnson, WR

What more could Megatron have done in 2008? A mammoth physical freak with amazing hands and hang time -- incidentally, he also runs a 4.35 40 -- Johnson flourished in his second season despite the Lions' gaping hole at quarterback. He had only 14 red zone targets, mostly because Detroit was rarely in the red zone, and yet managed to tie for the NFL lead in touchdown receptions. He was also the only game in town: Johnson was third in the league in target percentage, as Lions quarterbacks threw it to him on 33.4 percent of their attempts. The switch to Scott Linehan at offensive coordinator is fine news for Megatron because Linehan likes to throw in the red zone. Sure, some combo of Daunte Culpepper and Matt Stafford under center isn't optimal, but it shouldn't be any worse than the Lions' quarterback play was in '08.
2009 Projection: 81 rec, 1,310 rec yds, 12 TD
---
Kevin Smith, RB

Behind arguably the NFL's worst offensive line and with worn-out veteran Rudi Johnson snaking some of his playing time, Smith nevertheless impressed in the second half of 2008, with 708 yards, 3.8 yards per carry and five scores. He also proved he's one of the league's better young receivers at his position, with 39 catches on 54 targets. Johnson is gone and Maurice Morris has arrived in Detroit, but the Lions expect Smith to be their main back. He was a one-cut rusher in college at Central Florida, and the fact that new offensive coordinator Scott Linehan plans on keeping a zone-blocking system in place bodes well. It's hard to get too excited about anyone on a team that went 0-16 last year, especially since the Lions won't have an experienced, competent hand at quarterback. But Smith should be worthwhile as a fantasy starter.
2009 Projection: 1,146 rush yds, 8 TD
ESPN THE MAGAZINE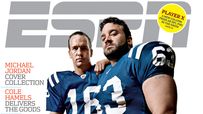 The Chargers win the Super Bowl? What in the name of Norv Turner is going on here?