GREEN BAY PACKERS (Consensus division finish: 2nd)
Jeff Hanisch/US Presswire
EXPERTS' PICKS
The Packers finished third in the NFC North last season with a 6-10 record. For more Packers coverage, visit: Kevin Seifert's NFC North blog | Packers clubhouse
ANALYST
PREDICTION
Jeffri
Chadiha
ESPN.com

DIVISION FINISH: 3 The Packers will be a better team if they've resolved their defensive problems. That won't be an easy thing to do with a switch from a 4-3 to a 3-4 this season.
John
Clayton
ESPN.com

DIVISION FINISH: 2 Aaron Rodgers has been the passing star of the preseason, which shouldn't be a surprise. He has two 1,000-yard receivers, a 1,200-yard runner and two talented tight ends. Rodgers should be better late in games than he was last year, which should produce more wins.

Tim
Graham
ESPN.com

DIVISION FINISH: 2 Based on preseason performances, the Packers' move to a 3-4 defense under coordinator Dom Capers could be dramatic. An improvement there will vault Green Bay into the playoffs because its offense is more than adequate.
Jeremy
Green
Scouts Inc.

DIVISION FINISH: 2 Tough call to go over the Bears here, but I have been impressed with the Packers' preseason. QB Aaron Rodgers and the offense are playing at a high level and the defense has adapted quickly to the 3-4 scheme. The Packers will be fighting for the division title and a playoff berth.
Paul
Kuharsky
ESPN.com

DIVISION FINISH: 1 Big bounce-back season for the Packers, who get great production out of Aaron Rodgers and a nice jump on defense in Year 1 under coordinator Dom Capers, who mixes and matches his front to get the most out of his personnel while laying the groundwork for a full-time 3-4.
Matt
Mosley
ESPN.com

DIVISION FINISH: 1 I think Aaron Rodgers is poised to have a breakout season, and Greg Jennings has quietly become one of the best receivers in the NFC. Plus, I think Rodgers would love to stick it to Brett Favre.
Len
Pasquarelli
ESPN.com

DIVISION FINISH: 3 The Packers are trying to change to a 3-4 defense on the fly and have moved their best defensive player, DE Aaron Kampman, to linebacker, so the transition might take a while. QB Aaron Rodgers is a lot better than people realize.
Mike
Sando
ESPN.com

DIVISION FINISH: 1 The Packers are my Super Bowl pick in the NFC because it just feels right with Brett Favre's landing in Minnesota. Aaron Rodgers looks sensational, too.
Kevin
Seifert
ESPN.com

DIVISION FINISH: 2 The Packers have the best quarterback and offense in the division. Their defense had a strong preseason, but that's to be expected from blitzing schemes for which opponents aren't making game plans. Green Bay will push Minnesota. Hard.
James
Walker
ESPN.com

DIVISION FINISH: 3 QB Aaron Rodgers threw for 4,038 yards in 2008 and the Packers still finished 6-10. That's not a good sign.
Seth
Wickersham
ESPN The Magazine

DIVISION FINISH: 1 How the defense adjusts to the 3-4 will determine the Packers' season, because the offense -- Aaron Rodgers, Greg Jennings, Ryan Grant, Donald Driver -- might end up being the conference's best. .
Bill
Williamson
ESPN.com

DIVISION FINISH: 3 The Packers are an interesting team. If they get better defensive play, they can make some noise. But they might be a step behind the Bears and the Vikings.
Matt
Williamson
Scouts Inc.

DIVISION FINISH: 3 This is a tough team to get a hold of. There is a lot of talent on defense, but I still contend that switching to a 3-4 scheme was a mistake and unnecessary overall. Still, the Packers are well-coached on that side of the ball, and Aaron Rodgers will ensure that the Packers are putting up plenty of points. I am hesitant to place Green Bay this low. Double-digit wins are not out of the question.
Pat
Yasinskas
ESPN.com

DIVISION FINISH: 1 The Packers disappointed last year, but that's not going to happen again. They're healthy now and Aaron Rodgers showed promise last year. It's time for the Packers to bounce back.


CONSENSUS DIVISION FINISH: 2nd | NFL standings
BEST OF THE PACKERS
Best quarterback (in the division): Aaron Rodgers. Chicago's Jay Cutler was the talk of spring and Minnesota's Brett Favre dominated summer conversation. But Rodgers was locked in during training camp. His development, combined with his experience in the Packers' offense, makes him the NFC North quarterback best poised for elite-level success this season.
Best blitzer:
Linebacker Brandon Chillar. The blitz will be a buzzword in the scheme of new coordinator Dom Capers, and Chillar has proved to have an exceptional knack for it. The Packers are still figuring out the best place to use him, but he can play outside or inside in a 3-4.
Best hamstring:
Tailback Ryan Grant. Although he produced 1,203 yards last season, a strained hamstring seemed to limit his explosiveness. This summer, Grant reported to training camp on time and healthy and seems poised to break longer runs in 2009.
Best volume:
Outside linebackers coach Kevin Greene lost his voice during the second week of training camp, having screamed so loudly and steadily at his players. If nothing else, Greene has helped raise the intensity level of the Packers' defense.
Best tight end:
Jermichael Finley. Out of respect, it's likely that veteran Donald Lee will remain the starter, at least in the short term. But Finley proved this summer he is an agile, fast-moving target who can add another dimension to the passing game.
-- Kevin Seifert, ESPN.com
SCOUTS INC.'S FABULOUS FIVE
Scouts Inc. has evaluated and graded more than 2,500 NFL players heading into the 2009 season, giving Insiders a leg up on the competition with exclusive grades, alerts and scouting reports.
Top five players

ANALYSIS
1. Aaron Kampman
Defensive end
6-4 | 260
(Grade: 83) Kampman is best attacking the line of scrimmage, but he has enough quickness, agility and speed to be an effective short-zone coverage defender.
2. Greg Jennings
Wide receiver
5-11 | 198
(80) His speed, quickness, balance and lateral agility make his break point precise as a route-runner, and he knows how to use his body to get separation.
3. Charles Woodson
Cornerback
6-1 | 202
(80) He has lost a step over the past couple of seasons but still possesses great hips, agility and quickness to be effective in both man and zone coverages.
4. Nick Barnett
Linebacker
6-2 | 236
(79) He is an excellent athlete with deceptive strength and great instincts. His speed and quickness give him outstanding range from sideline to sideline.
5. A.J. Hawk
Linebacker
6-1 | 250
(77) Hawk is a quick reactor, which enables him to beat blockers to the point of attack as well as jump receivers while in coverage.
Player grading scale: Elite (90-100), outstanding (80-89), solid starter (75-79), good starter (70-74)
SCOUTS INC.'S ANALYSIS
Strengths

QB Aaron Rodgers: Even though the Packers finished 6-10 last season, Rodgers played up to expectations in his first year as the starting quarterback. He played with a lot of poise and showed good leadership skills. Rodgers' level of play should only get better with more experience.
WR corps:
Greg Jennings has developed into a legitimate No. 1 target. His emergence has allowed veteran Donald Driver to continue to thrive. James Jones and Jordy Nelson round out one of the deepest WR groups in the NFL.
Starting CB tandem:
When healthy, Al Harris and Charles Woodson are as good as it gets. Woodson is a guy who can move all over the field and neutralize the opposing team's No. 1 receiver, allowing Harris to focus on and usually thrive against the No. 2 receiver.
Weaknesses

Switch to the 3-4 defense: The scheme will give the Packers more versatility, but it takes time to develop a new system. A good majority of the players in the front seven were drafted to compete in a 4-3, so there will be an adjustment period.
Inconsistent offensive line:
The Packers need to get a more consistent effort from guards Jason Spitz and Daryn Colledge, who at this point should be playing closer to a solid starting level. LT Chad Clifton can no longer handle elite edge-rushers.
Commitment to the run:
The Packers consistently got away from the ground game last year and were one-dimensional. Offensive balance is critical, so RB Ryan Grant needs to be a bigger part of the offense this season.
Scouts Inc. watches games, breaks down film and studies football from all angles.
JEREMY GREEN'S BURNING QUESTIONS
FOOTBALL TODAY PODCAST: DIVISION PREVIEW
DRAFT CLASS WATCH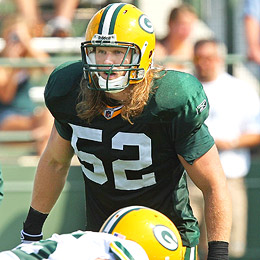 Clay Matthews: Battling hamstring injury.
Summary:
The Packers hoped to have two immediate starters in defensive lineman B.J. Raji (No. 1a) and linebacker Clay Matthews (No. 1b).
What to expect:
A two-week holdout left Raji working behind Johnny Jolly at left end. It's a matter of time before he becomes a starter, but that could be at left end or nose tackle. He has rare power and quickness for the position and Green Bay needs his playmaking abilities. Raji also is likely to work as a defensive tackle in the Packers' nickel defense. Matthews, however, has been limited for months by a recurring hamstring injury. The Packers had ticketed him to start opposite Aaron Kampman at outside linebacker, but he hasn't been able to stay on the field long enough to win the job. His injuries have left Brady Poppinga as the likely starter, and the best-case scenario for Matthews is to wrest the job away during the regular season. Finally, offensive lineman T.J. Lang (No. 4), once believed to have a chance to start at right tackle, will instead serve as a multi-position backup.
Wild card:
Fullback Quinn Johnson (No. 5) has been competing behind two veterans, Korey Hall and John Kuhn. But at 250 pounds, Johnson is an intriguing physical specimen. You have to like the idea of Ryan Grant running behind a lead block from a 250-pound fullback. In all likelihood, Johnson will need to work on technique and fundamentals before he becomes a threat for serious playing time.
-- Kevin Seifert, ESPN.com
FANTASY STARS
Greg Jennings, WR

When Aaron Rodgers took the reins in Green Bay, we were concerned the deep passing game might go away. Concern averted. Jennings came out of the gates blazing in 2008, racking up 34 catches for 653 yards and four scores in the Packers' first six games. He hit the occasional rough patch yardage-wise after that, but still accounted for five more touchdowns, making him a top-five fantasy receiver. He has supplanted Donald Driver as the Packers' best offensive weapon, and his 16.2 yards per catch put him fourth in the league among players with at least 50 grabs. He's not big or super fast, but Jennings has amazing open-field instincts and Rodgers' big arm on his side. Green Bay does spread it around to other receivers, but always seems to come back to Jennings for the big play.
2009 Projection: 79 rec, 1,303 rec yds, 10 TD
---
Ryan Grant, RB

A season removed from his stellar 2007 second half, Grant looks a bit more like a one-hit wonder than a true fantasy stud. He struggled in the Packers' new zone-blocking scheme last season, managing just 3.9 yards per carry after averaging 5.1 the year before, and he didn't see the end zone until Week 7. Now, he did hold out of last year's training camp because of a contract dispute, and he also played with an injured thumb late in the year, and those might have contributed to his struggles. There's no getting around the fact that Grant was over-drafted in 2008 fantasy leagues, but after Aaron Rodgers proved himself as a legit NFL quarterback, it's possible Grant will be undervalued this season, provided he shows more of his '07 decisiveness and acceleration.
2009 Projection: 1,185 rush yds, 6 TD
ESPN THE MAGAZINE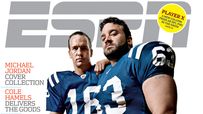 The Chargers win the Super Bowl? What in the name of Norv Turner is going on here?