HOUSTON TEXANS (Consensus division finish: 3rd)
George Gojkovich/Getty Images
EXPERTS' PICKS
The Texans finished third in the AFC South last season with a 8-8 record. For more Texans coverage, visit: Paul Kuharsky's AFC South blog | Texans clubhouse
ANALYST
PREDICTION
Jeffri
Chadiha
ESPN.com

DIVISION FINISH: 3 This is the season when the Texans need to grow into a playoff team. The key is Matt Schaub staying healthy and a young defense improving in a hurry.
John
Clayton
ESPN.com

DIVISION FINISH: 3 The Texans should get to nine wins, but that may not be good enough to net anything better than third place in the AFC South. Gary Kubiak clearly has his best team -- a good young defense, a solid quarterback (Matt Schaub) and a talented young runner (Steve Slaton). To make the playoffs, the Texans probably need to go 4-2 in the division.

Tim
Graham
ESPN.com

DIVISION FINISH: 3 We've been waiting for the Texans to make the next step and become a playoff team. They have an outside shot this season, but their secondary remains a concern.
Jeremy
Green
Scouts Inc.

DIVISION FINISH: 3 The Texans have a solid 1-2 punch of Matt Schaub to Andre Johnson. Plus, a better defense will help the Texans at least make a playoff push in 2009.
Paul
Kuharsky
ESPN.com

DIVISION FINISH: 3 The Texans can contend for the AFC's second wild-card berth, but barring injuries to their rivals it will have to be from third place in the division. Are they equipped to improve in turnovers, red-zone production, sacks, division play and road play all in the same season?
Matt
Mosley
ESPN.com

DIVISION FINISH: 3 In the AFC West, I'd have the Texans challenging for the No. 1 spot. Unfortunately, they're in a tougher division. There are questions about Matt Schaub's durability -- and they're legit questions.
Len
Pasquarelli
ESPN.com

DIVISION FINISH: 3 A popular pick to be this season's surprise team. There is lots of quality on the offensive side, and WR Andre Johnson might be the best unknown player in the league. Will they avoid turnovers? And will the defense finally step up?
Mike
Sando
ESPN.com

DIVISION FINISH: 4 Matt Schaub seems to have everything but durability. He has yet to last more than 11 starts in a season.
Kevin
Seifert
ESPN.com

DIVISION FINISH: 3 This might be the season Houston challenges for a wild-card spot. I'm not sure the Texans can overtake their division foes, but they have enough playmakers on both sides of the ball to make a run.
James
Walker
ESPN.com

DIVISION FINISH: 3 Many experts pick the Texans to make the playoffs this season. In this division, I can't see them finishing any higher than third.
Seth
Wickersham
ESPN The Magazine

DIVISION FINISH: 3 Houston will produce some of the most entertaining games this season, with a potentially explosive offense (Matt Schaub, Andre Johnson, Owen Daniels) and a still-not-there-yet defense.
Bill
Williamson
ESPN.com

DIVISION FINISH: 3 This is an interesting team. The Texans have built a pretty decent roster. This could be a team that makes a surprising playoff run. If not, coach Gary Kubiak could be on the way out.
Matt
Williamson
Scouts Inc.

DIVISION FINISH: 3 This offense should score plenty of points and can attack opponents on the ground or through the air. The defense also has had an influx of young talent from the past few drafts. The Texans could surprise, but in the end, this division is just too difficult to pick them high than third.
Pat
Yasinskas
ESPN.com

DIVISION FINISH: 3 The Texans have been on "the verge'' the last couple of seasons. They've got some good parts in place, but there are two big reasons why they struggle to make the next step: the Colts and Titans.


CONSENSUS DIVISION FINISH: 3rd | NFL standings
BEST OF THE TEXANS
Best receiver no one talks about: Kevin Walter lives in Andre Johnson's shadow, but matched him with eight receiving touchdowns in 2008. And Walter's in a contract year.
Best cohesion:
The Texans have the same five offensive linemen slated to start as last season, and expect better play in their second season working under assistant head coach Alex Gibbs.
Best pass-rusher:
No matter how much attention he gets from blockers, defensive end Mario Williams may be the league's most feared pass-rusher. And he's still just 24 years old.
Best guy to keep it light:
His teammates stop short of calling him the team clown, but WR David Anderson is a key guy for keeping it light. Look for a dance saluting Conan O'Brien when Anderson scores.
Best addition:
The Texans made defensive line coach Bill Kollar an assistant head coach in order to lure him from Buffalo. The fiery assistant is charged with sparking a pass rush that produced only 25 sacks a year ago, 12 of which came from Williams.
-- Paul Kuharsky, ESPN.com
SCOUTS INC.'S FABULOUS FIVE
Scouts Inc. has evaluated and graded more than 2,500 NFL players heading into the 2009 season, giving Insiders a leg up on the competition with exclusive grades, alerts and scouting reports.
Top five players

ANALYSIS
1. Andre Johnson
WR
6-3 | 228
(Grade: 93) Johnson has been one of the elite wide receivers since arriving in Houston as a first-round draft pick in 2003 and returned from a subpar season where he missed almost half of the season with injuries.
2. Mario Williams
DE
6-6 | 288
(91) He is a very athletic defensive lineman who combines speed off the edge as well as counter moves that he can string together when blockers anticipate his initial move.
3. DeMeco Ryans
LB
6-1 | 248
(81) Ryans has been one of the anchors of the Texans' defense since arriving in Houston in 2006. Although his production has steadily diminished over the past three years, he still does a good job of lining the defense up and making most of the defensive calls.
4. Dunta Robinson
CB
5-10 | 184
(78) Robinson has been a starter for virtually all five seasons he has been in the league. He missed the last third of the 2007 season with a knee injury and came back for the seventh game of the 2008 season regaining his starting spot by Week 12.
5. Eric Winston
OT
6-5 | 319
(77) Winston has anchored the right side of the line as a starter for the Texans for the past three seasons and has become a quality starter that fits in the blocking scheme Houston employs.
Player grading scale: Elite (90-100), outstanding (80-89), solid starter (75-79), good starter (70-74)
SCOUTS INC.'S ANALYSIS
Strengths

Andre Johnson: This WR is a player who does it all and has no physical weaknesses. He dictates coverage and demands the football. Plus, he is in the prime of his career.
Alex Gibbs:
Gibbs is an all-time great offensive line coach and a master of his fabled zone-blocking scheme. His impact in Houston was felt immediately, and the Texans should only improve under his tutelage in 2009.
Mario Williams:
Although his run support could stand to improve, DE Williams is a superstar defensive end who is on the verge of reaching his prime. Few have his tools and few blockers can keep up with him when he is on top of his game. With additional help at the other defensive end spot this season, Williams should have more freedom than ever -- or the constant extra attention he receives should allow players like DEs Antonio Smith and Connor Barwin to exploit single blocking.
Weaknesses

Strong safety: This spot belonged to Nick Ferguson last season when, frankly, he was horrible. He was merely below average in run support, but a true liability as a coverage player.
Turnovers:
This holds true for both sides of the ball. Houston gave the ball away too frequently and didn't take it away with enough consistency. Shipping turnover-prone QB Sage Rosenfels was a good start, however.
Run defense:
Houston needs to be stouter against the run this season. They do have the overall talent for improvement and the additions of LBs Brian Cushing and Antonio Smith should pay dividends in this capacity as well.
Scouts Inc. watches games, breaks down film and studies football from all angles.
JEREMY GREEN'S BURNING QUESTIONS
FOOTBALL TODAY PODCAST: DIVISION PREVIEW
DRAFT CLASS WATCH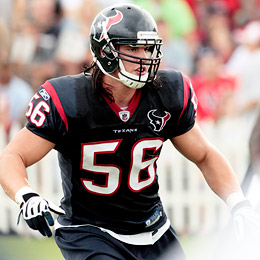 Brian Cushing: LB reinforcement.
Summary:
The Texans didn't find a big back to use in conjunction with Steve Slaton or a safety who could help settle the secondary. The draft emphasis was on the defensive front with linebacker Brian Cushing and defensive end Connor Barwin as the first two picks. The offense ranked third in the NFL last season and returns intact, so the three draft picks on that side of the ball will be situational players or depth.
What to expect:
Strongside linebacker Cushing suffered a knee injury early in camp but is in line to start. Second-rounder Barwin should rank as one of the top four pass-rushers and be on the field for third downs. Tight end Anthony Hill will likely be used as an additional blocker. But TE James Casey could line up all over the place and do just about anything. If the Texans want to add a Wildcat wrinkle, he'll be a centerpiece as he can catch, run and throw.
Wild card:
Sixth-round cornerback Brice McCain can fly, ranking with receiver Andre Davis as the fastest player on the team. Last season, the team was high on Antwaun Molden in camp, but he didn't wind up with much of a role and got hurt. While McCain ranks behind Glover Quin, he could be called upon depending on how things sort themselves out in the secondary or as injuries pop up.
-- Paul Kuharsky, ESPN.com
FANTASY STARS
Andre Johnson, WR

Johnson finally ended his days as a fantasy tease last year, putting it all together to lead the NFL in receptions and receiving yardage, and he finished second in both overall and red-zone targets. Dogged by injuries throughout his six-year career, AJ now knows how to make it through a full 16 games intact. (Oh, yeah, and the bitter taste of having David Carr throw to him is now fully rinsed from him, too.) If there's one troublesome part about owning Johnson, it's that Matt Schaub can't stay healthy. In 2008, during the five games Schaub missed, AJ caught 37 passes for 443 yards (fewer yards per game and per catch) with only two scores. Plus, gunslinging backup Sage Rosenfels is gone, and underwhelming Dan Orlovsky takes his place.
2009 Projection: 109 rec, 1,476 rec yds, 9 TD
---
Steve Slaton, RB

Slaton is tiny and isn't a burner ... so how did this happen? How did he go from a 2008 draft afterthought (the Texans took him with the 89th pick) to a more productive fantasy player than LaDainian Tomlinson? Right place, right time, we guess. The Houston backfield was laden with injury-prone veterans, and Slaton features a cutback running style the Texans prized. Behind improved zone blocking, Slaton was decisive with his cuts, and in the process helped the Texans improve from No. 22 to No. 13 in the league in rushing. However, even coach Gary Kubiak admits he's nervous about a guy generously listed at 5-foot-7 being his only viable runner.
2009 Projection: 1,350 rush yds, 10 TD
All Texans projections
|
Fantasy index
ESPN THE MAGAZINE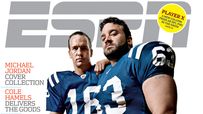 The Chargers win the Super Bowl? What in the name of Norv Turner is going on here?