INDIANAPOLIS COLTS (Consensus division finish: 1st)
Brian Spurlock/US Presswire
EXPERTS' PICKS
The Colts finished second in the AFC South last season with a 12-4 record. For more Colts coverage, visit: Paul Kuharsky's AFC South blog | Colts clubhouse
ANALYST
PREDICTION
Jeffri
Chadiha
ESPN.com

DIVISION FINISH: 2 There's been a lot of change in Indy, including the retirement of head coach Tony Dungy and lesser roles for former assistants such as offensive coordinator Tom Moore and offensive line coach Howard Mudd. It's hard to stay dominant with that much transition in the works.
John
Clayton
ESPN.com

DIVISION FINISH: 1 Jim Caldwell should do well in his first season replacing Tony Dungy as head coach. Peyton Manning seems as sharp as ever, and the running game, which had its worst performance in two decades last season, should come back strong. The Colts also have the most depth on defense that they've had in years.

Tim
Graham
ESPN.com

DIVISION FINISH: 1 Like the Patriots, the Colts have one of those overlord-quarterback combinations that make them a contender as long as those men are in place. With Peyton Manning starting the season healthy, that small window the Titans had to rule the AFC South might have slammed shut.
Jeremy
Green
Scouts Inc.

DIVISION FINISH: 2 I think the Colts' battle with the Titans will be one of the better division title races. The Colts just have very little margin for error, injurywise, because they are not very deep on either side of the football.
Paul
Kuharsky
ESPN.com

DIVISION FINISH: 2 With Peyton Manning healthy from the start, they will be in range of 12 wins yet again. A stouter defense should stop the run better, and Manning's got a couple new quality weapons in Donald Brown and Austin Collie. But the offensive line is a concern.
Matt
Mosley
ESPN.com

DIVISION FINISH: 1 Just too much firepower to pick against. And I don't think they'll get off to such a slow start this season. Don't sleep on Anthony Gonzalez.
Len
Pasquarelli
ESPN.com

DIVISION FINISH: 2 It's popular to think that new coach Jim Caldwell can't possibly replicate what Tony Dungy achieved in Indianapolis. Maybe not, but Caldwell has worked as the quarterback coach with Peyton Manning, and that's a good start.
Mike
Sando
ESPN.com

DIVISION FINISH: 1 Adding a running back in the first round fit perfectly with Bill Polian's philosophy. Whatever it takes to make sure Peyton Manning has ample weapons.
Kevin
Seifert
ESPN.com

DIVISION FINISH: 2 There hasn't been much change this decade with the Colts, but suddenly they have a new coach and a new defensive coordinator. It remains to be seen how well they adapt, but their offensive talent level means they should win more than they lose.
James
Walker
ESPN.com

DIVISION FINISH: 1 It doesn't matter what Tennessee did last season in the AFC South. Any team with Peyton Manning should always be the preseason favorite.
Seth
Wickersham
ESPN The Magazine

DIVISION FINISH: 2 Sorry, Jim Caldwell will not seamlessly replace Tony Dungy. Peyton is still Peyton, but he can do only so much behind a suspect offensive line and a defense that gets pushed around a lot when it counts.
Bill
Williamson
ESPN.com

DIVISION FINISH: 1 No disrespect to the Titans, but I think the Colts take back control of this division. The Colts finished the 2008 regular season as the hottest team in the NFL. I think Jim Caldwell will do things the Tony Dungy way and keep the Colts, with a lot of help from Peyton Manning, one of the league's elite teams.
Matt
Williamson
Scouts Inc.

DIVISION FINISH: 1 A lot has changed, but in reality much has stayed the same in Indianapolis -- and that is a very good thing. Remember the level that Peyton Manning played at after his knee was fully healed? Well, that is what you should expect for the entire 2009 season and into the playoffs.
Pat
Yasinskas
ESPN.com

DIVISION FINISH: 1 The Colts are going to miss Tony Dungy as their coach more than you realize. That will show up in the long run. But, in the short run, they still have Peyton Manning, and that's enough to keep them among the elite.


CONSENSUS DIVISION FINISH: 1st | NFL standings
BEST OF THE COLTS
Best return, offense: Left guard Ryan Lilja missed 2008 with a knee injury, but is back and should provide the line with a second calming presence to help center Jeff Saturday. Lilja may be the team's best run-blocker -- good news for Joseph Addai and Donald Brown.
Best stretch of schedule:
The Colts finish the season with a group that few would regard as Murderer's Row: They're at Jacksonville, against the Jets and at Buffalo. Granted, finishing with a cold-weather game isn't ideal.
Best depth, for a change:
It's rare for the Colts to have players who've started at linebacker on the team as backups and special-teamers. But if the depth chart holds and people stay healthy, Freddy Keiaho and Tyjuan Hagler can provide just that.
Best potential swan song:
Senior offensive line coach Howard Mudd has pledged this is his final season. He's got a question mark at left tackle, but always seems to make things work and could have extra motivation to go out on a high note.
Best return, defense:
Defensive tackle Ed Johnson is probably the team's best interior lineman. The team let him go after the first game of 2008 when he got in some trouble, but he's determined to make good on another chance.
-- Paul Kuharsky, ESPN.com
SCOUTS INC.'S FABULOUS FIVE
Scouts Inc. has evaluated and graded more than 2,500 NFL players heading into the 2009 season, giving Insiders a leg up on the competition with exclusive grades, alerts and scouting reports.
Top five players

ANALYSIS
1. Peyton Manning
QB
6-5 | 230
(Grade: 93) Still an elite quarterback, he relies more on smarts and instincts than he does raw physical skills. He knows this offense like a coach, and that shows in his play.
2. Reggie Wayne
WR
6-0 | 198
(93) Wayne has been one of the better No. 2 receivers in the league over the past eight seasons, but he is getting his chance to be the No. 1 receiver in 2009. A good-sized receiver with downfield speed, he has quickness, agility and acceleration to run quality routes.
3. Bob Sanders
S
5-8 | 206
(87) Sanders is a short, powerful strong safety with excellent speed, acceleration, instincts and toughness. He is a huge key to the Colts' defense and sets the tone both from an intensity standpoint as well as from a production standpoint.
4. Dwight Freeney
DE
6-1 | 268
(86) He has developed a good package of counter moves to go with his acceleration off the edge. He relies on speed initially, but can counter with back-under moves. Freeney still likes to spin out of blocks to pressure the pocket when possible.
5. Dallas Clark
TE
6-3 | 252
(82) He will line up tight to the line as a traditional tight end or out in the slot as a receiver or H back. He runs excellent routes, can challenge the secondary deep down the middle and has enough elusiveness after the catch to avoid tacklers in space.
Player grading scale: Elite (90-100), outstanding (80-89), solid starter (75-79), good starter (70-74)
SCOUTS INC.'S ANALYSIS
Strengths

Peyton Manning: As he did a year ago, the reigning league MVP makes a lot of problems go away.
Secondary:
This group was built to run Tony Dungy's Cover 2 scheme. With even more aggressive play-calling from new defensive coordinator Larry Coyer, this unit should excel. Safety Bob Sanders is the headliner here, but while he is exceptional when healthy, the others more than hold their own as well. Cornerback depth, however, is worrisome.
Edge pass rush:
DE Dwight Freeney doesn't seem to still get the publicity that some of the other top pass-rushers in the league receive anymore, but he is still exceptional at what he does, pressuring the quarterback with rare consistency. Meanwhile, DE Robert Mathis has come into his own. When the Colts get the lead, which is often the case, these two are a real handful to keep off the passer.
Weaknesses

Defensive tackle: Indianapolis needs more stout beef in the middle of its defense. The Colts addressed this need with the drafting of DT Fili Moala, but counting on rookies is risky business in a division that features excellent rushing attacks. However, the return of DT Ed Johnson should help to some degree.
Special teams:
Year after year, the predictable Colts are among the worst franchises in the league with their all-around special teams play. History has taught us that it's unlikely to change any time soon.
Backup QB:
Manning is an iron man and, yes, Jim Sorgi has been with the organization a long time. Sorgi surely understands the offense, but if Manning were to go down, this team becomes mediocre at best.
Scouts Inc. watches games, breaks down film and studies football from all angles.
JEREMY GREEN'S BURNING QUESTIONS
FOOTBALL TODAY PODCAST: DIVISION PREVIEW
DRAFT CLASS WATCH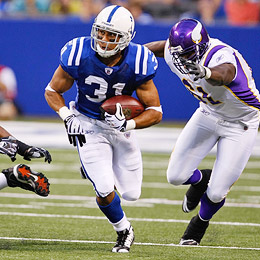 Donald Brown: A complementary piece.
Summary: The Colts were unpredictable in the first round. When most had them looking receiver or defensive tackle, they grabbed running back Donald Brown. With eight picks, Bill Polian took care of needs at defensive tackle (Fili Moala), receiver (Austin Collie) and punter (Pat McAfee) while also adding a corner (Jerraud Powers) and a project quarterback (Curtis Painter).
What to expect:
The plan for Brown is unknown, but he'll get time as a complement to a healthier Joseph Addai and could be a big contributor. Moala has a chance to contribute immediately in the rotation. He is a key piece in the team's push to get bigger inside while not sacrificing quickness. Collie has worked mostly in the slot and could be a trusted target from the start. Powers has been pretty good and helps the team's depth.
Wild card:
McAfee has a big leg and should be able to influence the starting field position of opponents. The absence of Hunter Smith, the veteran who moved on to Washington as a free agent, could be a nonissue if McAfee starts well.
-- Paul Kuharsky, ESPN.com
FANTASY STARS
Peyton Manning, QB

Make no mistake, Manning isn't the same guy he was five years ago. Last season's under-the-radar offseason knee surgery caused him to start slow against a tough schedule, his offensive line wasn't as spry as it once was and the Colts struggled to get consistency out of their running game. Yet in what looked like it might be a "down season," Manning won the NFL's MVP award. He's probably not going to toss more than 35 touchdowns in '09, but he's also not throwing for fewer than 25, and he'll surely get you 4,000 yards and won't hurt you with many negative plays. Even if the elite upside is gone because of personnel, age and circumstance, Manning is worth drafting because he's phenomenally sound and clutch.
2009 Projection: 4,153 pass yds, 31 TD, 13 INT
---
Reggie Wayne, WR

Wayne's yardage output dropped more than 400 yards from 2007 to 2008 -- and he still finished 10th in the NFL. It seems odd that in a year Marvin Harrison finally fell off the fantasy map, Wayne didn't take better advantage, but teams paid him more attention and overall the Colts' offense wasn't quite the same beast it had been in the past. In '09, Wayne moves to Harrison's old flanker position, where he'll be Peyton Manning's first read on most plays. That should help him increase his targets from 130 (just 13th in the league). Mostly, though, we simply view Wayne as one of the safest receiver bets around, a guy who is great at getting behind a secondary but also has the finesse game to make things happen in the red zone.
2009 Projection: 88 rec, 1,319 rec yds, 9 TD
ESPN THE MAGAZINE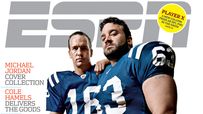 The Chargers win the Super Bowl? What in the name of Norv Turner is going on here?