JACKSONVILLE JAGUARS (Consensus division finish: 4th)
Geoff Burke/US Presswire
EXPERTS' PICKS
The Jaguars finished fourth in the AFC South last season with a 5-11 record. For more Jaguars coverage, visit: Paul Kuharsky's AFC South blog | Jaguars clubhouse
ANALYST
PREDICTION
Jeffri
Chadiha
ESPN.com

DIVISION FINISH: 4 Injuries were a big factor in the Jaguars' struggling in 2008. An unimpressive collection of talent will be their undoing this season.
John
Clayton
ESPN.com

DIVISION FINISH: 4 The Jaguars are in rebuilding mode, but they are doing it the right way. They've added talented and high-character players to both lines, which will help them in the long run. But they are completely rebuilding the receiving corps and have to make sure Maurice Jones-Drew holds up as the main running back. It could be a long season, but the future after this year is bright.

Tim
Graham
ESPN.com

DIVISION FINISH: 4 David Garrard needs to rebound for the Jaguars to have a shot. Even then, the odds are long in one of the NFL's most competitive divisions.
Jeremy
Green
Scouts Inc.

DIVISION FINISH: 4 As we saw last season, the margin for error with this team is very slim. Jack Del Rio is a very good coach, but he and this team are under immense pressure to produce and I think that will be too much for them to overcome.
Paul
Kuharsky
ESPN.com

DIVISION FINISH: 4 They are calling it a retooling, not a rebuilding. The Jaguars are moving a good direction with character, but it could take a while for their personnel to catch up to the rest of the division as they are counting on a lot of people to play to new heights simultaneously.
Matt
Mosley
ESPN.com

DIVISION FINISH: 4 After last season, I have no faith in this team. It's Maurice Jones-Drew and a lot of stiffs. They'll definitely be in the division basement.
Len
Pasquarelli
ESPN.com

DIVISION FINISH: 4 No one likes to hear the term "rebuilding," but the Jaguars could be playing a lot of kids at crucial positions, because they've cleaned out a ton of veterans. The defensive emphasis is on getting quicker players on the field.
Mike
Sando
ESPN.com

DIVISION FINISH: 3 The Jaguars haven't given David Garrard the receivers he needs. Torry Holt is probably a stopgap at this stage of his career.
Kevin
Seifert
ESPN.com

DIVISION FINISH: 4 Some people picked the Jaguars to win it all last season, but the window on that nucleus might have closed. You wonder if Jack Del Rio's message has grown old.
James
Walker
ESPN.com

DIVISION FINISH: 4 The Jags simply don't have enough horses for this race.
Seth
Wickersham
ESPN The Magazine

DIVISION FINISH: 1 The injuries that killed them a year ago won't occur again. Now that Jim Schwartz and Albert Haynesworth are gone from the Titans, this team has the division's only defense physically capable of slowing the Colts.
Bill
Williamson
ESPN.com

DIVISION FINISH: 4 The Jaguars just don't seem as strong as the other teams in this solid division. The end of the Jack Del Rio era could be in sight.
Matt
Williamson
Scouts Inc.

DIVISION FINISH: 4 The offensive line should be vastly improved, as should the offense overall. Expect David Garrard to show that he is a worthy starting quarterback. I can't be nearly as optimistic on defense and expect them to struggle a great deal on that side of the ball, especially on the defensive line and in the secondary.
Pat
Yasinskas
ESPN.com

DIVISION FINISH: 4 Once upon a time, Jack Del Rio was one of the bright young stars in coaching. He's going to have to do his best coaching job ever and get his team to overachieve if he's going to keep his job after this season.


CONSENSUS DIVISION FINISH: 4th | NFL standings
BEST OF THE JAGUARS
Best chance at early overtime: The Jaguars traded for Luke McCown and will head into the opener at Indianapolis with him as the lone backup to David Garrard. He'll have to cram this week to be ready in case something should happen to the starter.
Best addition:
Torry Holt should be the craftiest and most skilled receiver this franchise has had since Jimmy Smith. The Jaguars paced him in training camp and the preseason, but need to make sure they get all they can out of him when the games count.
Best come-from-everywhere story:
Defensive tackle Atiyyah Ellison has been with Carolina, Houston, Baltimore and San Francisco. But he's confident his merry-go-round is stopping. The Jaguars like him as an early down run-stuffer.
Best measuring stick:
A month into the season Jacksonville will know exactly where it stands compared to its AFC South competition. The Jaguars play all three rivals in the season's first four weeks.
Best chances to be cost-effective contributors:
Strong safety Sean Considine could turn out to be a nice, inexpensive starter. And veteran left tackle Tra Thomas offers insurance in case Eugene Monroe isn't ready or gets hurt.
-- Paul Kuharsky, ESPN.com
SCOUTS INC.'S FABULOUS FIVE
Scouts Inc. has evaluated and graded more than 2,500 NFL players heading into the 2009 season, giving Insiders a leg up on the competition with exclusive grades, alerts and scouting reports.
Top five players

ANALYSIS
1. Torry Holt
Wide receiver
6-0 | 200
(Grade: 82) He's a very good athlete with good size and speed, when healthy. He has adequate hand use to avoid jams and is good at slipping contact. He has quick feet and shoulder turns to get narrow on his release.
2. Rasean Mathis
Cornerback
6-0 | 198
(82) Mathis has been a starter for virtually all of his six seasons in the NFL. He missed the first two games in 2007, but started the other 14 game. In 2008, he missed four games because of injury, but started 12.
3. Maurice Jones-Drew
Running back
5-7 | 208
(81) Jones-Drew is an undersized ball carrier with thick, powerful legs that allow him to play bigger than he measures. He has been a change-of-pace ball carrier who has only started four games while missing just one in the past three seasons.
4. John Henderson
Defensive tackle
6-7 | 335
(79) Henderson is a massive defensive tackle who has been the cornerstone of Jacksonville's defensive line for virtually all of his seven seasons in the NFL.
5. Daryl Smith
Linebacker
6-2 | 249
(82) Smith has been a quality all-purpose linebacker for the Jaguars over the past five seasons as he has started at the both LB positions. He has consistently been one of the bigger producers on Jacksonville's defense, and is a leader on and off the field.
Player grading scale: Elite (90-100), outstanding (80-89), solid starter (75-79), good starter (70-74)
SCOUTS INC.'S ANALYSIS
Strengths

Maurice Jones-Drew: Not only is Jones-Drew a superb big-play back who is also a true difference maker as a pass-catcher, he's also very powerful and one of the better short-yardage runners in the league today. All of those factors -- and many others -- result in Jones-Drew spending a lot of time in the end zone. This season, his role will grow. Jacksonville's best player is long overdue for the added responsibility.
Offensive line:
The Jaguars signed Tra Thomas and drafted Eugene Monroe and Eben Britton with their first two picks. This group was gutted from the inside out last season and looks better. Will it help what could be a bad team?
Linebackers:
Few talk about the threesome of Daryl Smith, Clint Ingram and Justin Durant, but this is a very solid group of starters. All three are still quite young and should only improve going forward.
Weaknesses

Defensive tackle: Gone are the days of the Jaguars' dominating the middle of the field and structuring their defense around the likes of Marcus Stroud and John Henderson. It could be a long season up front for the Jaguars, especially if Henderson doesn't step up his game.
Wide receiver:
Signing Torry Holt was wise, as was ushering in a youth movement on draft day by adding Mike Thomas and Jarrett Dillard. Holt, or possibly Mike Sims-Walker, will be the go-to wideout, but neither can be considered a top-notch playmaker. QB David Garrard must spread the passes around, including to the tight ends and backs, to keep defenses from keying on any one target.
Cornerback:
Rashean Mathis is a very good player, but he finished last season on injured reserve and simply must stay healthy.
Scouts Inc. watches games, breaks down film and studies football from all angles.
JEREMY GREEN'S BURNING QUESTIONS
FOOTBALL TODAY PODCAST: DIVISION PREVIEW
DRAFT CLASS WATCH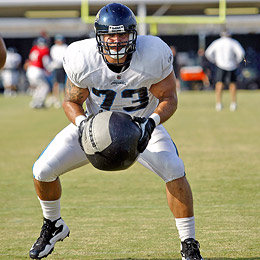 Eben Britton: Help for the Jags' O-line.
Summary:
New general manager Gene Smith put a big emphasis on character and leadership in his first draft. Four of his first five selections were captains of their college teams. A believer in building inside out, he emphasized foundation players in first-round tackle Eugene Monroe, second-round tackle Eben Britton and third-round defensive tackle Terrance Knighton. The Jags traded up to get cornerback Derek Cox in the third round, then concentrated on skill positions with three receivers, a tight end and a running back.
What to expect:
Monroe was late to camp after a contract dispute, but it seems he's won his fight with veteran Tra Thomas for the starting left tackle job. Knighton will be part of a rotation as the Jaguars look to use depth inside to increase production. The three receivers -- Mike Thomas, Jarett Dillard and Tiquan Underwood -- haven't made a huge impact so far, and Underwood landed on the practice squad. Thomas missed a good share of the preseason because of injuries and Dillard battled the dropsies.
Wild card:
Tight end Zach Miller, a quarterback at Nebraska-Omaha, is a versatile player who can be a Wildcat wild card if Jack Del Rio chooses to go that direction. The team upgraded its backup QB situation by trading for Luke McCown and dropping Todd Bouman, but with no third option perhaps it should invite Miller to some quarterback meetings.
-- Paul Kuharsky, ESPN.com
FANTASY STARS
Maurice Jones-Drew, RB

Are we nuts in ranking him so high? MJD topped 100 yards rushing in only two games last year. He never has exceeded 1,000 rushing yards in a season. He averaged only 4.2 yards per carry. Plus, he's a Keebler elf! Relax. Jones-Drew's fantasy landscape has changed now that Fred Taylor is gone from Jacksonville. The Jags gave MJD more than 12 carries just five times in 2008, and he still ran for 12 touchdowns (and scored two more on catches). Despite his diminutive stature, Jones-Drew is perhaps the NFL's best goal-line back; all but one of his ground scores last season came from inside the 10. And because he's a terrific receiving option -- he was third in the league in running back targets, just two targets behind the leaders -- MJD doesn't come out in long-yardage situations. It's rare to find a three-down back whose skills align perfectly with what fantasy players need: touchdowns and catches. But Jones-Drew fits that profile.
2009 Projection: 1,142 rush yds, 13 TD
---
Torry Holt, WR

Holt simply wasn't good in 2008, but let's not call him completely finished. He was still an NFL team's leading receiver when opposing defenses knew the Rams couldn't count on anyone else and when the offensive line was so bad that Marc Bulger could rarely get his feet set to throw. By the same token, he's no one's idea of a deep threat any longer, and he often appeared disinterested in 2008. He got 30 fewer targets in '08 than in '07 and had 29 fewer catches. You do the math. The Jags signed him to what amounts to a one-year deal to play in a run-first offense on grass. Holt's upside is probably around 900 yards and six scores.
2009 Projection: 68 rec, 811 rec yds, 5 TD
ESPN THE MAGAZINE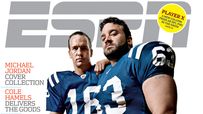 The Chargers win the Super Bowl? What in the name of Norv Turner is going on here?