KANSAS CITY CHIEFS (Consensus division finish: 3rd)
Andy Lyons/Getty Images
EXPERTS' PICKS
The Chiefs finished fourth in the AFC West last season with a 2-14 record. For more Chiefs coverage, visit: Bill Williamson's AFC West blog | Chiefs clubhouse
ANALYST
PREDICTION
Jeffri
Chadiha
ESPN.com

DIVISION FINISH: 4 It's hard to win when you don't have much talent. That's why the Chiefs will be lucky to produce four victories this year.
John
Clayton
ESPN.com

DIVISION FINISH: 3 It will be impossible for first-year coach Todd Haley to get off to a good start with a tough opening schedule and starting quarterback Matt Cassel an opening-day question mark with an MCL sprain. Watch for the Chiefs to be more of a running team. They have promise on the front lines of their 3-4 defense, but it might take time for the linebackers to adapt.

Tim
Graham
ESPN.com

DIVISION FINISH: 4 With new GM Scott Pioli and quarterback Matt Cassel, the AFC's worst team last year is trying to recreate itself in New England's image, but it will take a while for that transformation to take place.
Jeremy
Green
Scouts Inc.

DIVISION FINISH: 3 I think they are on the right track with GM Scott Pioli and coach Todd Haley, but it is going to take some time to instill that winning attitude that has been missing. The Chiefs are one year away from competing for a division title.
Paul
Kuharsky
ESPN.com

DIVISION FINISH: 2 At the start of the Scott Pioli, Todd Haley and Matt Cassel era in Kansas City, the Chiefs have room to gain a foothold behind the Chargers and establish themselves as faster-rising than the division's other teams.
Matt
Mosley
ESPN.com

DIVISION FINISH: 2 This might be a bit of a surprise, but I think Todd Haley knows what he's doing. And he's got a really good young quarterback to go with Dwayne Bowe. I think the Chiefs could be this season's Dolphins.
Len
Pasquarelli
ESPN.com

DIVISION FINISH: 3 New general manager Scott Pioli and first-year coach Todd Haley will make this a better club. But not this season. The Chiefs will start a new quarterback and are transitioning to a 3-4 defense, and that's a bad recipe.
Mike
Sando
ESPN.com

DIVISION FINISH: 3 Todd Haley won't be afraid to challenge players. He also won't have the cast of Pro Bowlers he coordinated so effectively in Arizona.
Kevin
Seifert
ESPN.com

DIVISION FINISH: 3 This summer didn't go well for the Chiefs, who couldn't protect quarterback Matt Cassel during preseason games and ultimately lost him for several weeks to a knee sprain. The late-summer replacement of offensive coordinator Chan Gailey is another sign the Chiefs have a long way to go on both sides of the ball.
James
Walker
ESPN.com

DIVISION FINISH: 3 The addition of QB Matt Cassel is good for a few more wins this season for this rebuilding group.
Seth
Wickersham
ESPN The Magazine

DIVISION FINISH: 4 The switch to the 3-4 won't be easy, with first-rounders Glenn Dorsey and Derrick Johnson built for the 4-3. And Matt Cassel will find life tougher now that Randy Moss and Wes Welker aren't catching his passes.
Bill
Williamson
ESPN.com

DIVISION FINISH: 4 I wouldn't be surprised if the Chiefs jumped up to second place. Oakland, Denver and Kansas City all are close and will finish within one or two games of one another. If the Chiefs' defense can come together and quarterback Matt Cassel excels quickly, this could be a surprise team. But right now, this team seems to have a long way to go.
Matt
Williamson
Scouts Inc.

DIVISION FINISH: 2 This will be the definition of a rebuilding year in Kansas City. Nearly every position is in flux. Like the two teams behind the Chiefs in my AFC West rankings, they will benefit from playing four division games against equally poor teams.
Pat
Yasinskas
ESPN.com

DIVISION FINISH: 2 I'm really going out on a limb here because the Chiefs don't have that much talent on their roster. But I see Todd Haley and Scott Pioli as this year's version of Atlanta's Mike Smith and Thomas Dimitroff. In a weak division, I see the Chiefs making a leap.


CONSENSUS DIVISION FINISH: 3rd | NFL standings
BEST OF THE CHIEFS
Best tough love: New coach Todd Haley believes in being hard on his players. Haley says teams that need to turn around their fortunes (Kansas City has won six games in the past two seasons combined) need toughness. And he's forcing it.
Best leadership:
The Chiefs have a very young team, but Haley and new general manager Scott Pioli have brought in veterans such as Mike Vrabel and Mike Brown to teach the youngsters how to win.
Best rebirth:
Running back Larry Johnson no longer wants out of Kansas City. Johnson has bought into Pioli and Haley's system, and he's ready to win in Kansas City again.
Best faith:
New quarterback Matt Cassel might not have had a great preseason. But the Chiefs believe in him. If you don't believe it, just look at the $40 million he will be paid in the next three years.
Best long-term plan:
Pioli is a good football man. The Chiefs might not be great this year. But Pioli has a plan, and don't be surprised if the Chiefs rise again fairly soon.
-- Bill Williamson, ESPN.com
SCOUTS INC.'S FABULOUS FIVE
Scouts Inc. has evaluated and graded more than 2,500 NFL players heading into the 2009 season, giving Insiders a leg up on the competition with exclusive grades, alerts and scouting reports.
Top five players

ANALYSIS
1. Larry Johnson
Running back
6-1 | 230
(Grade: 84) When he is right, Johnson can be one of the NFL's top running backs, as he possesses rare running skills with excellent size. He runs with a good pad level and shows excellent vision and instincts when it comes to following his blockers and seeing the hole develop.
2. Dwayne Bowe
Wide receiver
6-2 | 221
(82) Bowe has a good combination of size, strength and athleticism. He accelerates quickly and can close the cushion on defenders. He shows a good burst coming out of his breaks and consistently gains separation from defenders.
3. Matt Cassel
Quarterback
6-4 | 230
(81) Cassel is coming off his fourth year in the league and obviously made a huge impact in 2008. He developed each week in New England's passing game by making good decisions and getting the ball to all levels of the field with a high rate of accuracy.
4. Derrick Johnson
Linebacker
6-3 | 242
(81) Johnson has an excellent combination of size, speed and athleticism with a good nose for the ball. He likes to play off the edges rather than use his hands to take on blockers. He is quick to locate the level of the ball and does a good job of leveraging his way to get involved.
5. Mike Vrabel
Linebacker
6-4 | 261
(80) Vrabel is a solid overall athlete with an excellent combination of size and strength. He has been a versatile player who can play inside or outside linebacker. He has great instincts and intelligence. He reacts well as the play unfolds.
Player grading scale: Elite (90-100), outstanding (80-89), solid starter (75-79), good starter (70-74)
SCOUTS INC.'S ANALYSIS
Strengths

Quarterback: This isn't to say that Matt Cassel is the next Tom Brady. Still, there was a reason that Scott Pioli and new Denver coach Josh McDaniels, two men who are very familiar with Cassel, tried to do everything in their power to acquire this young man.
Left side of the offensive line:
Well, this is sort of a strength, but if unhappy LG Brian Waters isn't on board with the new regime, there could be problems here. But Waters is still playing at a high level and can act as somewhat of a mentor for second-year LT Brandon Albert, who is loaded with talent and showed flashes of excellence as a rookie.
Scott Pioli:
An esteemed talent evaluator, new GM Pioli obviously benefitted from working alongside Bill Belichick in New England. He brings a winning background to an organization that was desperate for such a lead figure.
Weaknesses

Pass rush: The Chiefs were completely inept at getting after the quarterback a year ago (league-worst 10 sacks). They did use a very high draft pick on DE Tyson Jackson, but he wasn't an elite pass-rusher in college.
Playmakers:
This goes for both sides of the ball. On offense, WR Dwayne Bowe shows a lot of promise, but how will he handle the immense attention that he is going to receive this season? On defense, very few -- if any -- difference-makers exist now. In a league in which it is imperative to create mismatches, this is an obvious reason Kansas City has won only two of its past 25 games.
Glenn Dorsey:
Many felt that he was the top prospect in the entire draft in 2008, but he was vastly mismanaged as a rookie. Defensive tackles often take a while to develop, but now this ultra-talented upfield penetrator is going to be asked to play a 3-4 scheme. He might play some nose tackle. He probably will play more defensive end. Either way, it is a tremendous waste of talent. Dorsey is just the best example here, but the transition from Herm Edwards' Tampa 2 scheme to the vastly different 3-4 is going to leave a lot of problems in its wake.
Scouts Inc. watches games, breaks down film and studies football from all angles.
JEREMY GREEN'S BURNING QUESTIONS
FOOTBALL TODAY PODCAST: DIVISION PREVIEW
DRAFT CLASS WATCH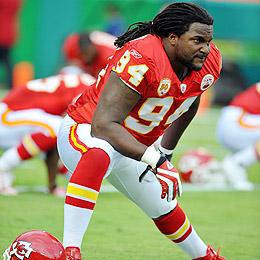 Tyson Jackson: Fits Chiefs' 3-4 scheme.
Summary:
This will be a draft class that is forever remembered in Chiefs history. It was the first class of the Scott Pioli era. A lot of people around the league were underwhelmed by the class shortly after the draft. The Chiefs had eight players in the class and they didn't have a second-round pick. Still, the Chiefs feel confident this class will help turn the fortunes of a franchise that has won a total of six games the past two seasons.
What to expect:
The Chiefs needed a reconstruction on defense, starting with the defensive front. The front three -- Kansas City is adopting a 3-4 defensive scheme this season -- was clearly Kansas City's priority in the draft. The Chiefs took LSU defensive end Tyson Jackson in the first round and with their next pick, in the third round, took Purdue's Alex Magee. Both Jackson and Magee might start as rookies. Jackson is a run-stuffer who is a natural fit for the 3-4. Magee has outplayed 2008 top pick Glenn Dorsey at times this summer and could make a big impact. If these youngsters can have early success, the entire Kansas City defense will benefit.
Wild card:
One of the biggest contributors from this class may be the final pick of the entire draft. The Chiefs are very high on seventh-round pick Ryan Succop. The South Carolina product looks like he will be the kicker in Kansas City this year. He has a lot of range and seems to have plenty of poise.
-- Bill Williamson, ESPN.com
FANTASY STARS
Dwayne Bowe, WR

What would happen if you put a receiver such as Bowe in Arizona's downfield passing attack? We might be about the find out. New Chiefs coach Todd Haley figures to implement some of the same principles he ran with the Cardinals, albeit with Matt Cassel and not Kurt Warner. Cassel isn't as accurate a deep thrower as Warner and takes too many hits, but he's going to like his new primary target a lot. Bowe isn't a burner, but he's one of the game's best leapers. While he rarely broke a long-gainer in 2008, he was steady, and scored seven times despite the presence of Tony Gonzalez. Gonzo is out of town now, which should mean even more red zone work for Bowe. We think Anquan Boldin makes a mighty nice comparison for this guy.
2009 Projection: 89 rec, 1,114 rec yds, 9 TD
---
Larry Johnson, RB

Larry Johnson's days as a fantasy star might be behind him. He rushed for only 874 yards and three scores in 2008, plus was suspended for a game by the NFL for a bar altercation. Now Todd Haley comes to Kansas City, meaning Matt Cassel could be in a spread offense more often than not. LJ's skill set doesn't match what Haley likes to do: Johnson isn't a great receiver or pass-blocker, and historically has thrived only when he gets a ton of plow-horse-style touches. Johnson has reportedly featured a good attitude during the team's summer activities, and no longer seems in danger of being released. But he could still battle Jamaal Charles for touches. Don't draft LJ with memories of 2006 dancing in your head.
2009 Projection: 764 rush yds, 6 TD
ESPN THE MAGAZINE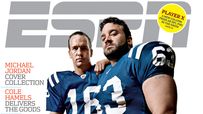 The Chargers win the Super Bowl? What in the name of Norv Turner is going on here?