MIAMI DOLPHINS (Consensus division finish: 2nd)
Gregory Shamus/Getty Images
EXPERTS' PICKS
The Dolphins finished first in the AFC East last season with an 11-5 record. For more Dolphins coverage, visit: Tim Graham's AFC East blog | Dolphins clubhouse
ANALYST
PREDICTION
Jeffri
Chadiha
ESPN.com

DIVISION FINISH: 2 They face a tougher schedule but they're still a team on the rise. Two keys: Better play at wide receiver and consistent pressure from Jason Taylor and Joey Porter.
John
Clayton
ESPN.com

DIVISION FINISH: 2 The Dolphins are a solid team, but it's going to be hard to repeat the 11 wins of last season going against the league's toughest schedule this season. Chad Pennington has to stay healthy for the Dolphins to be a playoff contender. The additions of Jason Taylor and Cameron Wake add to the pass rush. Still, there should be a two- or three-game drop in their record.

Tim
Graham
ESPN.com

DIVISION FINISH: 2 They're overlooked in a division with Tom Brady coming back, but the Dolphins did win the AFC East last year and remain solid. They didn't suffer any major personnel losses and made under-the-radar acquisitions such as center Jake Grove and safety Gibril Wilson.
Jeremy
Green
Scouts Inc.

DIVISION FINISH: 2 The biggest key was finding more weapons on offense to complement QB Chad Pennington, and they did that. Defensively, the Dolphins are tough and physical. They will play a lot of close games, allowing them to be in the mix for a playoff berth.
Paul
Kuharsky
ESPN.com

DIVISION FINISH: 2 Coming from nowhere was one sort of challenge in 2008. Defending a division crown will prove an entirely different deal, especially as defenses catch up to the Wildcat fad. Not a playoff team.
Matt
Mosley
ESPN.com

DIVISION FINISH: 2 That was not a fluke in '08. Tony Sparano got this team to believe in itself -- and he listened when quarterbacks coach David Lee suggested the Wildcat formation. Now every team's trying to copy the Dolphins.
Len
Pasquarelli
ESPN.com

DIVISION FINISH: 2 The schedule gets tougher, and the Dolphins won't sneak up on anybody like they did last season. Opponents are ready for the Wildcat offense now, but they'll have to be just as ready for a solid team.
Mike
Sando
ESPN.com

DIVISION FINISH: 2 The Dolphins were a smart team playing a favorable schedule last season. They overachieved.
Kevin
Seifert
ESPN.com

DIVISION FINISH: 2 The Dolphins are a solid team from top to bottom. But they won't surprise anyone with the Wildcat this season and don't have the Patriots' capacity to score at will.
James
Walker
ESPN.com

DIVISION FINISH: 2 We saw how the Dolphins handled adversity. Now let's see how they handle success.
Seth
Wickersham
ESPN The Magazine

DIVISION FINISH: 3 All the breaks that went with the Dolphins last season will go against them this season. The Wildcat is a nice trick but can't hide a listless passing game.
Bill
Williamson
ESPN.com

DIVISION FINISH: 3 I'm not saying the Dolphins are going to take a huge stumble from their wonderful 2008 season, but this is a tough division and I think the Dolphins are going to have a hard time getting back into the playoffs. But they could still be a nine- or 10-win team.
Matt
Williamson
Scouts Inc.

DIVISION FINISH: 2 Keeping pace with last year's exceptional turnover ratio is probably too much to ask, but this is an extremely well-coached team. The offensive line should become a strength and the pass rush -- and entire pass defense -- should take a big step forward.
Pat
Yasinskas
ESPN.com

DIVISION FINISH: 2 There's a part of me that thinks the Dolphins will have a tough time matching last season's success. But, then, I look at the rest of the division and don't see anyone that can jump ahead of them.


CONSENSUS DIVISION FINISH: 2nd | NFL standings
BEST OF THE DOLPHINS
Best player on either side of the ball: The offense will go only as far as Ronnie Brown will take it. Yes, quarterback Chad Pennington is the leader, but remember that when Brown was leading the NFL in yards from scrimmage at the time Brown blew out his knee in 2007, his quarterbacks were Trent Green and Cleo Lemon.
Best rookie:
Their third selection in the draft, cornerback Sean Smith, has been their best rookie through training camp and the preseason. Smith has outperformed cornerback Vontae Davis, the 25th overall pick, and has appeased the coaching staff enough that the team released veteran free-agent acquisition Eric Green.
Best candidate to break out:
Defensive end Kendall Langford has all the tools. He's 6-foot-6 and 290 pounds, can stop the run and break down a pocket. He started 13 games as a rookie last season, registering a pair of sacks.
Best assistant coach:
Brace yourself, Syracuse grads, but the guy you couldn't stand when he was running the Orange is one of the NFL's top defensive minds. Coordinator Paul Pasqualoni is generating buzz as a head-coaching candidate.
Best talker:
Joey Porter would take this hands down, but the forthright outside linebacker has been tight-lipped for the past few months, taking on a persona he's calling Corporate Joey. So vice chatter Channing Crowder assumes the title. Crowder, the voluble inside linebacker, had a muzzle put on him when he recently exchanged barbs with Jets coach Rex Ryan, but he'll talk about anything in a rapid-fire and entertaining manner.
-- Tim Graham, ESPN.com
SCOUTS INC.'S FABULOUS FIVE
Scouts Inc. has evaluated and graded more than 2,500 NFL players heading into the 2009 season, giving Insiders a leg up on the competition with exclusive grades, alerts and scouting reports.
Top five players

ANALYSIS
1. Ronnie Brown
Running back
6-0 | 230
(Grade: 80) He has great vision and agility inline as well as deceptive speed to pick up chunks of yards. He bounced back from a 2007 injury to show lateral agility, quickness and balance both between the tackles and pressing the edge.
2. Jake Long
Offensive tackle
6-7 | 317
(78) He has the power to get movement off the line of scrimmage at the point of attack. He understands angles and how to leverage his opponent once engaged.
3. Vernon Carey
Offensive tackle
6-5 | 340
(76) He is a solid technician who uses his hands to maintain body position and lock on defenders throughout the play. He is an instinctive player who reacts well to stunts and twists.
4. Yeremiah Bell
Safety
6-0 | 205
(75) He is a tough, hard-nosed safety who is a sure tackler and fills the alley as a run-support player. He has good range in pursuit with excellent vision to be active to the pile.
5. Channing Crowder
Linebacker
6-2 | 250
(75) Crowder is very athletic in coverage and can be effective in both zone and combination-man schemes. He understands route progressions in zone coverage and can stay with backs or tight ends in man schemes.
Player grading scale: Elite (90-100), outstanding (80-89), solid starter (75-79), good starter (70-74)
SCOUTS INC.'S ANALYSIS
Strengths

Turnover margin/fundamentals: This is a well-coached football team that understands its strengths and weaknesses. Miami led the NFL in turnover differential last season with a very impressive plus-17 margin. The question is, can the Dolphins duplicate such a lofty standard, especially against a more daunting schedule in 2009?
Offensive line:
Ever since Bill Parcells & Co. took over the Dolphins; a great emphasis has been put on the offensive line. This very well could be the season when the dividends are paid for Miami's investment.
Coaching and front office:
What this staff has done under Parcells is nearly miraculous. The Dolphins have their QBs of the present and future, have rebuilt both lines and most recently have fortified their secondary and edge pass rush to help keep up with the elite passing offense in the division, New England's. There might not be a better group of off-the-field leaders in the league.
Weaknesses

Offensive verticality: Ted Ginn Jr. is extremely fast, but the other pass catchers in Miami are underneath targets. Chad Pennington is not a poor deep passer, but he also does not possess the ideal deep arm. Increasing this offense's ability to stretch the field would pay immediate dividends to the run game.
Nose tackle:
Jason Ferguson is serviceable, but not nearly in this class of his divisional counterparts, Kris Jenkins and Vince Wilfork. He also has a worrisome injury history and depth here is questionable.
Schedule:
Obviously a lot can change throughout the season, but Miami's 2009 schedule appears far tougher than the one against which the Dolphins surprised the league against last season.
Scouts Inc. watches games, breaks down film and studies football from all angles.
JEREMY GREEN'S BURNING QUESTIONS
FOOTBALL TODAY PODCAST: DIVISION PREVIEW
DRAFT CLASS WATCH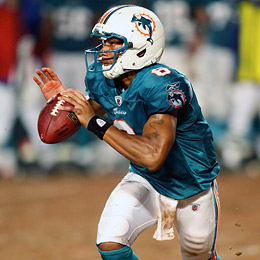 Pat White: Could flourish in Wildcat.
Summary:
The Dolphins addressed their need for a cornerback by selecting two from among their first three picks, drafting Vontae Davis of Illinois 25th overall and Sean Smith of Utah in the second round. The Dolphins generated some buzz with their selection in between, grabbing West Virginia quarterback Pat White earlier in the second round. They also acknowledged their deficiency at receiver by drafting Southern California's Patrick Turner in the third round and Ohio State's Brian Hartline in the fourth.
What to expect:
The second player taken at each key position -- Smith and Hartline -- surpassed the first player taken and might start on opening day. Smith, who is listed at 6-foot-4, was drafted to defend big receivers like Randy Moss and Terrell Owens, but starting in Week 1 couldn't have been anticipated. Smith's play led Miami to cut free-agent signee Eric Green. White has been a disappointment throughout training camp and the preseason. He hasn't shown an NFL arm, but part of the reason Miami targeted him was his ability to be a weapon in the Wildcat offense. Head coach Tony Sparano hasn't tipped his hand on how White will contribute there.
Wild card:
How the Dolphins use White will determine what kind of immediate impact he has, but the excitement has been toned down considerably. The late-round prospect who has raised eyebrows is fifth-round safety Chris Clemons from Clemson.
-- Tim Graham, ESPN.com
FANTASY STARS
Ronnie Brown, RB

The ACL that Brown tore in 2007 limited him at the start of '08, and for much of the season he found himself in a platoon with Ricky Williams. In fact, if you take away his massive, Wildcat-unveiling effort in Week 3 at New England, Brown had a mediocre six touchdowns and 803 rushing yards. But reports out of Miami indicate Brown looks likely to reassume lead-back duties in '09, and he deserves it. Williams wore down last season, failing to top 54 yards in any of the team's final seven games, while Brown, who is four years younger and entering a contract season, topped that mark four times. He also had 18 touches to Williams' five in Miami's playoff loss. If Williams plays on third down, Brown might never get the chance to show what a prolific pass-catcher he can be, but at least he'll carry the mail more. He's among the better No. 2 rushers in fantasy.
2009 Projection: 1,135 rush yds, 8 TD
---
Ted Ginn Jr., WR

Ginn is just another fast receiver held hostage by his quarterback's arm. Chad Pennington can throw only lollipops beyond 25 yards, which limits Ginn as a fantasy weapon. And because he's not particularly strong, bigger corners can completely remove him from the Dolphins' short passing game. We think Ginn would benefit from a quarterback switch to Chad Henne, something that could happen if Miami struggles early. With Pennington at the helm, we'd expect to see Ginn take another small step forward, and probably score on a few long catch-and-runs. But more physical possession guys such as Greg Camarillo and Davone Bess will steal a lot of his thunder.
2009 Projection: 55 rec, 809 rec yds, 5 TD
ESPN THE MAGAZINE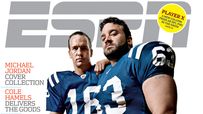 The Chargers win the Super Bowl? What in the name of Norv Turner is going on here?