MINNESOTA VIKINGS (Consensus division finish: 1st)
Mark J. Rebilas/US Presswire
EXPERTS' PICKS
The Vikings finished first in the NFC North last season with a 10-6 record. For more Vikings coverage, visit: Kevin Seifert's NFC North blog | Vikings clubhouse
ANALYST
PREDICTION
Jeffri
Chadiha
ESPN.com

DIVISION FINISH: 1 The Vikings finally have the quarterback they've been chasing for two years. Now all Brett Favre has to do is lead this talented team to a title.
John
Clayton
ESPN.com

DIVISION FINISH: 1 The Vikings are loaded, and Brett Favre, despite his age and late arrival, could get this team over the top. Had he not signed, the Vikings might have finished third because Chicago and Green Bay would have been significantly better at QB. Adrian Peterson is the best runner in the game, and the receiving corps is one of the most talented in the conference.

Tim
Graham
ESPN.com

DIVISION FINISH: 1 The addition of Brett Favre stabilizes the Vikings' long-standing concern and shoots them to the top of the division. Favre's arm and Percy Harvin's explosiveness will keep defenses honest and prevent them from loading up on Adrian Peterson.
Jeremy
Green
Scouts Inc.

DIVISION FINISH: 1 Brett Favre gives the Vikings the advantage in a tough division. Favre is backed by the best run offense and a top-five run defense, which will allow him to make enough plays to deliver a division title.
Paul
Kuharsky
ESPN.com

DIVISION FINISH: 3 Not buying into the Brett Favre hype, and too many players will wind up counting on him to do too much to give them the boost. The infatuation and grand experiment will cost Brad Childress his job.
Matt
Mosley
ESPN.com

DIVISION FINISH: 2 I do think Brett Favre makes this a better offense. And his presence could make Adrian Peterson unstoppable.
Len
Pasquarelli
ESPN.com

DIVISION FINISH: 1 The Vikings would have been the division favorite even without Brett Favre, and they're counting on him to make them more than a one-and-done playoff team. The defense is tremendous, and Adrian Peterson might be NFL's best back.
Mike
Sando
ESPN.com

DIVISION FINISH: 3 The Vikings have everything but the quarterback. Brett Favre has the name, but does he still have the game? If he does, the Vikings could prove me wrong in a big way.
Kevin
Seifert
ESPN.com

DIVISION FINISH: 1 The Vikings won eight of 11 games started by veteran Gus Frerotte last season. In that vein, it's hard to imagine them winning at any less of a clip with Brett Favre as their quarterback.
James
Walker
ESPN.com

DIVISION FINISH: 1 The late addition of QB Brett Favre makes the Vikings one of the top contenders in the NFC.
Seth
Wickersham
ESPN The Magazine

DIVISION FINISH: 2 Brett Favre has enough left to take some heat off Adrian Peterson -- until, of course, the 39-year-old's injured rotator cuff hampers him, and there's nothing left.
Bill
Williamson
ESPN.com

DIVISION FINISH: 1 The Vikings were a quarterback away from being a legitimate Super Bowl contender all offseason. On Aug. 18, when Brett Lorenzo Favre donned the purple, the Vikings became legit.
Matt
Williamson
Scouts Inc.

DIVISION FINISH: 2 We will not see the Brett Favre of yesteryear, but he is an upgrade at the most important position on the field and has quite a few dynamic weapons at his disposal. No one runs on the Vikes' defense and that will continue. Plus, Minnesota's defense is very opportunistic and should create many big plays.
Pat
Yasinskas
ESPN.com

DIVISION FINISH: 3 I know this might be too low a rating for the Vikings. But history has shown that when you think you're one player away from a Super Bowl, you're usually not. I think Brett Favre has something left in the tank. But Brad Childress is still the coach. When's the last time he's shown anything that makes you think he's capable of taking a team to the Super Bowl?


CONSENSUS DIVISION FINISH: 1st | NFL standings
BEST OF THE VIKINGS
Best bet: Quarterback Brett Favre. It's without question a risk to sign a 39-year-old quarterback after training camp, especially one who had offseason shoulder surgery and still has a torn rotator cuff. But the Vikings are a playoff team with or without Favre. This move gives them a better chance to win in the postseason than if Tarvaris Jackson or Sage Rosenfels were their starter.
Best ambassador:
Defensive coordinator/assistant head coach Leslie Frazier. The Vikings have employed Frazier in a number of key roles. He helps recruit free agents on both sides of the ball, offers a schematic sounding board for coach Brad Childress and even traveled to Mississippi this summer to meet with Favre.
Best comeback:
Middle linebacker E.J. Henderson. After missing 12 games last season because of a toe injury, Henderson returned this summer healthy and rejuvenated. He is taking his role as a leader more seriously and hasn't lost a step from his wide-open style.
Best backup:
Tailback Chester Taylor. He offers fresh legs behind Adrian Peterson. He is a 1,000-yard back if he starts, but as a reserve he transforms into a north-south change of pace and a natural third-down receiver. Taylor will be especially motivated in a contract year.
Best tweak:
Implementing the Wildcat. It's not clear how much the Vikings will use this formation, but they have the personnel to make it a big weapon. Having Adrian Peterson and Percy Harvin in the same backfield gives defenses too much to account for.
-- Kevin Seifert, ESPN.com
SCOUTS INC.'S FABULOUS FIVE
Scouts Inc. has evaluated and graded more than 2,500 NFL players heading into the 2009 season, giving Insiders a leg up on the competition with exclusive grades, alerts and scouting reports.
Top five players

ANALYSIS
1. Steve Hutchinson
Guard
6-5 | 313
(Grade: 90) He is an instinctive player who gains leverage with initial quickness, hand use and proper angles on combination blocks.
2. Kevin Williams
Defensive tackle
6-5 | 311
(90) Williams has strong, active hands to control his opponent, enabling him to separate effectively in traffic.
3. Jared Allen
Defensive end
6-6 | 270
(88) Allen has an excellent combination of size, strength and athleticism. He has good speed for his size and shows great range in pursuit.
4. Adrian Peterson
Running back
6-1 | 217
(88) He has impressive power on contact but tends to carry his pads too high at times.
5. Brett Favre
Quarterback
6-2 | 222
(80) Favre is a veteran of many NFL battles and is very confident in his abilities. He is fundamentally sound in terms of his footwork, ability to deceive defenses with ball fakes and ability to manipulate coverage.
Player grading scale: Elite (90-100), outstanding (80-89), solid starter (75-79), good starter (70-74)
SCOUTS INC.'S ANALYSIS
Strengths

QB Brett Favre: He brings a lot of hope and confidence to this offense. The organization clearly does not believe in Tarvaris Jackson or Sage Rosenfels. Favre's familiarity with the West Coast offense will allow him to jump in and have an immediate impact because the learning curve he went through with the Jets will not be there.
RB Adrian Peterson:
Peterson is the best pure running back in the game today. Peterson has basically been used as a battering ram versus eight- and nine-man fronts, but now will find it much easier to explode into the secondary versus the seven-man fronts Favre's playing QB will provide him.
Defensive line:
Their possible suspensions not withstanding, Pat and Kevin Williams form the most dominating inside force in the game. DE Jared Allen, entering his second season in Minnesota, will once again be productive. The Vikings ' D-line is tough to block, making the team's back seven better than advertised.
Weaknesses

QB Brett Favre: Favre brings leadership and confidence. On the flip side , he is not 100 percent healthy with a rotator cuff injury. Also, he struggled down the stretch in 2008 and there are questions as to whether he can be the Favre of 2007.
C John Sullivan:
He has huge shoes to fill in the middle of the offensive line. Sullivan will be replacing Matt Birk, who is one of the best in the NFL at his position. If Sullivan struggles, it could have an effect on the entire offensive line.
Scouts Inc. watches games, breaks down film and studies football from all angles.
JEREMY GREEN'S BURNING QUESTIONS
FOOTBALL TODAY PODCAST: DIVISION PREVIEW
DRAFT CLASS WATCH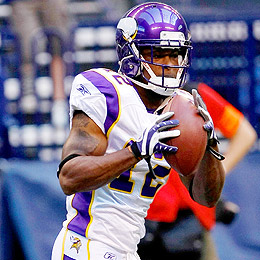 Percy Harvin: Explosive potential.
Summary:
Minnesota's five-man draft class provided two immediate starters -- receiver Percy Harvin (No. 1) and right tackle Phil Loadholt (No. 2) -- and at least two other contributors.
What to expect:
The Vikings plan to ride Harvin as far as he can take them. During training camp, Harvin worked as an outside receiver, in the slot, in the backfield and even as the quarterback in the Wildcat. With that menu of positions, and with a deep group of skill players available to draw coverage away from him, Harvin is an early candidate for rookie of the year honors. Loadholt, meanwhile, never looked back after the Vikings dropped him into the first team during offseason workouts. He's a surprisingly agile run-blocker and, at 6-foot-8, presents a huge obstacle for pass-rushers. His pass-blocking skills aren't polished, but overall the Vikings shouldn't be forced to provide as much tight end help as they did for former right tackle Ryan Cook.
Wild card:
Cornerback Asher Allen (No. 3) spent most of the summer in strong competition for the nickel position. Allen has good instincts and always seems to be around the ball. If nothing else, Allen will be an excellent special-teams player.
-- Kevin Seifert, ESPN.com
FANTASY STARS
Adrian Peterson, RB

Peterson has doubters. Will he come out in passing situations? Will he produce many negative-yardage plays? Will he get dinged up? Yes, yes and yes. But "All Day" has the off-the-charts size/speed combination and knack for massive, game-changing plays that no current NFL running back can match. Sure, he "only" tied for eighth in yards per carry (4.8) and rushing touchdowns (10) in 2008, and yes, he did fumble nine times (losing four). But in winning his first rushing title, Peterson had 11 games with at least 20 carries, a usage pattern that makes him mega-consistent. Plus, he enters '09 vowing to be bigger and stronger, which could allow him to stay on the field in pass protection more often. And he's 24. Only Eric Dickerson and Jim Brown rushed for more yards in their first two seasons. More touchdowns will come, pairing nicely with all that glorious yardage. Don't get clever.
2009 Projection: 1,701 rush yds, 14 TD
---
Bernard Berrian, WR

Because he's such a streaky guy, Berrian is the kind of fantasy player you'll want to team with a Wes Welker or T.J. Houshmandzadeh. Whereas you pretty much know what you'll get from those two reliable possession receivers, every week Berrian is like the proverbial box of chocolates. In 2008, he had four 100-yard games, and four games where he couldn't exceed 20 yards. Among wideouts with at least 60 targets, Berrian had the highest yards-per-catch average in the NFL (20.1), but only had 48 catches overall. Yes, you can trace many of his problems to the inaccurate right arm of Tarvaris Jackson, and perhaps having Brett Favre fling it to him will improve things. Still, there will be weeks where nothing's open deep, and Berrian goes quiet. His speed is impressive, but he's still never posted a 1,000-yard season.
2009 Projection: 73 rec, 1,150 rec yds, 7 TD
ESPN THE MAGAZINE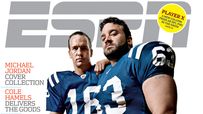 The Chargers win the Super Bowl? What in the name of Norv Turner is going on here?