NEW ORLEANS SAINTS (Consensus division finish: 3rd)
Paul Abell/US Presswire
EXPERTS' PICKS
The Saints finished fourth in the NFC South last season with an 8-8 record. For more Saints coverage, visit: Pat Yasinskas' NFC South blog | Saints clubhouse
ANALYST
PREDICTION
Jeffri
Chadiha
ESPN.com

DIVISION FINISH: 3 It all comes down to one thing with the Saints: Can they actually play better defense? If so, they'll make a run at a playoff spot.
John
Clayton
ESPN.com

DIVISION FINISH: 3 Drew Brees should throw for 5,000 yards once again, and Gregg Williams will improve the defense. The question now for the Saints is how well they play in big games. Being without suspended defensive ends Will Smith and Charles Grant, and possibly injured left tackle Jammal Brown, in the opening weeks of the season could lead to a slow start that might be hard to overcome.

Tim
Graham
ESPN.com

DIVISION FINISH: 3 No need to worry about the Saints' offense as long as Drew Brees is slinging it, but their defense surrendered nearly 400 points last year. New coordinator Gregg Williams has had a tendency to wear out his welcome at various stops, but he knows how to run a defense.
Jeremy
Green
Scouts Inc.

DIVISION FINISH: 1 New Orleans is a legitimate Super Bowl contender because its offense is as good as anyone's. RB Pierre Thomas will give the Saints solid balance, but the biggest improvement is on defense, where they finally have a legit leader in safety Darren Sharper.
Paul
Kuharsky
ESPN.com

DIVISION FINISH: 2 A better defense to supplement a dynamic offense that could be even better than last year's. Had them in the Super Bowl a year ago, and might have just been a year ahead of schedule.
Matt
Mosley
ESPN.com

DIVISION FINISH: 3 Sean Payton obviously knows what he's doing on offense, but I'm not convinced this defense has turned the corner. My guys Scott Fujita and Scott Shanle could use a little help.
Len
Pasquarelli
ESPN.com

DIVISION FINISH: 2 QB Drew Brees threw for more than 5,000 yards last year, and the Saints still didn't make the playoffs. Shaky defense, but the hiring of Gregg Williams might be the most critical acquisition of the offseason.
Mike
Sando
ESPN.com

DIVISION FINISH: 2 As good as Matt Ryan looks, Drew Brees is better right now. Perhaps he finally has a decent defense in support. I'll believe it when I see it.
Kevin
Seifert
ESPN.com

DIVISION FINISH: 2 New defensive coordinator Gregg Williams should bring some unpredictability to the Saints' defense. But ultimately, they're going to go as far as quarterback Drew Brees will take them. This remains an offensive-oriented team.
James
Walker
ESPN.com

DIVISION FINISH: 3 It's a shame the Saints are wasting the prime of QB Drew Brees' career with an inconsistent defense.
Seth
Wickersham
ESPN The Magazine

DIVISION FINISH: 2 New coordinator Gregg Williams will improve the D just enough to give Drew Brees and the NFC's best passing attack a chance at a few more wins.
Bill
Williamson
ESPN.com

DIVISION FINISH: 3 The Saints have to get better play on defense. If that happens, they will contend for a playoff berth in a strong division.
Matt
Williamson
Scouts Inc.

DIVISION FINISH: 2 The Saints' front seven is suspect, but the secondary does look to be vastly improved, and the addition of defensive coordinator Gregg Williams is an added bonus on that side of the ball. But, of course, the Saints will win games on offense, and Drew Brees is primed for another fantastic season.
Pat
Yasinskas
ESPN.com

DIVISION FINISH: 3 I really like what the Saints have done with their defense in the offseason, and the offense is going to be better with Marques Colston and Jeremy Shockey healthy. But they are still the Saints, and that's why, at the moment, I can't rank them any higher. But there is huge upside here.


CONSENSUS DIVISION FINISH: 3rd | NFL standings
BEST OF THE SAINTS
Best scene in training camp: Drew Brees firing a ball so high and hard into the back of the end zone that you were sure the ball was going to end up out on the street. Then a fullly extended Marques Colston sweeps in and grabs it for a touchdown. Brees' numbers were phenomenal last year, and they came without a 1,000-yard receiver. He has one now because Colston is healthy again and ready to reclaim his spot among the NFL's best receivers.
Best offseason move you've heard about 1,000 times already:
Hiring defensive coordinator Gregg Williams. This might be the most-hyped hiring of a defensive coordinator in history. But the hype is justified because, if Williams can just get the Saints to play a little defense, this could be a very dangerous team.
Best offseason move you haven't heard about 1,000 times already:
The signing of veteran long-snapper Jason Kyle from Carolina didn't draw much attention. But Kyle's as reliable as they come and that should help a special-teams unit that always seems to be in flux.
Best new defensive player:
Defensive end Anthony Hargrove. Sure, Jabari Greer and Darren Sharper have bigger names. But with starting defensive ends Charles Grant and Will Smith possibly suspended for the first four games, Hargrove is going to get his chance. This guy has flashed big potential before but been sidetracked by off-field problems. He seems focused now and had a strong camp. He could be a force even after Grant and Smith return.
Best reason to believe Reggie Bush and Jeremy Shockey can live up to the hype:
If they can just stay healthy, they're going to have big numbers. Brees spreads the ball around as well as any quarterback in the league, and Bush and Shockey have the ability to get open -- if they're on the field.
-- Pat Yasinskas, ESPN.com
SCOUTS INC.'S FABULOUS FIVE
Scouts Inc. has evaluated and graded more than 2,500 NFL players heading into the 2009 season, giving Insiders a leg up on the competition with exclusive grades, alerts and scouting reports.
Top five players

ANALYSIS
1. Drew Brees
Quarterback
6-0 | 209
(Grade: 89) Brees is an undersized quarterback who relies on a great feel for the game and an accurate arm to produce on the field. He excels at reading pass coverage. An accurate passer on nearly all levels, Brees has the arm to make the short to intermediate out throws with velocity and timing.
2. Will Smith
Defensive end
6-3 | 282
(83) Smith has been a quality starting defensive end for New Orleans since being a 2004 first-round draft pick. He has adequate size for the position with excellent upfield speed, acceleration and agility.
3. Jammal Brown
Offensive tackle
6-6 | 315
(82) Brown has been New Orleans' starting left tackle since being drafted in the first round of the 2005 draft. He is a good-sized tackle with excellent balance, body control and athleticism.
4. Marques Colston
Wide receiver
6-4 | 225
(82) Colston struggled to stay healthy and stay on the field in the 2008 season, his third in the NFL. It was his least productive year, with just 47 catches for 760 yards and five touchdowns in 11 games.
5. Sedrick Ellis
Defensive tackle
6-1 | 307
(79) Ellis came in and had an immediate impact as a rookie for the Saints in 2008, starting all 13 games he played in. He is a thick, squatty, defensive tackle who has excellent initial quickness, agility and body control.
Player grading scale: Elite (90-100), outstanding (80-89), solid starter (75-79), good starter (70-74)
SCOUTS INC.'S ANALYSIS
Strengths

QB Drew Brees: He is the best QB in the NFC, and you can make a case for his being the best QB in the NFL. He does an outstanding job of making the right reads. He does not have a rocket arm, but he has great instincts.
Depth at receiver:
With the emergence of WR Lance Moore to go along with starters Marques Colston and Devery Henderson, the Saints are as good as anyone when they go to their three-receiver packages. Robert Meachem will be asked to do more this season; if he has a breakout season, this will be one of the most feared receiver units in the NFL.
S Darren Sharper:
This was one of the more under-the-radar signings this offseason. Sharper is like a quarterback in the back of the defense, so expect fewer mental mistakes across the board from the Saints' defense.
Weaknesses

Power running game: You can't blame the Saints for getting rid of veteran Deuce McAllister, but they have not replaced him. As well as this team can throw, it lacks offensive balance. Reggie Bush is spectacular in space, but he has shown he can't carry the load.
Inconsistent defensive line:
This is a big-name defensive line that needs to play up to expectations versus the run and in terms of pressuring the quarterback. The Saints need more consistent production from both DEs, Will Smith and Charles Grant, and along the interior from DT Sedrick Ellis, who should be ready to elevate his game in Year 2.
Cornerback play:
The Saints signed free agents Jabari Greer and Randall Gay, but it remains to be seen whether those moves will pay dividends.
Scouts Inc. watches games, breaks down film and studies football from all angles.
JEREMY GREEN'S BURNING QUESTIONS
FOOTBALL TODAY PODCAST: DIVISION PREVIEW
DRAFT CLASS WATCH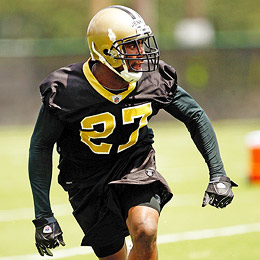 Malcolm Jenkins: Looks to be a quick study.
Summary:
Thanks to last year's trades for Jonathan Vilma and Jeremy Shockey, the Saints had only four draft picks, and only one of those came on the first day. The class got even smaller in offseason workouts when linebacker Stanley Arnoux, a fourth-round pick, went down for the season with a torn Achilles tendon. The class dwindled to two as the Saints put safety Chip Vaughn, another fourth-round pick on the injured reserve list.
What to expect:
First-round pick Malcolm Jenkins had the longest rookie contract holdout in franchise history. But he's enormously talented and seems to have made up for the work he missed. Jenkins has the tools to play safety, but the Saints want to give him a long look at cornerback first. He likely will open the season as the third corner behind starters Jabari Greer and Tracy Porter, but he could move into the starting lineup at any time.
Wild card:
A lot of fans were upset when the Saints traded up into the fifth round to take punter Thomas Morstead. That means he'll be under the microscope, but he did already beat out incumbent Glenn Pakulak. The Saints have been rotating kickers and punters rapidly for the last year and they need stability on special teams. Morestead can become a fan favorite if he can provide stability.
-- Pat Yasinskas, ESPN.com
FANTASY STARS
Drew Brees, QB

In his three years in New Orleans, Brees has become the most consistently valuable quarterback in fantasy. In 2008, he became the second man ever to exceed 5,000 yards passing in a season, and he came within 15 yards of tying Dan Marino's record. His slow start in '07 is a distant memory, and his marriage with Sean Payton continues to bring huge rewards. Can you make the argument that Tom Brady deserves our top spot among signal-callers for his upside? Perhaps. But Brees is healthier, has elite weapons and a downfield passing attack, and throws on the run as well as anyone in football. You probably won't get 5,000 yards out of him again in '09, but 4,400 is a lock.
2009 Projection: 4,827 pass yds, 30 TD, 15 INT
---
Pierre Thomas, RB

Thomas got his chance to shine in Week 17 in 2007, when he racked up 100 yards both rushing and receiving. That put him on the fantasy map, but it wasn't until Reggie Bush tore a meniscus in his knee in Week 7 of '08 that Thomas became a truly ownable player. After a Week 9 bye, Thomas had 99 carries for 501 yards (5.1 per carry) and six touchdowns. Bush might be considered a glamour player, but he's coming off microfracture surgery and has proved he can't be effective as an every-down back. Meanwhile, Thomas led the Saints in red zone carries, and Deuce McAllister is gone from New Orleans. If we're choosing between Thomas and Bush in a point-per-reception league, we would take Bush. But in standard leagues? We're off that train. Give us Thomas' solid, between-the-tackles work.
2009 Projection: 1,125 rush yds, 8 TD
ESPN THE MAGAZINE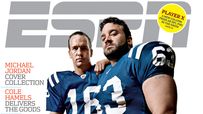 The Chargers win the Super Bowl? What in the name of Norv Turner is going on here?