NEW ENGLAND PATRIOTS (Consensus division finish: 1st)
Paul Spinelli/Getty Images
EXPERTS' PICKS
The Patriots finished second in the AFC East last season with an 11-5 record. For more Patriots coverage, visit: Tim Graham's AFC East blog | Patriots clubhouse
ANALYST
PREDICTION
Jeffri
Chadiha
ESPN.com

DIVISION FINISH: 1 Tom Brady is back on a team that won 11 games without him. He'll be looking to make up for all the time he missed last season.
John
Clayton
ESPN.com

DIVISION FINISH: 1 Tom Brady should bring the Patriots back to the top of the division, but you have to wonder whether he can play all 16 games. His preseason shoulder injury was a scare because the Patriots aren't a playoff team without him. Brady has to control the tempo of the game because the defense is showing some age and leakage.

Tim
Graham
ESPN.com

DIVISION FINISH: 1 As long as Bill Belichick is running the show and Tom Brady is healthy, the Patriots will be considered a Super Bowl contender. They won 11 games last season without Brady, and they upgraded at running back, tight end and cornerback.
Jeremy
Green
Scouts Inc.

DIVISION FINISH: 1 The return of Tom Brady makes the Patriots a legitimate Super Bowl contender. Don't rest on the defense, either; it will be much improved even with the departure of veteran leader Tedy Bruschi.
Paul
Kuharsky
ESPN.com

DIVISION FINISH: 1 With Tom Brady back and the Patriots without a Super Bowl title since the 2004 season, the franchise will be gunning for a big showing. It has the players and coaching staff to win its fourth title in nine years.
Matt
Mosley
ESPN.com

DIVISION FINISH: 1 Tom Brady's back. Enough said.
Len
Pasquarelli
ESPN.com

DIVISION FINISH: 1 Tom Brady is back from the knee injury that sidelined him most of last season. 'Nuff said. The offense will be explosive, but the back eight on defense, especially in the secondary, has to play a lot better.
Mike
Sando
ESPN.com

DIVISION FINISH: 1 The Patriots will win the division as long as Tom Brady is their quarterback. I want to see how they work Joey Galloway into the offense.
Kevin
Seifert
ESPN.com

DIVISION FINISH: 1 The Patriots were 11-5 last season without Tom Brady. With him, they're the best team in the division. Their offensive firepower is unmatched.
James
Walker
ESPN.com

DIVISION FINISH: 1 If Tom Brady stays healthy, the current team of the decade could end the 2000s in spectacular fashion.
Seth
Wickersham
ESPN The Magazine

DIVISION FINISH: 1 With Tom Brady, Randy Moss and Wes Welker -- not to mention a rejuvenated Fred Taylor and Joey Galloway -- this is the best offense in the NFL and could rewrite records. And it'll need to be, with a defense relying on two rookies and a bunch of aging vets.
Bill
Williamson
ESPN.com

DIVISION FINISH: 1 Tom Brady is back, and so is another trip to the playoffs for the Patriots. This team is primed for another big season. The Patriots are the class of a strong division.
Matt
Williamson
Scouts Inc.

DIVISION FINISH: 1 These guys are loaded. The offense will contend for the league's best. The defense has thoroughly addressed its poor pass defense, and of course, there isn't a better coached team in the league. The Pats are hungry and ready to take aim at the NFL.
Pat
Yasinskas
ESPN.com

DIVISION FINISH: 1 Tom Brady is back healthy, and Bill Belichick still is the coach. In my book, that's good enough to make the Patriots the favorite to win the Super Bowl.


CONSENSUS DIVISION FINISH: 1st | NFL standings
BEST OF THE PATRIOTS
Best running back: In a stable full of horses, Laurence Maroney is the best combination of talent and youth. He's entering only his fourth season yet already has gained a reputation for being injury-prone. But Maroney showed in the second half of 2007 that he can carry the load for a great team.
Best defensive back:
This will be strong safety Brandon Meriweather's year to emerge. He had a superb 2008 sophomore season but mostly was overlooked because of bigger storylines in Foxborough. Meriweather started the last 10 games after Rodney Harrison went down with a career-ending leg injury and finished third in tackles.
Best rookie surprise:
This one's a tie. Seventh-round pick Julian Edelman has grabbed the most attention because of his coming-out party in the preseason opener. The Kent State quarterback-turned-Wes Welker knockoff will be fan favorite. But former University of Houston offensive lineman Sebastian Vollmer, a German émigré who wasn't invited to the NFL scouting combine, has shown why the Patriots spent a second-round pick on him.
Best tight end:
Bill Belichick has called this year's tight end battle the best he's seen during his tenure with the Patriots. Chris Baker has stood out as the top option -- ahead of Benjamin Watson -- and will make the Jets regret cutting him.
-- Tim Graham, ESPN.com
SCOUTS INC.'S FABULOUS FIVE
Scouts Inc. has evaluated and graded more than 2,500 NFL players heading into the 2009 season, giving Insiders a leg up on the competition with exclusive grades, alerts and scouting reports.
Top five players

ANALYSIS
1. Tom Brady
Quarterback
6-4 | 225
(Grade: 94) Brady has excellent vision and reads coverages and pressure packages as well as anyone in the league. He can power the ball into tight spots or use a soft touch.
2. Randy Moss
Wide receiver
6-4 | 210
(93) He has excellent size and is a big-time vertical threat. He has excellent deep speed and the jumping ability to attack the ball in flight. He has long arms to reach and extend beyond his frame.
3. Ty Warren
Defensive end
6-5 | 300
(88) He uses his hands very well with excellent placement. He reads and recognizes blocking patterns. He's more productive versus the run game than the passing game.
4. Logan Mankins
Guard
6-4 | 310
(81) He has good initial quickness off the ball and into blocking patterns. He will get overextended at times in the run game but has recovery ability. He's not an overpowering player at the line of scrimmage.
5. Adalius Thomas
Linebacker
6-2 | 270
(80) He's productive against the run and pass. He has very good take-on ability, and good range and speed in chase. As a pass-rusher, he can push the pocket with strength and power, and use his upper-body strength to disengage blockers.
Player grading scale: elite (90-100), outstanding (80-89), solid starter (75-79), good starter (70-74)
SCOUTS INC.'S ANALYSIS
Strengths

Bill Belichick: Gone are a few of Belichick's key contributors from the front office and coaching staff, but that seems to be the case every year in New England. Other NFL franchises consistently raid the organization trying to get their own piece of Belichick's way of doing business. He is a master at devising game plans, personnel evaluation and meshing the two to get the utmost production from his roster. He is far and away the best coach in the NFL.
Star power:
With guys such as Tom Brady and Randy Moss as fixtures of this organization, few teams can rival New England's star power. These guys excel at creating mismatches in the Patriots' favor.
Defensive line:
Not only does New England have excellent starters in Vince Wilfork and Ty Warren, but the rich got richer with the selection of Ron Brace to further galvanize the middle.
Weaknesses

Outside linebacker: This certainly was addressed with the addition of Derrick Burgess, but he is a 4-3 defensive end by trade and should be a liability in his short coverage zones. However, there are two intriguing youngsters here, and Adalius Thomas returns, so there are options at Belichick's disposal.
Backup quarterback:
Yes, Belichick is a superb coach. But expecting a Matt Cassel-like situation again is unwise, and discounting the fact that Brady is returning from a serious injury makes this area further cause for concern. With preseason veteran backups Kevin O'Connell and Andrew Walter waived and rookie Brian Hoyer remaining as the lone substitute for Brady, the Patriots seemed to be setting the table to acquire another free-agent backup.
Age:
It could be argued that the Patriots have a good blend of youth and veterans on their roster. They traditionally tend to get a lot out of players hungry for a championship who are near the end of their ropes. But older players are prone to experiencing very quick declines, and New England is banking on quite a few of these older players to play prominent roles this season.
Scouts Inc. watches games, breaks down film and studies football from all angles.
JEREMY GREEN'S BURNING QUESTIONS
FOOTBALL TODAY PODCAST: DIVISION PREVIEW
DRAFT CLASS WATCH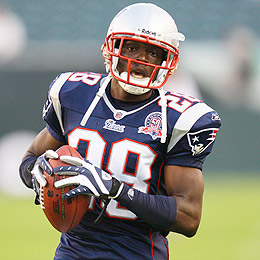 Darius Butler: Projected as role player
Summary:
Patriots architect Bill Belichick's fondness for second-round picks was evident in April. He drafted four players in the second round and acquired two second-round picks for next year's draft. His first three picks were spent on defense, safety Pat Chung, defensive tackle Ron Brace and cornerback Darius Butler. The Patriots also added three offensive linemen and two receivers.
What to expect:
The trade of defensive lineman Richard Seymour could mean significant playing time for Brace and sixth-round pick Myron Pryor. Several rookies will contribute in sub packages and on special teams. Offensive tackle Sebastian Vollmer, the last second-round pick, has been a revelation and could push right tackle Nick Kaczur. Butler could see the field as a nickel or dime back. Both third-round picks have injury issues. North Carolina receiver and return man Brandon Tate still is recovering from reconstructive knee surgery. South Florida linebacker Tyrone McKenzie suffered a season-ending knee injury in rookie camp.
Wild card:
The most excitement has been generated by seventh-round pick Julian Edelman. He played quarterback at Kent State but has been converted into a receiver and return man who looks an awful lot like Wes Welker with a different jersey number. He frequently took reps with the first-team offense in camp and is the type of gritty little player fans embrace.
-- Tim Graham, ESPN.com
FANTASY STARS
Tom Brady, QB

Remember a season ago, when Brady was a first-round fantasy pick in every draft known to humanity? Whoops. It was impossible to account for Chiefs LB Bernard Pollard's desperate, season-altering Week 1 lunge into Brady's plant knee, just as it's now impossible to guarantee that Brady will be fully recovered from his torn ACL and MCL and the infection that reportedly attacked thereafter. However, the fact the Pats traded Matt Cassel in February (to Kansas City -- oh, what a fickle game is life!) means Bill Belichick must be pretty darned convinced he'll have Brady at full strength in '09. Even if you watch him in the preseason, you won't really know a thing until Brady gets out there in Week 1. The New England offensive system is awesome, so drafting him is worth the risk. But it doesn't mean it's not scary.
2009 Projection: 4,210 pass yds, 33 TD, 11 INT
---
Randy Moss, WR

A year after setting the NFL single-season record for receiving touchdowns, Moss was devastated by the loss of Tom Brady. Join the club. Matt Cassel was a good replacement, but he never really mastered the deep ball, which is, of course, Moss' specialty. Cassel was much happier and more effective dumping off passes to Wes Welker, who had 150 targets and 111 catches to Moss' 127 and 69. It should also be noted that a league-high 55 percent of New England's passing yardage came after the catch last season. Brady's return should cure what ails ol' Randy. Nobody throws a prettier deep ball than the 2007 NFL MVP, and nobody has better instincts about when to just fling it up there and let No. 81 do his thing. Moss has eight 1,000-yard seasons in his 10-year career, and there's no reason to believe he won't easily chalk up another in '09.
2009 Projection: 83 rec, 1,205 rec yds, 13 TD
ESPN THE MAGAZINE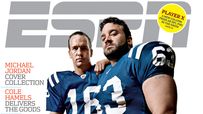 The Chargers win the Super Bowl? What in the name of Norv Turner is going on here?