NEW YORK GIANTS (Consensus division finish: 1st)
Jim Luzzi/Sports Imagery/Getty Images
EXPERTS' PICKS
The Giants finished first in the NFC East last season with a 12-4 record. For more Giants coverage, visit: Matt Mosley's NFC East blog | Giants clubhouse
ANALYST
PREDICTION
Jeffri
Chadiha
ESPN.com

DIVISION FINISH: 2 Their young receivers have to prove they can play at a high level. Their talented defense has to show it can thrive without former coordinator Steve Spagnuolo.
John
Clayton
ESPN.com

DIVISION FINISH: 1 Even though the Giants have some injuries along the defensive line, they are loaded. They throw pass-rushers at offensive lines in waves. Tom Coughlin has a great formula for winning. He can pound the ball with Brandon Jacobs. Eli Manning needs to come up with only a few big plays a game to win. The receiving corps may not have a ready replacement for Plaxico Burress, but GM Jerry Reese has drafted some interesting prospects who could develop in time.

Tim
Graham
ESPN.com

DIVISION FINISH: 2 The 2007 champs are stacked on the defensive line again. Osi Umenyiora is back. They added Chris Canty and Rocky Bernard. If Eli Manning can develop a new go-to receiver, they're Super Bowl contenders.
Jeremy
Green
Scouts Inc.

DIVISION FINISH: 1 It's going to be a great battle in the NFC East, but I am going with the Giants. I love their tough and physical offensive line and I see QB Eli Manning continuing to develop, even without a No. 1 receiver.
Paul
Kuharsky
ESPN.com

DIVISION FINISH: 1 Yes, they'll have to work hard on the post-Plaxico Burress passing offense. But this team will run it well and play some serious defense, particularly with that deep defensive line harassing quarterbacks.
Matt
Mosley
ESPN.com

DIVISION FINISH: 1 I know the Giants have looked shaky in the preseason, but their defense will be stacked when it matters in December and January.
Len
Pasquarelli
ESPN.com

DIVISION FINISH: 1 Perhaps the best defensive front line in football, a strong running attack, and Eli Manning making enough plays to win. That's not exactly a bad combination for anyone, even in the NFL's toughest division.
Mike
Sando
ESPN.com

DIVISION FINISH: 1 The Giants can usually count on Eli Manning in big games. Do they have enough firepower at receiver to replace what Plaxico Burress once gave them?
Kevin
Seifert
ESPN.com

DIVISION FINISH: 2 We'll wait and see if the Giants get the same Osi Umenyiora they had before he missed last season with a knee injury. He's a huge difference-maker but needs all of his speed and quickness.
James
Walker
ESPN.com

DIVISION FINISH: 2 Can QB Eli Manning dominate without an elite receiver? His contract says yes, but I have my doubts.
Seth
Wickersham
ESPN The Magazine

DIVISION FINISH: 3 Without a lot of aerial threats, Eli Manning will be forcing the ball a lot to TE Kevin Boss, prompting Jeremy Shockey to ask, "Where was that when I was there?"
Bill
Williamson
ESPN.com

DIVISION FINISH: 1 The Giants won't have the distraction of Plaxico Burress that derailed them late last season. The Giants are one of the better teams in the NFL and they will emerge from a solid NFC East.
Matt
Williamson
Scouts Inc.

DIVISION FINISH: 2 An elite defensive line will keep the Giants in every game and the running game will usually batter its opponents into submission by the fourth quarter. However, the passing game is still a relative unknown and that question mark could derail this team when all is said and done. There is a lot of pressure on Eli Manning.
Pat
Yasinskas
ESPN.com

DIVISION FINISH: 3 That Super Bowl victory is starting to seem like a very long time ago. I still think Tom Coughlin is a great coach. The offensive line and the running game are very good, but Eli Manning just doesn't have any receivers.


CONSENSUS DIVISION FINISH: 1st | NFL standings
BEST OF THE GIANTS
Best offensive player: I think you have to go with quarterback Eli Manning. Brandon Jacobs might deserve a few votes, but Manning's the unquestioned leader of this team.
Best linebacker:
The title still belongs to Antonio Pierce. He plays with a lot of aggression, and he's the emotional leader for the Giants. When the grand jury decided not to indict him in the Plaxico Burress case, Pierce had a lot of stress taken away. He should be refocused now.
Best rookie:
For most of training camp, third-round pick Ramses Barden outperformed first-rounder Hakeem Nicks. But in the final two preseason games, Nicks started to make big plays. He now has a chance to crack the starting lineup sooner than Barden -- and it could happen as early as September if Steve Smith and Domenik Hixon don't get going.
Best practice tactic:
I like that safeties coach Dave Merritt makes players scramble to pick up incomplete passes during practice. He reinforces the idea of "scooping" the ball up and then securing it. The Giants are going to cause more turnovers this season. Mark my words.
Best defensive end:
Of course it's going to be Justin Tuck. He's added some pass-rushing moves this season and I think he could have somewhere in the 16-sack range.
-- Matt Mosley, ESPN.com
SCOUTS INC.'S FABULOUS FIVE
Scouts Inc. has evaluated and graded more than 2,500 NFL players heading into the 2009 season, giving Insiders a leg up on the competition with exclusive grades, alerts and scouting reports.
Top five players

ANALYSIS
1. Justin Tuck
Defensive end
6-5 | 274
(Grade: 87) He can be an explosive rusher off the edge as well as moving inside to defensive tackle in passing situations. He is an excellent athlete for his size and has learned to develop counter moves when his upfield speed alone will not work.
2. Osi Umenyiora
Defensive end
6-3 | 261
(85) He has an explosive first step off the line and can accelerate around the corner to pressure the pocket. He has developed excellent counter moves when the tackle anticipates his uphill speed.
3. Eli Manning
Quarterback
6-4 | 225
(81) He has learned to take what the defense gives him and does an excellent job of putting the ball into tight windows where only the receiver has a chance to make the catch. He is still a bit of a rhythm passer who needs to be able to set up, transfer his weight and throw the ball while in balance.
4. Chris Snee
Guard
6-3 | 317
(79) He is more of a mauler and brawler type of blocker than a nifty athletic one. He can be quick out of his stance to gain initial position on blocks and does a good job of working his feet to maintain position and sustain his blocks.
5. Antonio Pierce
Linebacker
6-1 | 238
(78) He does an excellent job of flowing to the ball and knows when to step up to fill the hole. He gets excellent depth in his pass drops and shows good route recognition as well as the ability to read the quarterback's eyes to get a jump on the ball.
Player grading scale: Elite (90-100), outstanding (80-89), solid starter (75-79), good starter (70-74)
SCOUTS INC.'S ANALYSIS
Strengths

Offensive line: This might be the best run-blocking line in the NFL. It does a phenomenal job of firing off the ball in unison and getting to the second level on combo blocks. This season will be a true test for this unit as it will be running versus more eight-man fronts due to the lack of a No. 1 receiver on the outside.
Defensive line:
The Giants won Super Bowl XLII because they dominated the line of scrimmage on defense, and that should once again be the case with a healthy Osi Umenyiora and the additions of Chris Canty and Rocky Bernard.
Running game:
The Giants have an excellent one-two punch in Brandon Jacobs and Ahmad Bradshaw. This duo possesses an excellent combination of strength, speed and versatility. Look for Bradshaw to carry a bigger load this season, as the Giants will not want to overload Jacobs against eight-man fronts.
Weaknesses

Lack of a No. 1 WR: The Giants were not the same team after they parted ways with Plaxico Burress last season. They could not get the ball vertical, which meant they could not run the ball as effectively versus the eight-man box or get TE Kevin Boss open over the middle of the field.
Speed at LB:
The addition of former Atlanta OLB Michael Boley will help, but there are still speed questions with MLB Antonio Pierce and SLB Danny Clark. If there was one weakness with this defense last season, it was the inability to match up linebackers against running backs in the passing game. That could be the case again this season.
Inconsistent kicking game:
Punter Jeff Feagles is still excellent at placing the ball inside the 20-yard line, but he does not have great leg strength. Place-kicker Lawrence Tynes is not as consistent as the Giants would like him to be.
Scouts Inc. watches games, breaks down film and studies football from all angles.
JEREMY GREEN'S BURNING QUESTIONS
FOOTBALL TODAY PODCAST: DIVISION PREVIEW
DRAFT CLASS WATCH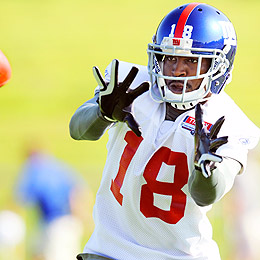 Hakeem Nicks: Potential already evident.
Summary:
This was a typical Jerry Reese draft. The Giants general manager wanted a lot of speed and he wanted long-armed defenders. Wide receiver Hakeem Nicks made some eye-popping plays at North Carolina and now he's starting to take that to the field in preseason games. Second-round pick Clint Sintim will eventually be a beast at linebacker. He's big, quick and willing to take on offensive linemen.
What to expect:
I think Nicks could crack the starting lineup pretty early in the season -- especially if Steve Smith and Domenik Hixon keep dropping the football. There's a chance he has a DeSean Jackson-like rookie season -- and that would be a great thing for the Giants.
Wild card:
I think Travis Beckum out of Wisconsin could end up making some key plays for the Giants. They want to use him as an H-back, and he could really complement the larger Kevin Boss. Andre Brown may have been in the mix for some playing time, but the running back out of North Carolina State ruptured his Achilles tendon. It's been a really rough preseason for NFC East rookies, come to think of it.
-- Matt Mosley, ESPN.com
FANTASY STARS
Brandon Jacobs, RB

Jacobs' massive size makes him a new kind of NFL power back, and in 2008 he finally lived up to his hype. After scoring just four rushing touchdowns in 2007, he scored 15 times, and 12 of those touchdowns came on runs from inside the 3-yard line. He also maintained the same awesome 5.0 yards per carry he managed in '07, and eclipsed 1,000 rushing yards for the second straight season. Our lingering concerns over Jacobs involve his health. A year after missing five contests because of knee, ankle and hamstring injuries, Jacobs missed nearly four games in '08 with another knee problem. The departure of 1,000-yard rusher Derrick Ward from the Giants' backfield might be both a blessing and a curse; it could lead to more carries for Jacobs (Ahmad Bradshaw figures to be his new understudy), but it also subjects him to more pounding. But hey, there are no sure things among fantasy rushers. We don't mind taking a chance on Jacobs.
2009 Projection: 1,002 rush yds, 12 TD
---
Ahmad Bradshaw, RB

Bradshaw played well in limited action as the Giants' third-string back in 2008, but he received double-digit carries in just two games. Expect that to change this year. Derrick Ward has moved on to the Bucs, which means New York will rely on Bradshaw to fill the spot directly behind Brandon Jacobs. Considering Ward had 181 carries and 41 receptions in '08, that'll represent a mighty big upgrade in action. The Giants do like Danny Ware, and it's not impossible that the smaller Bradshaw could wilt under the pressure of so much work. But he's powerful and quick, and if he can nail down that backup job, he'd be a Jacobs injury away from a plum starter's job.
2009 Projection: 925 rush yds, 4 TD
ESPN THE MAGAZINE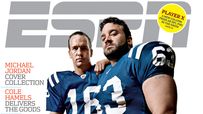 The Chargers win the Super Bowl? What in the name of Norv Turner is going on here?

•
NFC previews:
East
|
North
|
South
|
West
•
AFC previews:
East
|
North
|
South
|
West
•
Interactive O-line glossary (Extremely cool!)
•
Inside Peyton Manning-Jeff Saturday pairing
•
Bears' Jay Cutler: A savior or destroyer?