NEW YORK JETS (Consensus division finish: 4th)
Nick Laham/Getty Images
EXPERTS' PICKS
The Jets finished third in the AFC East last season with a 9-7 record. For more Jets coverage, visit: Tim Graham's AFC East blog | Jets clubhouse
ANALYST
PREDICTION
Jeffri
Chadiha
ESPN.com

DIVISION FINISH: 4 New coach Rex Ryan will put a strong defense on the field. As for the quarterback situation, that will take some patience on his part.
John
Clayton
ESPN.com

DIVISION FINISH: 4 The Jets will be better on defense with Rex Ryan ramping up the pride and intensity of the unit. Mark Sanchez was the right choice at quarterback, but it's tough to ask him to be a winner going against the seventh-toughest schedule in the league. Scoring points will be tough, so the Jets will have to play a lot of low-scoring games to be successful.

Tim
Graham
ESPN.com

DIVISION FINISH: 3 New coach Rex Ryan intends to field a defense reminiscent of the overwhelming units he oversaw with the Baltimore Ravens. The preseason focus is on rookie quarterback Mark Sanchez, but the Jets will go only as far as their run game and defense will propel them.
Jeremy
Green
Scouts Inc.

DIVISION FINISH: 4 Although I think the defense clearly will be much improved with Rex Ryan taking over as coach, the Jets will have to ride a roller coaster on offense as they live with the ups and downs of rookie signal-caller Mark Sanchez. The future is bright, but 2009 is not their time.
Paul
Kuharsky
ESPN.com

DIVISION FINISH: 3 Rex Ryan sets a great new tone, and the Jets will be good in streaks. But the early schedule and the two teams above them will make it difficult for a breakthrough by a team led by a rookie quarterback.
Matt
Mosley
ESPN.com

DIVISION FINISH: 3 I know every team thinks it can plug in a rookie quarterback and make it to the playoffs, but it's not happening in this instance. Mark Sanchez is a good quarterback, but it will take him a while to learn how to win at the next level.
Len
Pasquarelli
ESPN.com

DIVISION FINISH: 4 Under new coach Rex Ryan, the Jets will be more passionate and reckless, and preparing for their defense could be a handful. Mark Sanchez ultimately will be a very good quarterback but won't win many games this season.
Mike
Sando
ESPN.com

DIVISION FINISH: 3 Mark Sanchez makes the Jets exciting. He was the perfect draft choice for New York.
Kevin
Seifert
ESPN.com

DIVISION FINISH: 4 Rookie quarterback and a new coach in a tough and seasoned division? Not a good combination.
James
Walker
ESPN.com

DIVISION FINISH: 3 Life will be a lot different for Rex Ryan without Ray Lewis, Ed Reed and Terrell Suggs to lean on.
Seth
Wickersham
ESPN The Magazine

DIVISION FINISH: 4 The Jets will lose a lot of close ones this season. Mark Sanchez needs a year before he can get the most out of a team that should be ready to be back in the playoff mix in 2010.
Bill
Williamson
ESPN.com

DIVISION FINISH: 4 I wouldn't be surprised if the Jets made a playoff run, either, but they will have a hard time leapfrogging some very good teams in the division. Yet I expect quarterback Mark Sanchez to help the Jets win seven to nine games.
Matt
Williamson
Scouts Inc.

DIVISION FINISH: 3 Surely there will be some growing pains at quarterback and with the passing game in general. But the defense has a chance to be exceptional and should keep just about every Jets game close. Still, will that be enough?
Pat
Yasinskas
ESPN.com

DIVISION FINISH: 3 Rex Ryan landed in a very good situation here. He inherited a team that still has some good parts, even though the Jets collapsed late last season. With a little bit of new blood, the Jets could surprise some people.


CONSENSUS DIVISION FINISH: 4th | NFL standings
BEST OF THE JETS
Best overlooked offseason decision: Although most of the stories deal with the Rex Ryan hire, Mark Sanchez acquisition and Bart Scott signing, an astute move that doesn't get mentioned as much as it should is the decision to trade up and select running back Shonn Greene to open the draft's second day. Thomas Jones led the AFC in rushing last year with 1,312 yards and 13 touchdowns. But he's 31 years old, an age when a lot running backs hit the wall. Greene runs with a similar style and should make the transition seamless when that time comes.
Best offensive player:
On a line that rates among the NFL's top handful and features four former first-round draft choices, center Nick Mangold stands out as the best. Left guard Alan Faneca has been selected to eight straight Pro Bowls, and Mangold just experienced his first trip. But Mangold is on his way to establishing himself as the league's greatest center.
Best defensive player:
Left cornerback Darrelle Revis made the Pro Bowl in his second season. He's a lockdown defender who will force quarterbacks to throw Lito Sheppard's way.
Best opening day pass-rusher:
With outside linebacker Calvin Pace and defensive end Shaun Ellis suspended, the Jets will be without a combined 133 tackles, 15 sacks, 18 tackles for losses, 21 quarterback hits, seven forced fumbles and two defensive touchdowns from last season. So who's next? The often unnoticed Bryan Thomas really can set the edge at outside linebacker. He's the best candidate to pick up the slack.
Best fashion model:
As much as people might want to go with rookie hotshot Sanchez because of his infamous GQ photo shoot, nobody can do a little turn on the catwalk like Kerry Rhodes. The veteran safety is the locker room's resident fashionista, dabbles in acting and appeared in a Lady Gaga video.
-- Tim Graham, ESPN.com
SCOUTS INC.'S FABULOUS FIVE
Scouts Inc. has evaluated and graded more than 2,500 NFL players heading into the 2009 season, giving Insiders a leg up on the competition with exclusive grades, alerts and scouting reports.
Top five players

ANALYSIS
1. Kris Jenkins
Defensive tackle
6-4 | 360
(Grade: 80) He can split double-team blocks and be disruptive in the backfield. As a pass-rusher, he is a powerful player who has the strength to push the inside pocket. He can get his hands up in the throwing lanes.
2. Darrelle Revis
Cornerback
5-11 | 198
(80) He is at his best in press man coverage, where he can use his long arms to get an effective jam on his opponent off the line of scrimmage. He has good vision and instincts.
3. Kerry Rhodes
Safety
6-3 | 214
(80) He is at his best in press man coverage, where he can use his long arms to get an effective jam on his opponent off the line of scrimmage. He has good vision and instincts.
4. David Harris
Linebacker
6-2 | 245
(78) Harris is capable of making plays in space. He has good instincts and can locate the ball in traffic. As a blitzer, he has great power to collapse the pocket.
5. Bart Scott
Linebacker
6-2 | 240
(78) He is solid reading and reacting as a pass-defender but has had more success as a blitzer than in coverage. Scott is better in underneath zone coverage and can get exposed in pure man schemes.
Player grading scale: elite (90-100), outstanding (80-89), solid starter (75-79), good starter (70-74)
SCOUTS INC.'S ANALYSIS
Strengths

Rex Ryan: We really have no idea whether Ryan will be a good or bad head coach, but there is no doubt that he can coach defense. His presence -- along with the addition of some solid defensive players -- should improve this side of the ball a great deal and help keep the Jets in just about every game they play, as they could suffer offensive growing pains.
Run game:
New York now has a three-headed running attack, and Leon Washington, Shonn Greene and Thomas Jones all have varying skills. This will allow the Jets to constantly have a fresh runner and the ability to attack different defenses in variety of ways.
Darrelle Revis:
Revis is a real up-and-comer at cornerback. He has the ability to neutralize some of the better wideouts in the league. With Revis on the field, the Jets will be able to roll safety support to help the other cover men.
Weaknesses

Quarterback: Mark Sanchez might be terrific one day, but for the here and now, the position is an area of concern in the Big Apple.
Wide receiver:
Jerricho Cotchery is a solid football player, but he certainly is better suited as a No. 2 wideout than as a team's first option. With defenses looking to take Cotchery away first, someone else will have to step up in a big way.
Pass protection:
The Jets' offensive line gets a lot of credit and features four former first-round selections, but LG Alan Faneca's pass protection dropped off during his first year in New York. RT Damien Woody is really an interior lineman playing on the edge -- and it shows with his inability to handle speed rushers. Also, the offensive line depth is very thin.
Scouts Inc. watches games, breaks down film and studies football from all angles.
JEREMY GREEN'S BURNING QUESTIONS
FOOTBALL TODAY PODCAST: DIVISION PREVIEW
DRAFT CLASS WATCH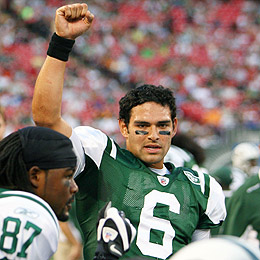 Mark Sanchez: Ready or not, he's it.
Summary:
Jets general manager Mike Tannenbaum and rookie head coach Rex Ryan made sure they got the players they wanted rather than trying to bring in a pool of prospects. They traded up to select Southern California quarterback Mark Sanchez fifth overall and Iowa running back Shonn Greene to open the second day of the draft. Their only other pick was Nebraska offensive lineman Matt Slauson, whom Jets line coach Bill Callahan recruited to Lincoln.
What to expect:
The roles and expectations of all the players are clear. Sanchez already has been named the starting quarterback, and Ryan has said his mission is to contend for a Super Bowl right away. Sanchez earned the job with a better camp and preseason than Kellen Clemens. Greene will serve as an apprentice under reigning AFC rushing leader Thomas Jones with the intention of taking over eventually. Slauson is a depth player and long-term project.
Wild card:
Greene won the Doak Walker Award last year as the best collegiate running back. He is comparable to Jones because they're both hard chargers who can operate between the tackles. Jones had one of the best rushing seasons in Jets history, but he is 31 years old, an age when backs can begin to look worn in a hurry. Greene could be a factor sooner than many think.
-- Tim Graham, ESPN.com
FANTASY STARS
Thomas Jones, RB

In 2008, Jones was a beneficiary of the Jets' renewed commitment to their offensive line. Behind Alan Faneca, D'Brickashaw Ferguson and Nick Mangold, Jones bucked the 30-year-old-back trend and turned in a career year. His 15 all-purpose touchdowns tied him for fourth in the league, and his 1,519 yards from scrimmage were the best of his nine seasons. But can it last? Leon Washington also posted a great season (5.9 yards per carry, eight scores), and the Jets drafted Shonn Greene this spring. Jones has two seasons left on his contract, but none of that money is guaranteed, which explains why he threatened to hold out of camp. Eventually he reported, but he joins the prodigious middle ground of fantasy backs this season: guys with nice histories who could be great but who also carry substantial risk.
2009 Projection: 1,094 rush yds, 8 TD
---
Jerricho Cotchery, RB

Cotchery has joined the ranks of the NFL's more reliable possession receivers, and should be the Mark Sanchez's best friend. He has tremendous hands that have helped him catch at least 65 percent of the passes thrown his way for three years running, and he made the league's top 20 in red-zone targets in 2008. Yes, the Jets have questions about who'll be their outside threat now that Laveranues Coles has moved on to Cincinnati, but Cotchery will just continue to run inside routes and do his best Keyshawn Johnson impersonation. That doesn't make for high-upside days or spectacular yardage totals. But it's definitely the stuff of a reliable fantasy player.
2009 Projection: 81 rec, 1,021 rec yds, 4 TD
ESPN THE MAGAZINE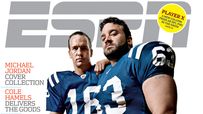 The Chargers win the Super Bowl? What in the name of Norv Turner is going on here?