OAKLAND RAIDERS (Consensus division finish: 4th)
Kirby Lee/US Presswire
EXPERTS' PICKS
The Raiders finished third in the AFC West last season with a 5-11 record. For more Raiders coverage, visit: Bill Williamson's AFC West blog | Raiders clubhouse
ANALYST
PREDICTION
Jeffri
Chadiha
ESPN.com

DIVISION FINISH: 2 Don't be fooled by their finish here. The only thing scary about the Raiders is the temper of head coach Tom Cable.
John
Clayton
ESPN.com

DIVISION FINISH: 2 Second place in this division could mean a four- or a five-win season. The Raiders can't stop the run and didn't add much in personnel to fix their problems. JaMarcus Russell has improved at quarterback, but he still doesn't look off defenders, which could lead to interceptions. Tom Cable could face a possible suspension or fine if he did injure an assistant, which is a distraction this team doesn't need.

Tim
Graham
ESPN.com

DIVISION FINISH: 3 Dysfunction junction is located just off Interstate 880 on Coliseum Way. The Raiders have some raw talent, but the work environment is too disorganized to expect anything remotely close to a postseason berth.
Jeremy
Green
Scouts Inc.

DIVISION FINISH: 4 They were embarrassed in their all-important third preseason game, which could be a harbinger. JaMarcus Russell is not developing and the defense has issues with the loss of former defensive coordinator Rob Ryan.
Paul
Kuharsky
ESPN.com

DIVISION FINISH: 3 Who's quarterbacking and why should we like him in the dysfunctional environment we know he'll be working in?
Matt
Mosley
ESPN.com

DIVISION FINISH: 4 Do you even need an explanation? They don't have a starting quarterback you can trust and they wigged out in the first round of the draft and selected a great time in the 40.
Len
Pasquarelli
ESPN.com

DIVISION FINISH: 4 Is this the season QB JaMarcus Russell plays like a top player in the draft? Even if the answer is yes, the Raiders don't have enough talent and aren't deep enough to consistently compete in the division.
Mike
Sando
ESPN.com

DIVISION FINISH: 4 aMarcus Russell might be big enough to help the Raiders on defense. And they'll need it.
Kevin
Seifert
ESPN.com

DIVISION FINISH: 4 No NFL team has more questions than the Raiders, starting with character concerns about head coach Tom Cable. Quarterback JaMarcus Russell hasn't developed much over the past three seasons and the Raiders are a huge mess.
James
Walker
ESPN.com

DIVISION FINISH: 2 It's "put up" time for QB JaMarcus Russell. If he's not the answer this year, it's time for Oakland to move on.
Seth
Wickersham
ESPN The Magazine

DIVISION FINISH: 2 Lots of firepower in the backfield means that the Raiders only need JaMarcus Russell to reach his potential to scare some teams. If it were only that easy.
Bill
Williamson
ESPN.com

DIVISION FINISH: 2 I don't expect the Raiders to be a legitimate playoff contender. But they should win six to eight games and that might be good enough for second place in this division.
Matt
Williamson
Scouts Inc.

DIVISION FINISH: 4 In all reality, it is just very difficult to get behind anything this organization does anymore. Although the offense could be better than a year ago, expect the defense to fall off noticeably. That is really saying something when considering just how poorly this team defended the run in 2008.
Pat
Yasinskas
ESPN.com

DIVISION FINISH: 4 There won't be any miracles for the Raiders. They've been in disarray for years now and that's not going to change.


CONSENSUS DIVISION FINISH: 4th | NFL standings
BEST OF THE RAIDERS
Best tough guy: Whether head coach Tom Cable did or did not assault defensive assistant Randy Hanson, as reported, nobody is going to mess with the burly former offensive line coach.
Best player:
The Raiders may have been the worst team in the NFL for the past six years, but they have one of the best players in the NFL. Left cornerback Nnamdi Asomugha is the best player at his position in the league. He is rarely tested and he shuts down half the field.
Best speed:
Running back Darren McFadden. He is an explosive back and he has a chance to be one of the league's best game-breakers. He's fun to watch.
Best up-and-comer:
Tight end Zach Miller is a future star. He has great hands and he is Russell's favorite target. This guy is a Pro Bowl trip waiting to happen.
-- Bill Williamson, ESPN.com
SCOUTS INC.'S FABULOUS FIVE
Scouts Inc. has evaluated and graded more than 2,500 NFL players heading into the 2009 season, giving Insiders a leg up on the competition with exclusive grades, alerts and scouting reports.
Top five players

ANALYSIS
1. Nnamdi Asomugha
Cornerback
6-2 | 210
(Grade: 92) Asomugha has been one of the most impressive cornerbacks in the league over the past four seasons. He has lived up to his high draft status with great durability and consistency throughout his six-year career.
2. Richard Seymour
Defensive end
6-6 | 310
(87) He has very good hands with a strong upper body to control blocks. He is explosive off the ball and can push the pocket from both inside and outside. He can dominate one-on-one blocks.
3. Kirk Morrison
Linebacker
6-2 | 240
(78) Morrison is an extremely instinctive linebacker who has the size, strength and speed to make plays all over the field. He is very quick to read and react. He's physical against the run and is a good solid tackler.
4. Shane Lechler
Punter
6-2 | 225
(77) Lechler has been one of the most consistent punters in the league over his nine-year career. He has great size, an explosive leg and excellent mechanics to execute his craft.
5. Darren McFadden
Running back
6-2 | 210
(77) McFadden is a versatile athlete who has elite speed for the position. He started only five games as a rookie last year because of injury. When healthy, McFadden does an excellent job of hitting the hole quick and outrunning defenders once he's in the open.
Player grading scale: Elite (90-100), outstanding (80-89), solid starter (75-79), good starter (70-74)
SCOUTS INC.'S ANALYSIS
Strengths

Nnamdi Asomugha: Quarterbacks don't even throw at this guy -- nor should they. He has it all. But as great as Asomugha is, the Raiders might play more Cover 2 with John Marshall taking over as defensive coordinator. That would be a massive mistake and a waste of the special qualities that the league's best cover man brings to the table.
Running game:
The offensive line isn't extremely talented, but it is well coached and fits Tom Cable's zone scheme rather well. Of course, the Raiders have three running backs who can all contribute in a variety of ways. Cable would be smart to play it close to the vest on offense and feature Michael Bush and Darren McFadden to ease the stress on his developing quarterback.
Special teams:
Shane Lechler, despite his rather ridiculous new contract, very well could be the best punter in the game today. Kicker Sebastian Janikowski hasn't lived up to being a first-round draft pick, but he is a middle-of-the-road kicker. The coverage and return teams should be strong once again in 2009.
Weaknesses

Stability: This starts at the top and Oakland has gone through a remarkable number of head coaches in recent memory. No team in the league makes you scratch your head like the Raiders.
Passing game:
JaMarcus Russell has shown some improvement and is obviously a very talented young man, but his fundamentals still need a lot of work. It doesn't help that there is great inconsistency at wide receiver.
Run defense:
Much as it does on offense, the Raiders' personnel department has stressed speed on defense as well. In turn, the team lacks run defenders with the required stoutness to hold up consistently. But newly acquired Richard Seymour could help change the attitude of an underachieving group of defensive tackles.
Scouts Inc. watches games, breaks down film and studies football from all angles.
JEREMY GREEN'S BURNING QUESTIONS
FOOTBALL TODAY PODCAST: DIVISION PREVIEW
DRAFT CLASS WATCH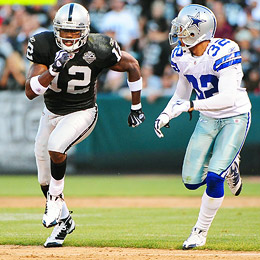 Darrius Heyward-Bey: Work in progress.
Summary:
This draft class (particularly the first two picks) will be among the most closely watched classes from 2009. The Raiders created major waves on the first day of the draft by taking receiver Darrius Heyward-Bey with the No. 7 overall pick in the first round and safety Mike Mitchell with the No. 47 pick in the second round. Both picks were widely criticized by the media for being major reaches. Privately, several people responsible for the drafting of other teams were also baffled by the picks. Heyward-Bey was considered to be a late first-round pick by most teams. Mitchell wasn't invited to the NFL combine and was listed as a free agent by several teams. Still, the Raiders believe both players fit their system.
What to expect:
Heyward-Bey and Mitchell are clearly thrilled to be taken where they were. But they didn't ask to be over-drafted, if that's the case. It may be unfair to expect too much from either player right away. The Raiders have a much bigger need for Heyward-Bey to develop than Mitchell. Oakland needs receiver help desperately. But Heyward-Bey is raw. He has had issues holding on to the ball at times. With second-year receiver Chaz Schilens showing signs of being an impact player, Heyward-Bey could ease into his role and be an occasional weapon. Mitchell may be asked to first contribute on special teams.
Wild card:
The Raiders are excited about receiver Louis Murphy. The fourth-round pick from Florida is polished and he could be a fine possession receiver. Expect to see a lot of Murphy in 2009.
-- Bill Williamson, ESPN.com
FANTASY STARS
Darren McFadden, RB

The fourth pick in the 2008 draft, McFadden was a black hole for fantasy, rushing for a pitiful 499 yards and four touchdowns. While nobody in the Oakland offense was good last season, the primary culprit in McFadden's case was a turf toe injury that robbed him of his much-revered speed and explosiveness. Presuming his foot is healthy, Run-DMC figures to battle Justin Fargas and Michael Bush for playing time. But while we wouldn't be surprised to see the veteran Fargas begin the year as the starter, we believe McFadden's excellent size/speed combination will win out by season's end. It would be foolish for us to claim that his road to dominance is clear, which is why it'll be dicey counting on him immediately. But the memory of those 43 touchdowns in three years at Arkansas lingers.
2009 Projection: 908 rush yds, 9 TD
---
Zach Miller, TE

In his second NFL season, playing for a terrible team with an erratic quarterback, Miller was sixth in receiving yards, seventh in targets and eighth in receptions by a tight end. That got our attention. But the fact that he had the largest yards-per-catch mark of any tight end with more than 42 receptions ... that got us excited. After all, the biggest fantasy plays happen down the field, and that's where Miller is comfortable. He scored only once in 2008, but the fact that it was a sweet, deep seam route that Miller took for 63 yards could be a glimpse of the near future. Plus, as much as JaMarcus Russell has developed "chemistry" with anyone, he's got it with Miller. Watch for a breakout.
2009 Projection: 69 rec, 894 rec yds, 4 TD
ESPN THE MAGAZINE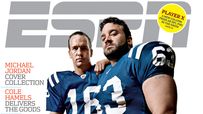 The Chargers win the Super Bowl? What in the name of Norv Turner is going on here?