PHILADELPHIA EAGLES (Consensus division finish: 2nd)
Howard Smith/US Presswire
EXPERTS' PICKS
The Eagles finished second in the NFC East last season with a 9-6-1 record. For more Eagles coverage, visit: Matt Mosley's NFC East blog | Eagles clubhouse
ANALYST
PREDICTION
Jeffri
Chadiha
ESPN.com

DIVISION FINISH: 1 Donovan McNabb has long waited for an offense with so many weapons around him. Don't be surprised if the Eagles end up in the Super Bowl.
John
Clayton
ESPN.com

DIVISION FINISH: 2 The Michael Vick addition won't be a big impact positively or negatively. The Eagles don't win because of trick plays. They win because Donovan McNabb is good and Andy Reid knows how to build solid offenses. It won't be the same on defense without Jim Johnson, but the Eagles have one of the more talented defensive units in the division.

Tim
Graham
ESPN.com

DIVISION FINISH: 1 Regardless of how Andy Reid chooses to deploy Michael Vick, Donovan McNabb has all sorts of weapons around him. The defense ain't bad either.
Jeremy
Green
Scouts Inc.

DIVISION FINISH: 2 Even though I am picking them second, the Eagles are a playoff team and legit Super Bowl contender. Donovan McNabb has a new deal and emerging young receivers. The defense will miss coordinator Jim Johnson. As always, the key to this team will be RB Brian Westbrook's health.
Paul
Kuharsky
ESPN.com

DIVISION FINISH: 2 Early injuries and the first season without the late Jim Johnson as defensive coordinator hurt. But Andy Reid and his staff may have their best stable of weapons to work with if young guys can be productive.
Matt
Mosley
ESPN.com

DIVISION FINISH: 2 All the weapons are in place on offense, but I worry about the Eagles at linebacker. If they can find someone to play middle linebacker, they should be fine.
Len
Pasquarelli
ESPN.com

DIVISION FINISH: 3 Might be good enough to win just about any division in the league, except this one. Loss of defensive coordinator Jim Johnson will have an impact, but unit is still solid. QB Michael Vick adds a different dimension offensively.
Mike
Sando
ESPN.com

DIVISION FINISH: 2 The Eagles were my preseason Super Bowl choice a year ago. They nearly got there and I wouldn't be surprised if they made another run this season.
Kevin
Seifert
ESPN.com

DIVISION FINISH: 1 The Eagles' rebuilt offensive line will be a boon. The same could be said of Michael Vick's addition, as long as coach Andy Reid plays his cards right. He will.
James
Walker
ESPN.com

DIVISION FINISH: 1 With a wealth of talent, it's Super Bowl or bust in Philadelphia. There should be no more excuses for QB Donovan McNabb.
Seth
Wickersham
ESPN The Magazine

DIVISION FINISH: 2 Nobody has faster receivers than Donovan McNabb, with DeSean Jackson, Jeremy Maclin and maybe even Michael Vick. A rebuilt offensive line and talented secondary mean Philly will play in January once again.
Bill
Williamson
ESPN.com

DIVISION FINISH: 3 I worry that all of those training camp injuries are a bad omen for the Eagles. In this tough division, the Eagles may not be able to keep up without being at full strength. Still, this is a talented team that will compete all season.
Matt
Williamson
Scouts Inc.

DIVISION FINISH: 1 I picked the Eagles to represent the NFC in the Super Bowl a few months ago and I will stick with that prediction. However, I don't feel nearly as good about it now as I did then, as a series of injuries is a reason for concern. The offensive line is extremely talented, but needs to get on the field together and create some continuity. Still, there is a lot to like in Philly.
Pat
Yasinskas
ESPN.com

DIVISION FINISH: 2 It's hard not to pick the Eagles first in the NFC East. But they still are going to be very much in the playoff mix.


CONSENSUS DIVISION FINISH: 2nd | NFL standings
BEST OF THE EAGLES
Best backup quarterback: Is it too soon to call Michael Vick the best backup in the NFL? No, I don't think so. When he's reinstated for the regular season, he'll automatically become the most dangerous backup in the past 20 years.
Best offensive player:
I usually go with Donovan McNabb, but now it's time to acknowledge that DeSean Jackson's on his way to becoming an elite player. Jackson was dominant in training camp. I think he may be the Eagles' No. 1 guy.
Best reserve offensive lineman:
The Eagles actually have several players to choose from in this category. But Nick Cole's the best of the backups. If he was pressed into the lineup as a starter, the Eagles wouldn't suffer much.
Best unheralded player:
It's remarkable that safety Quintin Mikell is still relatively unnoticed outside of Philly. He's becoming an excellent leader and his ball skills keep improving. I think he'll help make up for the loss of Brian Dawkins.
Best rookie taken in the seventh round:
Moise Fokou is a linebacker out of Maryland who had an outstanding camp. He should be a valuable member of the Eagles' special teams unit.
-- Matt Mosley, ESPN.com
SCOUTS INC.'S FABULOUS FIVE
Scouts Inc. has evaluated and graded more than 2,500 NFL players heading into the 2009 season, giving Insiders a leg up on the competition with exclusive grades, alerts and scouting reports.
Top five players

ANALYSIS
1. Jason Peters
Offensive tackle
6-4 | 340
(Grade: 86) He has power to get movement as a zone-run blocker and stays connected with active hand use and foot agility. He does a nice job against bull-rushers by anchoring with his powerful lower body.
2. Brian Westbrook
Running back
5-10 | 203
(86) He is best on the edges but can break tackles with deceptive power when running downhill. He can accelerate on the second level and is capable of making big plays once he breaks the line of scrimmage.
3. Asante Samuel
Cornerback
5-10 | 185
(84) He is a confident defender who is able to maintain proper body position and leverage in both man and zone coverage. He has a great feel for reading and reacting to route progressions.
4. Shawn Andrews
Guard
6-4 | 335
(82) Andrews has great natural strength and utilizes a powerful initial punch to stymie defenders at the line of scrimmage. He can anchor effectively versus powerful bull-rushers.
5. Donovan McNabb
Quarterback
6-2 | 240
(80) McNabb is still an elite athlete but his ability to make plays with his legs has diminished. McNabb has become more of a pocket passer and still has a strong arm.
Player grading scale: Elite (90-100), outstanding (80-89), solid starter (75-79), good starter (70-74)
SCOUTS INC.'S ANALYSIS
Strengths

RB Brian Westbrook: When he is healthy, the Eagles' offense goes; when he isn't, the Eagles usually struggle. Westbrook changes the game as much as any running back in the NFL because of the versatility he brings to the offense.
QB Donovan McNabb:
Despite injuries that have slowed him over his career, McNabb continues to play at a high level. The lack of a legitimate No. 1 receiver continues to be an issue, but McNabb usually gets the most out of the weapons he does have at his disposal.
Defense at every level:
You can't downplay the loss of the Eagles' longtime defensive coordinator, Jim Johnson. Johnson knew how to dial up the right plays at the right times, but new defensive coordinator Sean McDermott is a quick study and this defense will once again be a top-10 unit.
Weaknesses

Lack of a No. 1 WR: The Eagles exhausted all outlets this offseason to try to acquire a veteran wideout. If the Eagles are going to get to the Super Bowl, they will need either DeSean Jackson or rookie Jeremy Maclin to step up and be a No. 1 target.
Linebacker continuity:
Projected MLB Stewart Bradley will miss 2009 with a knee injury. The NFC East is a physical division with star running backs across the board, and the Eagles' LB unit is going to have to be healthy and play at a higher level than it did last season.
Scouts Inc. watches games, breaks down film and studies football from all angles.
JEREMY GREEN'S BURNING QUESTIONS
FOOTBALL TODAY PODCAST: DIVISION PREVIEW
DRAFT CLASS WATCH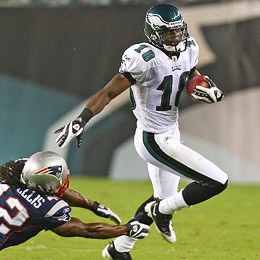 Jeremy Maclin: A raw but explosive talent.
Summary:
The Eagles went with offensive players with their three picks. They were thrilled to see wide receiver Jeremy Maclin slip to No. 19 and they believe running back LeSean McCoy could eventually replace Brian Westbrook. They went after former Florida tight end Cornelius Ingram in the fifth round, but he's already out for the season with a knee injury. But overall, the Eagles were very pleased with the draft.
What to expect:
I don't think Maclin will be a starter in '09, but he'll be a major contributor. It will be interesting to watch how Maclin and Giants rookie Hakeem Nicks progress this season. Nicks might be forced into the starting lineup before Maclin. I think it will take Maclin a little while to feel comfortable in the West Coast offense.
Wild card:
Keep your eye on weakside linebacker Moise Fokou out of Maryland. He's a seventh-rounder who should be superb on special teams. But the way he's looked in the preseason, he may play a much larger role. He does a nice job rushing the passer and looks pretty solid dropping back in coverage. You also have to admire the work of sixth-round pick Brandon Gibson, who forced his way onto this roster.
-- Matt Mosley, ESPN.com
FANTASY STARS
Brian Westbrook, RB

We love Westbrook's grit and hands as much as anyone, but there are so many warning signs gathering around this guy. He turns 30 before Week 1. He's coming off a knee injury that made him a shell of himself down the stretch in '08 and eventually required arthroscopic surgery, and later had another procedure on his ankle. His yards per carry dropped from 4.6 in '07 to 4.0 last season. His offensive line is in flux, with tackles Jon Runyan and Tra Thomas gone. And the Eagles drafted LeSean McCoy, a Westbrook clone who could steal touches. Westbrook scored 14 times last year, but he also has 1,247 carries' worth of wear on his tires over the past seven seasons. For where we think you'd have to draft Westbrook to get him, we wouldn't draft him.
2009 Projection: 810 rush yds, 11 TD
---
Donovan McNabb, QB

Last year, McNabb started 16 games for the first time since 2003, topped 20 touchdown passes for the first time since '04 and posted a career-high 571 attempts and 3,916 yards. Of course, the campaign wasn't without drama: Week 12 in Baltimore, Andy Reid benched him at halftime, igniting a firestorm. After that fateful Sunday, though, McNabb tossed nine scores and just one interception in the final five regular-season contests, then led the Eagles to the NFC title game. That said, he doesn't run much anymore, Reid's offense emphasizes the short passing game, often at the expense of huge days for McNabb, and he's still a health concern.
2009 Projection: 3,749 pass yds, 22 TD, 11 INT
ESPN THE MAGAZINE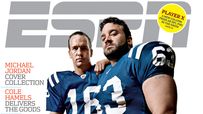 The Chargers win the Super Bowl? What in the name of Norv Turner is going on here?