PITTSBURGH STEELERS (Consensus division finish: 1st)
AP Photo/Winslow Townson
EXPERTS' PICKS
The Steelers finished first in the AFC North last season with a 12-4 record. For more Steelers coverage, visit: James Walker's AFC North blog | Steelers clubhouse
ANALYST
PREDICTION
Jeffri
Chadiha
ESPN.com

DIVISION FINISH: 1 They've got nearly everybody back from their Super Bowl championship team. So why aren't more people talking about a repeat?
John
Clayton
ESPN.com

DIVISION FINISH: 1 Repeating any type of championship is hard to do, but the Steelers have to be considered the favorites to win the AFC North. Unlike most Super Bowl winners, the Steelers were blessed by having the fourth-easiest schedule in the league. Ben Roethlisberger continues to evolve as one of the best big-game quarterbacks.

Tim
Graham
ESPN.com

DIVISION FINISH: 1 They're No. 1 in the power rankings for a reason. The Steelers won it all last year and welcome back pretty much every key player. What more is there to say?
Jeremy
Green
Scouts Inc.

DIVISION FINISH: 1 I think they have as good a chance to repeat as any team we have seen over the past decade. They excelled last season versus one of the toughest schedules in the NFL, so it's scary to think this team might be even better than the 2008 version.
Paul
Kuharsky
ESPN.com

DIVISION FINISH: 2 With no talk of repeats, Mike Tomlin seems to have a smart approach to trying for the Steelers' third Super Bowl win in five years. If they can protect Ben Roethlisberger and run it better, it could happen.
Matt
Mosley
ESPN.com

DIVISION FINISH: 1 I'm not picking against the reigning champs. Ben Roethlisberger has some solid targets, and I think he'll be able to put all the distractions aside and focus on the games.
Len
Pasquarelli
ESPN.com

DIVISION FINISH: 2 The lawsuit against Ben Roethlisberger won't disrupt the Pittsburgh quarterback, but the team's offensive line and its inability to handle the blitz very well could. Still a quality team, but it could be difficult to repeat 2008.
Mike
Sando
ESPN.com

DIVISION FINISH: 1 One losing record in the past nine seasons. There's no reason to bet against the Steelers.
Kevin
Seifert
ESPN.com

DIVISION FINISH: 1 The Steelers have just about everyone back from their championship team. Coach Mike Tomlin has two tasks: keep quarterback Ben Roethlisberger focused and tamp down egos. Tomlin's up to the challenge.
James
Walker
ESPN.com

DIVISION FINISH: 1 Health permitting, the defending Super Bowl champs might be an even deeper team this season. Scary thought.
Seth
Wickersham
ESPN The Magazine

DIVISION FINISH: 1 Too much talent on the roster and coaching staff to not repeat as division champs. The Steelers don't always look pretty, Big Ben doesn't always play pretty, but they win.
Bill
Williamson
ESPN.com

DIVISION FINISH: 1 The Steelers faltered some in 2006 after winning the Super Bowl. But I expect this version to keep its post-Super Bowl trophy edge and win the division again.
Matt
Williamson
Scouts Inc.

DIVISION FINISH: 1 The Super Bowl champions are far from a flawless team, as their offensive line and running game remain serious question marks. But Pittsburgh has the best defense in the league and a quarterback who makes the plays needed to win games. They will be in the thick of the race again in 2009.
Pat
Yasinskas
ESPN.com

DIVISION FINISH: 1 The Steelers are the Super Bowl champions, and there's no reason to think there's going to be any big drop-off. They have a machine in place; Mike Tomlin just needs to keep it properly oiled.


CONSENSUS DIVISION FINISH: 1st | NFL standings
BEST OF THE STEELERS
Best offensive player: QB Ben Roethlisberger. Last year he finally hushed his critics by playing well and leading his team to victory in a Super Bowl. Now he is widely considered among the league's elite quarterbacks. Roethlisberger has a deep receiving corps this year and is capable of putting up big numbers as he did in 2007. But the key will be staying healthy.
Best defensive player:
S Troy Polamalu. No other team has a Troy Polamalu, who has rare ability and versatility for the safety position. He is one of the few players teams cannot simulate in practice, because he combines smarts with athleticism and unpredictability. Pittsburgh's defense has always been aggressive, but Polamalu is the ingredient that makes it unique. The defense isn't as dynamic without him in the lineup.
Best playmaker:
LB James Harrison. Although it's very close between Harrison and Polamalu, let's give the nod to the reigning defensive player of the year. Much is made of Harrison's 16 sacks, but he also makes the routine plays against the run, as evidenced by his 101 tackles. He also had seven forced fumbles in 2008, which can be huge, game-changing plays.
Team leader:
LB James Farrior. The Steelers have a locker room full of leaders, but the biggest has to be their defensive captain, Farrior. At 34, he's still playing at a Pro Bowl level in the middle of the NFL's top-rated defense. His wisdom also has helped bring along younger linebackers, such as 2007 draft picks LaMarr Woodley and Lawrence Timmons, both of whom are expected to have big years.
Best unheralded player:
P Daniel Sepulveda. Pittsburgh has very smart fans, and Steeler Nation gave one of the biggest ovations in the preseason to Sepulveda, who missed all of 2008 with a torn ACL. Pittsburgh's punting was horrible last year as a result. This year Sepulveda should give the Steelers' special teams a competitive advantage.
-- James Walker, ESPN.com
SCOUTS INC.'S FABULOUS FIVE
Scouts Inc. has evaluated and graded more than 2,500 NFL players heading into the 2009 season, giving Insiders a leg up on the competition with exclusive grades, alerts and scouting reports.
Top five players

ANALYSIS
1. James Harrison
Linebacker
6-0 | 242
(Grade: 93) He is incredibly strong in both his upper and lower body. Although he isn't very tall, he uses that leverage advantage when taking on blocks extremely well.
2. Troy Polamalu
Safety
5-10 | 207
(93) At times, he can be too aggressive in pursuit, bite on play-action or miss a tackle in the open field, but his positive playmaking skills outweigh the negative by an astronomical margin.
3. Ben Roethlisberger
Quarterback
6-5 | 241
(92) Physically, he is everything you look for at the position. He moves incredibly well for a big man and has a powerful right arm with the ability to throw bullets in poor weather from compromising positions
4. Aaron Smith
Defensive end
6-5 | 298
(90) He is fundamentally sound and takes on blockers with pop, while using his head and hands to instantly gain the advantage.
5. Casey Hampton
Nose tackle
6-1 | 325
(87) He has a robust body type with an extremely low center of gravity and excels at taking on double-teams.
Player grading scale: Elite (90-100), outstanding (80-89), solid starter (75-79), good starter (70-74)
SCOUTS INC.'S ANALYSIS
Strengths

Pass rush: Outside edge rushers James Harrison and LaMarr Woodley are among the best in the league. But as dangerous as those two are, defensive coordinator Dick LeBeau's intricate blitz schemes make the Steelers' defense go.
Run-stopping ability:
Year after year, few teams are in the Steelers' class in stuffing the run. This year should be no different. While they excel at rushing the passer, stopping the run is priority No. 1 in Pittsburgh.
Ben Roethlisberger:
Big Ben can be erratic at times, but there isn't anyone more dangerous once the play has broken down. After his second Super Bowl victory, it is apparent that Roethlisberger is very much in the mix of top quarterbacks after Peyton Manning and Tom Brady.
Weaknesses

Offensive line: The Steelers did win the Super Bowl with this crew up front, but last year the offensive line was both a liability in pass protection and in the running game. The loss of starting RG Darnell Stapleton doesn't help, and depth here is poor.
Returners:
The punting was terrible last year as well, but Daniel Sepulveda returns from a knee injury and should help. But the returners, both in punt and kickoffs, are still a concern. Will ex-CFL standout Stefan Logan help?
Bull's-eye:
Just like every Super Bowl champion, the Steelers will have a bull's-eye on their collective chests this year. How they handle that added pressure will go a long way toward determining their fate in 2009.
Scouts Inc. watches games, breaks down film and studies football from all angles.
JEREMY GREEN'S BURNING QUESTIONS
FOOTBALL TODAY PODCAST: DIVISION PREVIEW
DRAFT CLASS WATCH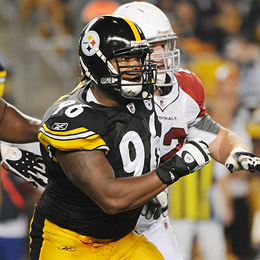 Ziggy Hood: Disruptive force already.
Summary:
With the final pick in most rounds, the defending Super Bowl champions have been pleasantly surprised by their rookie draft class. The Steelers and coach Mike Tomlin return a very deep team, so getting the rookies to perform early is a bonus.
What to expect:
First-round pick Evander "Ziggy" Hood has been a disruptive force on the defensive line. He has shown a nonstop motor in addition to an ability to get to the quarterback. Hood, who had three sacks in his first two preseason games, is expected to be the first defensive end off the bench in Pittsburgh's rotation behind veterans Aaron Smith and Brett Keisel. He is versatile enough to play both end positions and possibly even nose tackle. Third-round receiver Mike Wallace has great straight-line speed, and some teammates believe he's already one of the two or three fastest players on the team. But Wallace is most proud of his hard work polishing his routes, which was a knock on him coming out of Ole Miss. Expect Hood and Wallace to be early contributors.
Wild card:
Guard Kraig Urbik struggled some in training camp, but barring injury is expected to be a backup. Defensive backs Keenan Lewis and Joe Burnett have good physical tools and are projects.
-- James Walker, ESPN.com
FANTASY STARS
Willie Parker, RB

When Rashard Mendenhall went down in Week 4 because of a fractured shoulder, Parker's fantasy owners got a reprieve. The backfield time-share Pittsburgh envisioned for 2008 evaporated, and Fast Willie went back to being the starter. Unfortunately for Parker, these days "being a starter" consists of getting hurt, not playing many third downs and not getting goal-line carries. Parker missed five games because of an injured shoulder, and after a three-TD effort in the Steelers' season opener, he scored just twice the rest of the year. Now Mendenhall is healthy again. Expect Parker to lead the team in carries, but expect Mendenhall and Mewelde Moore to be big-time drains on his fantasy value.
2009 Projection: 847 rush yds, 3 TD
---
Hines Ward, WR

Everything pointed to a downturn for Ward in 2008. He was coming off a serious knee surgery, he spent most of '07 running short routes and Santonio Holmes appeared ready to take over the lead role in the Steelers' receiving game. But for another year, at least, Ward held off Father Time. He was once again the best aerial weapon Pittsburgh had, leading the team in targets, yards, catches, red-zone looks and receiving touchdowns. In '09, he's coming off both knee and shoulder surgeries, so we're tempted to say the same thing we did last year: Be careful. Still, it's not wise to put anything past Hines Ward. He could have yet another 1,000-yard campaign in him.
2009 Projection: 75 rec, 919 rec yds, 7 TD
ESPN THE MAGAZINE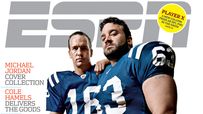 The Chargers win the Super Bowl? What in the name of Norv Turner is going on here?