SAN DIEGO CHARGERS (Consensus division finish: 1st)
G. Newman Lowrance/Getty Images
EXPERTS' PICKS
The Chargers finished first in the AFC West last season with an 8-8 record. For more Chargers coverage, visit: Bill Williamson's AFC West blog | Chargers clubhouse
ANALYST
PREDICTION
Jeffri
Chadiha
ESPN.com

DIVISION FINISH: 1 They'll contend for a Super Bowl shot after hobbling into the postseason last year. That's what happens when stars like LaDainian Tomlinson, Antonio Gates and Shawne Merriman have a chance to get healthy.
John
Clayton
ESPN.com

DIVISION FINISH: 1 The Chargers should win the AFC West in a breeze. Their offense is healthy and should be among the highest scoring in football. The defense is rallying around defensive coordinator Ron Rivera, but it might take some time for Shawne Merriman to return to top form.

Tim
Graham
ESPN.com

DIVISION FINISH: 1 All three of their AFC West foes are rebuilding. The only way the Chargers won't win the most chaotic division will be if Philip Rivers demands a trade and Norv Turner punches Ron Rivera.
Jeremy
Green
Scouts Inc.

DIVISION FINISH: 1 The Chargers winning the AFC West is a foregone conclusion as long as Philip Rivers stays healthy. Can they compete for a Super Bowl title? If they can avoid the slow starts that have plagued coach Norv Turner, they will be in the mix.
Paul
Kuharsky
ESPN.com

DIVISION FINISH: 1 The Chargers have a bigger top-of-the-division buffer than any team in the league in terms of personnel and recent success to build on. They'll roll to the division crown this time as everyone else tries to find their footing.
Matt
Mosley
ESPN.com

DIVISION FINISH: 1 Norv Turner wants to remind Jerry Jones that he made the wrong choice at head coach every chance he gets. And LaDainian Tomlinson will come back strong this season and put up monster numbers.
Len
Pasquarelli
ESPN.com

DIVISION FINISH: 1 Maybe the most talented roster in the league from top to bottom. If the Chargers play up to their potential, look out. Even with LaDainian Tomlinson in a smaller role, QB Philip Rivers has the goods to deliver.
Mike
Sando
ESPN.com

DIVISION FINISH: 1 One team in the division has an established front-line quarterback. It's not the Broncos, Chiefs or Raiders.
Kevin
Seifert
ESPN.com

DIVISION FINISH: 1 The Chargers are one of the AFC's most talented teams and are by far the class of a terrible division. The return of linebacker Shawne Merriman gives them a chance to win a playoff game or two.
James
Walker
ESPN.com

DIVISION FINISH: 1 The Chargers could have this division wrapped up by the end of November. Will that help or hurt in the playoffs?
Seth
Wickersham
ESPN The Magazine

DIVISION FINISH: 1 Unlike last year, the Chargers won't struggle during the regular season. And if they're able to keep often-injured key players -- LaDainian Tomlinson, Shawne Merriman, Luis Castillo, Antonio Gates -- healthy through January, the postseason will end a lot differently too.
Bill
Williamson
ESPN.com

DIVISION FINISH: 1 The Chargers are the class of this division of rebuilding teams. San Diego should cruise to another title. The keys are health and a fast start for this team that has deep playoff hopes once again.
Matt
Williamson
Scouts Inc.

DIVISION FINISH: 1 Selecting the Chargers first in their respective division was the easiest placement of any of the 32 teams. They have the best offense and the best defense in the division, along with far and away the best star power and overall group of difference-makers. Anything less than a first-round bye should be considered a disappointment.
Pat
Yasinskas
ESPN.com

DIVISION FINISH: 1 The Chargers still are the most talented team in a very weak division. That alone should be enough to put them in the playoffs.


CONSENSUS DIVISION FINISH: 1st | NFL standings
BEST OF THE CHARGERS
Best team: The Chargers are the clear class of the AFC West. They have won three straight division championships and appear to be several games better than their competition in the division.
Best attitude:
The Chargers admit they may have bought into Super Bowl hype in the past. Now, they vow to focus only on the season, one game at a time. It may be boring, but it's the right tack for this team to take.
Best quarterback:
Philip Rivers is the best quarterback in the division. He isn't far from being one of the very best signal-callers in the game. He's a winner and he's clutch. He is the face of the team.
Best weapon:
You gotta love little Darren Sproles. He is a killer in the running, receiving and return games. Sproles may be 5-foot-6, but the little man plays big.
Best position:
Expect big things from the Chargers' linebackers this year. Shawne Merriman should be close to full strength. Shaun Phillips and Stephen Cooper are solid players. Free-agent pickup Kevin Burnett has been impressive. And don't forget first-round pick Larry English, who will help Merriman in the pass-rush department. This unit has a chance to be special.
-- Bill Williamson, ESPN.com
SCOUTS INC.'S FABULOUS FIVE
Scouts Inc. has evaluated and graded more than 2,500 NFL players heading into the 2009 season, giving Insiders a leg up on the competition with exclusive grades, alerts and scouting reports.
Top five players

ANALYSIS
1. Antonio Gates
Tight end
6-4 | 260
(Grade: 93) Gates is an excellent overall athlete with a rare combination of speed and quickness in the passing game. He also is an effective blocker who can wall off and seal angles quickly with his excellent balance and body control.
2. Shawne Merriman
Linebacker
6-4 | 265
(92) Because of injury, Merriman did not play enough during the 2008 season to evaluate him.
3. LaDainian Tomlinson
Running back
5-10 | 221
(89) Tomlinson is now an eight-year veteran who just turned 30. Injuries had an effect on his production in 2008, yet Tomlinson continued to put up impressive numbers. He still has the physical tools to do everything well and should be able to regain his previous form.
4. Marcus McNeill
Offensive tackle
6-7 | 336
(84) McNeill has become a physical force on the left side of the Chargers' line while working next to LG Kris Dielman. He has excellent size and strength for the position and is a good overall athlete.
5. Kris Dielman
Guard
6-4 | 320
(83) Dielman has become one of the league's more physical and aggressive players at the guard position. He comes off the ball with good initial quickness and can create movement due to his excellent use of leverage and leg drive.
Player grading scale: Elite (90-100), outstanding (80-89), solid starter (75-79), good starter (70-74)
SCOUTS INC.'S ANALYSIS
Strengths

Passing attack: Philip Rivers has come into his own and now ranks amongst the better quarterbacks in the league. TE Antonio Gates should be healthy. WR Vincent Jackson is on the cusp of stardom. And players like WR Malcom Floyd are much better than many realize. Plus, the Chargers' running backs are also exceptional pass-catching options.
Shawne Merriman:
The Chargers' best defensive player is back and is in search of a new contract. To say he was missed last season would be a massive understatement. Just wait and see how many more plays Shaun Phillips and the secondary make now that Merriman is back.
The AFC West:
Kansas City and Denver have new coaches and Oakland has allowed its interim coach from last year to remain -- at least for the time being. There is very little competition for San Diego in its division. Expect the Chargers to finish the season 6-0 against division rivals.
Weaknesses

Right tackle: This offensive line has been on the decline and while San Diego used two draft picks on promising prospects, neither is an offensive tackle. Jeromey Clary was a major liability at this spot a year ago. Not creating more competition here was probably the biggest offseason blunder by a usually excellent front office.
Norv Turner:
Turner has consistently led an underachieving team. He is a liability as a head coach come playoff time and is at a disadvantage when matched up against the top guys in his profession. But maybe most alarming is just how many fourth-quarter leads Turner-coached teams give away. The Chargers are too good to let Turner get in their way as they cakewalk past the other AFC West clubs, but he is a liability overall and it could cost San Diego a Super Bowl trophy during this window of opportunity.
Defensive line depth:
Igor Olshansky is now in Dallas and stalwart NT Jamal Williams is getting to a worrisome stage of his career. There is certainly enough here overall for the Chargers to be very successful on defense, but if/when injuries occur to the front three, the back eight could suffer.
Scouts Inc. watches games, breaks down film and studies football from all angles.
JEREMY GREEN'S BURNING QUESTIONS
FOOTBALL TODAY PODCAST: DIVISION PREVIEW
DRAFT CLASS WATCH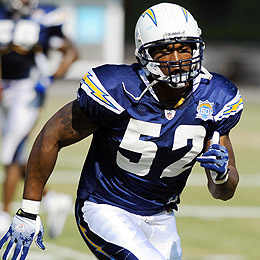 Larry English: Immediate impact expected.
Summary:
This is an interesting class for the Chargers. It is believed around the league that the Chargers have one of the premier rosters. Several of the team's key players are in their prime. This is not an overly old team. Still, general manager A.J. Smith has brought in a handful of players who are expected to play right away. This power-packed roster is going to get an influx of youth at a few areas as the Chargers try to both ride the power of a strong veteran roster and add key talent before it's too late.
What to expect:
San Diego is looking for significant help from about four rookies. It will be no surprise if linebacker Larry English (first round), guard Louis Vasquez (third round), running back Gartrell Johnson (fourth round) and safety Kevin Ellison (sixth round) all receive significant playing time. The Chargers believe all four players are NFL ready and will make impacts. English and Vasquez may be particularly ready to play.
Wild card:
The Chargers believe they have a future star in the form of fourth-round pick Vaughn Martin. The defensive lineman is from Western Ontario University in Canada. Martin is very raw, but he has terrific natural ability and the Chargers think he has made great strides in training camp. He is a powerhouse who is also bright. He is a fast learner and the game doesn't seem too big for him. It wouldn't be a shock if he plays in the defensive-line rotation this season.
-- Bill Williamson, ESPN.com
FANTASY STARS
LaDainian Tomlinson, RB

On the one hand, in 2008, Tomlinson produced his fewest touchdowns in a season since his rookie year and his fewest rushing yards and attempts ever. On the other hand, he still eclipsed 1,100 yards, scored double-digit touchdowns and tied for the most pass targets among running backs. Some will claim he's cooked, while others will claim he's undervalued. There are so many factors working against LT. He's 30. He has Darren Sproles, who was clearly the more effective player by the end of '08, pushing him for playing time. He has gotten hurt in two straight seasons now. Coach Norv Turner can whistle past the graveyard, telling reporters he thinks Tomlinson will win this season's rushing title, but the fact is that the Chargers nearly cut LT this winter. Shaun Alexander, Edgerrin James, Priest Holmes, Ahman Green ... history tells us not to blow top-five picks on guys with these warning signs.
2009 Projection: 1,156 rush yds, 14 TD
---
Philip Rivers, QB

Nobody benefited more from the relative demise of the 2008 Chargers running game than Rivers, who recovered incredibly fast from post-playoff ACL surgery to lead the NFL in yards per attempt, tie Drew Brees for the lead in touchdown passes, take one sack fewer than Peyton Manning, crush the NFL in passer rating and exceed his career high in passing yards by 621. If not for Brees, Rivers would've been fantasy's top quarterback last year, and with LaDainian Tomlinson's effectiveness as perhaps 2009's most pressing question, the Chargers may be primed to become a pass-first team. (Last year, they ran pass plays on 53.2 percent of offensive snaps, 20th in the league.) We still have niggling concerns about Rivers' maturity, but doubts about his talent are gone. He's climbed among the elite quarterback options.
2009 Projection: 3,865 pass yds, 28 TD, 13 INT
ESPN THE MAGAZINE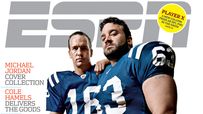 The Chargers win the Super Bowl? What in the name of Norv Turner is going on here?