SEATTLE SEAHAWKS (Consensus division finish: 2nd)
Kevin Terrell/Getty Images
EXPERTS' PICKS
The Seahawks finished third in the NFC West last season with a 4-12 record. For more Seahawks coverage, visit: Mike Sando's NFC West blog | Seahawks clubhouse
ANALYST
PREDICTION
Jeffri
Chadiha
ESPN.com

DIVISION FINISH: 3 They'll be better with a healthy Matt Hasselbeck returning this season. But the Seahawks still have too many other questions to consider them contenders.
John
Clayton
ESPN.com

DIVISION FINISH: 2 The Seahawks will be one of the league's comeback teams with a healthy Matt Hasselbeck and a more potent offense. The big worries are along the offensive line and at cornerback, where injuries have created uncertainty.

Tim
Graham
ESPN.com

DIVISION FINISH: 2 Their success will hinge on quarterback Matt Hasselbeck's health. If he can avoid back trouble and a keep potentially strong offense afloat, then the Seahawks could make a push for the division title.
Jeremy
Green
Scouts Inc.

DIVISION FINISH: 2 It all comes down to QB Matt Hasselbeck and his health. He has been healthy this preseason and the offense is really clicking. They will have the defensive rookie of the year in OLB Aaron Curry.
Paul
Kuharsky
ESPN.com

DIVISION FINISH: 1 If Matt Hasselbeck is healthy and returns to form, this division stacks up nicely for the Seahawks to bounce back very well. Hasselbeck will connect a lot with T.J. Houshmandzadeh.
Matt
Mosley
ESPN.com

DIVISION FINISH: 3 I think Matt Hasselbeck's on the way down. He could lead a really talented team deep into the playoffs, but this is not a really talented team. T.J. Houshmandzadeh at least gives them somewhat of a lift.
Len
Pasquarelli
ESPN.com

DIVISION FINISH: 1 Perhaps the best team in a fairly weak division, but getting QB Matt Hasselbeck healthy and on the field is a big step. Defense probably doesn't do anything well enough to be a top-shelf unit, but should be good enough.
Mike
Sando
ESPN.com

DIVISION FINISH: 2 Matt Hasselbeck is looking good and building a rapport with T.J. Houshmandzadeh and John Carlson. Injuries on the offensive line could send this team south in the standings, however.
Kevin
Seifert
ESPN.com

DIVISION FINISH: 1 The return of quarterback Matt Hasselbeck should level off the Seahawks' offensive struggles. And I like the energy that new coach Jim Mora will bring to the defense.
James
Walker
ESPN.com

DIVISION FINISH: 2 There is a lot of pride and veteran talent on this team to have a bounce-back season. But the health of QB Matt Hasselbeck and OT Walter Jones will be key.
Seth
Wickersham
ESPN The Magazine

DIVISION FINISH: 2 OK, so the offense was decimated with injuries last year. It's already on the way this year, with OT Walter Jones undergoing his second knee surgery in eight months. The defense will have to carry this team.
Bill
Williamson
ESPN.com

DIVISION FINISH: 2 The Seahawks have gotten old and I wouldn't be surprised if injuries play a big role, as they did last year, as the team transitions to the Jim Mora era.
Matt
Williamson
Scouts Inc.

DIVISION FINISH: 1 Injuries disabled the Seahawks one year ago and the present issues on the offensive line remain very concerning. However, the defense should be vastly improved, especially in the front seven, and getting Matt Hasselbeck back surely will pay dividends, as well. This team should be closer to the 2007 version than to how it played in 2008.
Pat
Yasinskas
ESPN.com

DIVISION FINISH: 2 I'd like to say the Seahawks will bounce back because they're healthy. But I have a tough time doing that because Jim Mora is the coach. Hopefully, he grew up while watching Mike Holmgren last year.


CONSENSUS DIVISION FINISH: 2nd | NFL standings
BEST OF THE SEAHAWKS
Best development during camp: Quarterback Matt Hasselbeck held up physically and made it through two exhibition games without a word from his formerly problematic back. Injury-related questions annoy Hasselbeck. He feels fine and thinks injury concerns are overrated.
Best addition in free agency:
Ken Lucas from Carolina. The veteran cornerback's value to Seattle has grown significantly now that a back injury has sidelined Pro Bowl corner Marcus Trufant. Lucas gives the Seahawks' undersized secondary needed size.
Best veteran without a Pro Bowl:
Linebacker Leroy Hill is a violent tackler with good range and all-around ability. Staying healthy for a full season has been his biggest challenge. Hill could use help from Seattle's new defensive staff to help make better use of his talent.
Best-kept secret:
The Seahawks ran a rugged training camp. They didn't hit as much as the Rams or 49ers, but new coach Jim Mora worked them harder than players anticipated. Mora's own obsession with fitness made conditioning a higher priority this season.
Best Seahawk on Twitter:
Hasselbeck (@MatthewHass008) offers too much information sometimes -- like the time he tipped off a pending diaper run -- but his wit shines through on occasion.
-- Mike Sando, ESPN.com
SCOUTS INC.'S FABULOUS FIVE
Scouts Inc. has evaluated and graded more than 2,500 NFL players heading into the 2009 season, giving Insiders a leg up on the competition with exclusive grades, alerts and scouting reports.
Top five players

ANALYSIS
1. Walter Jones
Offensive tackle
6-5 | 325
(Grade: 90) Jones is an elite left tackle who has been a consistent and productive performer since coming into the league 13 seasons ago. Injuries prevented him from starting every game last year. He is an exceptional athlete with outstanding strength and balance.
2. Patrick Kerney
Defensive end
6-5 | 272
(84) Kerney is a high-motor defensive end with good initial quickness and a relentless drive to get to the ball. He has played both left and right defensive end, but lines up on the left side for Seattle to take advantage of his ability to play the run.
3. Marcus Trufant
Cornerback
5-11 | 197
(84) Trufant is a seven-year veteran who has been a durable and productive starter since he entered the league in 2003. He is a very good athlete who has the good size and enough speed to match up with an opponent's best receiver.
4. T.J. Houshmandzadeh
Wide receiver
6-2 | 203
(83) Houshmandzadeh is an experienced receiver who can also return punts and kicks, if needed. He has solid size and strength. He is a very good route-runner working over the middle. He accelerates quickly in the stem and can sell routes to get defenders turned in coverage.
5. Leroy Hill
Linebacker
6-1 | 238
(79) Hill is a very quick and athletic linebacker who can read and react fast. He is an instinctive run-defender who can step up quickly to take on blocks or force runners to adjust at the hole.
Player grading scale: Elite (90-100), outstanding (80-89), solid starter (75-79), good starter (70-74)
SCOUTS INC.'S ANALYSIS
Strengths

Linebackers Rookie WLB Aaron Curry should make an immediate impact. MLB Lofa Tatupu has a new deal and is ready for a big season. Throw in Leroy Hill and this is one of the better LB units in the NFL.
D-line depth:
Even though this unit lacks a true big-name superstar, it has solid depth at every position. The key will be getting pressure on the QB to protect the team's back end.
QB Matt Hasselbeck:
He is still a solid starting QB when healthy. With the addition of WR T.J. Houshmandzadeh, Hasselbeck has plenty of targets.
Weaknesses

Offensive line: A second knee surgery in eight months for LT Walter Jones has thrown the Seahawks' O-line into disarray. Jones isn't as dominant as he once was, but he is still one of the NFL's better left tackles.
Secondary:
Two starters -- CB Marcus Trufant and safeties Deon Grant -- return from a unit that played well below expectations last season. Ken Lucas, who struggled at the end of last season in Carolina, will start opposite Trufant. Recently signed Lawyer Milloy will team with Grant. The big names are here, but they need to improve from last season.
Running game
The Seahawks have two known backs in Julius Jones and Edgerrin James, but neither is electrifying or consistent enough to give Seattle the offensive balance it seeks.
Scouts Inc. watches games, breaks down film and studies football from all angles.
JEREMY GREEN'S BURNING QUESTIONS
FOOTBALL TODAY PODCAST: DIVISION PREVIEW
DRAFT CLASS WATCH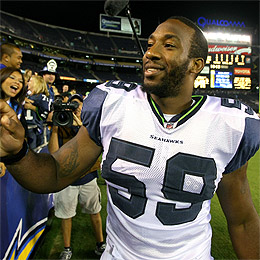 Aaron Curry: Makes strong LB corps better.
Summary:
The Seahawks showed faith in Matt Hasselbeck's health by passing on a quarterback in the first round. They played it safe by drafting linebacker Aaron Curry with the fourth overall choice. Trading into the second round for Oregon center/guard Max Unger was a wise move, given the injury problems that forced veteran guard Mike Wahle into retirement. The Seahawks found their third quarterback in sixth-rounder Mike Teel before striking seventh-round gold with Oregon pass rusher Nick Reed.
What to expect:
Curry and Unger project as immediate starters. Both should be good players right away. Third-round receiver Deon Butler has been working as the fourth receiver, but he hasn't shown as much as expected as a return specialist. Perhaps he can grow into the role -- he certainly has the speed. Reed's surprising production -- multiple sacks and an interception -- might not buy him much playing time as a rookie. The Seahawks went to camp with enough depth on the defensive line to consider keeping 10 on the 53-man roster. The depth was so good, they kept 11
Wild card:
The decision to trade a third-round choice for the Broncos' first-rounder in 2010 is looking better now that the Broncos have problems. The worse Denver fares, the higher Seattle will be picking next year. The Seahawks could be picking in the top 10 again, putting them in position to consider a quarterback if they need one.
-- Mike Sando, ESPN.com
FANTASY STARS
T.J. Houshmandzadeh, WR

In Cincy, Houshmandzadeh complemented Chad Johnson's deep-threat style and tormented linebackers. But the Seahawks paid him a lot of money, and won't settle for 6.6 yards per target (his mark last year). Indeed, in spring minicamp he lined up at the coveted flanker position. We believe in the guy. He has great hands, and is a lock for at least 80 catches and lots of red-zone looks. But don't expect a production spike. Matt Hasselbeck must stay healthy, the Seahawks have to find a consistent running game, other wide receivers will have to step up to take some heat off, and the O-line needs to prove itself. Housh is a fantasy starter in 2009, but he doesn't send us over the moon.
2009 Projection: 90 rec, 1,009 rec yds, 8 TD
---
John Carlson, TE

We loved Carlson's potential last year, and if you look past Seattle's offensive woes in '08, he didn't disappoint. Sure, he produced only one 100-yard receiving day and had some predictable rookie ups and downs. But he scored five times, blocked very well and wound up with more catches, yards and scores than fellow rookie Dustin Keller. But with T.J. Houshmandzadeh in the fold to go with Nate Burleson and a cast of several other wideouts, we're concerned Seattle might go three-wide a lot, perhaps at Carlson's expense. But he's a high-upside fantasy entity.
2009 Projection: 55 rec, 645 rec yds, 5 TD
ESPN THE MAGAZINE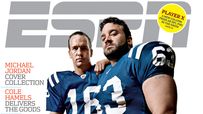 The Chargers win the Super Bowl? What in the name of Norv Turner is going on here?