SAN FRANCISCO 49ERS (Consensus division finish: 3rd)
Kirby Lee/US Presswire
EXPERTS' PICKS
The 49ers finished second in the NFC West last season with a 7-9 record. For more 49ers coverage, visit: Mike Sando's NFC West blog | 49ers clubhouse
ANALYST
PREDICTION
Jeffri
Chadiha
ESPN.com

DIVISION FINISH: 2 Mike Singletary has the look of a good coach. He just has to avoid wearing this team down with his old-school, hard-line approach.
John
Clayton
ESPN.com

DIVISION FINISH: 3 Mike Singletary doesn't have an offense that can win shootouts or come back from huge deficits in the second half. Still, he's establishing a hard-hitting mentality that should be good for seven wins. Watch for Frank Gore to have one of his best seasons.

Tim
Graham
ESPN.com

DIVISION FINISH: 3 The string of six straight losing seasons could be in jeopardy -- but probably not. Head coach Mike Singletary is sorting out the club, but the 49ers remain in a rebuilding phase with too many variables.
Jeremy
Green
Scouts Inc.

DIVISION FINISH: 3 QB Shaun Hill is 7-3 as a starter and the best man for the job, but he is a not a guy who can change the game at the position. For a team that plays a lot of close games, he is not going to be a difference-maker in a positive fashion.
Paul
Kuharsky
ESPN.com

DIVISION FINISH: 2 Don't love the quarterback situation, but feel like they've got a good vibe coming from Mike Singletary and can make a jump. I think they will run it well with Frank Gore and Glen Coffee.
Matt
Mosley
ESPN.com

DIVISION FINISH: 2 Mike Singletary's a good fit for this team. The defense gets its identity from its linebackers, and that's obviously a position of strength for Singletary. I also think QB Shaun Hill's more of a winner than people give him credit for.
Len
Pasquarelli
ESPN.com

DIVISION FINISH: 2 Picked to start the season strong after a terrific '08 finish. Tough-guy coach Mike Singletary wants to run the football, and should be able to with Frank Gore. A much more disciplined team, on and off the field.
Mike
Sando
ESPN.com

DIVISION FINISH: 3 The 49ers can win this division if Shaun Hill approximates his 2008 passer rating (87.5), but it'll be tough if Kurt Warner or Matt Hasselbeck stays healthy. Not sure if the 49ers can score enough points.
Kevin
Seifert
ESPN.com

DIVISION FINISH: 3 Mike Singletary has the bombast to be a successful head coach. Not sure if he has the organizational skills and vision to back it up. The 49ers seem very average at every turn.
James
Walker
ESPN.com

DIVISION FINISH: 3 It's hard to believe the best quarterback in the Bay Area probably resides in Oakland.
Seth
Wickersham
ESPN The Magazine

DIVISION FINISH: 1 Mike Singletary will prove that he's not just an emotional coach who can rally his players. Shaun Hill (7-3 as a starting QB) will help a talented offense back into the playoffs, and a nasty young D led by Patrick Willis will help even more.
Bill
Williamson
ESPN.com

DIVISION FINISH: 1 Surprise. I've liked this team for a couple of seasons. I think Mike Singletary is going to get a lot out of this team this season. It's a winnable division and I think the young talent in San Francisco is going to come together.
Matt
Williamson
Scouts Inc.

DIVISION FINISH: 3 The stability that Mike Singletary should provide will go a very long way in this organization that has been riddled with problems. Strides are being made here, but don't get too excited. The Niners will still pick in the top 10 in next year's draft.
Pat
Yasinskas
ESPN.com

DIVISION FINISH: 3 Mike Singletary has the personality and coaching ability to squeeze a lot out of this team and the 49ers could turn out to be a surprise. Then again, the roster just doesn't have a lot of talent.


CONSENSUS DIVISION FINISH: 3rd | NFL standings
BEST OF THE 49ERS
Best development during camp: Adam Snyder exceeded expectations at right tackle, a position the 49ers badly needed to stabilize this offseason. Snyder's toughness and attitude fit well with the 49ers' preferred offensive identity.
Best addition in free agency:
Fullback Moran Norris. New offensive coordinator Jimmy Raye needed a traditional fullback to run his offense. Bringing back Norris made Frank Gore a happy man. Gore thinks he can approach or exceed his career-best numbers from 2006.
Best veteran without a Pro Bowl:
Defensive end Justin Smith will never get enough sacks to compete with other defensive ends for Pro Bowl honors. He's hard-nosed and consistently plays at a high level. Second-year tackle Joe Staley would be another legitimate candidate.
Best-kept secret:
Tight end Vernon Davis, though heavily criticized as an erratic player, was an alternate to the Pro Bowl last season. He's a sensational blocker. Increased opportunities in the passing game should pump up his numbers.
Best 49er on Twitter:
Linebacker Takeo Spikes (@TakeoSpikes51) doesn't tweet all that often, but sometimes he does offer inside access and opinions. He expressed confidence in Shaun Hill during the quarterback race.
-- Mike Sando, ESPN.com
SCOUTS INC.'S FABULOUS FIVE
Scouts Inc. has evaluated and graded more than 2,500 NFL players heading into the 2009 season, giving Insiders a leg up on the competition with exclusive grades, alerts and scouting reports.
Top five players

ANALYSIS
1. Patrick Willis
Linebacker
6-1 | 240
(Grade: 90) Willis has started every game since being drafted in the first round in 2007. He is a very good athlete who has outstanding instincts and range. He can read and react quickly and shows explosive burst to the ball against the run.
2. Nate Clements
Cornerback
6-0 | 205
(79) Clements is an experienced shutdown CB with the size, strength and speed to match up effectively against the game's best WRs. He has very good foot quickness and body control.
3. Frank Gore
Running back
5-9 | 217
(78) Gore is a productive and dependable running back who is equally effective as a runner or receiver. He is an instinctive runner who runs hard and knows how to move the chains. When healthy, he hits the hole quickly and is decisive.
4. Joe Staley
Offensive tackle
6-5 | 315
(76) Staley started every game at left tackle last season and appears to have solidified the left tackle spot for the 49ers. He is very athletic and he has good balance and body control.
5. Justin Smith
Defensive end
6-4 | 285
(75) Smith is an instinctive player with a good motor. He brings good energy off the corner as a pass-rusher, and knows how to counter and clear contact effectively. His speed may be descending, but his efforts and determination are not.
Player grading scale: Elite (90-100), outstanding (80-89), solid starter (75-79), good starter (70-74)
SCOUTS INC.'S ANALYSIS
Strengths

RB Frank Gore: The key for San Francisco will be staying in games, and the 49ers showed they could do that when Mike Singletary took over as the head coach. Singletary believes in solid defense backed up by a running game, which bodes well for Gore, who is still the No. 1 offensive weapon on this team.
Depth at CB:
Starter Nate Clements has had a solid preseason, and Dre' Bly has shown flashes of his old form, but there's not a lot of depth here.
MLB Patrick Willis:
He has been one of the more productive middle linebackers in the game over his first two NFL seasons. The 49ers would like to see a few more game-changing plays from Willis, and he certainly has the ability to make those plays.
Weaknesses

Quarterback: Shaun Hill beat out former first-round pick Alex Smith for the starting job. Neither option is ideal. Hill is 7-3 as a starting QB, but does not have elite skills.
Safety:
This has been a sore spot for the 49ers over the past few seasons and there is no immediate help on the way. There is a glaring lack of playmaking ability at the position.
Wide receiver:
The 49ers brought in Brandon Jones from Tennessee to bolster the unit, but he might miss the first half of the season. Josh Morgan made plays last season, but it remains to be seen if he is more than just a backup. Isaac Bruce is still productive, but he isn't getting any younger. Who knows when or if Michael Crabtree will show up?
Scouts Inc. watches games, breaks down film and studies football from all angles.
JEREMY GREEN'S BURNING QUESTIONS
FOOTBALL TODAY PODCAST: DIVISION PREVIEW
DRAFT CLASS WATCH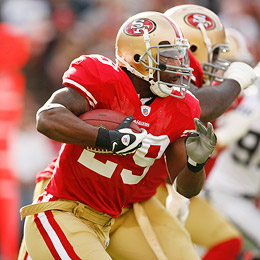 Glen Coffee: Good complement to Gore.
Summary:
The 49ers went for value over need when they selected receiver Michael Crabtree in the first round and running back Glen Coffee in the third -- without addressing obvious needs at right tackle and pass rusher. Picking up the Panthers' first-round choice in 2010 stayed true to the theme. This draft was all about long-term value even though the 49ers badly need to start winning now.
What to expect:
Crabtree's prolonged absence during a contract dispute means the 49ers probably will not realize much short-term production from their 2009 draft class. Coffee's impressive production during preseason probably will not translate to significant carries as a rookie. Coach Mike Singletary and offensive coordinator Jimmy Raye remain fully committed to Frank Gore as the workhorse running back. Fifth-round linebacker Scott McKillop could contribute on special teams. Sixth-round tight end Bear Pascoe was supposed to develop into a bruising blocker, but the 49ers cut him because they thought he was struggling with the speed of the game.
Wild card:
Fifth-round quarterback Nate Davis showed enough during preseason to earn a longer look. The 49ers lack an obvious long-term starter at the position. It's way too early to project Davis for that role, but he showed a strong arm and the ability to make good decisions along with some typical rookie ones.
-- Mike Sando, ESPN.com
FANTASY STARS
Frank Gore, RB

Mike Martz wasn't the tonic Frank Gore needed. In an offense that passed 56 percent of the time in '08, Gore managed 4.3 yards per carry, compared to 5.2 in his glory season of 2006, plus he missed two games with an ankle injury. Head coach Mike Singletary and new offensive coordinator Jimmy Raye have promised to transform the 49ers into a run-first crew, which sounds better. Gore is 26, still has tremendous acceleration and a punishing style, and absolutely could be the horse the new coaches want to ride. But forgive us for not jumping for joy about injury-plagued Marvel Smith at right tackle, an interior line that has proven little, or the fact the team drafted Glen Coffee in the third round this spring. Plus, Gore has never exceeded eight rushing scores in a season. He's tantalizing, but our patience is wearing thin.
2009 Projection: 1,184 rush yds, 9 TD
---
Josh Morgan, WR

Morgan was a star in 49ers training camp as a rookie last year, but he lost his chance at a Week 1 starting gig because of a staph infection, then battled a groin injury for the remainder of the season. But he has an instinct for big plays and once again wowed the Niners during this spring and summer's offseason activities. San Francisco did draft Michael Crabtree this April, so there could be a logjam at the top of this depth chart, plus Mike Singletary's offense could err on the side of conservative play. Still, to us, Morgan looks like the most enticing pass-catching option on this roster, Crabtree included.
2009 Projection: 66 rec, 943 rec yds, 5 TD
ESPN THE MAGAZINE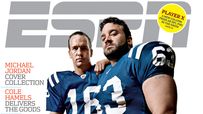 The Chargers win the Super Bowl? What in the name of Norv Turner is going on here?