ST. LOUIS RAMS (Consensus division finish: 4th)
G. Newman Lowrance/Getty Images
EXPERTS' PICKS
The Rams finished fourth in the NFC West last season with a 2-14 record. For more Rams coverage, visit: Mike Sando's NFC West blog | Rams clubhouse
ANALYST
PREDICTION
Jeffri
Chadiha
ESPN.com

DIVISION FINISH: 4 There isn't much to like about the Rams right now. That probably won't change when you see them in December.
John
Clayton
ESPN.com

DIVISION FINISH: 4 The Rams are rebuilding, and it's going to take time. Just about every unit is in transition. St. Louis is doing it the right way by building along the offensive and defensive lines. Still, it's hard to think the Rams will do better than four or five wins this season.

Tim
Graham
ESPN.com

DIVISION FINISH: 4 The Rams were awful last year and will be again. Steven Jackson is a sensational running back, but he can't carry the team.
Jeremy
Green
Scouts Inc.

DIVISION FINISH: 4 I love the hiring of Steve Spagnuolo at head coach, and I think this team has shown some positives in the preseason. That said, the offensive line and back end of the defense are big concerns.
Paul
Kuharsky
ESPN.com

DIVISION FINISH: 4 Better, but not better enough to fare better than fourth. I'm not convinced Marc Bulger can return to his old form no matter how much things improve around him.
Matt
Mosley
ESPN.com

DIVISION FINISH: 4 Just give Steve Spagnuolo a little time. It might not happen immediately, but he'll have the Rams' defense rolling in 2010. That's how good he was for the Giants.
Len
Pasquarelli
ESPN.com

DIVISION FINISH: 4 Has QB Marc Bulger regressed, or is he simply surrounded by inferior personnel? Rams can't hang their hat on either side of the ball. New coach Steve Spagnuolo will have to scheme up lots of things.
Mike
Sando
ESPN.com

DIVISION FINISH: 4 It's tough finding more than four or five likely victories on the Rams' schedule. They open with three of their first four on the road, circumstances hardly conducive to Marc Bulger's reviving his career.
Kevin
Seifert
ESPN.com

DIVISION FINISH: 4 The Rams will be more aggressive under new coach Steve Spagnuolo. But it will take awhile before they are much better.
James
Walker
ESPN.com

DIVISION FINISH: 4 The greatest no-show on turf is due for another awful season.
Seth
Wickersham
ESPN The Magazine

DIVISION FINISH: 3 A talented front seven coupled with Marc Bulger's knowing he's gone if he doesn't produce this year will put the Rams in the 6-8 win category.
Bill
Williamson
ESPN.com

DIVISION FINISH: 4 I'm a big believer in new coach Steve Spagnuolo, but it might take a couple of years before the Rams get it together. But St. Louis will not be an easy out this season.
Matt
Williamson
Scouts Inc.

DIVISION FINISH: 4 There will be improvement, but it might not be heavily reflected in the Rams' final record. The passing game is just far too worrisome right now to pick a team that should be coming from behind quite a bit for more than anything but fourth in the NFC West.
Pat
Yasinskas
ESPN.com

DIVISION FINISH: 4 The Rams still have some big-name talent (Marc Bulger, Steven Jackson). But the problem is, they don't have much else. This one's going to take some time to turn around.


CONSENSUS DIVISION FINISH: 4th | NFL standings
BEST OF THE RAMS
Best development in camp: Receiver Laurent Robinson, acquired from the Falcons, showed signs of filling a massive void at receiver. He has gotten deep a couple of times in preseason.
Best addition in free agency:
Center Jason Brown. The Rams badly needed an anchor for their offensive line. Brown seems like a strong leader. He has unusual size for a center.
Best veteran without a Pro Bowl:
Will Witherspoon has the versatility to play multiple linebacker positions at a starting-caliber level. He's quick, instinctive and arguably the best player on the Rams' defense. Safety Oshiomogho Atogwe is another good candidate for this designation.
Best-kept secret:
The Rams had the highest-rated projected starting offensive line in the division using "Madden 10" player ratings (with rookie Jason Smith in the lineup). The group hasn't worked together enough to validate such a rating, but some of the long-term building blocks appear to be in place.
Best Ram on Twitter:
Running back Steven Jackson (@sj39) keeps it light and upbeat, except for when he couldn't find his iPod for a while. Crisis situation.
-- Mike Sando, ESPN.com
SCOUTS INC.'S FABULOUS FIVE
Scouts Inc. has evaluated and graded more than 2,500 NFL players heading into the 2009 season, giving Insiders a leg up on the competition with exclusive grades, alerts and scouting reports.
Top five players

ANALYSIS
1. Steven Jackson
Running back
6-2 | 231
(Grade: 85) Jackson ran for more than 1,000 yards despite starting only 11 games in 2008. When healthy, he is one of the more dynamic RBs in the league thanks to his strength as a runner and strong receiving skills from the backfield. He runs hard and physical.
2. Jason Brown
Center
6-3 | 320
(77) Brown has an excellent combination of size, strength and athleticism. He works well with a low center of gravity to anchor effectively versus powerful bull rushers and gets movement off the line as a run-blocker.
3. Donnie Jones
Punter
6-2 | 222
(75) Jones is a left-footed punter with very good leg strength. He can drive the ball high and deep and does a good job of allowing his teammates time to cover kicks downfield.
4. Will Witherspoon
Linebacker
6-1 | 240
(75) Witherspoon is an eight-year veteran who can play ILB or OLB. He is a quick read-and-react player whose lateral quickness and agility allow him to make a lot of plays inside out.
5. Marc Bulger
Quarterback
6-3 | 212
(72) Bulger is a nine-year veteran who has good arm strength. He has quick release with good accuracy when he can set and deliver the ball comfortably. His mechanics are mediocre at times as he is often forced to deliver the ball off balance or before his receivers have run out of their breaks.
Player grading scale: Elite (90-100), outstanding (80-89), solid starter (75-79), good starter (70-74)
SCOUTS INC.'S ANALYSIS
Strengths

RB Steven Jackson: When he is healthy, Jackson is still one of the more versatile runners in the NFL. Keeping him healthy will be key, however. The Rams also need to stay in more games, which should happen with an improved defense under new coach Steve Spagnuolo. Staying in games should mean more consistent touches for Jackson this season.
Safety:
One of the more underrated safeties in the NFL is O.J. Atogwe. James Butler is a nice addition and gives this team a chance to compete in the middle of the field. The Rams should be able to generate a better pass rush under Spagnuolo, allowing both safeties to make plays this season.
DEs Leonard Little and Chris Long:
The Rams will take on some of the defensive principles that we saw from the New York Giants. Spagnuolo will move these versatile pass-rushing ends around to create favorable mismatches to protect the team's average corners.
Weaknesses

WR corps: Donnie Avery was one of the more impressive rookie receivers last season, but he was nicked up in camp. Even with a healthy Avery, this position is a cause for concern as Laurent Robinson is still unproven on the opposite side and depth is lacking.
Offensive line:
The addition of No. 2 pick Jason Smith is not enough to solidify what has been one of the weaker units in the NFL the past few seasons.
CB play:
Spagnuolo's pressure packages up front should help the team's shaky cornerback play, but the Rams will be overmatched most Sundays if the pressure does not get to the QB.
Scouts Inc. watches games, breaks down film and studies football from all angles.
JEREMY GREEN'S BURNING QUESTIONS
FOOTBALL TODAY PODCAST: DIVISION PREVIEW
DRAFT CLASS WATCH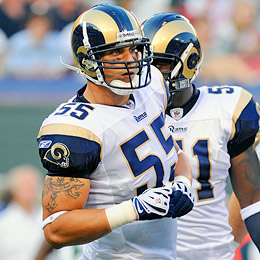 James Laurinaitis: Bolsters depth at LB.
Summary:
The Rams took the safe route by selecting an offensive tackle, Jason Smith, with the second overall choice. They had too much money invested in Marc Bulger to select a quarterback early without considering other options. Of course, the Rams couldn't help but draft for need because they had so many from which to choose. Second-round linebacker James Laurinaitis filled another one. The biggest disappointment might have been failing to find an impact receiver, but how many of those are there in a given draft?
What to expect:
Smith faces a significant transition even if he moves into the starting lineup for the regular-season opener, as expected. He played in a two-point stance at Baylor, and old habits tend to die hard. Smith's attitude and work ethic will serve him well. Laurinaitis has moved into the lineup already. The Rams aren't yet sure what they'll get from third-round corner Bradley Fletcher or fourth-round defensive tackle Darell Scott. Fifth-round receiver Brooks Foster suffered an ankle injury that required surgery, so he won't contribute anytime soon.
Wild card:
Smith's quick development would help immensely. The Rams are building their offense around Steven Jackson and an overhauled offensive line. They've been playing veteran backup Adam Goldberg at right tackle, ahead of Smith, with Alex Barron at left tackle. Smith presumably projects as a left tackle for the long-term future. The fact that the Rams want him to start out on the right side wouldn't seem to accelerate his transition.
-- Mike Sando, ESPN.com
FANTASY STARS
Steven Jackson, RB

On a per-game basis, Jackson is still a fantasy force. But he missed parts of five contests in 2008 with a quad injury, after losing part of '07 with a torn groin and injured back. Because of his health, we forget that in '06 he had the NFL's fifth-most yards from scrimmage in a single season. If he hadn't returned with such oomph at the end of '08 (62 carries for 169 yards in the final two games), we'd be more freaked out. He also gets free-agent signee Jason Brown to play center, second overall pick Jason Smith at tackle and a good lead-blocking fullback in Mike Karney. If Jackson stays healthy, he can be fantasy's No. 1 player. But he's not for the faint of heart.
2009 Projection: 1,360 rush yds, 11 TD
---
Donnie Avery, WR

Avery, the first receiver taken in the 2008 draft, quickly proved his worth by cracking the Rams' starting lineup and serving as the deep threat the team had been missing for a couple of years. With Torry Holt gone, Avery is the team's No. 1 receiver, and there's no question he has game-breaking speed. But he is small -- he's listed at 5-foot-9, 190 pounds -- and might have difficulty producing down the field on a weekly basis. He'll have some terrific games, but he probably also will post the occasional bagel, which means he'll be tough to rely on as a fantasy starter.
2009 Projection: 46 rec, 580 rec yds, 3 TD
ESPN THE MAGAZINE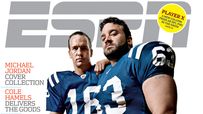 The Chargers win the Super Bowl? What in the name of Norv Turner is going on here?