TENNESSEE TITANS (Consensus division finish: 2nd)
Scott Boehm/Getty Images
EXPERTS' PICKS
The Titans finished first in the AFC South last season with a 13-3 record. For more Titans coverage, visit: Paul Kuharsky's AFC South blog | Titans clubhouse
ANALYST
PREDICTION
Jeffri
Chadiha
ESPN.com

DIVISION FINISH: 1 They've got a strong running game, a talented defense and a veteran quarterback (Kerry Collins) who isn't distracted by all the talk about Vince Young's future. In other words, they're as good as any team in the league.
John
Clayton
ESPN.com

DIVISION FINISH: 2 The defense might not be as dominating without Albert Haynesworth at defensive tackle, but it's still a top-10 unit -- maybe a top-five squad. Jeff Fisher knows how to win, and he calls this one of his most talented teams. Nate Washington was a good addition to the receiving corps, which is better than outsiders think. Once again, the Titans will be in the playoff hunt.

Tim
Graham
ESPN.com

DIVISION FINISH: 2 As great as their regular season was, the disappointing one-and-done postseason should give the Titans added motivation this season. Even without defensive anchor Albert Haynesworth, their roster is too talented not to return to the playoffs as a wild card at least.
Jeremy
Green
Scouts Inc.

DIVISION FINISH: 1 They return the majority of the roster that had them as one of the best teams in the NFL last season. They will continue to play Jeff Fisher football, which means they will pound you on the ground and back it up with great defense.
Paul
Kuharsky
ESPN.com

DIVISION FINISH: 1 An upgraded passing game and big-time rushing attack both benefit from the great offensive line, while life after Albert Haynesworth isn't so bad for a defensive unit that can still rush and cover. Hard to find holes in the starting 22. This division race comes down to Week 17.
Matt
Mosley
ESPN.com

DIVISION FINISH: 2 Not sure how they'll do without Albert Haynesworth in the middle of the defense. I saw them in the preseason and they looked dreadful. They still don't have any reliable options at receiver.
Len
Pasquarelli
ESPN.com

DIVISION FINISH: 1 Even with the departure of DT Albert Haynesworth, the Titans have an excellent group of front-four players. A rugged team that loves to run the football and throws just enough to keep opponents honest.
Mike
Sando
ESPN.com

DIVISION FINISH: 2 Losing Jim Schwartz and Albert Haynesworth could put pressure on the Titans to get more from quarterback Kerry Collins. Is that realistic at this stage?
Kevin
Seifert
ESPN.com

DIVISION FINISH: 1 Last season's 13-3 team returns mostly intact. Coach Jeff Fisher is the master of finding ways to adapt and improve over time.
James
Walker
ESPN.com

DIVISION FINISH: 2 Although very good, losing Albert Haynesworth and former defensive coordinator Jim Schwartz will drop the Titans in the standings just a notch.
Seth
Wickersham
ESPN The Magazine

DIVISION FINISH: 4 Tennessee got all the breaks last season. Kerry Collins will always revert to the Collins that warranted backup duty. Losing Jim Schwartz will hurt more than losing Albert Haynesworth.
Bill
Williamson
ESPN.com

DIVISION FINISH: 2 I can't see the Titans having the regular-season success they had last season, but this is a quality team. Jeff Fisher always gets the most out of his team, so I see another playoff run in Nashville.
Matt
Williamson
Scouts Inc.

DIVISION FINISH: 2 With all due respect to the replacement defensive tackles, the loss of Albert Haynesworth will be felt in a big way. However, the offense could be improved if Kerry Collins remains as consistent as he was last season.
Pat
Yasinskas
ESPN.com

DIVISION FINISH: 2 I came very close to picking the Titans over the Colts, but have a tough time seeing the Titans truly getting over the top with Kerry Collins as their quarterback. He did a very nice job last season, but I think he's just a game-manager at this point in his career.


CONSENSUS DIVISION FINISH: 2nd | NFL standings
BEST OF THE TITANS
Best way to get the league's attention: This is a team that undid a 13-3 record with a first-game playoff failure. The Titans always complain about being under the radar or overlooked. If they go to Pittsburgh and win the NFL's Thursday night season opener on Sept. 10, they'd make it a lot harder to be overlooked.
Best player not well known outside of Tennessee:
Fullback Ahmard Hall is a big piece of the Titans' top-flight rushing attack and he does pretty well as an occasional ball carrier or pass-catcher, too.
Best argument for lineup change:
Kevin Mawae's back from his elbow injury and brings leadership, experience and craftiness back to the lineup as the Titans' center. But there will be games where some fans might wonder if the stronger and more physical Leroy Harris might be an intriguing alternative.
Best preseason for a guy who won't make the team:
A.J. Trapasso will always be able to tell people about his 40-yard fake punt that went for a touchdown against the Bills in the Hall of Fame Game, and he will go down in history as the first punter to hit the overhead HD video boards at Cowboys Stadium.
Best musical relatives:
Defensive end Jacob Ford's father, the late Fred "Sweet Daddy Goodlow" Ford, was a jazz musician best known internationally for his baritone saxophone talents.
-- Paul Kukarsky, ESPN.com
SCOUTS INC.'S FABULOUS FIVE
Scouts Inc. has evaluated and graded more than 2,500 NFL players heading into the 2009 season, giving Insiders a leg up on the competition with exclusive grades, alerts and scouting reports.
Top five players

ANALYSIS
1. Michael Roos
OT
6-7 | 315
(Grade: 85) Roos is still a relatively young lineman, experiencewise, in that he started playing football as a high school senior and moved from the defensive line to the offensive line after his freshman season in college.
2. Keith Bulluck
LB
6-3 | 235
(83) Bulluck has been a cornerstone in Tennessee's defense for the past seven years as he has started every game since 2002. He provides leadership as well as production as an outside linebacker, where he is asked to come off the edge or drop into space for pass coverage.
3. David Thornton
LB
6-2 | 225
(79) Thornton has excellent speed and lateral range, which allows him to make plays on both sidelines. He tends to run around blockers, rather than take them on, as he lacks the size and bulk to defeat blocks and shed them quickly enough.
4. Chris Johnson
RB
5-11| 200
(78) Johnson made an immediate impact with the Titans in his rookie season. He is a slightly undersized running back with exceptional speed and acceleration. He is a quick decision-maker and shows excellent vision as he reads his blockers and locates the running lanes.
5. David Stewart
OT
6-7 | 318
(78) Stewart has been the starting right tackle for the Titans for the past three seasons after not seeing any action as a rookie in 2005. He is a massive offensive lineman who plays with a lot of natural strength and girth, which makes it difficult for defensive linemen to get around him.
Player grading scale: Elite (90-100), outstanding (80-89), solid starter (75-79), good starter (70-74)
SCOUTS INC.'S ANALYSIS
Strengths

Chris Johnson: Johnson's role should increase, both as a runner and as a pass-catcher. However, Johnson had better become accustomed to seeing extra defenders in the box. This youngster is a true difference-maker.
Offensive tackles:
The entire offensive line deserves mention here, but the bookends -- LT Michael Roos and RT David Stewart -- are about as good a pair as you are going to see. Both are young and should only get better. This is extremely important with the statuesque Kerry Collins behind center.
Defensive playmakers:
While there is concern on the defensive side of the ball (see below), the Titans also excel at creating big plays and have several players who consistently make things happen. Cortland Finnegan and Michael Griffin are two who immediately come to mind, but they certainly are not alone. Tennessee has an exceptional secondary.
Weaknesses

Age on defense: There seems to be a few young players in which the arrow is going up on their careers, but stalwarts like Kyle Vanden Bosch, Nick Harper and Keith Bulluck should be nearing the point in their careers when their play declines. A lot will be asked of youngsters like Jason Jones and Jacob Ford. Losing Haynesworth is a massive loss, but there are more problems, including the loss of their coordinator, on this side of the ball than many realize.
Passing game:
Collins fits this offense far better than Vince Young, but he is not without his own warts. He doesn't move well, has a history of turning the ball over, is unable to extend plays and could be nearing his end physically due to his advanced age. Obviously, the Titans can win with Collins, and his suspect group of pass-catchers looks to be somewhat improved from a year ago. But there will be more pressure on Collins this season because of the probable decline on defense.
Scouts Inc. watches games, breaks down film and studies football from all angles.
JEREMY GREEN'S BURNING QUESTIONS
FOOTBALL TODAY PODCAST: DIVISION PREVIEW
DRAFT CLASS WATCH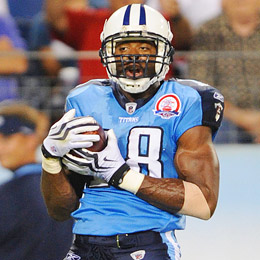 Kenny Britt: Much-needed weapon at WR.
Summary:
The Titans spent two of their first three picks on playmakers, looking to add dynamic weapons to a bland passing attack with wide receiver Kenny Britt in the first round and tight end Jared Cook, whom they traded up to get, in the third round. Defensive tackle Sen'Derrick Marks, taken in the second round, looks like a game-day inactive who needs some time. The Titans were pretty deep before they added 11 picks, but only two seventh-rounders failed to stick on the initial 53-man roster.
What to expect:
Britt and Cook will get chances to make plays, Marks should get time, and third-rounder Ryan Mouton has a chance to be the primary backup at cornerback and the punt returner, once healthy. Receiver Dominique Edison, picked up in the sixth round, catches everything and looks to rank fourth at the position when the season begins.
Wild card:
Keep an eye on fifth-round running back Javon Ringer, who's been so good observers wonder if the Titans must find a way to get him some touches even as they are set with a one-two punch at the position with Chris Johnson and LenDale White. Ringer could work as a returner, and he gives the team insurance should something happen to one of its top two. He also could have a huge bearing on White's future, as the slimmed-down veteran is heading for free agency.
-- Paul Kuharsky, ESPN.com
FANTASY STARS
Chris Johnson, RB

We believe. When Johnson came out of East Carolina, we loved his speed (he was the fastest player at the '08 combine) but worried he didn't have enough shiftiness. We were wrong. He's never going to be a grinder, but when he gets the ball in space, he's deadly. Among backs with at least 250 carries last year, Johnson had the NFL's second-highest yards-per-carry average (4.9), had four runs of 30 yards or longer, and had only two games in which he failed to break a run for at least 11 yards. He might've been fantasy's MVP if not for LenDale White, who had 15 scores, 12 of which came from inside the three. But Tennessee's coaching staff seems worn out by White's off-field act, and there's been speculation that the offense may become less conservative in '09. Johnson seems in line for an even bigger role, which will easily make him a No. 1 fantasy back.
2009 Projection: 1,135 rush yds, 13 TD
---
LenDale White, RB

White enters the final year of his rookie contract at a crossroads. Chris Johnson is well ahead of him on the Titans' depth chart, and more than one reporter claims the team is tired of White's off-field antics. He lost more than 100 carries from '07 to '08, and could lose more this year, considering he's averaged a pedestrian 3.8 yards per carry over his career. Oh, but those touchdowns. Last year, White was deadly from inside the 3-yard line, from whence he notched 12 of his 15 scores. In a Jeff Fisher offense, which in '08 was one of only seven in the NFL to run more than it passed, the role of short-yardage vulture is significant. But can the newly slender White -- he lost 30 pounds this offseason -- be as effective in that role this year?
2009 Projection: 716 rush yds, 7 TD
ESPN THE MAGAZINE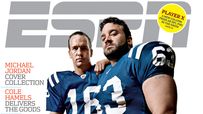 The Chargers win the Super Bowl? What in the name of Norv Turner is going on here?