WASHINGTON REDSKINS (Consensus division finish: 4th)
Larry French/Getty Images
EXPERTS' PICKS
The Redskins finished fourth in the NFC East last season with an 8-8 record. For more Redskins coverage, visit: Matt Mosley's NFC East blog | Redskins clubhouse
ANALYST
PREDICTION
Jeffri
Chadiha
ESPN.com

DIVISION FINISH: 4 Quarterback Jason Campbell needs to elevate his game this season. But that still may not be enough to help the Redskins win more than eight games.
John
Clayton
ESPN.com

DIVISION FINISH: 3 Want a surprise team? Pick the Redskins. Adding Albert Haynesworth and Brian Orakpo to an already good defense makes them scary. Jason Campbell looks better now that Jim Zorn is trying some downfield plays. The aces in the hole schedule-wise are four games against the AFC West and games against Detroit and St. Louis.

Tim
Graham
ESPN.com

DIVISION FINISH: 4 The defense made a grand acquisition with defensive tackle Albert Haynesworth, but he won't make Jason Campbell a better quarterback. The offense needs to improve significantly to have a prayer for the playoffs.
Jeremy
Green
Scouts Inc.

DIVISION FINISH: 3 Jason Campbell has a lot to prove as he will be on display for teams seeking a free-agent quarterback after the season -- and I think that helps him play better. The Skins are an improved team, but playing the NFC East means they will not be a playoff team in 2009.
Paul
Kuharsky
ESPN.com

DIVISION FINISH: 4 The Redskins can be solid, but the strength of the division will make for a long season, flashy additions or not. They do have a favorable early schedule and will look good at the start of the season.
Matt
Mosley
ESPN.com

DIVISION FINISH: 4 No shame in being fourth in this rugged division. And if this offensive line can give Jason Campbell a little time, the Skins could be in the thick of the things. The brutal closing schedule worries me.
Len
Pasquarelli
ESPN.com

DIVISION FINISH: 4 Can coach Jim Zorn and maligned QB Jason Campbell coexist and grow together? The defense will be a little better, but the Redskins still struggle to score enough.
Mike
Sando
ESPN.com

DIVISION FINISH: 4 The Redskins can't help it if they play in such a rugged division. They're still old on offense, though, even after parting with veteran linemen.
Kevin
Seifert
ESPN.com

DIVISION FINISH: 4 The Jim Zorn experiment was flawed from the start, and now he's left nursing a quarterback his owner wanted to dump this offseason. The Redskins will be competitive, but they're too disorganized to challenge the division's top teams.
James
Walker
ESPN.com

DIVISION FINISH: 4 A $100 million investment in Albert Haynesworth won't be enough to get the Skins out the cellar of an always-tough NFC East.
Seth
Wickersham
ESPN The Magazine

DIVISION FINISH: 4 Jim Zorn will know better than to run Clinton Portis into the ground during the first half of the year, but what if shaky pass blocking and inconsistent play from Jason Campbell give him no alternative?
Bill
Williamson
ESPN.com

DIVISION FINISH: 4 The Redskins may be the best last-place team in the league. But there are real questions in the passing game and I think the Redskins just won't be able to keep up in a season in which coach Jim Zorn will feel the heat after every loss.
Matt
Williamson
Scouts Inc.

DIVISION FINISH: 4 Picking the Skins last in this division is not an insult. If they were in the NFC West, for example, they could be a real contender for a division title. The defense will challenge to be a top-10 unit, but the offensive line really gives me pause over an entire 16-game schedule.
Pat
Yasinskas
ESPN.com

DIVISION FINISH: 4 The Redskins have talent, as they always do. But they never seem to be able to put it all together. Would have been nice if they didn't let quarterback Jason Campbell (and the whole world) know they were looking for a replacement in the offseason.


CONSENSUS DIVISION FINISH: 4th | NFL standings
BEST OF THE REDSKINS
Best offensive lineman: It's still Chris Samuels. When he's healthy, the left tackle can be dominant. You'll see more of that this season.
Best No. 2 receiver:
Malcolm Kelly's making a strong move right now. Wouldn't shock me if he won the job over Devin Thomas. Kelly simply has a more mature approach to the game and he's about to get rewarded for his dedication.
Best third-string quarterback:
There were really no winners here. In a surprising twist, Colt Brennan was placed on injured reserve and Chase Daniel ended up on the Saints' practice squad. The Redskins signed former Giants third-stringer Andre' Woodson, perhaps to pick his brain.
Best rookie:
First-round draft pick Brian Orakpo has been superb in two preseason games. Left tackles aren't ready for his power. Ask Steelers left tackle Tony Hills about Orakpo's pass-rushing skills. He found out the hard way.
Best backup running back:
With Ladell Betts out with any injury, several backs have picked up more reps. Marcus Mason doesn't have a lot of size, but he's a pretty explosive guy. I think Dominique Dorsey will make the team based on his return skills.
-- Matt Mosley, ESPN.com
SCOUTS INC.'S FABULOUS FIVE
Scouts Inc. has evaluated and graded more than 2,500 NFL players heading into the 2009 season, giving Insiders a leg up on the competition with exclusive grades, alerts and scouting reports.
Top five players

ANALYSIS
1. Albert Haynesworth
Defensive tackle
6-6 | 350
(Grade: 93) He has unusual quickness and agility for someone with his size and can force offenses to game plan around him. He is powerful and can use his hands to control and shed blockers with ease.
2. Chris Cooley
Tight end
6-3 | 250
(81) He has excellent quickness and agility as a route-runner with speed to stretch down the seam. He has great hands to adjust and make the tough catch away from his body.
3. Clinton Portis
Running back
5-11 | 221
(80) He has improved his inside presence as a runner but is best on the edges and perimeter. He has good quickness and burst to and through the holes as well as lateral agility and balance to make effective cuts.
4. Chris Samuels
Offensive tackle
6-5 | 314
(79) He uses great initial quickness, balance and technique along with power to be an effective run-blocker. He is one of the more effective left tackles in the league, but appears to be showing signs of diminishing skills.
5. London Fletcher
Linebacker
5-10 | 245
(78) Fletcher has active hands to separate and shed blockers which enable him to get to the ball. He is a solid open-field tackler with pop and power on contact.
Player grading scale: Elite (90-100), outstanding (80-89), solid starter (75-79), good starter (70-74)
SCOUTS INC.'S ANALYSIS
Strengths

RB Clinton Portis: Portis is one of the more underrated running backs in the NFL. Yes, he puts the ball on the ground a little more often than you would like, but he is a tough runner who has shown the ability to play through injuries. When Portis is getting effective touches, it really opens up the Skins' passing game.
QB Jason Campbell:
Don't be surprised if Campbell has a big year. He is playing with a big chip on his shoulder because the team tried to trade for Jay Cutler this past offseason. More importantly, Campbell is going to be a free agent next year, which means this season is going to be a tryout of sorts as he tries to enhance his market value.
TE Chris Cooley:
He is a player who has been extremely versatile over his career. Even though the Redskins have a solid WR corps on paper, the team is very dependent on Cooley. The Redskins are most successful when they can move him around and create favorable matchups for the rest of their receivers.
Weaknesses

Offensive line: This has been a major issue over the past few seasons, and the situation is not better with aging LT Chris Samuels and inconsistent RT Stephon Heyer. It is a unit that struggles to stay healthy, struggles to open up holes and struggles to protect the quarterback on a consistent basis.
Pass rush:
The Redskins have struggled to pressure the quarterback over the past few seasons. They'll be in big trouble again this season if rookie DE Brian Orakpo is not the real deal.
Inconsistent play at CB:
The names are there for Washington -- DeAngelo Hall, Carlos Rogers and Fred Smoot. But ability hasn't translated into production for the Redskins' CB corps. It is a unit that needs to come up with more big plays in 2009 if the Redskins are to make noise in the NFC East.
Scouts Inc. watches games, breaks down film and studies football from all angles.
JEREMY GREEN'S BURNING QUESTIONS
FOOTBALL TODAY PODCAST: DIVISION PREVIEW
DRAFT CLASS WATCH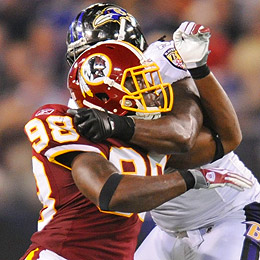 Brian Orakpo: A budding playmaker on D.
Summary:
The Skins didn't have a lot of picks, but it appears they made the best of things. Brian Orakpo was a dominant player in the Big 12 South -- and that's saying something. He's already one of the best pass-rushers on the team. And Kevin Barnes, the third-round corner out of Maryland, had a really nice interception against the Patriots in preseason. Overall, the Skins have to be happy with this class so far. Cody Glenn (released) caught me by surprise in the fifth round because I didn't think he was that good at Nebraska, but it looks like they landed another solid player in the seventh. More on him in the "wild card" section.
What to expect:
Orakpo's a Day 1 starter and Robert Henson, a linebacker out of TCU, will be an excellent special-teams player. Henson's one of those guys (like H.B. Blades) who will hang around long enough to challenge for a starting spot someday. I like this class.
Wild card:
You have to hand it to Vinny Cerrato when it comes to seventh-round picks. Last year, he hit on Chris Horton out of UCLA. This year, it's Marko Mitchell out of Nevada. The kid shows up in games, and that's a big thing. He'll be the fifth receiver heading into the season. There's no reason to keep a guy like D.J. Hackett around when you have Mitchell.
-- Matt Mosley, ESPN.com
FANTASY STARS
Clinton Portis, RB

Portis started strong in 2008, with 944 rushing yards and seven scores in the season's first eight games. But in Washington's final five games, he rushed for only 281 yards on 98 carries, and didn't manage a single run of more than 15 yards. So while Portis' workload has been extremely consistent during his time as a Redskin -- when he has played a full season, he has not had fewer than 325 carries -- one wonders if it should be. Even in the kind of effective tandem Joe Gibbs once imagined between Portis and Ladell Betts, Portis would still be the fantasy stud because he's a great goal-line player, and has at least nine touchdowns in five of his seven pro seasons. But we're not convinced the Redskins see their backfield the same way we do. Our worries about Portis wearing down cause us to consider him a borderline fantasy first-rounder.
2009 Projection: 1,209 rush yds, 9 TD
---
Santana Moss, WR

Moss was excellent for the first eight weeks of 2008 before Jason Campbell turned back into a pumpkin. In that span, Moss posted three games of 140 or more yards and scored five times. But those numbers hid a mounting problem: Campbell and coach Jim Zorn were going downfield less and less. Indeed, Moss became the king of the underneath route, which doesn't play to his strengths. On the plus side, Moss played 16 games for the first time since '05. On the minus side, he essentially disappeared in the season's second half once defenses learned the Redskins weren't going deep. Until Washington can find a decent outside receiver to play opposite Moss, one who can reliably run the possession stuff and free up Moss to make big plays, we fear he won't be the consistent fantasy threat we thought he'd be four or five years ago.
2009 Projection: 73 rec, 963 rec yds, 6 TD
ESPN THE MAGAZINE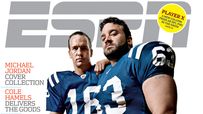 The Chargers win the Super Bowl? What in the name of Norv Turner is going on here?