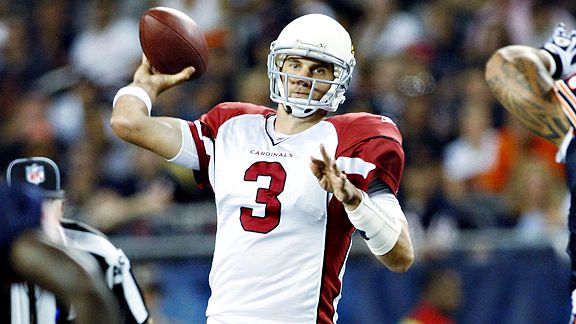 Jerry Lai/US Presswire
JOHN CLAYTON QB RANKING (28)
: With former first-round pick Matt Leinart released, Derek Anderson will be the Cardinals' Week 1 starting quarterback.
Expert Picks (Consensus: 2nd)
The Cardinals finished first in the NFC West last season with a 10-6 record. For more Cardinals coverage, visit: Mike Sando's NFC West blog ... on Twitter | Clubhouse | More predictions
ANALYST
PREDICTION
Mike
Sando
ESPN.com

DIVISION FINISH: 2 Arizona went 10-6 with Warner running their offense. The drop from Warner to Anderson/someone could knock down Arizona a few notches. The Cardinals should remain competitive, but the 49ers have fewer question marks.
John
Clayton
ESPN.com

DIVISION FINISH: 2 Ken Whisenhunt should hire Jared Allen, Ryan Longwell and Steve Hutchinson to "kidnap" Kurt Warner like they did Brett Favre.

Adam
Schefter
ESPN

DIVISION FINISH: 2 Arizona could survive the losses of Karlos Dansby and Antrel Rolle; it is going to be exceedingly difficult to survive the loss of Kurt Warner.
Matt
Williamson
Scouts Inc.

DIVISION FINISH: 2 The Cards just had too many big-time player losses this past offseason. The drop-off from Kurt Warner to whatever this team ends up with at QB is just too much for me to endorse Arizona as anything better than a seven- or eight-win team.
Seth
Wickersham
ESPN The Magazine

DIVISION FINISH: 2 Derek Anderson can be a good QB in a downfield-throwing system -- he just needs to keep up his confidence.
Intelligence Report
Five things you need to know about the Cardinals:
1. A rookie could play at quarterback: The bizarre situation regarding Matt Leinart calls into question how the Cardinals will proceed at quarterback this season. The team loves what rookie Max Hall has shown during the exhibition season. That wouldn't mean much in the near term under normal conditions, but these are unusual times. Derek Anderson may or may not provide stability. It won't be a shock if Hall (or possibly John Skelton, who is competing with Hall for a roster spot) gets into games this season.
2. The Cardinals will still throw the ball: Warner's retirement means the Cardinals will change their offense. They'll lean on the running game a little more and they could become more balanced with Beanie Wells and Tim Hightower sharing carries. That doesn't mean the Cardinals will suddenly become the Carolina Panthers, however. They're going to throw the football because they have good weapons in the passing game and Whisenhunt wants to run his offense. Leinart attempted 28 and 37 passes in the first two games of the Whisenhunt era (2007).
3. The disrespect card has its limits: The Cardinals of 2008 and 2009 relished their underdog status. Quite often that status wasn't deserved. Arizona was a good team with a Pro Bowl-caliber quarterback. Opponents underestimated the Cardinals at their peril. Arizona has already embraced the underdog role heading into 2010 and this team will indeed have an extra edge as a result. But the underdog role is also more justified this time. It'll be tougher to disprove skeptics without No. 13 under center and much tougher to duplicate the 6-2 road record Arizona posted last season.
4. This team has dynamic leaders: Look around the Cardinals' roster and you'll see accomplished players with strong personalities at just about every position group. Larry Fitzgerald sets the standard at receiver. Alan Faneca gives the offensive line personality. Darnell Dockett's work ethic and brash demeanor give the defensive linemen someone to rally around. Joey Porter keeps the young linebackers in line. Safety Adrian Wilson is an enforcer. Whisenhunt also has earned the respect of his players and his strength coach, John Lott, has been a transforming figure internally. Having so many strong leaders gives the Cardinals a chance to remain a tough team despite key personnel losses.
5. Emphasizing continuity isn't an option: The Cardinals started the same five offensive linemen in the same spots for most of the last couple seasons. Continuity throughout much of the roster was a strength. That is no longer the case. Some starting offensive linemen have changed positions. Faneca and right tackle Brandon Keith are new to the lineup altogether. The Cardinals have undergone more turnover since last season than all but a couple teams -- unusual after such a successful season. Some of the changes could work to the Cardinals' advantage because the team does have a good record developing young players. It's also likely the team will suffer some growing pains.
-- Mike Sando, ESPN.com
Scouts Inc.'s Fabulous Five
Scouts Inc. has evaluated and graded more than 2,500 NFL players heading into the season, giving Insiders a leg up on the competition with exclusive grades and scouting reports.

TOP FIVE PLAYERS
ANALYSIS
1. Larry Fitzgerald
Wide receiver
6-3 | 217
(Grade: 93) He excels at making plays at all levels and has the size to be a big threat in the red zone as well as downfield.
2. Adrian Wilson
Safety
6-3 | 230
(89) He is a big safety with instincts and a good feel for the game. He is quick to locate the ball and attacks plays going downhill.
3. Darnell Dockett
Defensive tackle
6-4 | 290
(89) He is an effective pass-rusher and plays the run well. He has good size, strength and quickness on the inside.
4. Dominique Rodgers-Cromartie
Cornerback
6-2 | 182
(81) He has a rare combination of size, speed, athleticism and acceleration. He is quick in his pedal and has an easy, fluid hip flip to turn and run with receivers.
5. Calais Campbell
Defensive end
6-8 | 300
(77) He has a robust body type with an extremely low center of gravity and excels at taking on double-teams.
Grading scale: Elite (90-100), outstanding (80-89), solid starter (75-79), good starter (70-74)
Draft Class Watch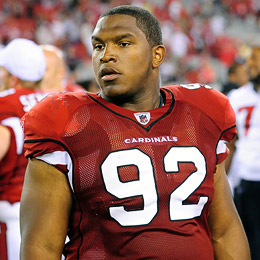 (Photo by Mark J. Rebilas/US Presswire)
Dan Williams: Nose tackle needs time.
Summary: The draft went well for Arizona when nose tackle Dan Williams fell to the Cardinals at No. 26, but early indications suggest Williams could need some time to grow into the role. Nose tackle is a nasty position to play. Williams spent training camp behind veteran Bryan Robinson on the depth chart. He'll probably remain there for a good chunk of the season. Second-round linebacker Daryl Washington has a better chance to make a more immediate impact. He has looked good during preseason and he plays a position of great need for the Cardinals.
What to expect: Washington and then Williams appear to be the only likely 2010 contributors from this draft class. Third-round receiver Andre Roberts has struggled to this point, typical for a rookie receiver. Fourth-rounder O'Brien Schofield was a longer-term choice coming off a serious injury, and there's no way fifth-round quarterback John Skelton should come anywhere near the lineup this season.
Coaching up the line: Arizona did not draft an offensive lineman in 2010; the team hasn't drafted one higher than the fifth round since selecting Levi Brown fifth overall in 2007. The team believes in line coach Russ Grimm, whose latest project, Brandon Keith, is starting at right tackle after entering the NFL with Arizona as a seventh-round choice in 2008. It's easy to see why the Cardinals have preferred later-round picks up front. The team has drafted three offensive linemen in the first round since 1994 and all three -- Brown, Leonard Davis and L.J. Shelton -- failed to meet expectations.
-- Mike Sando, ESPN.com