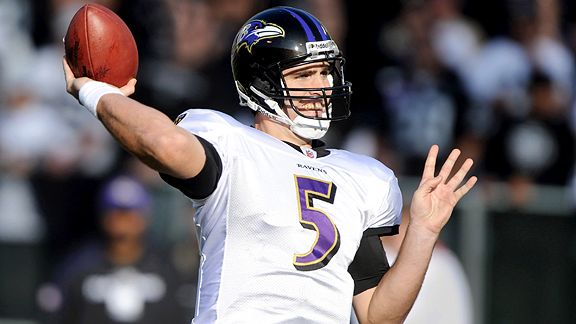 Kirby Lee/US Presswire
JOHN CLAYTON QB RANKING (12)
: In two seasons, Joe Flacco has passed for 6,584 yards and has guided Baltimore to three road playoff victories.
Expert Picks (Consensus: 2nd)
The Ravens finished second in the AFC North last season with a 9-7 record. For more Ravens coverage, visit: James Walker's AFC North blog … on Twitter | Clubhouse | More predictions
ANALYST
PREDICTION
James
Walker
ESPN.com

DIVISION FINISH: 1 There is a lot to like about this season's Ravens. Pass defense is a concern. But a potent offense and a stout front seven give Baltimore enough balance and star power to win the AFC North.
John
Clayton
ESPN.com

DIVISION FINISH: 2 The only reason the Ravens aren't favored over the Bengals is their concerns at cornerback. The loss of Domonique Foxworth was devastating, and Fabian Washington and Lardarius Webb are coming off major knee surgeries.

Adam
Schefter
ESPN

DIVISION FINISH: 3 Talk about a team that is loaded. Wow. But will the Ravens be able to sack quarterbacks before they can exploit their cornerbacks?
Matt
Williamson
Scouts Inc.

DIVISION FINISH: 3 The Ravens were going to be my AFC Super Bowl pick, but I just can't endorse that with the state of their secondary. Instead of even attempting to run against this wall, every opponent will force Baltimore into its nickel and dime packages and throw.
Seth
Wickersham
ESPN The Magazine

DIVISION FINISH: 1 The Ravens went 1-6 against playoff teams last season. With better offensive weapons and the same aggressive defense, that number will improve.
Intelligence Report
Five things you need to know about the Ravens:
1. The offense will be fine: Fans in Baltimore are getting nervous because the Ravens' offense didn't light it up throughout the preseason. Baltimore added players at receiver (Anquan Boldin and T.J. Houshmandzadeh) and tight end (Ed Dickson, Dennis Pitta) to help with the passing game. So the Ravens have everything in place to be one of the top offenses in the AFC, but everything won't come together overnight. Offensive coordinator Cam Cameron is still working to establish roles for his skill players, and that will continue into the regular season. Quarterback Joe Flacco also hinted that Baltimore didn't show all of its packages in preseason games, which is a smart move.
2. Flacco is even better: Flacco always has had the natural ability, but he is playing smarter and more efficiently in his third season. The quarterback looks more poised and ready to take over a leadership role with the Ravens. Flacco has a veteran presence about him, knowing this is now his offense. With so many weapons around him, it will be Flacco's job to make sure everything is running efficiently. He also has a tremendous supporting staff this season with new quarterbacks coach Jim Zorn and veteran backup Marc Bulger. Both have shown Flacco new tricks that he can apply to his own game.
3. Pass defense still an issue: The Ravens didn't do much in the preseason to ease concerns about their pass defense. Their secondary and linebackers struggled at times covering receivers and tight ends, which also was a concern last season. Starting cornerbacks Fabian Washington and Lardarius Webb both are coming back from knee injuries and will be counted on to help. Baltimore also acquired cornerback Josh Wilson in a trade with Seattle this week to play in nickel packages. Star safety Ed Reed is progressing well from hip surgery and will provide a big boost when he returns. An improved pass rush also is key for Baltimore. The Ravens were average getting to the quarterback last season but are making a concerted effort to improve.
4. Terrell Suggs is back: Speaking of pass rush, Suggs is in great shape and looks motivated to bounce back from a poor 2009. Last season, the defensive end/linebacker hybrid registered a career-low 4.5 sacks. Suggs allowed his weight to balloon and lost his explosiveness getting to the quarterback. This preseason, he's played with good quickness, leverage and power, making him hard to block one-on-one. Suggs has been one of the most consistent pass-rushers in the NFL for a long time. Therefore, there's no reason to believe he will not be able to get back to his old form this season.
5. Right tackle could be a concern: Baltimore's offensive line is solid. But one area of concern is at right tackle. Starter Jared Gaither missed most of training camp with a back injury. Gaither also arrived in camp too light for the position, and there is no timetable for his return. Backup Oniel Cousins (head) has been in and out of the lineup. Tony Moll and starting guard Marshal Yanda are options. But Moll is a third-stringer at the position, and Baltimore would rather keep Yanda at guard. Keep an eye on this position early in the season, especially if Gaither remains on the sidelines.
-- James Walker, ESPN.com
Scouts Inc.'s Fabulous Five
Scouts Inc. has evaluated and graded more than 2,500 NFL players heading into the season, giving Insiders a leg up on the competition with exclusive grades and scouting reports.

TOP FIVE PLAYERS
ANALYSIS
1. Ed Reed
Safety
5-11 | 200
(Grade: 91) Reed has rare instincts that enable him to be around the ball often. He has elite range and is one of the few backend defenders whom quarterbacks truly fear.
2. Haloti Ngata
Defensive tackle
6-4 | 350
(89) Ngata was banged up some in 2009, which hindered his progress. He is a massive, incredibly strong interior defender.
3. Terrell Suggs
Linebacker
6-3 | 260
(85) Suggs has been one of Baltimore's more consistent defenders over his seven seasons in the league. He has excellent quickness and speed off the edge with enough burst to close in on the quarterback.
4. Jared Gaither
Offensive tackle
6-9 | 340
(84) Gaither was banged up during the 2009 season but continued to progress on the left side of the line. He is a young left tackle who has tremendous size to man the blind side.
5. Kelly Gregg
Defensive tackle
6-0 | 320
(83) With another productive season in 2009, Gregg continued to be a force in the middle of the Ravens' defense. Gregg is an 11-year veteran who appears to still have quickness and power.
Grading scale: Elite (90-100), outstanding (80-89), solid starter (75-79), good starter (70-74)
Draft Class Watch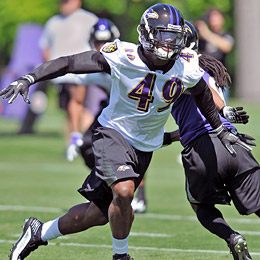 (AP Photo/Gail Burton)
Sergio Kindle: Immediate future in doubt.
Summary: The Ravens will forever be linked with the surprising pick of Tim Tebow in the first round. Baltimore found a trade partner in the Denver Broncos, who were eager to move up and take the former University of Florida quarterback. The Ravens gained multiple picks and added depth to an already deep roster.
What to expect: Without a first-round pick this year, the Ravens didn't draft any projected starters. But defensive lineman Terrence Cody and tight ends Ed Dickson and Dennis Pitta should establish roles in Baltimore. Cody has been solid and looks like he could be force against the run. Dickson and Pitta will compete to be the second tight end behind starter Todd Heap. Second-round pick Sergio Kindle suffered a fractured skull this offseason, and it's questionable whether he will play this season.
Fantasy value: There's not much draft value to be had from Baltimore's rookie class. Heap has had his share of injuries, so there might be a little value in taking one of the rookie tight ends for protection. But there are more productive options available elsewhere.
-- James Walker, ESPN.com