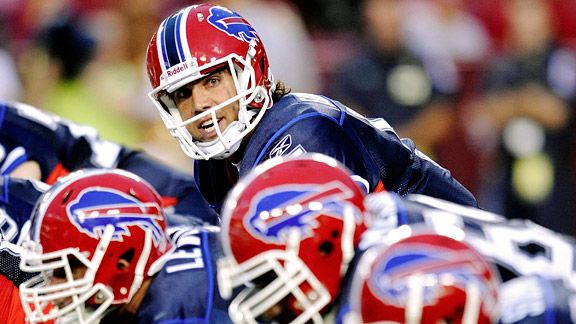 Rafael Suanes/US Presswire
JOHN CLAYTON QB RANKING (31)
: After losing his job during the 2009 season, Trent Edwards has re-emerged as the Bills' starter and will try to thrive behind a suspect offensive line.
Expert Picks (Consensus: 4th)
The Bills finished fourth in the AFC East last season with a 6-10 record. For more Bills coverage, visit: Tim Graham's AFC East blog … on Twitter | Clubhouse | More predictions
ANALYST
PREDICTION
Tim
Graham
ESPN.com

DIVISION FINISH: 4 The Bills are 2-10 against the division the past two seasons. While the Bills are rebuilding, the other teams made offseason moves to push for the playoffs, making the gap even wider for this season.
John
Clayton
ESPN.com

DIVISION FINISH: 4 Years of not filling needs finally have caught up to the Bills. Lee Evans is left without help at receiver, Trent Edwards is a standing target because of the tackle problems and the defensive front seven really weren't suited for the 3-4 conversion.

Adam
Schefter
ESPN

DIVISION FINISH: 4 The Bills have some building blocks, but they have questions in the most important spots: quarterback, offensive line, defensive end.
Matt
Williamson
Scouts Inc.

DIVISION FINISH: 4 The Bills and Rams should compete for the first overall pick in the 2011 draft. As excited as I am about C.J. Spiller, he can't do enough to make this team respectable. Oh … and the Bills will go 0-6 in the AFC East.
Seth
Wickersham
ESPN The Magazine

DIVISION FINISH: 4 We'll see a lot of creativity offensively. Not so much out of the defense, which will find the transition to the 3-4 difficult without much talent at the, um, "4" part.
Intelligence Report
Five things you need to know about the Bills:
1. New regime not ducking reality: If the Bills lose more games this season than last, that doesn't necessarily mean they're failing to improve. The Bills are in an honest rebuilding phase for the first time since their last playoff appearance a decade ago. It's almost as though the organization was in denial, spinning its wheels from losing season to losing season. The Bills' lone winning record in that span was 9-7 in 2004. But with new general manager Buddy Nix laying a draft-based foundation and new coach Chan Gailey trying to establish a new culture, they finally seem to have a vision worth waiting out.
2. The offensive line remains a serious concern: The Bills declined to tinker much with a front five that led the NFL with 48 penalties (league average was 29.4) and gave up 46 sacks, more than all but three teams. The Bills signed free-agent right tackle Cornell Green for their immediate needs and drafted Ed Wang in the fifth round to groom him for the future. They're sticking with penalty-prone left tackle Demetrius Bell, who looked overwhelmed before a knee injury ended his 2009 season early. The Bills do have a steady interior, with veteran center Geoff Hangartner between second-year guards Eric Wood (coming off a gruesome broken leg) and Andy Levitre. But the entire unit doesn't exactly inspire confidence.
3. QB corps is vulnerable: Because of the Bills' offensive line, three quarterbacks might start for Buffalo again this season. Gailey's supposed open competition at quarterback has been anything but. He named Trent Edwards the top quarterback at the start of training camp but said the job was up for grabs. With Ryan Fitzpatrick and Brian Brohm splitting second- and third-team reps (and sitting out full preseason games), Edwards has pulled away on participation alone. However, the real competition might be staying one step ahead of injuries. Edwards has problems with staying healthy. Fitzpatrick absorbed enough contact to get knocked off the field last season, too. With no significant changes on the O-line, why should we expect a different medical outlook for Buffalo's quarterbacks?
4. Buffalo has one of the NFL's best defensive backfields: There's a reason the Bills will play all their games at 1 p.m. ET Sunday. They simply don't generate any interest outside of their own fan base after so many years of losing. As a result, some of the team's strengths go unappreciated by the masses. The Bills finished with the second-rated pass defense last season, allowing 184.2 yards a game. You might counter by mentioning the Bills ranked 30th against the run, giving opponents little reason to throw. But the Bills did finish second in interceptions with 28. They have envious depth at cornerback and safety. For real.
5. Tight end looks like a lost position again: The Bills have had problems getting their tight ends involved in the offense for ages. They've gotten 40 receptions out of a tight end only once since Lonnie Johnson in 1997. Gailey is an offensive-minded coach, but he doesn't seem to have the personnel to turn tight end into an impact position this season. Shawn Nelson started 12 games in 2009 as a fourth-round pick, but he had a disappointing camp and has been suspended four games for violating the league's substance-abuse policy. Derek Schouman is expected to miss six weeks with a knee injury. Michael Matthews was waived after injuring his ankle. As of now, Jonathan Stupar is the starter. He's a third-year pro with six career catches for 40 yards.
-- Tim Graham, ESPN.com
Scouts Inc.'s Fabulous Five
Scouts Inc. has evaluated and graded more than 2,500 NFL players heading into the season, giving Insiders a leg up on the competition with exclusive grades and scouting reports.

TOP FIVE PLAYERS
ANALYSIS
1. Lee Evans
Wide Receiver
5-10 | 197
(Grade: 79) He is a speed receiver who would make a lot more plays on a better team with a legitimate No. 1 quarterback.
2. Paul Posluszny
Linebacker
6-1 | 238
(76) He is a smart player at the inside linebacker position. Posluszny is a high-motor and active player with excellent instincts to find the ball.
3. Brian Moorman
Punter
6-0 | 172
(75) He is an excellent punter with big-time leg strength. He also is a good bad-weather punter, which is huge in Buffalo.
4. Dwan Edwards
Defensive tackle
6-3 | 290
(75) A former Raven, Edwards has improved his hand usage at the point of attack, shedding blockers better than in previous seasons.
5. Eric Wood
Center
6-4 | 315
(74) He is a versatile young lineman with very good upside.
Grading scale: Elite (90-100), outstanding (80-89), solid starter (75-79), good starter (70-74)
Draft Class Watch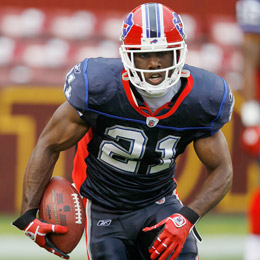 (AP Photo/Alex Brandon)
C.J. Spiller: A telling selection.
Summary: The Bills defied prognosticators and the wishes of their fans by declining to draft a quarterback, a left tackle or a nose tackle for their new 3-4 defense with the ninth overall pick. Instead, they selected running back C.J. Spiller despite having two 1,000-yard rushers already on their roster. That pick proved Buffalo wanted to rebuild this season. There wasn't a single position the team couldn't stand to improve, so it took the best player on the board.
What to expect: Spiller might have to carry the draft class this season. Nobody else is expected to start unless a veteran gets hurt. Second-round pick Torell Troup is backing up Kyle Williams at nose tackle. Fourth-round receiver Marcus Easley and sixth-round linebacker Danny Batten already have been placed on season-ending injured reserve. Fifth-round tackle Ed Wang is recovering from hand surgery.
Don't cross Moats: He'll start the season third on the depth chart but don't be surprised if inside linebacker Arthur Moats, a sixth-round pick out of James Madison, makes his presence felt in 2010. Moats won the Buck Buchanan Award, given annually to the best Division I-AA player. He could turn into a key special-teams contributor and, with Paul Posluszny's injury history, a starter before the end of the season.
-- Tim Graham, ESPN.com