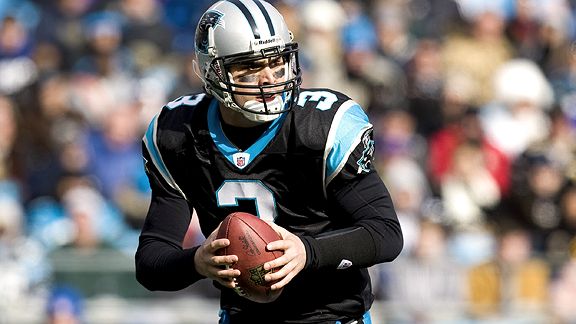 Chris Keane/Icon SMI
JOHN CLAYTON QB RANKING (32)
: Matt Moore has a 6-2 record as a starting quarterback, but he doesn't have a lot of experience playing against top defenses.
Expert Picks (Consensus: 3rd)
The Panthers finished third in the NFC South last season with an 8-8 record. For more Panthers coverage, visit: Pat Yasinskas' NFC South blog ... on Twitter | Clubhouse | More predictions
ANALYST
PREDICTION
Pat
Yasinskas
ESPN.com

DIVISION FINISH: 3 Don't dismiss Carolina. National expectations might not be high, but I don't see how a team with core players such as Steve Smith, Jordan Gross, DeAngelo Williams, Jonathan Stewart, Jeff Otah, Ryan Kalil, Jon Beason and Chris Gamble can be terrible.
John
Clayton
ESPN.com

DIVISION FINISH: 3 The Panthers have more speed on defense and have assembled a pretty good cast of young offensive players. Too bad ownership won't let John Fox stay past this season to enjoy the fruits of this year's coaching.

Adam
Schefter
ESPN

DIVISION FINISH: 3 Enormous turnover for this franchise. But it still is going to have "Double Trouble" at running back and plenty of trouble on an aggressive defense.
Matt
Williamson
Scouts Inc.

DIVISION FINISH: 3 The Panthers are the team I have the hardest time getting my head around this season. I have little faith in the defense, but if everything breaks right, I also could see 10 wins. Steve Smith will have a huge season. Six wins are more likely, though.
Seth
Wickersham
ESPN The Magazine

DIVISION FINISH: 4 John Fox is already 2011's most sought-after coach. Which means that if he has a losing season and is fired, he'll be in more demand than if he has a winning one and is retained. The NFL is odd like that sometimes.
Intelligence Report
Five things you need to know about the Panthers:
1. Fox watch begins: Is this John Fox's last year in Carolina? More than likely. It's pretty obvious Fox needs a winning season to be offered an extension to a contract that runs only through this season. If the Panthers don't do that, Fox goes. But let's say they do have a winning season. The common fan assumption is that would make everything warm and fuzzy in Carolina, and Fox would want to stay and continue with his young team. But fans might be a half-mile off on this one. Fox is a guy with pride and, like any human being, ego. I easily can see a scenario in which owner Jerry Richardson comes to Fox with a new contract after a winning season and Fox says something like, "It was nice working for you, but I'm going to coach the [fill in the blank] because they've offered me long-term security."
2. Don't expect turmoil: Does the uncertainty about Fox mean a tumultuous season on the field? No, not at all. One thing about Fox is he always has kept the Panthers respectable. This is a guy who found ways to win games with Vinny Testaverde and David Carr playing quarterback. He can flat out coach, and that's not going to stop. He's got a point to prove this season, and he traditionally has been at his best when expectations aren't that high.
3. Is Moore enough? Can the Panthers really win with Matt Moore at quarterback? Remember one thing: The Panthers went to the Super Bowl with Jake Delhomme in his first full season as a starter. You can even make a case that Moore is more advanced than Delhomme was when he first joined the Panthers. Moore was starting and playing well at the end of last season. The Panthers don't need a superstar at quarterback. With their running game, they just need a quarterback who can manage a game and not turn over the ball. Moore will get his chance. If he can't be efficient, the Panthers have Jimmy Clausen standing in the on-deck circle.
4. Smith's drive: Will Steve Smith be a factor? The wide receiver broke his arm in a flag football game earlier this summer and missed much of the preseason. But sitting on the sideline for camp might have been the best thing to happen to Smith. It gave him time to think, and Smith is a guy who thrives on inner motivation. He's going to come out feeling like he has something to prove, and that's when he's at his best. He could turn Moore into a very good quarterback right away.
5. Defensive uncertainty: The defense doesn't look like a Fox defense. The days of Carolina's defense being built around the front four are long gone, with Julius Peppers' departure representing the disappearance of the last dinosaur. The Panthers are counting on some young guys emerging up front, and players such as Greg Hardy and Eric Norwood showed flashes in the preseason. But linebacker Jon Beason is the only player offenses must account for on every play. Beason is a tremendous player, but he can't carry a defense and is going to need help from a lot of angles.
-- Pat Yasinskas, ESPN.com
Scouts Inc.'s Fabulous Five
Scouts Inc. has evaluated and graded more than 2,500 NFL players heading into the season, giving Insiders a leg up on the competition with exclusive grades and scouting reports.

TOP FIVE PLAYERS
ANALYSIS
1. Steve Smith
Wide receiver
5-9 | 185
(Grade: 89) Smith has given the Panthers an explosive playmaker at wide receiver since 2001. He is undersized but very powerfully built and explosive off the line.
2. Jon Beason
Linebacker
6-0 | 237
(87) Beason has started all 16 games for three straight seasons. He has become arguably the face of the Panthers' defense, and provides leadership both on the field and in the locker room.
3. DeAngelo Williams
Running back
5-9 | 217
(84) Williams has been a 1,000-yard rusher for the past two seasons despite sharing time with Jonathan Stewart. He is a compact runner with excellent initial quickness and body control.
4. Ryan Kalil
Center
6-2 | 295
(83) Kalil has done a good job of anchoring the middle of the Panthers' offensive line. He is a slightly undersized center who plays with leverage and technique more than size and power.
5. Jordan Gross
Offensive tackle
6-4 | 305
(82) Gross is a natural knee-bender with above-average foot quickness, and good agility and body control. He understands blocking angles and knows how to position himself.
Grading scale: Elite (90-100), outstanding (80-89), solid starter (75-79), good starter (70-74)
Draft Class Watch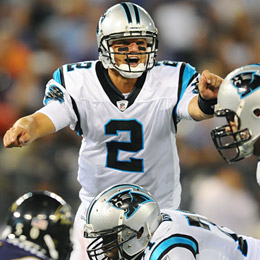 (James Lang/US Presswire)
Jimmy Clausen: Waiting in the wings.
Summary: If anything, this year's draft might have shown general manager Marty Hurney has more power than ever. It was also a sign Hurney could last beyond John Fox. By taking Jimmy Clausen and receivers Brandon LaFell and Armanti Edwards early in the draft, the Panthers showed they've got an eye on the future. If it truly had been Fox's call, it's highly doubtful he would have gone that route because he had immediate needs on defense and always has been hesitant to play rookie quarterbacks and receivers.
What to expect: LaFell has a legitimate chance to open the season as the starter opposite Steve Smith. He had a good camp but hasn't flashed a lot in preseason games. Still, LaFell has picked up the offense quickly, something Dwayne Jarrett wasn't able to do in his first three seasons in Carolina. The Panthers would love nothing more than to sit Clausen for his entire rookie season, because that would mean Moore is playing well. But the team has liked everything it has seen from Clausen, and there won't be a great deal of hesitation to turn to him if Moore struggles.
Big-play guys:
It's rare you can find players in the middle or late rounds who can make an immediate impact. But Carolina's question marks on defense might give Greg Hardy and Eric Norwood that chance. Both have been outstanding in camp and the preseason. Hardy has shown signs he can be an all-purpose defensive end, and Norwood has shown he can be a pass-rushing factor as an end or a linebacker.
-- Pat Yasinskas, ESPN.com