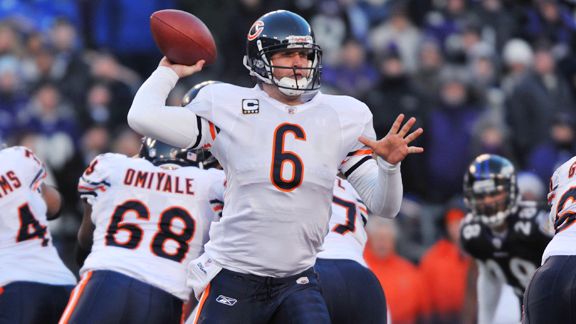 Larry French/Getty Images
JOHN CLAYTON QB RANKING (15)
: Jay Cutler was productive in 2009 (3,666 yards), but his interception total (26) was among the main reasons the Bears underachieved.
Expert Picks (Consensus: 3rd)
The Bears finished third in the NFC North last season with a 7-9 record. For more Bears coverage, visit: Kevin Seifert's NFC North blog ... on Twitter | Clubhouse | More predictions
ANALYST
PREDICTION
Kevin
Seifert
ESPN.com

DIVISION FINISH: 3 The Bears have some interesting pieces, from quarterback Jay Cutler to defensive end Julius Peppers to the running back tandem of Matt Forte and Chester Taylor. But can they put it all together quickly enough to challenge for supremacy in this division?
John
Clayton
ESPN.com

DIVISION FINISH: 3 As long as Mike Martz can cut down on Jay Cutler's interceptions and Mike Tice can build a protection scheme for his quarterback, the Bears can present an exciting offense. They'll need more offense because the Bears are no longer built to win on defense.

Adam
Schefter
ESPN

DIVISION FINISH: 4 It's not the Jay Cutler-Mike Martz relationship that fans should wonder about. Fans should wonder about who is going to give Cutler the time he needs to run Martz's offense.
Matt
Williamson
Scouts Inc.

DIVISION FINISH: 3 A potential surprise team, the Bears will play better than their record shows in the end. I believe in this passing game, and if Tommie Harris and Julius Peppers play up to their immense abilities, Chicago will be fine on defense.
Seth
Wickersham
ESPN The Magazine

DIVISION FINISH: 3 Last year's risky investment, Jay Cutler, won't excel in Mike Martz's anticipation-based, empty-formation offense. Not sure the $118 million the Bears spent on free agents this year (Julius Peppers, Chester Taylor) was wise either.
Intelligence Report
Five things you need to know about the Bears:
1. The weak link of this team is the offensive line: This group struggled last year but is still returning four of five starters to a new scheme that doesn't provide them with much help. New coordinator Mike Martz wants his tight ends and running backs in pass patterns, not helping with blitz pickup. That makes the job especially tough for new line coach Mike Tice, whose early answer has been to retrofit existing personnel. Roberto Garza moved from right guard to left guard, and Frank Omiyale has shifted from left guard to right tackle. But early preseason returns were not encouraging, especially from a pass protection standpoint.
2. Quarterback Jay Cutler has a tough task ahead of him: After throwing an NFL-high 26 interceptions last season, Cutler finds himself in a new offensive system that historically produced higher-than-average interception rates. In short, Martz's system is more of the high-risk, high-reward variety. Even Cutler admitted, "I'm going to throw some [interceptions] this year. I'm not going to lie about that." Kurt Warner once threw 40 interceptions over a 27-game stretch in this scheme.
3. Chris Harris needs to play strong safety: The Bears made safety one of their top offseason priorities, re-acquiring Harris from Carolina and using their top draft position on safety Major Wright. Harris has played both strong and free safety, but at this point in his career, he's best served near the line of scrimmage rather than playing center field. Harris would be a notable upgrade as a strong safety, but for that to happen, the Bears need Wright or another candidate to win the free safety job so Harris can remain at strong.
4. Receiver Johnny Knox is a natural in this offense: Speed is a virtue in any offense, but it's near-mandatory in the Martz scheme. Not only is Knox the Bears' fastest receiver, but he's also an underrated route runner who knows when to slow down and how to break. Early in training camp, he was far ahead of the equally explosive Devin Hester and Cutler was clearly favoring him in drills. That trend continued early in the preseason. Hester has since made some progress, and Devin Aromashodu has established himself as someone who deserves playing time as well. But if the Bears are going to have a No. 1 receiver this season, it will be Knox.
5. The jury is out on middle linebacker Brian Urlacher: A calf injury sidelined the former Defensive Player of the Year in the second preseason game, a relatively minor injury that nevertheless cost Urlacher some valuable playing time after missing 15 games last season. The question is not whether the injury will hamper him this season. It's whether Urlacher, at 32, will ever be an upper-echelon player again or if he is destined to finish out his career as an average player. Other than another injury, we really got no indication one way or the other from training camp and the preseason.
-- Kevin Seifert, ESPN.com
Scouts Inc.'s Fabulous Five
Scouts Inc. has evaluated and graded more than 2,500 NFL players heading into the season, giving Insiders a leg up on the competition with exclusive grades and scouting reports.

TOP FIVE PLAYERS
ANALYSIS
1. Julius Peppers
Defensive end
6-7 | 283
(Grade: 90) He is explosive off the ball and can use his long arms to control and shed blockers quickly.
2. Lance Briggs
Linebacker
6-1 | 242
(85) His great quickness, speed and agility make him an outstanding coverage defender. He has a good feel for route progressions and anticipates break points well to jump passes effectively.
3. Brian Urlacher
Linebacker
6-4 | 258
(82) Urlacher is still a physical and emotional leader of the Bears' defense when healthy. He is an explosive run stopper and an effective pass defender when not playing with nagging injuries.
4. Jay Cutler
Quarterback
6-3 | 233
(79) He has the physical talent to be one of the best quarterbacks in the league. When he's focused, Cutler can be dominant with his arm strength and ability to throw through small windows.
5. Tommie Harris
Defensive tackle
6-3 | 295
(78)Harris has above-average size with excellent athletic ability and deceptive strength, but he had the least productive year of his career in 2009.
Grading scale: Elite (90-100), outstanding (80-89), solid starter (75-79), good starter (70-74)
Draft Class Watch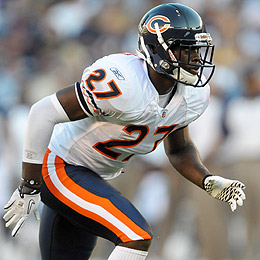 (Photo by Image of Sport/US Presswire)
Major Wright: Safety a work in progress.
Summary: Recent trades for quarterback Jay Cutler and defensive end Gaines Adams left the Bears without a first- or second-round pick. Knowing they wouldn't pick until the middle of the third round, the Bears scoured the country for second-level safeties and came up with one -- Florida's Major Wright -- they believe will be a permanent starter by the end of his rookie season. Defensive end Corey Wootton (Round 4), an elite pass-rusher at Northwestern, dropped because of concerns about his knee. The Bears then took a flyer on quarterback Dan LeFevour, a local product whose weak arm dropped him to Round 6. When rosters were cut to 53, he didn't make it.
What to expect: Wright was on track to be a Week 1 starter before a broken finger slowed his training camp progress. He is expected to be healed in time to play early in the season, and it's almost certainly a matter of time before he takes a starting job. Coaches were crowing about his instincts during training camp, and a relatively high draft pick taken at a position of need usually has a fast track to the field. Wootton could contribute as a situational pass-rusher, but the Bears were working this summer to overhaul his technique and hinted he must get stronger.
Project Webb: Offensive line coach Mike Tice likes to take on raw prospects to develop over time, and this year J'Marcus Webb (Round 7) fits that bill. At 6-foot-7 and 335 pounds, Webb has the build to develop into a tackle on either side of the ball. He probably needs to gain some weight and certainty get stronger, but a year spent with Tice as a reserve, or on the practice squad, could put him on his way.
-- Kevin Seifert, ESPN.com