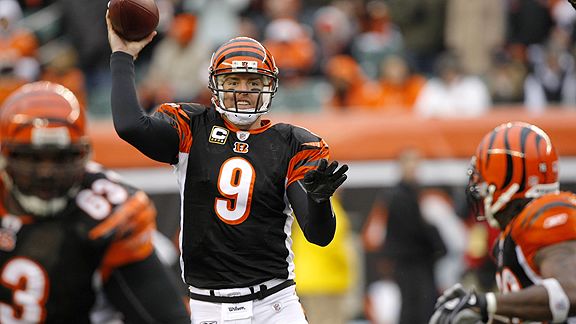 AP Photo/Ed Reinke
JOHN CLAYTON QB RANKING (10)
: Now in his eighth year, Carson Palmer has a chance to put up impressive numbers with what might be the best supporting cast of his career.
Expert Picks (Consensus: 1st)
The Bengals finished first in the AFC North last season with a 10-6 record. For more Bengals coverage, visit: James Walker's AFC North blog … on Twitter | Clubhouse | More predictions
ANALYST
PREDICTION
James
Walker
ESPN.com

DIVISION FINISH: 2 The Bengals have struggled for 28 years to put together back-to-back winning seasons, but this could be the year the streak ends. This is the deepest and most talented team in Marvin Lewis' tenure; this group should contend for a playoff spot once again.
John
Clayton
ESPN.com

DIVISION FINISH: 1 The Bengals won't go 6-0 in the division like last season, but they upgraded a good roster. Mike Zimmer's fourth-rated D looks even faster, and Carson Palmer has new passing-game weapons in Terrell Owens, Jermaine Gresham and Jordan Shipley.

Adam
Schefter
ESPN

DIVISION FINISH: 1 Landing Terrell Owens brought attention to a franchise that should have been getting plenty for its talent base. The Bengals are stacked.
Matt
Williamson
Scouts Inc.

DIVISION FINISH: 2 This is a really good team in all areas right now. I worry a little about the whole team makeup when things get tough, but Cincinnati could win it all this season.
Seth
Wickersham
ESPN The Magazine

DIVISION FINISH: 4 Lots of chemistry on defense. Lots of chemistry on offense, too -- if VH1 reality shows count. Which they don't.
Intelligence Report
Five things you need to know about the Bengals:
1. T.O. will mesh well in Cincy: The initial thought of pairing receivers Terrell Owens and Chad Ochocinco in Cincinnati might not be appealing to some. But there have been no issues so far, and the Bengals do not anticipate any. Owens is fitting in well with the Bengals. His friendship with Ochocinco certainly helps, as the two are not in competition for attention and receptions. Quarterback Carson Palmer's endorsement also helped Owens get instant credibility in the locker room. As long as the reigning AFC North champs are winning this season, this experiment should work.
2. Adam Jones will be a factor: Despite missing all of 2009, Jones already has established himself as one of the top athletes on the team. Jones looked rusty at times in the spring but was in great football shape once he returned for training camp. He has played aggressively at cornerback and looks natural as a kick returner. Jones needs to continue improving his technique, but look for the Bengals to work him into the defense. Jones probably will be Cincinnati's third cornerback to start the season behind starters Leon Hall and Johnathan Joseph.
3. The defense is legit: To most football observers, Cincinnati's defense came out of nowhere last season to be ranked No. 4 in the NFL. But for those who paid close attention to the Bengals, this unit was gradually built over the past several years. From 2006 through 2008, Cincinnati spent three consecutive first-round picks to add Joseph, Hall and linebacker Keith Rivers -- all starters. The Bengals also used a second-round pick on linebacker Rey Maualuga last year. Defensive coordinator Mike Zimmer molded this defense into a tough, hard-nosed unit, which finally came into its own last season. The Bengals are deep defensively and should be very good again this season.
4. Andre Smith remains a work in progress: It's too early to call Smith a draft bust. But entering his second season, the right tackle and former No. 7 overall pick in 2009 needs to get it together because he's quickly heading in that direction. Smith missed all of training camp last year with a lengthy contract dispute. A subsequent foot injury sidelined him for a majority of last season, and more foot surgery and weight issues this year kept him out until mid-August. Cincinnati invested a lot of money in Smith. But it's been one headache after another so far, and the Bengals are losing patience.
5. Backup QB an issue: You probably can say this about 70 percent of NFL teams, but Cincinnati lacks depth behind starting quarterback Carson Palmer. Jordan Palmer hasn't done much to inspire confidence this preseason. He has been inaccurate and turnover-prone against second- and third-string competition. If Carson Palmer goes down long term, the Bengals' season is over regardless. But there might be a situation in which Palmer misses only a game or two, and it would be nice if a backup stepped up. Perhaps rookie Dan LeFevour is the answer. The Bengals cut ineffective backup J.T. O'Sullivan and signed LeFevour, who was cut by the Bears.
-- James Walker, ESPN.com
Scouts Inc.'s Fabulous Five
Scouts Inc. has evaluated and graded more than 2,500 NFL players heading into the season, giving Insiders a leg up on the competition with exclusive grades and scouting reports.

TOP FIVE PLAYERS
ANALYSIS
1. Johnathan Joseph
Cornerback
5-11 | 190
(Grade: 84) Joseph had the most productive season of his four-year career in 2009. He has lived up to his high-profile, first-round draft status as a quality performer.
2. Leon Hall
Safety
5-11 | 195
(84) Hall has been an impact player for the Bengals' defense since entering the league three years ago. He has good athleticism for the position and is a very quick learner.
3. Chad Ochocinco
Wide receiver
6-1 | 192
(83) After a disappointing 2008 season, Ochocinco bounced back with excellent production in 2009. He is very fluid, runs crisp routes and was able to stretch the field more effectively in '09.
4. Bobbie Williams
Guard
6-4 | 345
(82) Williams has been a perennial starter for the Bengals since 2004. He is a wide-bodied guard with a lot of starting experience who gets by on his size, natural power and effort.
5. Carson Palmer
Quarterback
6-5 | 235
(80) Palmer bounced back from an injury in 2008 with a very solid season in 2009. He has excellent size and strength with enough athleticism to slide in the pocket to make plays downfield.
Grading scale: Elite (90-100), outstanding (80-89), solid starter (75-79), good starter (70-74)
Draft Class Watch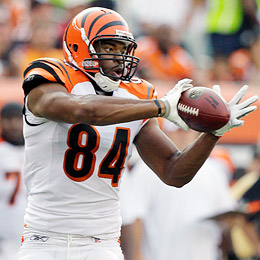 (AP Photo/Ed Reinke)
Jermaine Gresham: Starter from the start.
Summary: Keep an eye on Cincinnati's rookie class. The team plugged a lot of holes and added depth to key areas such as tight end and defensive line. Despite last season's success, the Bengals still are a young team with a lot of first- and second-year players.
What to expect: If training camp and the preseason were any indication, the Bengals' 2010 rookie class could make a big impact. First-round pick Jermaine Gresham will take over the starting role at tight end. Third-round receiver Jordan Shipley has been impressive with his sure hands and ability to get open in the middle of the field, and fourth-round defensive lineman Geno Atkins has been able to generate a pass rush and will work his way into the rotation. All three rookies are additions that will only make the Bengals stronger this season.
Fantasy value: Gresham would be a nice sleeper pick in fantasy leagues. Although he's probably the third or fourth option, he still is a starting tight end in a good offense. Spend your high picks on running backs and quarterbacks. But if Gresham is on the board late in the draft, don't hesitate to take him.
-- James Walker, ESPN.com