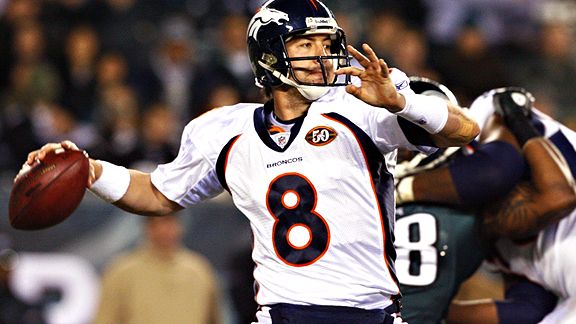 Jim McIsaac/Getty Images
JOHN CLAYTON QB RANKING (16)
: Kyle Orton quietly had a very productive year for the Broncos in 2009. He completed 62.1 percent of his passes and threw for 21 touchdowns.
Expert Picks (Consensus: 4th)
The Broncos finished second in the AFC West last season with an 8-8 record. For more Broncos coverage, visit: Bill Williamson's AFC West blog … on Twitter | Clubhouse | More predictions
ANALYST
PREDICTION
Bill
Williamson
ESPN.com

DIVISION FINISH: 4 There isn't much separating the Raiders, Chiefs and Broncos. But the Raiders and Chiefs made bigger strides in the offseason. The Broncos shouldn't be terrible, but there could be some hard times this season for a team that's young at key spots.
John
Clayton
ESPN.com

DIVISION FINISH: 3 The Broncos clearly are less talented on offense since the end of the Mike Shanahan era, but Kyle Orton holds things together. People forget he threw for more than 3,800 yards and his efficiency and leadership make him the second-best QB in this division.

Adam
Schefter
ESPN

DIVISION FINISH: 3 A team beset by injuries this summer is starting to get healthy. But it already has a healthy attitude. Veterans in Denver fully believe and trust in their head coach, Josh McDaniels.
Matt
Williamson
Scouts Inc.

DIVISION FINISH: 4 There wasn't a lot to work with here, but now the most crucial players on the team are injured to varying degrees. The difference between the second- and last-place teams in this division is minimal, but I don't see much to get excited about in Denver.
Seth
Wickersham
ESPN The Magazine

DIVISION FINISH: 3 You need a little bit of luck to be good. Injuries already have left the Broncos unlucky. You also need talent to be good. Broncos are short there, too.
Intelligence Report
Five things you need to know about the Broncos:
1. This is Kyle Orton's team: Orton has become an undisputed leader in Denver. He is well respected by players on both sides of the ball. He is not the rah-rah type. But he is vocal when needed and he is one of the hardest workers on the team. He earned his teammates' respect for the way he handled the additions of quarterbacks Brady Quinn and Tim Tebow this offseason. Orton responded by having a great offseason and the best training camp of his career. If Denver has a chance this year, it will be because of Orton's presence.
2. The offensive line is a work in progress: The Broncos are transitioning from the zone-blocking scheme of the Mike Shanahan era to the more traditional power-blocking scheme that coach Josh McDaniels used in New England. That means Denver needs bigger, stronger offensive linemen rather than the smallish, more athletic linemen used in Shanahan's system. Three veteran starters, tackles Ryan Clady (who may not be ready for the start of the season because of offseason knee surgery) and Ryan Harris, and guard Chris Kuper, are all big enough to make the transition. The Broncos are going to use rookies Zane Beadles (guard) and J.D. Walton (center) in the starting lineup as well. This group has a chance to be good and help establish the ground game McDaniels wants. But with the youngsters, it may take some time.
3. Jamal Williams will play as much as he possibly can: With star pass-rusher Elvis Dumervil, who led the NFL with 17 sacks last season, out until at least December with a torn pectoral muscle, the Broncos are going to have to rely on their interior line to provide a push. That means massive nose tackle Jamal Williams will be expected to be the igniter of this defense. In his prime, Williams was an elite player who was dominant against the run. However, he is 34 and he played only one game last season. So, it will be a lot to ask of Williams to maintain a major role all season. But the Broncos really need him to establish a presence on run defense.
4. Jabar Gaffney is a key: The Broncos are going to miss Brandon Marshall's production. He had 100-plus catches in three of his four seasons in Denver. The Broncos have an intriguing group of young receivers, especially with rookies Demaryius Thomas and Eric Decker and third-year player Eddie Royal. However, a lot will be expected of Gaffney. He is an underrated player who thrives in McDaniels' system. Expect him to be a big part of the offense.
5. Perrish Cox will play a big role: The Broncos are excited about the fifth-round pick from Oklahoma State. He had an outstanding training camp and Denver thinks he's ready for prime time. Cox will be Denver's nickel cornerback and return man. Cox has completely outplayed second-year cornerback Alphonso Smith, whom the Broncos traded their 2010 first-round pick to select at No. 37 in the 2009 draft.
-- Bill Williamson, ESPN.com
Scouts Inc.'s Fabulous Five
Scouts Inc. has evaluated and graded more than 2,500 NFL players heading into the season, giving Insiders a leg up on the competition with exclusive grades and scouting reports.

TOP FIVE PLAYERS
ANALYSIS
1. Champ Bailey
Cornerback
6-0 | 192
(Grade: 89) Bailey has lost a step over the years but still has elite cover skills as he has learned to rely on technique and instincts almost as much as raw physical skills.
2. Ryan Clady
Offensive tackle
6-6 | 325
(89) Clady is a rare athlete for his size and knows how to use his long arms to control and steer opponents by the pocket.
3. D.J. Williams
Linebacker
6-1 | 242
(84) Williams can come off the edge with an explosive burst of speed or can slip through small creases when blitzing the quarterback.
4. Brian Dawkins
Safety
6-0 | 210
(82) Dawkins has definitely lost a step over the years, but he has learned to compensate with instincts and angles and is still a quality last man on defense.
5. Elvis Dumervil
Linebacker
5-11 | 248
(79) Dumervil is a rare athlete who can be explosive off the line and accelerates around the corner to pressure the pocket.
Grading scale: Elite (90-100), outstanding (80-89), solid starter (75-79), good starter (70-74)
Draft Class Watch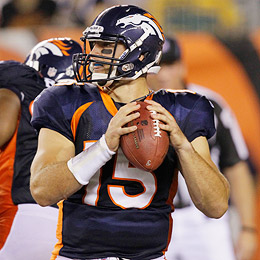 (AP Photo/Ed Reinke)
Tim Tebow: Will be used in packages.
Summary: The Broncos' draft class is dominated by Tim Tebow. When Denver traded three picks to move up to No. 25 and take the polarizing former Heisman Trophy winner, all eyes were centered on Tebow. However, there is more to Denver's nine-man class than just Tebow, who will be used in special packages this season, including in the red zone and perhaps in the Wildcat formation. Three picks before taking Tebow, Denver took receiver Demaryius Thomas. He is expected to make an instant impact. Denver also addressed the receiver position in the third round by taking Eric Decker. Like Thomas, Decker is working his way back from a foot injury. However, he has strong long-term potential. The Broncos also took three offensive linemen as they transform from a zone-blocking offense to a more power-blocking scheme.
What to expect: We will see a lot of contributions from this class. By early in the season, I wouldn't be surprised if Thomas, guard Zane Beadles and center J.D. Walton are all starters. Denver is counting on Beadles and Walton to make instant contributions. Decker and cornerback Perrish Cox are also expected to play right away. Decker has a chance to be a strong possession receiver as a rookie. Cox, a fifth-round pick, has wowed coaches with a strong training camp. He has very good instincts and solid cover skills. He probably will be the nickel cornerback. Cox is also a skilled return man.
Class MVP: If he can stay healthy, Thomas will make a quick impact. He is a big, strong player. If he can adjust quickly to running NFL routes, he can be special very quickly. There have been practices where he simply takes over. Denver needs an impact receiver to replace Brandon Marshall. It looks as though Thomas can be the man.
-- Bill Williamson, ESPN.com