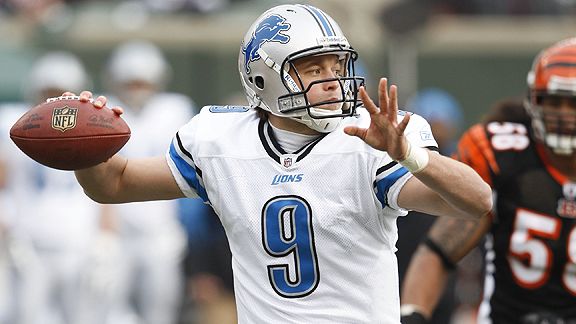 Frank Victores/US Presswire
JOHN CLAYTON QB RANKING (27)
: Matthew Stafford had a tough rookie season in 2009, but he showed flashes. An improved supporting cast gives Stafford a chance to make strides in 2010.
Expert Picks (Consensus: 4th)
The Lions finished fourth in the NFC North last season with a 2-14 record. For more Lions coverage, visit: Kevin Seifert's NFC North blog... on Twitter | Clubhouse | More predictions
ANALYST
PREDICTION
Kevin
Seifert
ESPN.com

DIVISION FINISH: 4 A fruitful offseason has brought competence to the defensive line and a new level of explosion on offense. The Lions are a better team than they were last year, but there are still major holes on defense and a long road ahead.
John
Clayton
ESPN.com

DIVISION FINISH: 4 The Lions could have the second-most improved offense in the division behind the Bears with Matthew Stafford opening up an offense that consisted of Calvin Johnson getting triple-coverage. But on defense, the Lions are toothless at LB and in the secondary.

Adam
Schefter
ESPN

DIVISION FINISH: 3 It's about time all those high picks started paying off. This is the season that not only will the roar be restored, but so will hope.
Matt
Williamson
Scouts Inc.

DIVISION FINISH: 4 The Lions will have one of the worst defenses in the league in 2010, but all the pieces are in place for an up-and-coming offense. Baby steps, Lions fans. Respectability might just be one more excellent offseason away.
Seth
Wickersham
ESPN The Magazine

DIVISION FINISH: 4 The Lions have hope. And if Matthew Stafford continues to improve, the Lions will begin to sell out Ford Field, avoiding blackouts and giving fans in a depressed city something to cheer. No small thing.
Intelligence Report
Five things you need to know about the Lions:
1. The Lions will be solid on offense this season: That conclusion seemed evident after viewing the team's impressive collection of offensive skill players, from receivers Calvin Johnson and Nate Burleson to tight ends Brandon Pettigrew and Tony Scheffler to running back Jahvid Best. All are blessed with playmaking abilities and, to various degrees, are threats to score at all times. Offensive coordinator Scott Linehan likes to throw the ball downfield and has commanded high-scoring offenses in Minnesota and Miami. If quarterback Matthew Stafford can make the second-year jump many expect, this offense will have firepower.
2. The defense is going to need every bit of that firepower: There is no doubt the defense is much improved following the additions of Ndamukong Suh, Kyle Vanden Bosch and Corey Williams. But the linebackers and secondary are largely untested and, in some cases, the result of patchwork personnel work. Linebacker Julian Peterson and safety Louis Delmas are the only proven players among the seven who will start between the two positions. Even a good pass rush gets stymied regularly, and when that happens, it's hard to imagine the players behind the line picking up enough slack. If they do, go ahead and name coach Jim Schwartz and defensive coordinator Gunther Cunningham the NFL's co-magicians of the year.
3. Concerns about the Lions' offensive line have faded: During their 0-16 season in 2008, the Lions' offensive and defensive lines seemed equally inept. The team, however, clearly didn't agree. It overhauled the defensive line last winter but made only one move on the other side, acquiring Rob Sims from the Seattle Seahawks to fill a long-standing hole at left guard. They've also staged a competition at right tackle between Gosder Cherilus and Jon Jansen, but for the most part the Lions appear to trust the players they have in place. It's an important leap, considering the importance of protecting Stafford and the team's $41.7 million investment in him. Center Dominic Raiola and left tackle Jeff Backus aren't always fan favorites, but they remain fundamental building blocks of this offense.
4. Stafford must lower his interception total: The only reason his 2009 interception rate didn't get more notoriety is that he played in only 10 games. But Stafford still threw 20 over that span, which projects to 32 over a 16-game season. No matter who was at fault for those mistakes last season, Stafford can't be the quarterback the Lions need him to be if he's involved in that many turnovers. Schwartz believes the frequency will decrease as the Lions improve the team around him, and that's true to an extent. But Stafford concedes he also must work on patience and recognizing that not every play is going to gain 25 yards. Sometimes, you throw it away and live to play another down.
5. The Lions need safety Louis Delmas to be a beast: That's a particularly tall order for a player who missed most of the summer because of a two-month-old groin injury. But given the uncertainty surrounding him in the defensive backfield and even at linebacker, Delmas is one of the Lions' few known quantities. He is a ferocious hitter with a competitive attitude and enough speed to stay with most receivers in coverage. There is widespread disagreement about the importance of safeties in the NFL, but make no mistake here: Delmas' role in Detroit is huge.
-- Kevin Seifert, ESPN.com
Scouts Inc.'s Fabulous Five
Scouts Inc. has evaluated and graded more than 2,500 NFL players heading into the season, giving Insiders a leg up on the competition with exclusive grades and scouting reports.

TOP FIVE PLAYERS
ANALYSIS
1. Calvin Johnson
Wide receiver
6-5 | 236
(Grade: 89) He has developed his overall route running and understands how to use his length and strength to get separation as well as outmuscle defenders for the ball. Johnson has deceptive push and speed off the line of scrimmage. He eats up defenders' cushion and stretches deep zones.
2. Louis Delmas
Safety
5-11 | 202
(79) Delmas is a short, well-built player with good strength and athleticism. He is an instinctive player who understands angles and how to leverage the ball.
3. Jeff Backus
Offensive tackle
6-5 | 305
(75) He is a solid reactor to stunts and twists and is able to transition well to a variety of pass-rush moves and counters. He anchors effectively against powerful bull rushers and shows good pop and jolt as a run-blocker at the point of attack.
4. DeAndre Levy
Linebacker
6-2 | 238
(74) He can navigate through traffic and has a knack for keeping his feet clean. Levy must continue to develop as a pass defender but has the tools to improve in this area.
5. Rob Sims
Guard
6-3 | 312
(74) He lacks the kind of agility and quickness to be effective in space or on long pulls, but he does a good job when matched up in a zone-blocking scheme. He has good quickness and does a good job of playing with leverage and body control in a short area.
Grading scale: Elite (90-100), outstanding (80-89), solid starter (75-79), good starter (70-74)
Draft Class Watch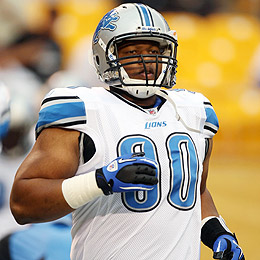 (Photo by Jason Bridge/US Presswire)
Ndamukong Suh: Instant DT starter.
Summary: For the second consecutive year, the Lions grabbed two blue-chip, immediate starters in the first round. They took the consensus top player in the draft, defensive tackle Ndamukong Suh, with the No. 2 overall pick and then traded back into the first round to grab running back Jahvid Best at No. 30. Cornerback Amari Spievey (Round 3) has nice size and is a physical presence, and there is hope for the development of offensive lineman Jason Fox (Round 4) and defensive end Willie Young (Round 6).
What to expect: Suh and Best have worked with the first team since their first practices of training camp. Both will start and contribute a new level of playmaking to their respective positions. Depending on the players around them, both could be candidates for the NFL's Rookie of the Year awards. Best, especially, should help open up the Lions' offense. Spievey, along with every other cornerback on the Lions' patchwork defensive roster, has a chance to start at some point but was limited by injuries in training camp.
See ya, Mr. Irrelevant: Tim Toone was the final overall pick of the 2010 draft, granting him all the honors associated with being Mr. Irrelevant. But the Lions actually had plans for him from the start of training camp, giving him extensive work as a punt and kickoff returner. Listed at 5-foot-10, Toone is pretty compact and can get lost among bigger men in coverage. He also projected as a situational slot receiver. Toone, however, didn't make the final cut.
-- Kevin Seifert, ESPN.com