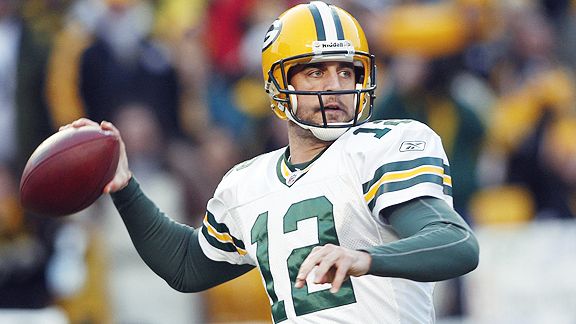 Jerry Lai/US Presswire
JOHN CLAYTON QB RANKING (6)
: Aaron Rodgers was among the league leaders in every significant passing category in 2009. He has 58 TD passes in two seasons as Green Bay's starter.
Expert Picks (Consensus: 1st)
The Packers finished second in the NFC North last season with an 11-5 record. For more Packers coverage, visit: Kevin Seifert's NFC North blog ... on Twitter | Clubhouse | More predictions
ANALYST
PREDICTION
Kevin
Seifert
ESPN.com

DIVISION FINISH: 1 The Packers enter 2010 as a trendy Super Bowl contender. Quarterback Aaron Rodgers is responsible for much of that optimism, but the Packers are well-rounded and highly motivated to grab the division back from Minnesota.
John
Clayton
ESPN.com

DIVISION FINISH: 1 It has been three years since the Packers won the division, but coach Mike McCarthy and GM Ted Thompson can rejoice now that Rodgers is one of the league's top QBs and the Packers are loaded on offense and defense.

Adam
Schefter
ESPN

DIVISION FINISH: 1 Rodgers is the best young quarterback in football. Now Green Bay is set up for Life After Favre ... if only it can take No. 4 down this season.
Matt
Williamson
Scouts Inc.

DIVISION FINISH: 1 The Packers are right there with New England with this high-powered offense. In fact, it is flawless. I worry a lot about the pass defense, but Rodgers is ready to lead his squad to the Super Bowl this season.
Seth
Wickersham
ESPN The Magazine

DIVISION FINISH: 1 No joke: By the end of this season, many analysts -- smart ones -- will be calling Rodgers the NFL's best QB. Not the best young QB. The best.
Intelligence Report
Five things you need to know about the Packers:
1. Quarterback Aaron Rodgers is on the brink of elite status: Rodgers is the only quarterback in NFL history to open his career with consecutive 4,000-yard seasons. He's proved to be an exceptionally accurate passer, a near-perfect decision-maker and also surprises defenses with his downfield mobility. The most humbling thing we can say about Rodgers is that he sometimes holds the ball too long waiting for plays to develop, leading to sacks rather than incompletions into the first row of the stands. The final step in Rodgers' ascendance is to lead his team deep into the playoffs and eventually to the Super Bowl.
2. The Packers could still be vulnerable against the pass: We all know the outlandish numbers the Packers gave up last season to Pittsburgh Steelers quarterback Ben Roethlisberger (503 yards) and Arizona Cardinals quarterback Kurt Warner (five touchdowns). The team mostly stood pat from a personnel standpoint, and during the preseason it was unclear if the more subtle measures the Packers took to improve have done the trick. Safety Atari Bigby is sidelined by an ankle injury, forcing rookie Morgan Burnett into the starting lineup. Veteran cornerback Al Harris is still recovering from knee surgery. Nose tackle B.J. Raji wasn't the playmaking force the Packers hope he will be. The jury is still out.
3. Bryan Bulaga is going to get on the field sooner rather than later: The Packers' first-round draft pick is considered the team's long-term answer at left tackle. But he was impressive early in training camp working behind starter Chad Clifton, and the Packers' offensive line wasn't good enough last year to keep any talented player on the bench. So coaches made the difficult decision to give him a look at left guard this summer. Whether or not Bulaga eventually beats out incumbent Daryn Colledge, it's clear the Packers are itching to get Bulaga on the field -- somewhere -- this year.
4. The Packers worked hard this summer to improve their special teams coverage units: Coach Mike McCarthy devoted an extra 10 minutes to special teams for every training camp practice, a big number in the structured world of the NFL. They held a spirited punting competition, expressed supreme confidence in once-shaky kicker Mason Crosby and opened the door for any and all comers to take over the kickoff and punt return duties. The Packers ranked near the bottom of most NFL special teams rankings last season, and if effort matters, they'll move up the ladder this season.
5. If they get their pass defense straight and even out their special teams, the Packers are stacked and ready for a Super Bowl run: It's not often that a team pairs a 4,000-yard passer (Rodgers) with a 1,200-yard runner (Ryan Grant). The Packers also have one of the NFL's most underrated receivers in Greg Jennings as well as a tight end (Jermichael Finley) who emerged late last season as one of the top pass-catchers at his position in the league. Finley can single-handedly create mismatches all over the field for the Packers, and McCarthy's play-calling smarts should take advantage. This team is ready for big things.
-- Kevin Seifert, ESPN.com
Scouts Inc.'s Fabulous Five
Scouts Inc. has evaluated and graded more than 2,500 NFL players heading into the season, giving Insiders a leg up on the competition with exclusive grades and scouting reports.

TOP FIVE PLAYERS
ANALYSIS
1. Aaron Rodgers
Quarterback
6-2 | 225
(Grade: 85) He has good vision and nice ability to read defenses. He can improvise when plays break down.
2. Charles Woodson
Cornerback
6-1 | 202
(85) Although he appears to have lost some speed, Woodson still is a good combination of size, strength and athleticism.
3. Greg Jennings
Wide receiver
5-11 | 198
(84) He has average size with excellent athleticism and deceptive strength. He is a versatile player who can align in different areas within the offense.
4. Clay Matthews
Linebacker
6-3 | 255
(82) He is an excellent combination of size, strength and athleticism for the linebacker position. He is a solid tackler, using proper body position and wrapping up well in the open field.
5. Nick Collins
Safety
5-11 | 207
(78) He is an instinctive player who understands angles and how to leverage the ball in run support as well as in coverage.
Grading scale: Elite (90-100), outstanding (80-89), solid starter (75-79), good starter (70-74)
Draft Class Watch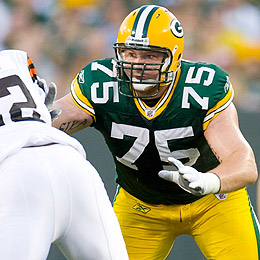 (Photo by Jeff Hanisch/US Presswire)
Bryan Bulaga: Will make O-line impact.
Summary: Positioned at No. 23 overall, the Packers didn't have high hopes for drafting a top-flight left tackle. But Bulaga was surprisingly still available, and the Packers snatched him up. He will eventually replace starter Chad Clifton, but he was impressive enough during training camp that the Packers threw him into a competition at left guard with incumbent Daryn Colledge. They also targeted two potential defensive starters in defensive end Michael Neal (Round 2) and safety Morgan Burnett (Round 3).
What to expect: One can only assume that the Packers really want to get Bulaga on the field somewhere. Clifton has been injury-prone in recent years, so the issue could take care of itself. If not, Bulaga could find himself at guard at some point this year. Neal provides depth following the suspension of former starter Johnny Jolly, and Burnett has worked with the first team throughout the summer because of starter Atari Bigby's ankle problems. With a good early showing, Burnett could retain the job even after Bigby returns.
Upside down: The Packers drafted two offensive players with huge upside from a playmaking perspective: tight end Andrew Quarless (Round 5) and running back James Starks (Round 6). But it's not clear if either player is ready to make an impact. Quarless spent most of the summer looking up on the depth chart of a talented position. Starks, meanwhile, did almost nothing this summer because of a hamstring injury. He hasn't played much football at all in the past year after missing most of last season at Buffalo because of a shoulder injury.
-- Kevin Seifert, ESPN.com