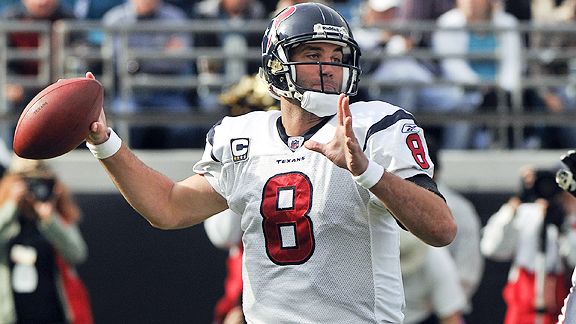 Fernando Medina/US Presswire
JOHN CLAYTON QB RANKING (14)
: Matt Schaub finally stayed healthy in 2009 and managed to throw for a league-high 4,770 yards. The goal now is to deliver Houston a playoff berth.
Expert Picks (Consensus: 3rd)
The Texans finished second in the AFC South last season with a 9-7 record. For more Texans coverage, visit: Paul Kuharsky's AFC South blog … on Twitter | Clubhouse | More predictions
ANALYST
PREDICTION
Paul
Kuharsky
ESPN.com

DIVISION FINISH: 3 They play a tougher schedule and are without Brian Cushing for the first four games. If they get into the playoffs, it will be as a wild card behind the Colts. If they miss the postseason, public pressure for a coaching change will be intense.
John
Clayton
ESPN.com

DIVISION FINISH: 3 They finally got over the hump with last season's 9-7 record, but a tough schedule and the loss of Dunta Robinson could hold them back this season. What would be nice is a winning record in division games, something that hasn't happened since 2004.

Adam
Schefter
ESPN

DIVISION FINISH: 2 Houston is inching closer and closer every year, but the Texans have struggled to get to that next level and must figure out the way there.
Matt
Williamson
Scouts Inc.

DIVISION FINISH: 3 I see the Texans as a team primed to go backward. Where are they better this season than they were a year ago? There is plenty of young talent here and that group could take a step forward, but I also have my doubts about Matt Schaub's durability.
Seth
Wickersham
ESPN The Magazine

DIVISION FINISH: 2 A 4,000-yard passer. A lights-out pass-rusher. Arguably the best receiver in football. Lots of talented pieces here and there. The Texans have built a team the right way and -- no joke -- a wild-card-to-Super Bowl berth run will be the reward.
Intelligence Report
Five things you need to know about the Texans:
1. Gary Kubiak is under pressure: The Texans have some premier talent, but there are question areas and depth issues that don't appear to have been sufficiently addressed. The city and fan base have grown sick of undelivered playoff promises. This season might be a referendum on Kubiak, his staff, their approach and their schemes. Kubiak is a mellow coach the players like. But a team generally takes on the personality of its coach. Is Kubiak why the Texans often seem to lack killer instinct and sufficient fervor? Should he at least have a top lieutenant who is fire to his ice?
2. Fumbles can kill Steve Slaton: It was an issue last season, but neck surgery that dealt with arm numbness was supposed to cure the problem. So a fumble in the preseason opener was a big cause for concern. The Texans need a run game to supplement the passing offense. If it comes with a risk of the ball winding up on the turf, Houston is going to be living nervously. That's going to be true even if Slaton is more of the change-of-pace guy in the backfield and catching passes.
3. Darryl Sharpton can play: Of course the Texans will suffer a drop-off without suspended LB Brian Cushing for the first four games. But it looks as if the rookie Sharpton will get into the lineup while the reigning defensive rookie of the year is out. Sharpton took advantage of injuries to veterans, and his early preseason performance put the team at ease about having a capable replacement -- so much so that the Texans will flip Zac Diles to Cushing's strongside spot to open the weakside for Sharpton if they judge that to be their best scenario.
4. Matt Schaub and Andre Johnson want to be linked: They expect to have a long time left playing together and would like to become known as one of the great quarterback-receiver duos of their generation. They understand each other. Schaub can make all the throws Johnson needs, and Johnson is able to produce in a consistent way that dictates a lot about how defenses deploy their people against the Texans. To keep it going, the inside protection needs to be better and the other receivers need to be able to take advantage of one-on-one coverage.
5. Kicker will be a big deal: Kris Brown, put on injured reserve Saturday, missed a lot of big chances last season to win or force overtime. Neil Rackers has won the kicking job for now. He needs to start the season confident, and connect on something long and important early. Like the fumbling issue, bad kicking mojo cannot linger or it will exasperate the team and sap a lot of energy from the whole organization.
-- Paul Kuharsky, ESPN.com
Scouts Inc.'s Fabulous Five
Scouts Inc. has evaluated and graded more than 2,500 NFL players heading into the season, giving Insiders a leg up on the competition with exclusive grades and scouting reports.

TOP FIVE PLAYERS
ANALYSIS
1. Andre Johnson
Wide receiver
6-3 | 228
(Grade: 94) He has a rare combination of size, speed, athleticism and receiving skills.
2. Mario Williams
Defensive end
6-6 | 285
(91) He is explosive off the ball and has developed a nice array of counter moves when speed and acceleration alone won't do it.
3. Brian Cushing
Linebacker
6-3 | 260
(85) Cushing makes plays going downhill, and is aggressive when taking on blockers and making tackles.
4. DeMeco Ryans
Linebacker
6-1 | 250
(84) Ryans is quick to step up and take on blockers in the hole, and does a good job of using his hands to ward off and shed blockers.
5. Matt Schaub
Quarterback
6-5 | 240
(80) Schaub has a good arm that allows him to make all the throws asked of him but lacks the cannon needed to throw the ball through tight windows.
Grading scale: Elite (90-100), outstanding (80-89), solid starter (75-79), good starter (70-74)
Draft Class Watch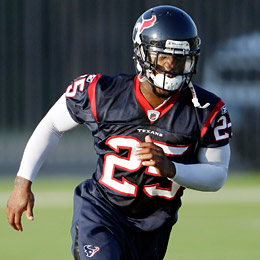 (AP Photo/David J. Phillip)
Kareem Jackson: High expectations.
Summary: The Texans drafted for a lot of spots of need, especially high, with their first three picks used on cornerback Kareem Jackson, running back Ben Tate and defensive tackle Earl Mitchell. Jackson is a physical defender who's been a starter from day one, Tate was lost for the season with an ankle injury in the preseason opener and Mitchell will have a chance to rush on third downs, perhaps supplanting Amobi Okoye at least some.
What to expect: There is room for contribution. Jackson has to be good for the team to have a chance, Mitchell should be part of the interior line rotation and linebacker Darryl Sharpton could start the first four games with Brian Cushing out. Garrett Graham could be Owen Daniels' replacement beyond this season if the team can't lock up Daniels long term. Cornerback Sherrick McManis could get an opportunity if one of the top three at the position struggles or gets hurt.
Projects: The team spent sixth- and seventh-round picks on developmental guys. Return man Trindon Holliday is lost for the season with a thumb injury. Dorin Dickerson, a tight end at Pitt, is a receiver now. Since the Texans are reasonably deep at the spot, he'll have time to adjust and get comfortable. Whether that's on the 53-man roster or as a practice squad guy, it seems too early to tell.
-- Paul Kuharsky, ESPN.com