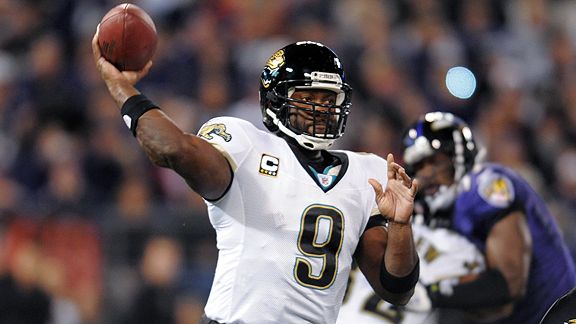 James Lang/US Presswire
JOHN CLAYTON QB RANKING (20)
: David Garrard sometimes struggles with accuracy, but he offers good leadership and the ability to complete 60 percent of his passes.
Expert Picks (Consensus: 4th)
The Jaguars finished fourth in the AFC South last season with a 7-9 record. For more Jaguars coverage, visit: Paul Kuharsky's AFC South blog … on Twitter | Clubhouse | More predictions
ANALYST
PREDICTION
Paul
Kuharsky
ESPN.com

DIVISION FINISH: 4 They don't yet have the playmakers, depth or coaching to move up in a tough and talented division. That doesn't mean they aren't a better team than last season's fourth-place 7-9 outfit that collapsed late.
John
Clayton
ESPN.com

DIVISION FINISH: 4 General manager Gene Smith continues to slowly upgrade the roster, but the improvement might not be fast enough for Jack Del Rio to get enough wins to stay past this season. Both Del Rio and quarterback QB David Garrard are on the hot seat.

Adam
Schefter
ESPN

DIVISION FINISH: 4 As long as there are questions about the inconsistency of the quarterback, there will be questions about the inconsistency of the franchise. (Feel free to apply this to any teams with QB questions.)
Matt
Williamson
Scouts Inc.

DIVISION FINISH: 4 The young receivers and offensive linemen should improve, but I still don't see the defense as being good enough to keep Jacksonville out of the basement in the AFC South.
Seth
Wickersham
ESPN The Magazine

DIVISION FINISH: 3 Good news: Unlike last season and 2006 and 2004, the Jags won't collapse down the stretch. Bad news: It's because they won't have a winning record to collapse from.
Intelligence Report
Five things you need to know about the Jaguars:
1. The defensive line will be a tone setter: Joe Cullen's chance to resurrect his career as the Jaguars' defensive line coach comes with a determination that a revived pass rush will establish a standard for everyone. We don't yet know whether Aaron Kampman is the same player from before his knee injury or whether the high draft picks, starting with Tyson Alualu, can deliver as rookies. But this group will produce a better pass rush and always provide a lot of energy.
2. Mike Thomas will be dangerous: He's not ideal as the No. 2 wideout. A bigger, faster guy like Troy Williamson who can threaten downfield more would be better. But whether Thomas is the slot guy or a starter in the base offense, he can be electric with the ball in his hands and I expect offensive coordinator Dirk Koetter to get it there often. Get him in space on short routes or end-arounds, and watch for him to break some tackles and run away from some people.
3. The safeties are a huge question mark: Reggie Nelson wasn't back to form, and he was traded to Cincinnati. Right now the starting pairing would come from Anthony Smith, Sean Considine, Tyron Brackenridge and Courtney Greene. Peyton Manning and Matt Schaub will be eager to test center field against this defensive backfield.
4. Running right: I liked when the Jaguars flipped Vince Manuwai to right guard to create a strong run side. Manuwai and right tackle Eben Britton can be great run-blockers. Sending Maurice Jones-Drew to the right behind them, Marcedes Lewis and Greg Jones, and daring defenses to stop him seems a smart element to the run game. But Manuwai has not been the same player he was before a serious knee injury at the start of 2008. The interior line remains in flux.
5. Garrard and Del Rio watch: Even if David Garrard plays well, I expect the Jaguars to be drafting a quarterback in the first round in the spring. He will be 33 and has played enough that the Jaguars know his ceiling. The franchise needs more upside at the spot. And this is a final chance for Del Rio to prove he deserves to grow his tenure. A poor season, and there will be a lot of pressure to make a change. Owner Wayne Weaver can't let fans dictate what he does, but if it's a bad season he might need to make a move to appease his most loyal people and to keep interest up with an offseason storyline.
-- Paul Kuharsky, ESPN.com
Scouts Inc.'s Fabulous Five
Scouts Inc. has evaluated and graded more than 2,500 NFL players heading into the season, giving Insiders a leg up on the competition with exclusive grades and scouting reports.

TOP FIVE PLAYERS
ANALYSIS
1. Maurice Jones-Drew
Running back
5-7 | 208
(Grade: 84) Jones is lacking in length and height, but has thick, powerful legs that allow him to play bigger than he measures. He is very quick footed and shows a good burst of acceleration through the hole.
2. Aaron Kampman
Defensive end
6-4 | 260
(83) Kampman is recovering from an ACL injury that limited him to nine games in 2009. He is a player who can align as a defensive end in a 4-3 scheme or play an outside linebacker position in the 3-4.
3. Rashean Mathis
Cornerback
6-1 | 193
(81) He is a good-sized corner with above-average straight-line speed and good foot quickness, agility and body control. He can extend the cushion with a fluid, easy backpedal, and flips his hips quickly to turn and run with receivers.
4. Daryl Smith
Linebacker
6-2 | 249
(79) Smith has been a versatile, productive linebacker who has started at both the outside and inside positions. He has good size for the position along with excellent speed, and above-average quickness, agility and balance.
5. Mike Sims-Walker
Wide receiver
6-2 | 214
(75) Walker is a good-sized receiver with excellent straight-line speed. He still is in the process of learning how to run routes, set up defenders and adjust his routes as he reads coverages.
Grading scale: Elite (90-100), outstanding (80-89), solid starter (75-79), good starter (70-74)
Draft Class Watch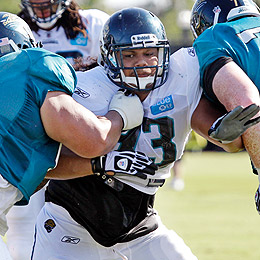 (AP Photo/John Raoux)
Tyson Alualu: Much expected early.
Summary: The Jaguars went defensive-line heavy, spending their first four picks there, including No. 10 overall on Tyson Alualu. Tackle D'Anthony Smith will miss the year with an Achilles injury. But ends Larry Hart and Austen Lane will get snaps. General manager Gene Smith had only two picks beyond that, and the team is excited about Deji Karim and Scott McGee as return men. If the line can help improve third-down stops and the return game can provide better field position, the offense will be set up for more success.
What to expect: It'll be a huge disappointment if Alualu isn't a noise maker from the opening series of the opening game against Denver, where he will have spent a week hearing about how the team passed on Tim Tebow when choosing him 10th. He's got a very quick first step and nice quickness for a guy his size, and he could wind up being a great interior piece next to the massive Terrance Knighton, a third-rounder from last season.
Trading picks for players: The Jaguars lacked a seventh-rounder because they traded it to Miami last year for veteran backup quarterback Luke McCown. After the linebacker they coveted, Sean Lee of Penn State, went to the Cowboys in the second round, they traded their fourth-rounder to Oakland for a fifth-rounder and veteran middle linebacker Kirk Morrison. And guard Justin Smiley came to Jacksonville in a trade for a late-round pick in 2011. Smith isn't afraid to go get veterans he feels can supplement the core of the team, which will come from the draft.
-- Paul Kuharsky, ESPN.com