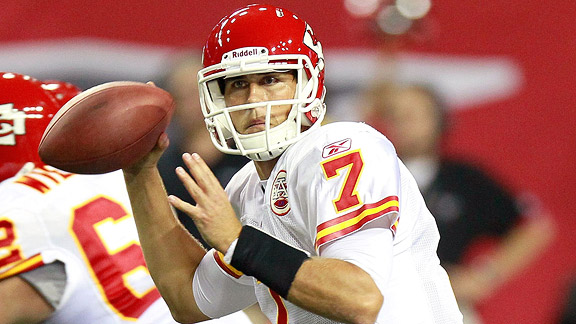 Kevin C. Cox/Getty Images
JOHN CLAYTON QB RANKING (22)
: Matt Cassel struggled in his first season with the Chiefs, but an improved supporting cast offers hope for the sixth-year quarterback in 2010.
Expert Picks (Consensus: 3rd)
The Chiefs finished fourth in the AFC West last season with a 4-12 record. For more Chiefs coverage, visit: Bill Williamson's AFC West blog … on Twitter | Clubhouse | More predictions
ANALYST
PREDICTION
Bill
Williamson
ESPN.com

DIVISION FINISH: 3 This offense has a chance to be much improved. The Chiefs are slowly building a decent team. The only thing that worries me is the front seven on defense. If it struggles again, it could be a long season.
John
Clayton
ESPN.com

DIVISION FINISH: 4 The Chiefs are trying to build a winning franchise the right way, so they may improve only a game or two from their 4-12 2009 season. Too bad they couldn't improve the roster as rapidly as they improved the coaching staff with Romeo Crennel and Charlie Weis.

Adam
Schefter
ESPN

DIVISION FINISH: 4 Scott Pioli and Todd Haley faced a monumental task when they took over, and they now are on their way to restoring and rebuilding this franchise.
Matt
Williamson
Scouts Inc.

DIVISION FINISH: 2 The Chiefs will improve dramatically this year -- on offense. It's imperative that the young D-line steps up, but there have been very few signs to say that's a certainty. I'm excited about the secondary and Tamba Hali, but this defense is a long way away.
Seth
Wickersham
ESPN The Magazine

DIVISION FINISH: 2 The Chiefs have just enough talent to make the Chargers sweat. But they'll have to clear the first five games (San Diego, Cleveland, San Francisco, Indianapolis, Houston) with at least a 2-3 record. Iffy.
Intelligence Report
Five things you need to know about the Chiefs:
1. The Chiefs will be aggressive on offense: New offensive coordinator Charlie Weis is going to make this unit dangerous. The Chiefs have a much better overall unit this season than last year. Considering that Kansas City's offense was much improved in the second half of last season, there is reason to be excited. Weis is going to use a potentially dominant run game to set up Matt Cassel's passing game. Last year, in his first season in Kansas City, Cassel ran a pretty conservative offense. Expect the Chiefs to try to set the tone more this season.
2. Jamaal Charles and Thomas Jones will play a lot: Chiefs fans have made a lot of the fact that free-agent pickup Jones was first on the depth chart in training camp despite the fact that Jamaal Charles was a star in the second half of last season. This really is going to be moot. Jones was signed to help Charles and give Kansas City a balanced running attack of the powerful Jones and the flashy Charles. Both players will get a slew of carries as Kansas City will try to wear down defenses on the ground.
3. The offensive line will be tougher: The offensive line improved steadily last season and it should be in good shape this season. The team added center Casey Wiegmann and guard Ryan Lilja. These are two hard-hat type players, savvy veterans who will be a strong presence on the line. Their professional influence should really help young left tackle Branden Albert, who is looking to make big strides in his third NFL season. This unit should no longer be a weakness.
4. The rookies are the real deal: The Chiefs believe this rookie class will make an immediate and positive impact. First-round pick Eric Berry, who was the No. 5 overall pick, will be an immediate impact player at safety. He could quickly become the face of the defense. Second-round picks Dexter McCluster, a running back/receiver, and Javier Arenas, a cornerback/returner, are also potential high-impact players. Tight end Tony Moeaki (third round) and safety Kendrick Lewis (fifth round) also should be starting-quality players as rookies.
5. Tamba Hali must be accounted for: The Chiefs are not strong in the front seven. They are very young and have a lot to prove. The Chiefs have struggled to establish a legitimate pass rush the past two seasons after the trade of Jared Allen to Minnesota. Among the league leaders in quarterback hurries last season, Hali is truly the team's only pass-rushing force. The Chiefs must make sure they give Hali help. Teams will key on him because of his importance to the team's pass rush. If Hali shines, the Chiefs can be decent up front. If not, it could a long season on defense in Kansas City.
-- Bill Williamson, ESPN.com
Scouts Inc.'s Fabulous Five
Scouts Inc. has evaluated and graded more than 2,500 NFL players heading into the season, giving Insiders a leg up on the competition with exclusive grades and scouting reports.

TOP FIVE PLAYERS
ANALYSIS
1. Tamba Hali
Linebacker
6-3 | 275
(Grade: 81) He is stronger against the run than he is when dropping into space for pass coverage. He can step up and take on lead blockers and does a good job of using his hands to control and shed blocks.
2. Brandon Flowers
Cornerback
5-9 | 187
(81) He is slightly undersized but plays with a chip on his shoulder and thinks he's a big corner. He has good ball skills and excellent leaping ability when he needs to compete with bigger receivers.
3. Jamaal Charles
Running back
5-11 | 199
(78) He is slightly undersized and is more effective running outside the tackles or in space. He does a good job of running behind his pads but lacks the size and power to move piles or break tackles on a consistent basis.
4. Brian Waters
Guard
6-3 | 320
(78) He has strong, heavy hands that can shock opponents and control their pads to steer them by the pocket. He plays with a consistent motor and will finish blocks when possible.
5. Dustin Colquitt
Punter
6-3 | 210
(76) He can kill the ball inside the 20 and gets the kind of hang time that allows coverage to get downfield and prevent the big return.
Grading scale: Elite (90-100), outstanding (80-89), solid starter (75-79), good starter (70-74)
Draft Class Watch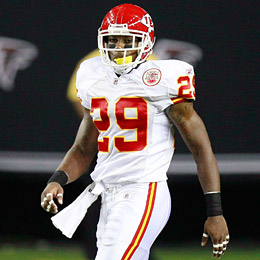 (Photo by Kevin C. Cox/Getty Images)
Eric Berry: Instant starter at safety.
Summary: If the Chiefs, who have won a total of 10 games the past three seasons, turn around their program and become a winning team in the next few years, it will be because of this class. Coach Todd Haley, who is not big on public attaboys, is really thrilled about this class. He thinks that several rookies will make a quick impact. The Chiefs took several players who had dynamic college careers, starting with their first three picks: safety Eric Berry, running back/receiver Dexter McCluster and cornerback/returner Javier Arenas.
What to expect: The rookies are going to play a lot in 2010. Berry is an instant starter at safety and he could easily be joined in the starting lineup by safety Kendrick Lewis, a fifth-round pick. McCluster is going to be on the field often at both running back and receiver. If he can stay healthy, McCluster could be one of the more fun players to watch in the NFL. Arenas should be the nickel cornerback and return man. He can be special in the return game. Tight end Tony Moeaki may not remind people of the great Tony Gonzalez right away, but he will make his presence felt in the passing game immediately.
Class MVP: While McCluster is going to be exciting, Berry is going to be a star right away. He has all the tools and he looks like the NFL's next dominant safety. He will make the Kansas City defense better immediately. He is smart, tough and a big-time playmaker. He was a terrific pick at No. 5.
-- Bill Williamson, ESPN.com