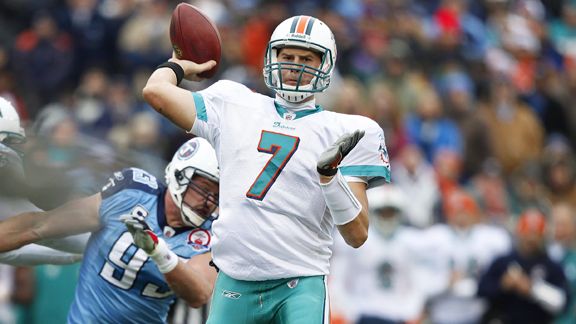 Joe Robbins/Getty Images
JOHN CLAYTON QB RANKING (25)
: Despite having more interceptions than TD passes in 2009, Chad Henne showed the ability to rally the Dolphins from behind.
Expert Picks (Consensus: 3rd)
The Dolphins finished third in the AFC East last season with a 7-9 record. For more Dolphins coverage, visit: Tim Graham's AFC East blog … on Twitter | Clubhouse | More predictions
ANALYST
PREDICTION
Tim
Graham
ESPN.com

DIVISION FINISH: 3 The Dolphins are a playoff-caliber team, but they're up against two teams that finished ahead of them last year. The Dolphins will compete with the Pats (defending champs) and Jets (went to the AFC Championship), but somebody has to finish third.
John
Clayton
ESPN.com

DIVISION FINISH: 3 As long as Chad Henne continues to evolve as an efficient starting quarterback, the Dolphins have a chance to challenge for the division crown. What you like most about this team is that it will hit opponents hard on offense and on defense.

Adam
Schefter
ESPN

DIVISION FINISH: 3 It would be nice for the Dolphins to get ready to send grand poobah Bill Parcells into the sunset in style, and they're getting closer to doing it.
Matt
Williamson
Scouts Inc.

DIVISION FINISH: 2 Led by the best O-line in the league, an improving QB and now a true No. 1 wideout, the Dolphins should be very strong on offense. There are questions on defense, but they will be well coached. They squeak past the Jets and into the postseason.
Seth
Wickersham
ESPN The Magazine

DIVISION FINISH: 1 Chad Henne will throw for 4,400 yards wisely using his talented weapons, which will be just enough to help the Fins' defense through its growing pains.
Intelligence Report
Five things you need to know about the Dolphins:
1. The Dolphins don't need to be talked about: When examining the AFC East, the teams to beat are the New England Patriots because of their consistency and the New York Jets because of their ubiquity. Often overlooked are the Dolphins, who won the division two seasons ago and were mathematically alive for a wild-card berth heading into Week 17 last year. The Dolphins have made some splashy moves in the offseason, signing receiver Brandon Marshall and inside linebacker Karlos Dansby. But you won't hear the Dolphins yapping about themselves or talking any trash. They're good, and they're happy to prove it on the field.
2. Chad Henne has to show what he can do: Henne took some lumps last year, his second in the NFL and first as a starter. He was thrust into the huddle when Chad Pennington went down with a season-ending shoulder injury in Week 3. Henne at times showed why the Dolphins believe he's their franchise quarterback. But over the final six games, with their season on the line, Henne threw six touchdown passes and 10 interceptions. A season of experience plus a full offseason preparing as the starter plus Marshall should help Henne blossom. But if he doesn't, Pennington provides a terrific backup plan.
3. Questions abound on Miami's revamped defense: New defensive coordinator Mike Nolan should make a significant impact, but he has a lot of issues to deal with. How much has the defense changed? Only two players from last year's front seven -- defensive end Kendall Langford and inside linebacker Channing Crowder -- are expected to be in the same place on opening day. They've shifted Randy Starks from end to nose tackle, where he will be undersized but quicker than the traditional 3-4 centerpiece. Outside linebackers Cameron Wake and rookie Koa Misi have one combined NFL start. Sophomore cornerbacks Vontae Davis and Sean Smith are prone to giving up big pass plays.
4. One of Miami's biggest strengths comes with serious concerns: One could argue the Dolphins have one of the NFL's best 1-2 backfield combos. Ronnie Brown and Ricky Williams are dangerous runners. Brown is a multidimensional threat as a receiver and Wildcat conductor. Williams rushed for 1,121 yards and averaged 4.7 yards a carry, one-tenth of a yard off his career high. So what's the problem? Brown can't stay healthy. He has played 16 games once in his career and is coming off a broken foot. Williams is 33, and the list of running backs who got old overnight in their early 30s is longer than Browns' list of injuries.
5. Miami's interior O-line is like the Bermuda Triangle: Maybe there's some sort of vortex players keep getting sucked into because the Dolphins have struggled to find any consistency at center or guard since Bill Parcells, Jeff Ireland and Tony Sparano took over the roster. In their third season together, they probably will be on their third center (Samson Satele to Jake Grove to Joe Berger) and on opening day could start two guards (Richie Incognito and John Jerry) who weren't on their roster last year. The Dolphins have sunk considerable bucks into their interior line, signing free agents Justin Smiley (no longer on the team) and Grove (second on the depth chart). Somebody please call Robert Stack to help explain.
-- Tim Graham, ESPN.com
Scouts Inc.'s Fabulous Five
Scouts Inc. has evaluated and graded more than 2,500 NFL players heading into the 2010 season, giving Insiders a leg up on the competition with exclusive grades and scouting reports.

TOP FIVE PLAYERS
ANALYSIS
1. Jake Long
Offensive Tackle
6-7 | 317
(Grade: 89) There was some concern about whether Long would be athletic enough to hold down the left tackle spot, but he has proved to be a good athlete for the position.
2. Brandon Marshall
Wide Receiver
6-4 | 230
(88) He has the size and bulk to screen opponents from the ball and has the receiving radius to go up and high point the ball when in a crowd.
3. Karlos Dansby
Linebacker
6-4 | 250
(85) He has prototypical size and speed for the position but is somewhat limited by tightness in his hips that makes it difficult for him to man up on the more athletic tight ends in the league.
4. Vernon Carey
Offensive tackle
6-5 | 340
(82)He is the most versatile offensive lineman on the Dolphins' roster because he has played four positions at one point or another.
5. Randy Starks
Defensive lineman
6-3 | 305
(79) He is a versatile nose tackle who can play one- or two-gap concepts based on what they ask him to do on any given play.
Grading scale: Elite (90-100), outstanding (80-89), solid starter (75-79), good starter (70-74)
Draft Class Watch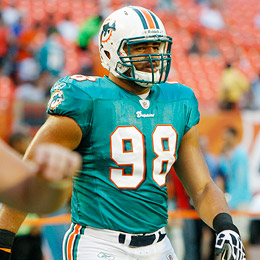 (AP Photo/J Pat Carter)
Jared Odrick: New face on defense.
Summary: Even with the Buffalo Bills in rebuilding mode, the Dolphins appear to have drafted more instant help than any other AFC East squad. Each of the first three picks could be in the starting lineup on opening day: defensive end Jared Odrick, outside linebacker Koa Misi and guard John Jerry. Fourth-round linebacker A.J. Edds suffered a season-ending knee injury in training camp. Fifth-round cornerback Nolan Carroll has stood out this summer as a defender and on kick returns.
What to expect: The Dolphins are banking on Misi to be a major and immediate contributor to their pass rush. Misi will start on the strong side, opposite Cameron Wake. Odrick will replace right end Randy Starks, who has been moved to nose tackle. Jerry is in a battle with Richie Incognito and Donald Thomas for one of the guard spots.
No scores to settle: The Dolphins drafted seven defensive players and one O-lineman. Unless rookie free-agent receivers Marlon Moore or Roberto Wallace make the roster, the chance of a rookie scoring a touchdown will be tough. The best chance might be Carroll on an interception or kick return. Otherwise, it looks like a Dolphins rookie class will get blanked for only the second time since 1994.
-- Tim Graham, ESPN.com