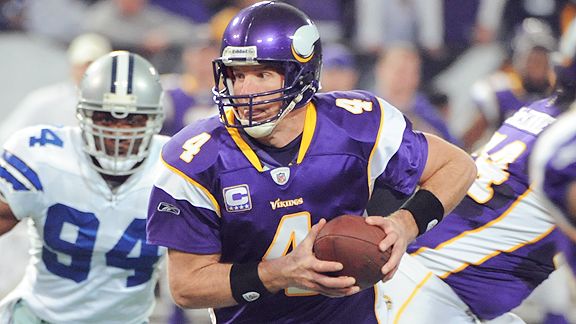 Bruce Kluckhohn/US Presswire
JOHN CLAYTON QB RANKING (5)
: Still going strong at 40, Brett Favre had perhaps his best season in '09 (4,202 yards passing, 33 TDs). Now he's looking to lead Minnesota to the Super Bowl.
Expert Picks (Consensus: 2nd)
The Vikings finished first in the NFC North last season with a 12-4 record. For more Vikings coverage, visit: Kevin Seifert's NFC North blog … on Twitter | Clubhouse | More predictions
ANALYST
PREDICTION
Kevin
Seifert
ESPN.com

DIVISION FINISH: 2 The Vikings return 21 starters from a team that had an NFL-high nine players named to the Pro Bowl. But an unsettling number of injuries and absences have set back the offense, and even Brett Favre thinks it will be difficult to be at full strength in Week 1.
John
Clayton
ESPN.com

DIVISION FINISH: 2 Losing Sidney Rice for half the season and the week-to-week uncertainty of Percy Harvin because of migraines limits Favre's ability to create big plays. The Vikings lose two or three 20-plus-yard plays a game when Harvin and Rice aren't in the lineup.

Adam
Schefter
ESPN

DIVISION FINISH: 2 Injuries to key players already are robbing this team of some of the momentum and confidence it had throughout last season, but it's good enough to persevere.
Matt
Williamson
Scouts Inc.

DIVISION FINISH: 2 Lord Favre's wide receivers are in disarray. But how about this as a fallback plan: Adrian Peterson. But for as strong as this team is in the trenches on defense, it is equally as weak up front on offense.
Seth
Wickersham
ESPN The Magazine

DIVISION FINISH: 2 How far will a soon-to-be 41-year-old future Hall of Fame QB entering his 20th year with a bad ankle, coming off his best season in a decade, carry this team? And had that question ever been asked in NFL history?
Intelligence Report
Five things you need to know about the Vikings:
1. The Vikings might as well have canceled training camp: Half of their offensive starters missed substantial practice time, from quarterback Brett Favre to tailback Adrian Peterson to receivers Sidney Rice and Percy Harvin to center John Sullivan. That put a premium on the three or so weeks the team spent practicing at their permanent facility between the end of camp and their Sept. 9 season opener at New Orleans. That was their only time to come together as a group and figure out what kind of offense they want to be.
2. It's going to be tough to replicate last season's passing numbers: Rice won't return until midseason following hip surgery and Harvin's recurring migraines make him a question mark on a daily basis. That leaves the Vikings with one established big-play receiver (Bernard Berrian) and two possession receivers (Greg Lewis and Greg Camarillo). It's probably safe to assume Favre will lean heavily on tight end Visanthe Shiancoe and will also use Peterson out of the backfield as much as possible. Stranger things have happened, but even Favre himself spent most of the summer trying to temper expectations for the passing portion of this offense.
3. Peterson has more pressure on him than ever: The passing game rescued what became an inexplicably average running game last season, but the Vikings can't count on a repeat in 2010. Peterson skipped the team's offseason program, passed on minicamp and missed a week of training camp because of a strained hamstring. That wasn't a good start, but he will get every opportunity to carry as much of the total offensive load that he can. The departure of backup Chester Taylor offers the opportunity to expand Peterson's role in third-down situations, but the Vikings aren't yet confident in his blocking abilities.
4. The early schedule is brutal: In the first half of the season, the Vikings will play at the Saints, Jets, Packers and Patriots. They'll also host the Cowboys at the Metrodome. All five of those opponents made the playoffs last season, and you could make a reasonable argument for all five as Super Bowl contenders. That's a tough stretch no matter what condition the team is in. For one that had a summer as traumatic as the Vikings, it could be season-defining. If they enter the second half of the season more than a game above .500, they should be thrilled.
5. Middle linebacker E.J. Henderson is a miraculous story: Henderson suffered a fractured femur last December in a horrific injury that seemed to threaten his career. At best, doctors thought it would take him a year to recover, putting him on a timetable to resume play in 2011. But with a permanent titanium rod providing support, Henderson cut that timetable in half and by all appearances has recaptured his starting job. Time will tell how he holds up over the course of the season, but simply putting on a helmet this summer was a wondrous accomplishment.
-- Kevin Seifert, ESPN.com
Scouts Inc.'s Fabulous Five
Scouts Inc. has evaluated and graded more than 2,500 NFL players heading into the season, giving Insiders a leg up on the competition with exclusive grades and scouting reports.

TOP FIVE PLAYERS
ANALYSIS
1. Adrian Peterson
Running back
6-1 | 217
(Grade: 92) Peterson is an excellent combination of size, strength and athleticism. He has impressive power on contact but tends to carry his pads too high at times.
2. Jared Allen
Defensive end
6-6 | 270
(89) He has good speed for his size and shows great range in pursuit. He uses explosive quickness and burst off the edge to gain leverage on his opponents.
3. Kevin Williams
Defensive tackle
6-5 | 311
(89) He can push the pocket with natural strength and quickness and has a variety of pass-rush moves. He has a great feel for how to restrict running lanes and penetrate gaps.
4. Brett Favre
Quarterback
6-2 | 222
(84) Because of age and an intense beating over many years, Favre no longer is the elite physical specimen he once was -- yet he remains a high-risk passer who always looks to make a play.
5. Percy Harvin
Wide receiver
5-11 | 184
(83) Harvin is a well-built player with average height and excellent athleticism. He has explosive burst and quickness in the open field, which makes him dangerous whenever he touches the ball.
Grading scale: Elite (90-100), outstanding (80-89), solid starter (75-79), good starter (70-74)
Draft Class Watch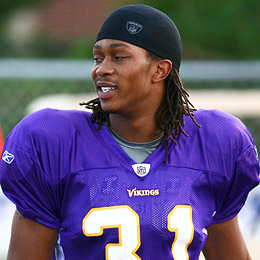 (Photo by Brace Hemmelgarn/US Presswire)
Chris Cook: Sidelined by knee injury
Summary: The Vikings traded out of the first round, essentially deciding to take tailback Toby Gerhart in the second round rather than the more explosive Jahvid Best in the bottom of the first round. The upside of that trade: The Vikings used their additional second-round pick to grab Chris Cook, a cornerback who is an imposing hitter with strong coverage skills. Those picks were based on need, but thereafter the Vikings grabbed athletes -- especially defensive end Everson Griffen (Round 4) and receiver/quarterback Joe Webb (Round 6).
What to expect: Gerhart was pegged as the likely third-down back, but he was buried on the depth chart for most of the summer. It could take longer than expected for him to get on the field regularly. Cook was challenging for a starting cornerback job before being sidelined by knee surgery, and is probably the long-term successor for Antoine Winfield's No. 1 cornerback spot. Griffen had a quiet camp. The Vikings grew enamored with fifth-round pick Chris DeGeare, giving him first-team repetitions at right guard.
Conspiracy theory: Webb was drafted as a receiver after spending most of his college career at quarterback. Most NFL teams did not project him as a quarterback, but his athletic skills were so impressive that he seemed worth a sixth-round flyer. He spent one day as a receiver in rookie minicamp before switching back to quarterback, however. Webb proved as raw as advertised during training camp and the preseason, but he displayed enough playmaking skills that the team maintains a strong interest in his future.
-- Kevin Seifert, ESPN.com