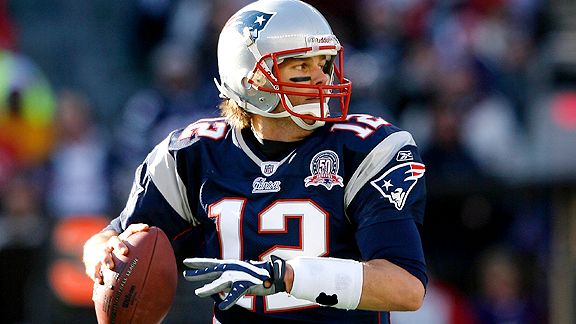 Elsa/Getty Images
JOHN CLAYTON QB RANKING (2)
: One of the most accomplished quarterbacks of his generation, Tom Brady threw for 4,398 yards in 2009 -- the second-highest total of his career.
Expert Picks (Consensus: 1st)
The Patriots finished first in the AFC East last season with a 10-6 record. For more Patriots coverage, visit: Tim Graham's AFC East blog … on Twitter | Clubhouse | More predictions
ANALYST
PREDICTION
Tim
Graham
ESPN.com

DIVISION FINISH: 2 The Patriots are contenders as long as Bill Belichick is coach and Tom Brady is QB. But they have their share of concerns, including guard Logan Mankins' absence, lack of a pass rush and CB depth. Regardless, the Patriots are headed to the playoffs.
John
Clayton
ESPN.com

DIVISION FINISH: 1 As long as Tom Brady is the QB, the Patriots hold the edge in one of the league's toughest divisions. Bill Belichick's youth movement has improved the back seven of the defense, but he could use another pass-rushing LB to put pressure on opposing QBs.

Adam
Schefter
ESPN

DIVISION FINISH: 1 The Patriots have more and better young talent than people realize. They also have Bill Belichick and Tom Brady, along with the title of division favorite.
Matt
Williamson
Scouts Inc.

DIVISION FINISH: 1 Tom Brady will be back and better than ever … and that is saying something. The defense will do enough, but the offense will be the best in the league. This is a tight division, but I will side with Bill Belichick and Brady.
Seth
Wickersham
ESPN The Magazine

DIVISION FINISH: 2 Lots of young defensive talent to be excited about. But the offensive line is worrisome. Looks like another season of asking Tom Brady to do it all.
Intelligence Report
Five things you need to know about the Patriots:
1. Passing game looks potent: As long as Tom Brady has time to throw, the Patriots' offense will be dangerous. Through training camp and the preseason, the Patriots seem to be coping with their two biggest offensive question marks: unsigned left guard Logan Mankins' absence and slot receiver Wes Welker's rebuilt knee. Welker appears to be on track to play in Week 1. Even if he has limitations, Julian Edelman will more than suffice. Randy Moss has been spectacular, while prospects Brandon Tate and Taylor Price are showing signs of contributing this year. Fire when ready, Mr. Brady.
2. Running game a concern: The Patriots will need their passing game because their backfield committee has issues. The Patriots have three running backs (Kevin Faulk, Fred Taylor, Sammy Morris) who are 33 or older and another (Laurence Maroney) who can't seem to find traction. The Patriots have been decent in spreading around the workload, and Faulk is one of the NFL's best third-down players. But backfield injuries are a constant concern, and something's amiss with Maroney. He didn't see the field in the Patriots' second or third preseason games.
3. Pass rush needs a boost: St. Louis Rams rookie quarterback Sam Bradford, playing behind four-fifths of an offensive line that was among the worst last year and a rookie left tackle, looked like a Pro Bowler against the Patriots' defense. He had all sorts of time to throw. Unless they can chase opposing quarterbacks, the Patriots' defense might be doomed. They tied for 23rd in sacks last year with a modest 31. Tully Banta-Cain led them with 10 sacks, but seven of them came in three games and five came against the Buffalo Bills.
4. Mankins might not be that big of a loss: Sure, the Patriots would be better off with Mankins on the field, particularly in the run game. He's a mauler and their most valuable blocker in short-yardage situations and at the goal line. But the Patriots will rely on the pass so often this year that Mankins' absence will be mitigated. Remember that infamous fourth-and-2 play against the Indianapolis Colts last year? The Patriots didn't run. They passed. The Patriots moved last year's right tackle, Nick Kaczur, to left guard, but back surgery probably will wipe out his season. The Patriots are down to third-stringer Dan Connolly in Mankins' spot, yet the line has looked satisfactory.
5. The Patriots need more consistent cornerback play. The Patriots placed veteran cornerback Leigh Bodden on season-ending injured reserve. That puts an otherwise unproven group of cornerbacks even more under the gun, and might give New England the division's least experienced starting tandem. Belichick historically has been slow to entrust such a treacherous position to a young player, but he'll have little choice now. Devin McCourty, this year's first-round pick, has had moments when he has seemed ready and others when he's seemed like a rookie. Darius Butler, a second-round draft choice last year, played well as a rookie. Butler started five games, three at left cornerback.
-- Tim Graham, ESPN.com
Scouts Inc.'s Fabulous Five
Scouts Inc. has evaluated and graded more than 2,500 NFL players heading into the season, giving Insiders a leg up on the competition with exclusive grades and scouting reports.

TOP FIVE PLAYERS
ANALYSIS
1. Tom Brady
Quarterback
6-4 | 225
(Grade: 93) Brady has excellent vision and reads coverages and pressure packages as well as anyone in the league.
2. Randy Moss
Wide receiver
6-4 | 210
(89) He's a big-time target in the red zone but can be slowed at times by physical corners in a press alignment.
3. Vince Wilfork
Defensive tackle
6-2 | 325
(89) He has the size, strength and natural leverage to be productive versus double-team blocks as well as penetrate gaps when in a stunting mode.
4. Wes Welker
Wide receiver
5-9 | 185
(87) Welker has struggled versus tight, physical man coverage.
5. Logan Mankins
Offensive guard
6-4 | 310
(85) Mankins will get overextended at times in the run game but does have recovery ability with good athleticism.
Grading scale: Elite (90-100), outstanding (80-89), solid starter (75-79), good starter (70-74)
Draft Class Watch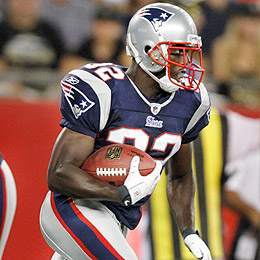 (AP Photo/Steven Senne)
Devin McCourty: Help at corner.
Summary: The Patriots drafted a dozen prospects, five of them coming in the first 90 picks. They grabbed players at every position except running back and kicker. Several players will be major contributors right away either as starters or top backups. Cornerback and return specialist Devin McCourty was the team's first-round selection, but the Patiots' main emphasis was tight end, grabbing Arizona's Rob Gronkowski in the second round and Florida's Aaron Hernandez in the fourth. They even picked up a punter, Zoltan Mesko from Michigan -- although he sounds like he'd hail from Rygar 7.
What to expect: Hernandez and Gronkowski have been the rookie stars of camp and the preseason. Hernandez won the Mackey Award as the best college tight end because of his stellar receiving skills but slid down draft boards because he's a suspect blocker and has had issues with marijuana. Gronkowski slid because of back surgery. Both look like great draft values and attractive targets for Tom Brady.
Gator aid on defense: Outside linebacker Jermaine Cunningham and inside linebacker Brandon Spikes were taken in the second round out of Florida. Cunningham's pass-rush skills are desperately needed, but he was hampered by an undisclosed injury. Spikes and Jerod Mayo could form a dependable duo for years.
-- Tim Graham, ESPN.com