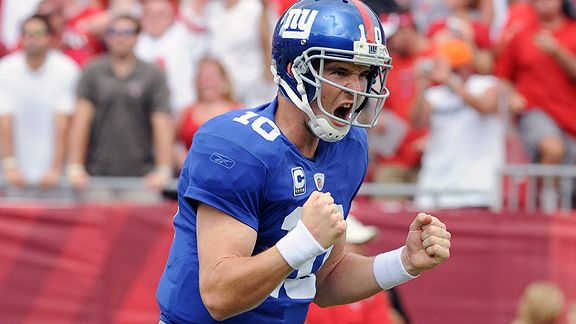 Al Messerschmidt/Getty Images
JOHN CLAYTON QB RANKING (11)
: Eli Manning recorded his first 4,000-yard passing season in 2009. He also threw a career-high 27 touchdown passes.
Expert Picks (Consensus: 2nd)
The Giants finished third in the NFC East last season with an 8-8 record. For more Giants coverage, visit: Matt Mosley's NFC East blog ... on Twitter | Clubhouse | More predictions
ANALYST
PREDICTION
Matt
Mosley
ESPN.com

DIVISION FINISH: 2 Defensive coordinator Perry Fewell has brought a ton of energy and his front four has regained its swagger. Justin Tuck's ready to return to his Super Bowl form and RB Ahmad Bradshaw will be one of the breakout players in the division.
John
Clayton
ESPN.com

DIVISION FINISH: 4 Tom Coughlin can't catch a break. From injuries along the offensive line and in the secondary to questions about the linebacking corps, Coughlin keeps looking like a repairman working overtime with an endless sheet of chores.

Adam
Schefter
ESPN

DIVISION FINISH: 1 At this time last year, most people picked the Giants to win the division. One year later, they're getting back players from injury and have added even more talent.
Matt
Williamson
Scouts Inc.

DIVISION FINISH: 1 Led by one of the best defensive lines in the league, the Giants just have to be improved on defense from a year ago. The passing attack also will be among the best in the league. The G-Men are back.
Seth
Wickersham
ESPN The Magazine

DIVISION FINISH: 2 Hard to know if last year's 8-8 record was indicative of a temporarily bad defense or an overall team in decline. Eli Manning and his impressive receivers will try to hold off the latter, but it won't mean a trip to the postseason.
Intelligence Report
Five things you need to know about the Giants:
1. Ahmad Bradshaw's about to become the best running back in the NFC East: There, I said it. He has always had the speed and power, but now he's finally healthy. Bradshaw's a 50-yard run waiting to happen, and I think the Giants are going to be much better along the offensive line. Tom Coughlin is going to sell out to establish the running game, and Bradshaw will be the biggest beneficiary. Brandon Jacobs will still serve an important role, but he's not the feature back anymore. You want a prediction on Bradshaw? OK, here it goes: 1,250 yards, 10 TDs.
2. Perry Fewell will take this defense back to the Steve Spagnuolo days: The new defensive coordinator's unit is still a work in progress, but we're already seeing a more effective pass rush in the preseason. Justin Tuck was banged up throughout the 2009 season. Now that he's healthy, he's becoming a vocal presence on and off the field. He has also gone back to intimidating quarterbacks from various spots along the line. I love that Fewell is moving around players such as Mathias Kiwanuka and Osi Umenyiora all the time. This defense isn't going to be nearly as predictable.
3. Keith Bulluck was an important signing: I know the Titans were ready to move on without him, but Bulluck is exactly what the Giants needed. He's a physical presence who has a tremendous amount of credibility across the league. He may knock Clint Sintim out of a starting spot at outside linebacker. I didn't know how Bulluck would function coming off the knee injury, but he's improving with each practice. He's a high-energy player who will help give the defense an identity. This is a big-time upgrade over Danny Clark, who actually did a pretty nice job at times.
4. Steve Smith and Hakeem Nicks are equally dangerous: Smith will have a ton of catches again, but it's Nicks who can break open a game at any moment. The Giants rival the Eagles in terms of depth at wide receiver. In fact, they probably have a little more depth with players such as Victor Cruz making significant moves in camp. Mario Manningham needs to take the next step and become a more consistent player. If he's able to do that, the Giants will be as dangerous at receiver as any team in the league.
5. Antrel Rolle has given the defense a completely different look: The Giants were held hostage by the safety position after Kenny Phillips was injured in 2009. The combination of C.C. Brown and Michael Johnson will give fans nightmares for years. Rolle has brought a swagger to the back end of the defense. He's an excellent fit for the locker room and he's poised to have six or seven interceptions. Deon Grant was also a nice pickup. If Phillips is anything close to 100 percent by the start of the season, the Giants have the chance to be really good at a position that killed them last season.
-- Matt Mosley, ESPN.com
Scouts Inc.'s Fabulous Five
Scouts Inc. has evaluated and graded more than 2,500 NFL players heading into the season, giving Insiders a leg up on the competition with exclusive grades and scouting reports.

TOP FIVE PLAYERS
ANALYSIS
1. Justin Tuck
Defensive end
6-5 | 274
(Grade: 85) He is explosive with excellent initial quickness to get into blockers fast. He has an excellent motor and does not quit on plays in the run game or as a pass-rusher.
2. Eli Manning
Quarterback
6-4 | 225
(84) He has become a much better decision-maker over his career. Overall he has good mechanics but still occasionally throws off his back foot under pressure.
3. Chris Snee
Guard
6-3 | 317
(84) He has strong hands to grab and control defenders quickly. He can get into position quickly and does a nice job of keeping his feet balanced to cut off the defender.
4. Hakeem Nicks
Wide receiver
6-0 | 215
(82) He is a long strider who can separate down the field. He improved as the season went on as a route runner, but this is an area where he still needs to develop.
5. Osi Umenyiora
Defensive end
6-3 | 261
(78) He has an explosive first step that puts a lot of pressure on the offensive tackle. Once he gets the edge, he has the ability to flatten out and explode toward the QB.
Grading scale: Elite (90-100), outstanding (80-89), solid starter (75-79), good starter (70-74)
Draft Class Watch
(Photo by Noah K. Murray/The Star-Ledger/US Presswire)
Jason Pierre-Paul: He's not a project.
Summary: The Giants made defense a major priority and selected defensive end Jason Pierre-Paul and defensive tackle Linval Joseph in the first two rounds. I like Phillip Dillard of Nebraska at middle linebacker. I think he'll eventually start for the Giants at that spot. He's a very active player who seems to have a really good grasp of Perry Fewell's defensive concepts.
What to expect: I think you'll see Pierre-Paul and Joseph on the field from day one. Everyone talks about Pierre-Paul being a project because of his lack of experience, but that's not the way Tom Coughlin thinks about him. I think LB Adrian Tracy has the size and length the Giants crave. He'll line up all over the front seven. He just wants a shot.
Biggest miss: Punter Matt Dodge hasn't been anywhere close to consistent in the preseason, but Tom Coughlin is sticking with him for now. He isn't getting enough hang time on his punts right now and he's a real boom-and-bust type player at this point. I'd take my chances with luring Jeff Feagles out of retirement, although Feagles has been advising Dodge.
-- Matt Mosley, ESPN.com