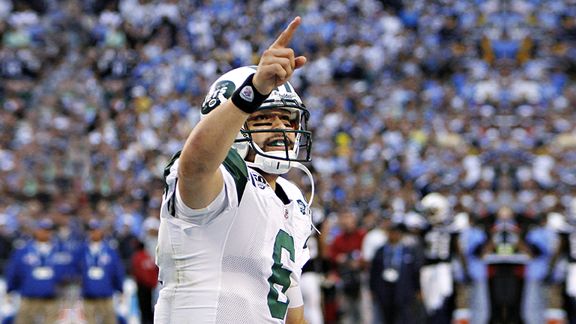 AP Photo/Lenny Ignelzi
JOHN CLAYTON QB RANKING (23)
: Mark Sanchez encountered some bumps in the road as a rookie, but he gained valuable experience during the Jets' surprising playoff run.
Expert Picks (Consensus: 2nd)
The Jets finished second in the AFC East last season with a 9-7 record. For more Jets coverage, visit: Tim Graham's AFC East blog … on Twitter | Clubhouse | More predictions
ANALYST
PREDICTION
Tim
Graham
ESPN.com

DIVISION FINISH: 1 While the Jets did get lucky and sneaked into the playoffs, there seemed to be a shift in the AFC East with what transpired thereafter. The Patriots were embarrassed at home in the first round, while the Jets won two games on the road to reach the conference title game. Then, over the offseason, the Jets got better.
John
Clayton
ESPN.com

DIVISION FINISH: 2 Except at QB, Rex Ryan can match his starting lineup against the Patriots' and feel he's the top dog in the division. But they can't let Darrelle Revis' holdout carry into the season, particularly now that LB Calvin Pace is out 4-6 weeks after foot surgery.

Adam
Schefter
ESPN

DIVISION FINISH: 2 Second-year QB Mark Sanchez must take the next step for the Jets to take the next step.
Matt
Williamson
Scouts Inc.

DIVISION FINISH: 3 This will raise some eyebrows, but I don't yet trust Mark Sanchez. I also think that all the offseason change isn't necessarily a good thing. But trust me; I do understand how good this team just might be.
Seth
Wickersham
ESPN The Magazine

DIVISION FINISH: 3 Love the defense. And while it's easy to appreciate the effort that the Sanchise is putting in to reach the next level, Year 2 is usually brutal for QBs.
Intelligence Report
Five things you need to know about the Jets:
1. Mark Sanchez will take fans on a bumpy ride: The Jets aren't going to cruise to the AFC East title. As laden with talent as their roster is, their quarterback will be the X factor on a weekly basis. Sanchez hasn't demonstrated a substantial degree of growth in training camp and preseason games. Maybe offensive coordinator Brian Schottenheimer hasn't opened up the playbook yet, but you'd expect to see more out of Sanchez than two preseason touchdown drives in three games -- sometimes against backup defenses. Concerns remain over his ability to protect the ball. Last season, he threw 20 interceptions and fumbled 10 times, losing three. Buckle up.
2. The defense will be good: Rex Ryan hasn't fielded a dud defense yet, and the Jets have plenty of talent aside from Darrelle Revis, who agreed to end his holdout early Monday morning. The Jets don't need to have to rank atop the NFL again to have a successful season. The acquisition of Antonio Cromartie and the selection of Kyle Wilson in the first round of the draft are plusses.
3. The decision to release Thomas Jones doesn't seem so improper anymore: The Jets had to make a decision at the end of last season. They needed to diversify their backfield and give Sanchez a back he could throw to. Neither Jones nor Shonn Greene was useful in that role, and one had to go. That choice was obvious, given Greene's age and contract. So they cut Jones and brought in LaDainian Tomlinson, who certainly doesn't appear washed up. Tomlinson has turned back the clock in the preseason, but let's see how he looks in Week 9.
4. Dustin Keller needs to stop being a secret weapon: Since the Jets traded up to draft Keller 30th overall two years ago, analysts have foretold his big influence in the passing game. We've seen it for a game or two but not consistently because the Jets haven't made him a focal point. They should consider feeding the ball to Keller. When Sanchez looks for Keller, good things happen. Keller had two regular-season touchdowns last season, then scored one in each of the Jets' three playoff games.
5. Brodney Pool will be a difference-maker in the secondary: With names like Santonio Holmes, Jason Taylor, Tomlinson and Cromartie becoming Jets, one of the more overlooked offseason acquisitions was Pool, a safety the Cleveland Browns gave up on because of concussion issues. The Jets determined that was a misdiagnosis, that his problem actually was migraines. With proper treatment, the club is confident it has found a versatile gem to replace Kerry Rhodes. In just 11 games last year, Pool had four interceptions (tied for the team lead), 10 pass breakups and a sack.
-- Tim Graham, ESPN.com
Scouts Inc.'s Fabulous Five
Scouts Inc. has evaluated and graded more than 2,500 NFL players heading into the season, giving Insiders a leg up on the competition with exclusive grades and scouting reports.

TOP FIVE PLAYERS
ANALYSIS
1. Darrelle Revis
Cornerback
5-11 | 198
(Grade: 93) He has excellent quickness, balance and burst to play in man coverage.
2. Nick Mangold
Center
6-4 | 305
(91) He's a smart, competitive player with toughness, awareness and foot quickness.
3. Kris Jenkins
Defensive tackle
6-4 | 360
(86) Jenkins plays with power and strength. He can locate the ball in traffic with good block recognition.
4. David Harris
Linebacker
6-2 | 245
(81) Harris has size and athletic skills. He's a competitive player with toughness.
5. Antonio Cromartie
Cornerback
6-2 | 203
(80) He has the size and speed to be a shut-down CB in the league and can make plays on the ball like few other players.
Grading scale: Elite (90-100), outstanding (80-89), solid starter (75-79), good starter (70-74)
Draft Class Watch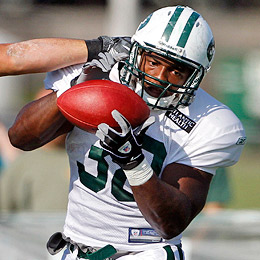 (Photo by William Perlman/The Star Ledger/US Presswire)
John Conner: The Terminator is ready.
Summary: For the fourth straight year, the Jets had a modest draft in terms of selections, but they've generally done an effective job of making those picks count. First-round cornerback Kyle Wilson was designated the starting nickel back the day he was drafted. Second-rounder Vladimir Ducasse allowed the Jets to release left guard Alan Faneca. Fourth-round running back Joe McKnight provides backfield depth. Fifth-round fullback John Conner has been a star of training camp.
What to expect: All of them should contribute in 2010. Wilson's role will depend on Darrelle Revis' holdout. At the least, Wilson will be the nickel corner and maybe return punts. If the Revis dispute drags into the regular season, then Wilson will be in the starting lineup opposite Antonio Cromartie. Ducasse has been a mild disappointment. His NFL transition hasn't been smooth, giving sophomore Matt Slauson the edge in getting the gig. Conner has pushed esteemed veteran Tony Richardson and will force the Jets to keep two fullbacks, a rarity.
Wild card: McKnight has had trouble acclimating to the NFL game. He showed up for offseason workouts woefully out of shape and has seemed lost through training camp, frustrating coaches with his inability to pick up the nuances. Then he rips off a nice run or punt return to remind everybody why the Jets drafted him.
-- Tim Graham, ESPN.com