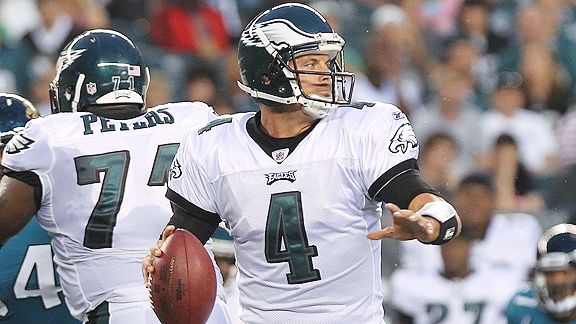 Nick Laham/Getty Images
JOHN CLAYTON QB RANKING (24)
: Kevin Kolb is entering his fourth season, and his first as the Eagles' starting quarterback. Kolb has completed 60.8 percent of his passes in limited action.
Expert Picks (Consensus: 3rd)
The Eagles finished second in the NFC East last season with an 11-5 record. For more Eagles coverage, visit: Matt Mosley's NFC East blog ... on Twitter | Clubhouse | More predictions
ANALYST
PREDICTION
Matt
Mosley
ESPN.com

DIVISION FINISH: 3 I wouldn't be surprised if the Eagles finished second. They have the best trio of receivers in the league. It will be interesting to see if the offensive line comes together early. Right now, Stacy Andrews isn't setting the world on fire at right guard.
John
Clayton
ESPN.com

DIVISION FINISH: 3 Kevin Kolb will be a star in Andy Reid's offense, but what a horrible time to take over as the Eagles' QB. The schedule is loaded with so many top quarterbacks Kolb might have to produce a 4,500-yard season just to get the Eagles to nine wins.

Adam
Schefter
ESPN

DIVISION FINISH: 2 In time, Kevin Kolb will turn out to be for Philadelphia what Aaron Rodgers turned out to be for Green Bay. This time isn't rebuilding, it's reloading.
Matt
Williamson
Scouts Inc.

DIVISION FINISH: 3 The Eagles are rebuilding -- by their standards. But this organization and talent base are just too strong for Philadelphia to fall too far back from the pack, even in this brutally difficult division.
Seth
Wickersham
ESPN The Magazine

DIVISION FINISH: 3 Kevin Kolb will play better than anyone expects, which will earn him only half the boos your average first-year Philly QB receives.
Intelligence Report
Five things you need to know about the Eagles:
1. Jeremy Maclin will put up bigger numbers than DeSean Jackson this season: I have a feeling Jackson will respond to this statement via Twitter, his favorite medium. He'll still be a huge dual threat when you consider the return game, but Maclin's about to go off in 2010. He and Kevin Kolb have tremendous chemistry. Kolb has the good sense to hit these guys in stride and let them break off 40 to 50 yards at a time. He also has a similar relationship with tight end Brent Celek to what Tony Romo has with Jason Wittten. Not sure if they draw up plays in hotel rooms (as Romo and Witten were famously accused of), but Kolb knows how to find Celek in the red zone.
2. Ernie Sims was one of the most underrated acquisitions of the offseason: He wasn't a good fit for Jim Schwartz's offense, but he'll do just fine for Sean McDermott. He's a relentless player who helps bring some much-needed nastiness. He's also capable of staying with running backs and tight ends in coverage. The return of Stewart Bradley will solidify what was a really subpar group last season. And watch for McDermott to run a little 3-4 look every now and then. I think the young defensive coordinator has a lot more confidence heading into this season, in part because he has better players.
3. Andy Reid's not nervous about Kolb starting because he's watched every practice snap the kid has ever taken: There's a huge comfort level because Reid loves Kolb's approach. He's had the respect of his teammates ever since he showed up on campus, so there's not as big of a transition as folks might think. Reid thinks Kolb has the perfect temperament for playing this position in Philly, and I think he's right. Sort of a flat-line type personality that he'll need once the local talk shows respond to a three-interception game.
4. I'd be worried about depth at running back: LeSean McCoy should have a big season, but I'm not sure Mike Bell is an adequate backup. I liked his work with the Saints, but he has been hurt during camp. If Eldra Buckley becomes the primary backup, that's an issue. I realize Leonard Weaver is a pretty effective runner, but anything more than six to seven carries for him is too much. But then, it's not as if Andy Reid is known for sticking with the running game. Maybe the Eagles will be a little better in the short-yardage game once Jamaal Jackson returns at center. I know the return of Todd Herremans at left guard will help things.
5. I don't trust Stacy Andrews at right guard: And neither apparently do the Eagles, who traded him to Seattle on Saturday. It looks like Nick Cole will take over until Reggie Wells is ready. Andrews got dominated at the line of scrimmage. Offensive line coach Juan Castillo told me in the offseason that Andrews was going to be really good this season.
-- Matt Mosley, ESPN.com
Scouts Inc.'s Fabulous Five
Scouts Inc. has evaluated and graded more than 2,500 NFL players heading into the season, giving Insiders a leg up on the competition with exclusive grades and scouting reports.

TOP FIVE PLAYERS
ANALYSIS
1. DeSean Jackson
Wide receiver
5-10 | 175
(Grade: 85) He is best in space where he can catch the ball and get upfield. He has the speed and quickness to stretch deep zones and eat up a defender's cushion on deep routes.
2. Trent Cole
Defensive end
6-3 | 270
(85) He is explosive off the edge as a pass-rusher and shows great burst to close to the ball. He is an instinctive player who reacts well as plays unfold.
3. Asante Samuel
Cornerback
5-10 | 185
(83) He has a great feel for reading and reacting to route progressions. He has excellent speed, quickness and burst to close on the ball.
4. Jason Peters
Offensive tackle
6-4 | 340
(79) Peters is quick to kick-step and gain leverage as a pass-blocker, using an effective punch and footwork to keep defenders at bay.
5. Brent Celek
Tight end
6-4 | 255
(78) He is an undersized TE with deceptive quickness, speed and strength. He has improved as a route runner, and has good body control and quickness in and out of his breaks.
Grading scale: Elite (90-100), outstanding (80-89), solid starter (75-79), good starter (70-74)
Draft Class Watch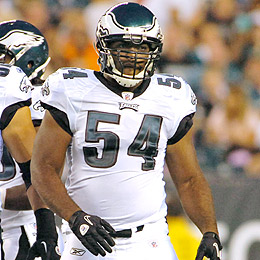 (Photo by Eric Hartline/US Presswire)
Brandon Graham: Already a starter.
Summary: General manager Howie Roseman made a splash while running his first draft. The Eagles traded up 11 picks to grab Michigan defensive end Brandon Graham and then used the pick acquired in the Donovan McNabb deal (No. 37) to select safety Nate Allen. There were 13 picks in all.
What to expect: The Eagles need several rookies to make immediate impacts. Graham and Allen are already starting. And it looks as though the Eagles scored with fifth-round pick Riley Cooper, a wide receiver from Florida. I also think CB Trevard Lindley from Kentucky may be a real find. When you start hitting on fourth- and fifth-rounders, you're doing something.
Biggest disappointment: Defensive tackle Jeff Owens looks like a practice-squad candidate. He hasn't really done much in the preseason games.
-- Matt Mosley, ESPN.com