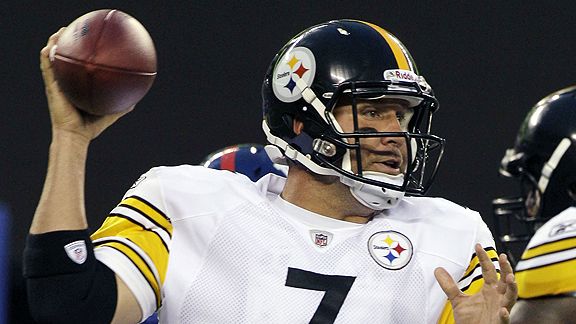 Wesley Hitt/Getty Images
JOHN CLAYTON QB RANKING (4)
: With Ben Roethlisberger serving a four-game suspension and Byron Leftwich injured, Dennis Dixon or Charlie Batch will start the Steelers' opener.
Expert Picks (Consensus: 3rd)
The Steelers finished third in the AFC North last season with a 9-7 record. For more Steelers coverage, visit: James Walker's AFC North blog … on Twitter | Clubhouse | More predictions
ANALYST
PREDICTION
James
Walker
ESPN.com

DIVISION FINISH: 3 I like this veteran group, but not without its franchise quarterback for four games. The AFC North is simply too tough. But the Steelers could still challenge for a wild-card spot late in the season.
John
Clayton
ESPN.com

DIVISION FINISH: 3 Don't count out the Steelers despite Ben Roethlisberger's four-game suspension. The defense is tackling better than last season, plus the return of Troy Polamalu brings back the unit's swagger.

Adam
Schefter
ESPN

DIVISION FINISH: 2 If the Steelers can survive the first quarter of the season and the suspension of quarterback Ben Roethlisberger, they'll be poised for a sprint in the last quarter.
Matt
Williamson
Scouts Inc.

DIVISION FINISH: 1 I am predicting the Steelers will have the best defense in the league. Watch out for this team once Big Ben comes back to ignite a squad that goes 3-1 without him.
Seth
Wickersham
ESPN The Magazine

DIVISION FINISH: 3 Can the backups win until Big Ben returns? How will Mike Wallace replace Santonio Holmes? Is Troy Polamalu's knee healthy? We could keep asking, and that's just the problem.
Intelligence Report
Five things you need to know about the Steelers:
1. The Steelers' D is back: Pittsburgh statistically was good on defense last season, finishing as the No. 5 unit in the NFL and ranking second in sacks with 47. But the Steelers' inability to hold leads in the fourth quarter was uncharacteristic. Troy Polamalu's healthy return from a left knee injury has helped Pittsburgh get back to form. Defensive coordinator Dick LeBeau is allowed to completely open his playbook again. So look for Pittsburgh to be able to bring more zone-blitz packages and better disguise them to help create more turnovers.
2. Opponents will test QBs: The Steelers are known to do a lot of blitzing, but expect opposing defenses to do the same to their quarterbacks early in the season. Starting quarterback Ben Roethlisberger is serving a four-game suspension for violating the NFL's personal conduct policy. Therefore, Dennis Dixon or Charlie Batch must prove they can move the offense through the air. Look for a lot of eight-man fronts against Pittsburgh to stop the running game. Dixon or Batch obviously don't strike the same fear in opponents as Roethlisberger.
3. Offense wants to set physical tone: Despite Rashard Mendenhall rushing for 1,108 yards last season, Pittsburgh often used the pass to set up the run. The Steelers are trying to get back to being a more physically dominant team offensively, especially in the red zone. Pittsburgh hired new offensive line coach Sean Kugler to bring a more physical style in the trenches. Backup tailback Isaac Redman also could help the Steelers in short-yardage situations with his ability to break though tackles and low center of gravity.
4. Maurkice Pouncey is a stud: The Steelers look like they have a keeper in Pouncey. The offensive lineman looked great in training camp and the preseason, where he eventually won the starting center job from veteran Justin Hartwig, who was cut. Pouncey moves well, has a mean streak and finishes his blocks to the end of the whistle. There has been debate over where Pouncey should start the season, but I believe it was wise to put the rookie in his natural position, which is center. That's where Pouncey is at his best. Pittsburgh drafted him to play long term. The Steelers will be strong in the middle with Pouncey and can build the rest of the offensive line around the talented rookie.
5. Mike Wallace is ready for a breakout season: More opportunities should equal more production for Wallace in his second season. He recorded 756 yards as the team's No. 3 receiver and takes over a starting role for the departed Santonio Holmes. Wallace has plenty of speed and a good work ethic. He has diligently worked on his route-running ability to become a more complete receiver. With Roethlisberger's suspension, it might take a while for Wallace to put up big numbers. But he should be a dangerous threat in the second half of the season.
-- James Walker, ESPN.com
Scouts Inc.'s Fabulous Five
Scouts Inc. has evaluated and graded more than 2,500 NFL players heading into the season, giving Insiders a leg up on the competition with exclusive grades and scouting reports.

TOP FIVE PLAYERS
ANALYSIS
1. Troy Polamalu
Safety
5-10 | 207
(Grade: 92) Polamalu, who missed most of 2009 with an injury, might be the most valuable Steelers defender in terms of versatility, leadership and setting the tone for a game.
2. James Harrison
Linebacker
6-0 | 242
(91) Harrison had a solid 2009, but his production fell off some because teams slid protection his way and he received more double-teams.
3. Ben Roethlisberger
Quarterback
6-5 | 241
(90) Roethlisberger is coming off one of his best seasons as a pro. Physically, he is everything you look for at the position. He moves incredibly well for a big man and has a powerful right arm.
4. Aaron Smith
Defensive end
6-5 | 298
(88) Smith, who was injured most of the 2009 season, has been a mainstay on the left side of the Steelers' defense. He has very good size and plays extremely strong in all phases.
5. LaMarr Woodley
Linebacker
6-2 | 265
(86) Woodley has put two excellent seasons together after earning a starting spot in 2008. He is an exceptional pass-rusher who blends speed and a wide array of moves with a high-end motor.
Grading scale: Elite (90-100), outstanding (80-89), solid starter (75-79), good starter (70-74)
Draft Class Watch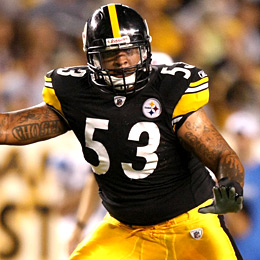 (George Gojkovich/Getty Images)
Maurkice Pouncey: Early returns expected.
Summary: With the exception of Maurkice Pouncey, the Steelers drafted for the future. Rookie receiver Emmanuel Sanders and linebackers Jason Worilds, Stevenson Sylvester and Thaddeus Gibson all are backups on a roster filled with veteran talent. Pittsburgh has a penchant for stocking up on linebackers for its 3-4 defense. So it will be a good draft class if at least two of these rookie linebackers turn out to be productive for the Steelers.
What to expect: Pouncey will make an immediate impact. But barring injury, the rest of Pittsburgh's rookie class will have to make their presence felt on special teams. The Steelers have a history of letting their rookies learn from the sidelines. Highly drafted players such as LaMarr Woodley, Lawrence Timmons and Ziggy Hood all had to wait at least one year to get extensive playing time. Expect the same for a majority of this year's rookies.
Fantasy value: Sanders might have small sleeper potential, but it looks unlikely that he will contribute early. The Steelers had success at receiver last year in the third round with Mike Wallace. But at this point, Sanders is behind on Pittsburgh's depth chart and would need an injury or two to get an opportunity.
-- James Walker, ESPN.com