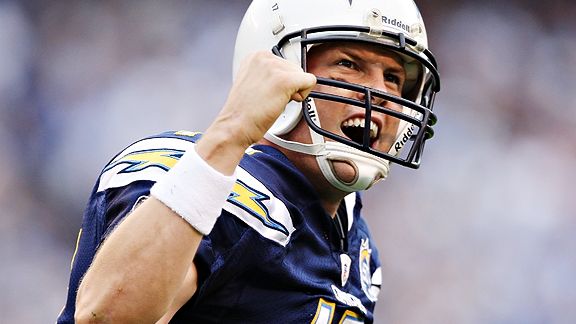 Donald Miralle/Getty Images
JOHN CLAYTON QB RANKING (7)
: Philip Rivers' consistency has helped the Chargers stay on top in the AFC West. His 104.4 QB rating in 2009 was the third best in the league.
Expert Picks (Consensus: 1st)
The Chargers finished first in the AFC West last season with a 13-3 record. For more Chargers coverage, visit: Bill Williamson's AFC West blog … on Twitter | Clubhouse | More predictions
ANALYST
PREDICTION
Bill
Williamson
ESPN.com

DIVISION FINISH: 1 There are distractions, but this is a very deep team that knows how to win. Philip Rvers is an elite player who has some nice weapons. Rookie Ryan Mathews will give the offense needed balance. The defense isn't top-notch, but it's a group you can win with.
John
Clayton
ESPN.com

DIVISION FINISH: 1 They should be thankful the AFC West is down and that they catch the NFC West in rebuilding mode. Philip Rivers will make the best out of a bad situation in which he probably won't have LT Marcus McNeill and WR Vincent Jackson for most of the season.

Adam
Schefter
ESPN

DIVISION FINISH: 1 The Chargers don't need Vincent Jackson and Marcus McNeill to win the AFC West. But they do need them to win in the postseason.
Matt
Williamson
Scouts Inc.

DIVISION FINISH: 1 Philip Rivers is an elite quarterback and will enhance the production of whomever he is throwing to. And Ryan Mathews will be the workhorse that Norv Turner covets. But this defense is going backward quickly.
Seth
Wickersham
ESPN The Magazine

DIVISION FINISH: 1 How impressive is it that they are the most talented team in the division for the seventh straight year? How sad is it that we keep asking if this will be the season that they'll reach the Super Bowl? And how much worse will it get if they don't make it again?
Intelligence Report
Five things you need to know about the Chargers:
1. The offense will be balanced: Last season, the Chargers had a powerful offense, but it was all generated by the passing game. The Chargers ranked No. 31 in rushing. San Diego cut legend LaDainian Tomlinson in February and constructed a trade to draft Ryan Mathews at No. 12. The Chargers will unleash Mathews with the hope that he can bring balance to the offense. Expect the offense to be particularly dangerous because of this addition.
2. The Chargers are set up to survive holdouts: If Pro Bowl receiver Vincent Jackson and standout left tackle Marcus McNeill end up holding out for the whole season or most of it, the Chargers will clearly not be as strong as they could be. But it won't be a disaster. They are very deep and prepared to succeed without those two players. San Diego had a very productive training camp without Jackson and McNeill. The team believes in receivers Malcom Floyd, Legedu Naanee and Buster Davis. At left tackle, Brandyn Dombrowski will not be as stout as McNeill was, but he is a solid player.
3. Philip Rivers is an elite player: San Diego will be in good shape because of Rivers' presence. He's the type of player who can carry a team. He has gotten better in each of his four seasons as an NFL starter and I expect that trend to continue in 2010. He throws the prettiest deep ball in the NFL and he is a terrific decision-maker. Don't be surprised if Rivers makes a strong MVP push in 2010.
4. The secondary will be better: The Chargers' secondary is a very cohesive group. The team traded cornerback Antonio Cromartie and the unit seems relieved that he is gone. Cromartie was unreliable on and off the field. He was replaced by 2008 first-round pick Antoine Cason, who should be steadier in coverage and better against the run than Cromartie was.
5. Cam Thomas is a key: The Chargers' 3-4 defense is built on powerful play from the nose tackle. For years, Jamal Williams was the tone-setter for the defense. The premier run-stopper in the NFL, Williams, who missed all but one game last season, is in Denver now. It would be unfair to expect Thomas, a rookie, to be the dominant nose tackle that Williams was in his prime. But Thomas can be a strong presence for this team. He had a good training camp and the game does not seem too big for the fifth-round pick. Expect him to play a major role this season.
-- Bill Williamson, ESPN.com
Scouts Inc.'s Fabulous Five
Scouts Inc. has evaluated and graded more than 2,500 NFL players heading into the season, giving Insiders a leg up on the competition with exclusive grades and scouting reports.

TOP FIVE PLAYERS
ANALYSIS
1. Philip Rivers
Quarterback
6-5 | 228
(Grade: 91) He excels at making opponents pay for blitzing by hitting receivers who settle in the zones vacated by the blitzing cornerback or safety.
2. Antonio Gates
Tight end
6-4 | 260
(90) He has the speed to challenge the secondary down the middle and the size, strength and receiving skills to go across the middle and catch the ball in traffic.
3. Marcus McNeill
Offensive tackle
6-7 | 336
(85) He is powerful and explosive and can stymie the power rush while being light enough on his feet to slide and shuffle with the best of the edge speed-rushers.
4. Vincent Jackson
Wide receiver
6-5 | 230
(83) He excels at adjusting and tracking the deep ball and knows how to use his size and leaping ability to high-point the ball when catching in traffic.
5. Chris Dielman
Guard
6-4 | 320
(82) He is a bit of a mauler and brawler as a blocker and consistently wins the battle once he gets his hands on you.
Grading scale: Elite (90-100), outstanding (80-89), solid starter (75-79), good starter (70-74)
Draft Class Watch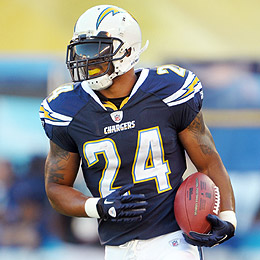 (Photo by Kirby Lee/Image of Sport/US Presswire)
Ryan Mathews: He'll carry a big load.
Summary: Their draft class isn't big, but the Chargers got what they wanted out of it: a new bell-cow running back. General manager A.J. Smith identified Fresno State running back Ryan Mathews as the player he wanted to replace the released LaDainian Tomlinson. Smith made it a reality when he traded a load of picks to move from No. 28 to No. 12 to snare Mathews. Because of the deal, the class is fairly small. The team had only six picks, and its second pick, third-round linebacker Donald Butler, is out for the season.
What to expect: Coach Norv Turner has said he expects Mathews to get about 250 carries and catch about 40 balls. I wouldn't be surprised if both of those numbers are higher. The Chargers crave balance on offense after they had the No. 31-ranked run offense last season. Fourth-round pick Darrell Stuckey may start at safety. The team thinks he can be a big hitter and help the unit. The steal of the class is fifth-round pick Cam Thomas. The defensive tackle is a huge run-stuffer and he is expected to aptly replace Jamal Williams, who is now in Denver.
Class MVP: It has to be Mathews. I won't be surprised if he ends up being the offensive rookie of the year.
-- Bill Williamson, ESPN.com