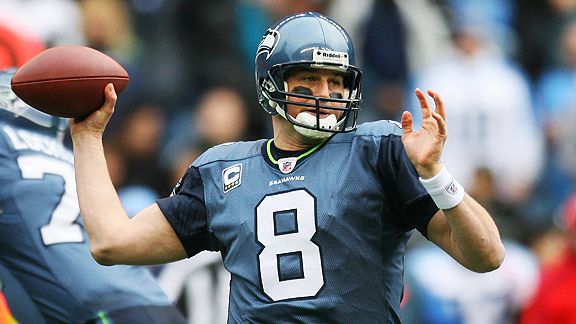 Otto Greule Jr/Getty Images
JOHN CLAYTON QB RANKING (17)
: Injuries and offensive line issues have hampered Matt Hasselbeck over the past two seasons. He threw a career-high 17 interceptions in 2009.
Expert Picks (Consensus: 3rd)
The Seahawks finished third in the NFC West last season with a 5-11 record. For more Seahawks coverage, visit: Mike Sando's NFC West blog ... on Twitter | Clubhouse | More predictions
ANALYST
PREDICTION
Mike
Sando
ESPN.com

DIVISION FINISH: 3 Matt Hasselbeck gives Seattle a chance to compete in a division without established QBs, but the past couple seasons have shown he cannot do it alone. The Seahawks have many holes, and there's no way to plug them all in one offseason.
John
Clayton
ESPN.com

DIVISION FINISH: 3 Pete Carroll isn't loaded with talent as he was as the USC head coach, but he has a nice plan to rebuild the Seahawks. As long as Matt Hasselbeck stays healthy, Carroll could squeeze out seven or eight wins.

Adam
Schefter
ESPN

DIVISION FINISH: 3 Pete Carroll and GM John Schneider have begun to remake a franchise that, in two years, will look entirely different from the one Jim Mora and Mike Holmgren ran.
Matt
Williamson
Scouts Inc.

DIVISION FINISH: 3 The Seahawks need Russell Okung to be healthy, but overall, the offense will take strides. The linebackers are enticing and there are a few defensive playmakers in the mix, but overall, this group is going to allow far too many points.
Seth
Wickersham
ESPN The Magazine

DIVISION FINISH: 3 The Seahawks are relying on too many rookies (Russell Okung, Golden Tate, Earl Thomas) to start strong. But watch: In the second half of the season, the Hawks will upset a playoff team or two.
Intelligence Report
Five things you need to know about the Seahawks:
1. Seattle has the best QB in the division -- health permitting: Those last two words hang over Matt Hasselbeck, whose Pro Bowl years have become a distant memory. Hasselbeck enjoyed an excellent offseason, winning over the new coaching staff. He was clearly the best quarterback on the team through camp. It's just tough to assume Hasselbeck will stay healthy enough to maintain his status among quarterbacks in the division. The team's efforts to shore up the offensive line took a hit when left tackle Russell Okung suffered a high ankle sprain. San Francisco 49ers linebacker Patrick Willis, the man who broke Hasselbeck's ribs in Week 2 last season, visits Qwest Field in Week 1.
2. Front-office infighting shouldn't be an issue: Clashes between former coach Mike Holmgren and former president Tim Ruskell hurt the Seahawks in recent seasons. The new regime is suffering from no such issues. General manager John Schneider doesn't seem to care who gets credit for bringing in players. He doesn't appear so personally invested in his draft picks (as the Seahawks were, famously, when they kept two kickers to avoid releasing late-round choice Brandon Coutu, who subsequently hasn't been able to get work in the league). Schneider and coach Pete Carroll seem to hit it off. They took their current jobs knowing Carroll would hold ultimate authority. There should be no surprises.
3. This team is still in the early stages of rebuilding: Deep into camp, the Seahawks had fewer players back from Week 17 last season than any team in the league. They have churned the roster, culled the waiver wire, worked multiple trades and picked through talent scrap heaps (think Mike Williams) in an effort to improve the roster. It's a start, but only a start. The team lacks much in the way of a pass rush, the offensive line still has issues and the team still cannot be sure it has its long-term quarterback. It's a great season in Seattle if the Seahawks approach 8-8.
4. Aaron Curry may or may not develop as hoped: The Seahawks are desperate enough for pass-rush help to try developing Curry's skills in that all-important aspect of the game. It's a stretch, most likely. Curry does share some traits good pass-rushers possess. He has speed. He is tenacious. He likes to hit quarterbacks. It's just that Curry doesn't have much practice rushing the passer and there's a chance Seattle is wasting its time. At the very least, Curry must become an excellent strongside linebacker. That has not happened yet.
5. Pete Carroll will not make like Jim Mora: Carroll has more than one season to get this right, in other words. Mora walked into a situation far tougher than anyone could have realized. The front-office situation was tenuous and once Ruskell resigned, Mora was on shakier ground. The organization has synced up its front office by hiring Carroll and Schneider at the same time. Carroll even participated in Schneider's hiring. The Seahawks will give these guys a few seasons, most likely.
-- Mike Sando, ESPN.com
Scouts Inc.'s Fabulous Five
Scouts Inc. has evaluated and graded more than 2,500 NFL players heading into the season, giving Insiders a leg up on the competition with exclusive grades and scouting reports.

TOP FIVE PLAYERS
ANALYSIS
1. Lofa Tatupu
Linebacker
6-0 | 250
(Grade: 79) He is a leader on and off the field and sets the tempo for the whole defense with his attitude, performance and effort.
2. T.J. Houshmandzadeh
Wide receiver
6-2 | 203
(79) He shows above-average quickness and agility in his routes and knows how to set defenders up and sink his hips to get in and out of his breaks with a burst.
3. Aaron Curry
Linebacker
6-2 | 254
(78) He is a very athletic linebacker with excellent initial quickness and acceleration off the edge when blitzing to pressure the pocket.
4. Brandon Mebane
Defensive tackle
6-1 | 311
(78) He has enough power to hunker down and clog things up on the inside and can be extremely quick off the ball to penetrate and create problems in the backfield.
5. Marcus Trufant
Cornerback
5-11 | 197
(78) He is a good-sized corner with good quickness, agility and body control and adequate deep speed to stick with receivers down the seam.
Grading scale: Elite (90-100), outstanding (80-89), solid starter (75-79), good starter (70-74)
Draft Class Watch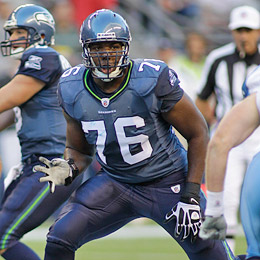 (AP Photo/Ted S. Warren)
Russell Okung: Fills immediate need.
Summary: Drafting Russell Okung sixth overall addressed a glaring, immediate need. The team was justified in drafting Earl Thomas with the 14th pick based on Thomas' talent, but drafting a pass-rushing phenom in that spot would have suited the team better if one had been available. Seattle addressed its secondary hard in this draft. Those efforts could pay off because Thomas looks good and fourth-round cornerback Walter Thurmond has bounced back surprisingly well from a career-threatening knee injury.
What to expect: The Seahawks' new leadership isn't afraid to play youngsters. GM John Schneider came to Seattle from Green Bay, where the Packers have fielded one of the NFL's youngest teams. Carroll comes from USC, where he was always trying to develop fresh talent. Okung and Thomas will start from the beginning.
Second-rounder Golden Tate could get work on punt returns. He'll probably get snaps on offense, too, although rookie receivers can face steep learning curves. Thurmond has a shot to emerge as the first cornerback off the bench.
Eye on tight end: The Seahawks will rely more heavily on personnel groupings with two tight ends. That's why sixth-rounder Anthony McCoy, a player Carroll coached at USC, could stick as a rookie behind John Carlson and Chris Baker. McCoy caught a touchdown pass in the preseason opener, but he's dropped quite a few passes in practice. Carlson dropped passes in the second exhibition game, but he's a good player and McCoy is no threat to him.
-- Mike Sando, ESPN.com