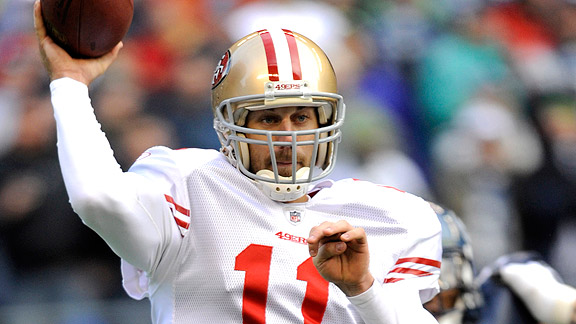 Mike Tedesco/US Presswire
JOHN CLAYTON QB RANKING (21)
: Entering his sixth season, Alex Smith is looking to build off a solid 2009 performance and lead the 49ers to the playoffs.
Expert Picks (Consensus: 1st)
The 49ers finished second in the NFC West last season with an 8-8 record. For more 49ers coverage, visit: Mike Sando's NFC West blog ... on Twitter | Clubhouse | More predictions
ANALYST
PREDICTION
Mike
Sando
ESPN.com

DIVISION FINISH: 1 The 49ers are slightly better than the team that finished 8-8 last season. The Cardinals should fall back to the pack after Kurt Warner's retirement. That makes the 49ers a logical favorite even though they are not ready to make much of a playoff run.
John
Clayton
ESPN.com

DIVISION FINISH: 1 The surrounding cast should give Alex Smith his first taste of the playoffs. Smith may be average at best, but the defense is physical and the offense is supremely talented with Frank Gore, Michael Crabtree and Vernon Davis making big plays.

Adam
Schefter
ESPN

DIVISION FINISH: 1 How long have 49ers fans waited for another playoff game in San Francisco? There's a good chance they can make plans for one in January.
Matt
Williamson
Scouts Inc.

DIVISION FINISH: 1 The best team in a bad division, the Niners are playoff bound. I see this team as a one-and-done team in the playoffs, but that is serious progress considering where it was just a few years ago.
Seth
Wickersham
ESPN The Magazine

DIVISION FINISH: 1 Doesn't it seem as if the Niners have been the West's "It" team for three years running? Is there a statute of limitations for "It" teams?
Intelligence Report
Five things you need to know about the 49ers:
1. There's no QB controversy: The 49ers emerged from the offseason committed to Alex Smith as their starter. That wasn't going to change if David Carr outplayed him this summer and it certainly wasn't going to change with a couple decent outings from third-stringer Nate Davis. After going through five offensive coordinators in five seasons, the 49ers made 2010 all about continuity. They brought back offensive coordinator Jimmy Raye. They stuck with the same system. They brought aboard an offensive line coach with experience in Raye's system. And even though the 49ers could have pursued Donovan McNabb, their emphasis on continuity led them back to Smith for at least one more season.
2. The 49ers fixed their defensive weakness: For years the 49ers lacked speed at safety. It was the one glaring weakness on that side of the ball. That has changed in a big way -- in 2009 with Dashon Goldson's emergence at free safety and this offseason with Reggie Smith's surprising development. Smith has gone from disappointing cornerback to the first safety off the bench, ahead of second-round rookie Taylor Mays. The 49ers appreciate Mays' raw talent. Mays has outstanding speed. He can hit. He's hungry. It's just that Smith is the more polished player. The bottom line is that the 49ers have speed at safety and lots of it, whether it's Smith or Mays.
3. Frank Gore's durability isn't a huge issue: Concerns about the Pro Bowl running back's durability are justified on one level. Gore has, indeed, been banged up in recent seasons. Sometimes the fears have been overblown. Gore has never missed more than two games in any season. He has rushed for at least 1,000 yards in each of the past four seasons. He had 10 rushing touchdowns and three receiving touchdowns last season even though he did miss some time. Both were career highs. He lost only two fumbles, his lowest total since his 2005 rookie season, when he started only one game.
4. The 49ers could start slowly: The 49ers are breaking in young talent on their offensive line and they could have issues playing three of their first four games on the road. Seattle will be a rough place to play a season opener from a noise standpoint. The team then faces the New Orleans Saints at home on Monday night, followed by trips to Kansas City and Atlanta. The 49ers could easily open the season with a 1-3 record if they're not careful. It will not mean they're doomed, but it could put a damper on preseason predictions favoring the 49ers as NFC West champs.
5. Michael Johnson gets overlooked: Raye and line coach Mike Solari get most of the attention on the 49ers' offensive staff. That makes sense. Both play prominent roles. Don't forget about quarterbacks coach Michael Johnson. He's done a pretty good job helping Smith revive his career, and if Smith enjoys a breakout season, Johnson would seemingly be in line for a promotion. Johnson could qualify as a successor at coordinator if Raye, 64, does decide to step away at any point in the coming years. The 49ers could do worse, from all appearances.
-- Mike Sando, ESPN.com
Scouts Inc.'s Fabulous Five
Scouts Inc. has evaluated and graded more than 2,500 NFL players heading into the season, giving Insiders a leg up on the competition with exclusive grades and scouting reports.

TOP FIVE PLAYERS
ANALYSIS
1. Patrick Willis
Linebacker
6-1 | 244
(Grade: 93) He has started 48 consecutive games over the past three seasons. He has led the 49ers in tackles each season and has become a tackling machine when defending the run.
2. Frank Gore
Running back
5-9 | 217
(85) He is a compact runner who does an excellent job of running behind his pads and has the kind of balance that allows him to consistently gain yards after contact.
3. Vernon Davis
Tight end
6-3 | 250
(85) Davis brings a combination of size, speed and athleticism to the position. After a disappointing start to his career, the 2006 first-round draft pick has thrived under coach Mike Singletary and the 49ers' staff.
4. Aubrayo Franklin
Defensive tackle
6-1 | 317
(83) He has become a very effective run-stopper as he plugs up the middle. He plays with excellent leverage and does a good job of using his hands to control and shed blockers
5. Justin Smith
Defensive tackle
6-4 | 285
(83) He brings a good combination of size, strength, speed and athleticism to the position and plays with a high level of intensity and effort.
Grading scale: Elite (90-100), outstanding (80-89), solid starter (75-79), good starter (70-74)
Draft Class Watch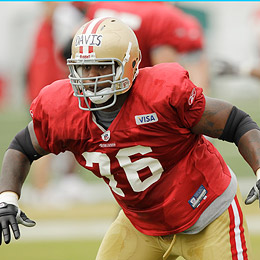 (AP Photo/Marcio Jose Sanchez)
Anthony Davis: Will start at RT.
Summary: The 49ers drafted two offensive linemen in the first round, and both will start. The success of this draft class will hinge on how well 11th overall choice Anthony Davis and 17th overall choice Mike Iupati perform. Davis starts at right tackle. Iupati starts at left guard. The 49ers needed to address their offensive line and they did in a big way. Second-round choice Taylor Mays could put the draft class over the top, but only if his hunger to improve helps him get the most from his obvious talents.
What to expect: The 49ers had issues on their offensive line last season and the rookies should represent upgrades pretty easily. It's looking as though Mays might not make an immediate impact, but that was expected after he slipped to the 49ers in the second round despite testing so well in all the measurables. Third-round choice Navorro Bowman, an athletic linebacker, has been more impressive than Mays much of the time. The 49ers should be able to use him situationally. There's a chance sixth-round receiver Kyle Williams will emerge as the punt returner even though a toe injury has sidelined him recently.
Midround crisis: The 49ers did not use picks in the fourth or fifth rounds. That's OK as long as their first-rounders become productive players right away. The team seems to have done pretty well on its three sixth-round choices, picking up some of the slack. Nate Byham could make the team as the third tight end, and Anthony Dixon became more important as a backup runner after Glen Coffee's surprising retirement.
-- Mike Sando, ESPN.com