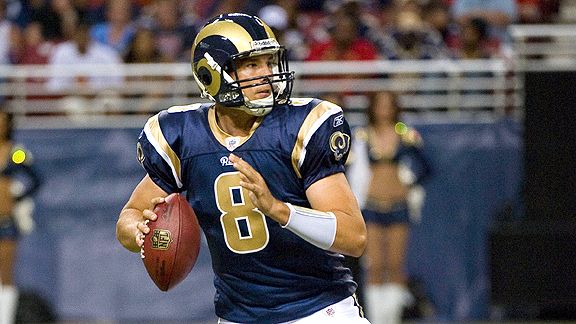 Scott Rovak/US Presswire
JOHN CLAYTON QB RANKING (30)
: The No. 1 pick in this year's draft, Sam Bradford has big-time talent but will be handcuffed by a questionable supporting cast. He'll start Week 1.
Expert Picks (Consensus: 4th)
The Rams finished fourth in the NFC West last season with a 1-15 record. For more Rams coverage, visit: Mike Sando's NFC West blog ... on Twitter | Clubhouse | More predictions
ANALYST
PREDICTION
Mike
Sando
ESPN.com

DIVISION FINISH: 4 The Rams face a much easier home schedule this season, and that should help them win a few games. They're still a ways away from competing in the division, but if Bradford develops and the O-line grows together, there is hope.
John
Clayton
ESPN.com

DIVISION FINISH: 4 Sam Bradford may have collapsible shoulders, but he must now carry the Rams into what should be a promising future. The talent base may not be good enough to get more than four wins, but the Rams can build around Bradford and Steven Jackson.

Adam
Schefter
ESPN

DIVISION FINISH: 4 St. Louis now has the most important piece of the puzzle, a future Pro Bowl quarterback, but it must keep him upright and healthy.
Matt
Williamson
Scouts Inc.

DIVISION FINISH: 4 With the exception of Steven Jackson, in what area are the Rams above average? Sam Bradford might be the answer, but this is going to take a lot of time. Next year they can use one of the top two picks overall on a defensive equivalent to Bradford.
Seth
Wickersham
ESPN The Magazine

DIVISION FINISH: 4 Sam Bradford will get hit more in the first month of the season than he was during his entire college career. It's going to be a long year.
Intelligence Report
Five things you need to know about the Rams:
1. Sam Bradford will play early: The Rams have loved what Bradford has shown them during practices. They're not really in position to bring him along slowly. The organization has new majority ownership and the past three seasons have produced only six victories. The Rams' backup, A.J. Feeley, knows the offense well, but the team isn't going anywhere with Feeley under center. Developing Bradford quickly must be the top priority, and that's going to happen with Bradford in the lineup, taking his lumps.
2. Mardy Gilyard could be fun to watch: The rookie fourth-round choice has a swagger to him, something the Rams could use. Gilyard could contribute working as a slot receiver, but his best chance initially could come as a return specialist. Gilyard has been gaining momentum in practices. He's bold, brash and unapologetic. The Rams like that about him. They're tired of playing the role of victim, and they think players with Gilyard's attitude can help them break free from their losing ways. It's not going to happen overnight, but Gilyard should make a few big plays as a rookie.
3. The offensive line must be good, or else: The Rams have done things the right way, at least in theory. They invested tens of millions in their offensive line a year before selecting their franchise quarterback first overall in the draft. The line was gaining momentum last season until injuries blew it apart. The projected starting five finally began working together in practices most of the way through training camp. The line will improve if the same five guys can stay on the field together. Anything less could undermine everything the Rams are hoping to accomplish. That's where the "or else" part comes into play. Ownership expects to see results.
4. The Rams resemble an expansion team: Running back Steven Jackson enters 2010 as the only Rams player with a Pro Bowl on his résumé. The rest of the league averages eight such players. The Rams entered their third exhibition game with only four players remaining from their 2005, 2006 and 2007 draft classes. Only the Detroit Lions had fewer with three. The Rams were the only NFL team without a single one of their first-round choices still on the roster from those classes. The division-rival 49ers have a league-high five such players, for the sake of comparison. The Rams face a long road back.
5. Danny Amendola isn't all that bad: The undersized receiver was miscast last season, playing too many snaps at too many of the receiving positions. The Rams hope to make better use of him from the slot. They think Amendola can become a productive player there. Amendola was one of the more impressive players in training camp. He was a force in the return game last season; he had a 93-yard return in the preseason. Expect a career season from him if he stays healthy.
-- Mike Sando, ESPN.com
Scouts Inc.'s Fabulous Five
Scouts Inc. has evaluated and graded more than 2,500 NFL players heading into the season, giving Insiders a leg up on the competition with exclusive grades and scouting reports.

TOP FIVE PLAYERS
ANALYSIS
1. Steven Jackson
Running back
6-2 | 236
(Grade: 86) He brings a unique combination of size, speed, athleticism and instincts to the position. He plays with above-average speed and excellent body control and balance, and runs with authority and effort.
2. Jason Brown
Center
6-3 | 328
(78) He has a natural low center of gravity and is a good knee-bender who can leverage his blocks and get movement on his drive blocks.
3. James Laurinaitis
Linebacker
6-2 | 247
(76) He has excellent physical characteristics for the position and is very quick to locate the level of the ball, pull the trigger and run to the ball.
4. Oshiomogho Atogwe
Safety
5-11 | 205
(76) He has the quickness to get good depth with his backpedal and the fluid hips to turn and run with receivers or to open and break on the ball in front of him or to the sidelines with a good burst.
5. Chris Long
Defensive end
6-3 | 276
(74) He is a good technician who knows how to read blocking schemes and locate the level of the ball to take good angles, both in taking on blocks and flowing to the ball.
Grading scale: Elite (90-100), outstanding (80-89), solid starter (75-79), good starter (70-74)
Draft Class Watch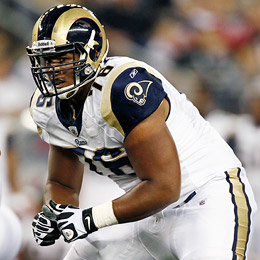 (Photo by Joe Robbins/Getty Images)
Rodger Saffold: Fulfilling expectations.
Summary: The decision to select Bradford was an easy one once the quarterback's surgically repaired shoulder checked out OK. Quarterbacks turn around franchises. Defensive tackles do not. Instead of drafting Ndamukong Suh or Gerald McCoy first overall, the Rams went with Bradford before addressing their defensive line by adding veteran free agent Fred Robbins from the New York Giants. The Rams were not expecting to find their starting left tackle at the top of the second round, but they did and that's OK if Rodger Saffold fulfills expectations.
What to expect: Saffold will start right away. Expect Bradford to get on the field quickly as well. None of the other rookie draft choices figures to crack the starting lineup right away. Mardy Gilyard will factor in the return game, and he has a shot to earn playing time on offense because the Rams remain unsettled at wide receiver. Third-round corner Jerome Murphy has good size. He adds some ruggedness to the secondary and should get playing time.
Run on tight ends: The Rams drafted two tight ends; both have come through in a big way. Mike Hoomanawanui looks like a lock to earn a roster spot. Fendi Onobun could make it, too. Incumbent starter Daniel Fells could lose his job as a result.
-- Mike Sando, ESPN.com