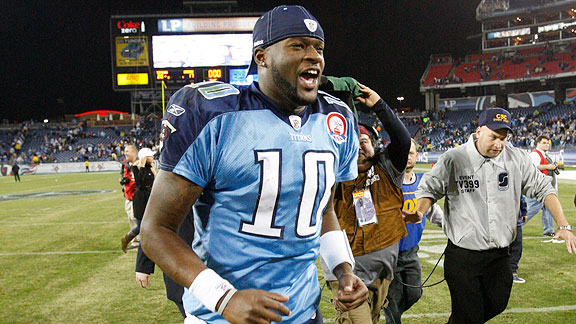 AP Photo/Wade Payne
JOHN CLAYTON QB RANKING (18)
: Vince Young isn't considered a great pure passer, but he still can make plays with his legs and has a knack for finding ways to win games.
Expert Picks (Consensus: 2nd)
The Titans finished third in the AFC South last season with an 8-8 record. For more Titans coverage, visit: Paul Kuharsky's AFC South blog … on Twitter | Clubhouse | More predictions
ANALYST
PREDICTION
Paul
Kuharsky
ESPN.com

DIVISION FINISH: 2 The Titans just edge the Texans but neither make the playoffs. The Titans are counting on too many young guys to all make big jumps and produce simultaneously and it's hard to count on steady play from Young.
John
Clayton
ESPN.com

DIVISION FINISH: 2 It will be hard for Chris Johnson to repeat as a 2,000-yard runner, but there is clear improvement in QB Vince Young. With an improved offense, the key is making sure the defense doesn't surrender as many yards and points as last season.

Adam
Schefter
ESPN

DIVISION FINISH: 3 Typical Tennessee team: loaded with good, young unheralded talent whom few people outside the Titans' organization know.
Matt
Williamson
Scouts Inc.

DIVISION FINISH: 2 Jeff Fisher is a great coach and should keep the Titans competitive. Vince Young's maturation is promising. And -- oh yeah -- they have that Chris Johnson guy who is pretty good. In the end, this is a middle-of-the-road team.
Seth
Wickersham
ESPN The Magazine

DIVISION FINISH: 4 Odds that 200-pound Chris Johnson survives another season of 400-plus touches injury-free? Odds that Tiger and Elin reconcile?
Intelligence Report
Five things you need to know about the Titans:
1. There is talent on the defensive line: You might not know the names, but this is a deep pool of players who collectively should be able to get to the quarterback. Because motivational position coach Jim Washburn has a lot of depth, an injury or two shouldn't kill the pass rush, and that's crucial for easing the pressure on the secondary, which includes some weak links. Breakout possibilities: William Hayes, Jacob Ford, Jason Jones, Sen'Derrick Marks.
2. The offensive line could be better than last season: And that's saying something, considering it blocked for a 2,000-yard rusher and allowed just 15 sacks in 2009. With Kevin Mawae gone, the Titans shifted Eugene Amano to center and inserted Leroy Harris at left guard. The resulting line is more powerful. It's a talented group coached by Hall of Famer Mike Munchak, but it needs to stay healthy as the inexperienced depth is a serious question.
3. Maturity is a buzzword: With the youth movement, the Titans need to see some significant growth from some guys who haven't grown up as quickly as the team would like. Vince Young, Michael Griffin and Kenny Britt are three crucial players for this team. They cannot afford to be distracted by off-field issues and they all need to do better at letting stuff go when things go poorly in order to maximize their chances at bouncing back.
4. Will Witherspoon has to be good: He's the one real significant free-agent addition, and the Titans need major leadership and production from him. He's smart and fast, but maybe not the most physical linebacker. With Keith Bulluck gone and David Thornton possibly right behind him, the group is being revamped. Witherspoon needs to help show the way to middle linebacker Stephen Tulloch, who's offseason absence in a drive for a contract was a major misplay, and Gerald McRath, once he serves a four-game suspension.
5. Chris Johnson needs a lesser load: It's not so much about keeping him fresh. The drive for 2,000 yards last season was made possible because the Titans weren't in the running at the end so they could make it their focus. It shouldn't be their focus this season if they are a better team that is in the playoff battle to the end. That should mean mixing it up more on offense, while still maximizing their big-play guy's chances at home runs -- possibly a difficult balance for playcaller Mike Heimerdinger.
-- Paul Kuharsky, ESPN.com
Scouts Inc.'s Fabulous Five
Scouts Inc. has evaluated and graded more than 2,500 NFL players heading into the 2010 season, giving Insiders a leg up on the competition with exclusive grades and scouting reports.

TOP FIVE PLAYERS
ANALYSIS
1. Chris Johnson
Running back
5-11 | 191
(Grade: 92) Johnson followed up an exciting rookie season in 2008 with a standout second season in 2009. He is slightly undersized with excellent downfield speed and an explosive burst through the hole.
2. Michael Roos
Offensive tackle
6-7 | 320
(86) Roos has developed into one of the better left tackles in the NFL. He has prototypical dimensions for the position with good length, long arms and excellent athleticism.
3. Cortland Finnegan
Cornerback
5-10 | 188
(80) Finnegan has become a key member of the Titans' secondary. He is slightly undersized and on the lean side but doesn't realize it, and plays the game with a certain amount of swagger and confidence.
4. David Stewart
Offensive tackle
6-7 | 315
(79) Stewart has developed into a quality right tackle who has started every game he has played in over the past four years. He is a massive tackle with excellent girth and long arms, and possesses a lot of natural strength.
5. Michael Griffin
Safety
6-0 | 202
(76) Griffin is a decent-sized safety with excellent foot agility, body control and good straight-line speed. He gives the Titans a quarterback-like presence in the secondary.
Grading scale: Elite (90-100), outstanding (80-89), solid starter (75-79), good starter (70-74)
Draft Class Watch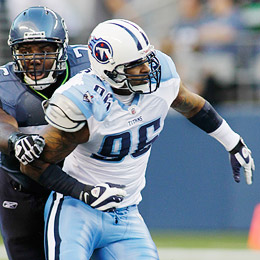 (AP Photo/Ted S. Warren)
Derrick Morgan: Behind schedule.
Summary: The Titans drafted a very smart class and have labeled several players as "NFL ready" coming in. But no matter how ready first-round end Derrick Morgan is, missing virtually all of training camp with a calf issue is a setback he might not be able to recover from in his first year. If Tennessee is healthy, there won't be a ton of playing time on defense for linebacker Rennie Curran, but he looks like he is going to be a very good player down the road. Rusty Smith is likely the No. 3 quarterback, and the Titans like him long term, too.
What to expect: Morgan could struggle to earn snaps if William Hayes, Jacob Ford and Jason Babin are all healthy. With those four, the Titans should always have fresh guys on the field in their rotation. Cornerback Alterraun Verner was a playmaker through camp and could wind up the second starting corner. If not, he should be the chief backup both outside and as the nickel.
Fielding kicks: Return game issues cost the Titans at least one game last season, and Jeff Fisher will take a lot of heat if the problem isn't solved. The solution should come from one of two draft picks. Receivers Damian Williams (third round) and Marc Mariani (seventh) were picked largely because of their return skills. They have to be more than reliable fielders. They need to actually give the team some field position once in awhile.
-- Paul Kuharsky, ESPN.com