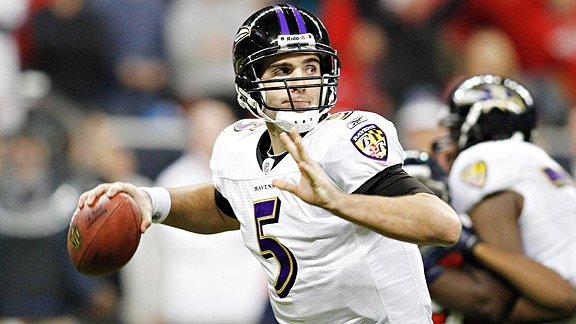 Brett Davis/US Presswire
JOHN CLAYTON QB RANKING (11)
: Joe Flacco, who has thrown for more than 10,000 yards in three seasons as a starter, hopes to take the Ravens deeper into the playoffs in 2011.
Expert Picks (Consensus: second)
The Ravens finished second in the AFC North last season with a 12-4 record. For more Ravens coverage, visit: James Walker's AFC North blog ... on Twitter | Clubhouse | More predictions
ANALYST
PREDICTION
James
Walker
ESPN.com

DIVISION FINISH: 1 The Ravens have been close the last three years. If QB Joe Flacco improves, he can take Baltimore to the next level.
John
Clayton
ESPN.com

DIVISION FINISH: 2 Lee Evans will give Joe Flacco a much-needed outside threat, but concerns about the offensive line could be a problem. At least the Ravens are now deep at corner.

Adam
Schefter
ESPN.com

DIVISION FINISH: 1 Couldn't keep up with Pittsburgh's big plays last season, so went and added playmakers of their own.
Jeffri
Chadiha
ESPN.com

DIVISION FINISH: 2 The Ravens need an offense with plenty of weapons to become more consistent. The acquisition of wide receiver Lee Evans will help.
Ashley
Fox
ESPN.com

DIVISION FINISH: 2 The Ravens did not get better in the offseason. Gone are two of Joe Flacco's favorite targets, tight end Todd Heap and wide receiver Derrick Mason. Ray Rice will have to carry the load.
Intelligence Report
Five things you need to know about the Ravens:
1. QB Joe Flacco is showing an edge: Few quarterbacks have faced more offseason criticism this year than Flacco. Whether it was the media or opposing players, Flacco got it from all directions. Flacco is known for his "Joe Cool" demeanor, but he has more of an edge and is taking a leadership role in his fourth season. He uncharacteristically fired back at detractors such as Pittsburgh Steelers linebacker LaMarr Woodley. Flacco also said that he believes he's a top-tier quarterback. Flacco's numbers have improved each of his first three seasons, but he has to perform well in the playoffs to truly take the next step.
2. The secondary has improved: The last few years, the Ravens' pass defense has been an issue. If Pro Bowl safety Ed Reed wasn't making an interception over the middle, teams usually had success testing Baltimore's corners on the outside. This year should be much tougher for opponents. The Ravens invested a first-round pick in rookie corner Jimmy Smith, whose size and athleticism have been impressive in training camp. Baltimore also believes it has a nice find in fellow big corner Cary Williams. Both are tall and lanky, which should give new defensive coordinator Chuck Pagano more options in coverage. Baltimore also has depth at corner with Lardarius Webb, Domonique Foxworth and Chris Carr in reserve roles.
3. Vonta Leach will help running game: The Ravens showed their increased commitment to the running game by signing free-agent fullback Vonta Leach. The Pro Bowler was the top available player at the position. Leach is expected to help pave the way for tailback Ray Rice to have a big year. Leach made his name blocking for previously unknown running back Arian Foster with the Houston Texans. The Ravens hope Leach can do similar wonders for Rice, who's posted back-to-back 1,200-yard seasons. Leach brings a nastiness and intensity to the running game that the Ravens lacked at times in 2010.
4. The offensive line is questionable: The biggest thing you can read from training camp and the preseason is that Baltimore's offensive line is struggling. Pass protection, in particular, is an issue. The Ravens hope recent free-agent signing Bryant McKinnie can be a good, short-term solution at offensive tackle. McKinnie is a former Pro Bowler, but he's had weight and character issues with the Minnesota Vikings. McKinnie's weight ballooned to nearly 400 pounds during the NFL lockout, which led to his release. If the Ravens can get the best out of McKinnie, that will help fellow tackle Michael Oher and the rest of the offensive line.
5. Week 1 versus the Steelers is big: You never want to put too much emphasis on one game, but there is no denying how big Baltimore's Week 1 matchup against Pittsburgh is for the Ravens. The Steelers, and quarterback Ben Roethlisberger, have had Baltimore's number in big games. Pittsburgh knocked the Ravens out the playoffs in two of the last three years. Flacco has never beaten Roethlisberger, and he needs to get over that hump. A win by Baltimore on Sept. 11 will set the tone for Flacco and the Ravens this season.
-- James Walker, ESPN.com
Inside The Numbers
The Ravens are one of only three teams (including the Colts and Eagles) to make the playoffs in each of the past three seasons, and one player who has made a profound impact during their recent run is running back Ray Rice.
Rice ranks ninth in the NFL in rushing since entering the league in 2008 and has been just as important to the Ravens' passing game. Rice trails only Derrick Mason in receptions among Ravens pass catchers since the start of 2008 and leads all NFL running backs in receptions, yards and receiving first downs in the same span. In addition, he has averaged more yards after the catch than any player in the league the past three seasons.
Rice's running ability also seems to help the Ravens' passing game. No quarterback used play-action more than Flacco last season, and the results showed why. Flacco's passer rating on play-action in 2010 was 108.9, compared with a 86.7 rating on other plays.
• Ed Reed led the NFL with eight interceptions in 2010 despite playing in only 10 regular-season games. Reed did much of his damage in nickel and dime sets, recording a league-high seven picks with at least five defensive backs on the field.
-- ESPN Stats & Information
Mel Kiper's Draft Class Watch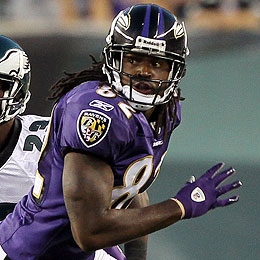 (Photo by Jim McIsaac/Getty Images)
Torrey Smith: A deep threat?
Derrick Mason is gone, so the Ravens drafted a pair of pass-catching targets in Torrey Smith and Tandon Doss. Smith is a burner from Maryland and could become a deep threat for Joe Flacco, and is also valuable as a player who can create big plays after short throws. That said, the presence of Lee Evans takes some pressure off the rookie, and will also keep him off the field in many situations.
Doss, on the other hand, has impressed early, a surprise to some considering his late place in the draft. Doss has a little more size and could be a good red zone target. He has extremely reliable hands, and guys like that draw a lot of throws.
The Ravens expect big things eventually from rookie corner Jimmy Smith, but I expect him to come along slowly as he marries his great athleticism into technique and smarts. The Ravens need help in the secondary, however, and Smith should be called upon plenty this year.
-- Mel Kiper, ESPN NFL Draft Insider